Blackout Mafia

'
Game information
Host
Andrew
Link
Game thread: Blackout Mafia BTSC threads
Size
Players (Large/Small)
Start Date
5.14.13
Winning Faction

Goodie

Roster
#, player

First to Die
mew
Last Remaining
EDM, Gnan, IAWY, Boquise, Vommack, Marq, Segul, Fat Tony
MVP
nobody
Awards
-
Blackout Mafia was a game designed and hosted by Andrew based on own design.
It began on May 14y, 2013 and ended in a Goodie win in D3 (May 23).
Game Mechanics
Edit
Blackout is a standard mafia game with a relatively basic role set up. Roles are completely unknown.
3 Baddies - Wincon: Majority.
10 Goodies - Wincon: Kill Baddies.
Day posts: reveal who was lynched, their faction, and their role.
Night posts: reveal who was killed, no role given, and other basic information pertaining only to any kill (see below).
Kills are blocking.
Kills come first in any loops.
All roles may act on themselves.
Some necessary role clarification points for this game set up.
IF blocks exist: they CAN block kills, in which case the NP WILL show this.
IF saves exist: successful saves WILL appear.
IF redirects exist: redirects give clear results, the affected player being notified of being redirected. Redirects DO NOT effect kills.
IF traps exist: traps are night traps only. That is, a save+block, no lynch-save or silence.
Note: In the result of no NK the NP will NOT show WHO was acted on, only that the specified action occurred, resulting in no NK.
Feel free to out your role. No one will believe you.
Role Description
Edit
Note, this was not revealed until the end of the game. Before that point, roles were unknown except upon being revealed in the lynch or by spy actions.
Baddies
Role Spy - _Auramyna

Block - Brainiac100

Vote Manip (x0-x2 on anyone) - mewminator
Goodies
Role Spy - Marquessa

Faction Spy - curr3nt

Follow Spy - EDM

Block - Fat Tony

Save - Vommack

Ask host y/n - Boquise

Vote Manip(x0-2 on self) - marksmanjay

Messenger - Inawordyes

Kill - Segul

Role Master (defined below) - gnanforu
Role Master (Gnan's role): can EITHER
submit up to 3 roles and receive number that exist in the game.
submit 3 to 4 players and roles and receive number that match.
Note: if the role master wishes, they may attach a faction to the roles submitted.
For example in a game that had 2 redirects, one good, one bad.
If "redirect" was submitted the player would receive back 2.
If "goodie redirect" was submitted the player would receive back 1.
The player may not submit a role of the same type, one attached to a faction, and one not, on the same night. Example "redirect, goodie redirect"' is not allowed.
Host's Summary
Edit
Game Idea and Expectations
Edit
I don't want to waffle on too much so I'll keep it short and sweet.
What I liked
The format - so far it seems everyone enjoyed playing the Blackout format. (i.e secret roles).
The day discussion overall was very good.
What I would improve
The goodies had too much faction spy ability -->contributing to such a short game. In any future games of this format the faction spy ability would be highly reduced and I would add more roles to contribute to paranoia. (lynch frame for example). Even more secrets could be developed to truly leave the players guessing.
Points of interest
Goodie actions N1 were very good, hitting 2 of 3 baddies straight away. That really set the baddies back.
I also liked that many players started to feel like Brainy was a baddie based on her posting behavior rather then info they'd received. THAT was a large part of this game - to rely on more then information given to you.
Trust me, in any future games of this format I will not make the same mistakes. This was an experiment afterall. And it has proved to provide a lot of great information for future games and any hosts who wish to try this format to take from.
About the MVP
I have chosen not to give an MVP for BLACKOUT MAFIA. THe reasoning behind this is the game was quite short (as we know) so it was hard for any player to truly stand out above the rest. That being said however I would like to special mention Current because he did do a great job at leading the goodies whilst alive.
By Andrew
Special commendations
Edit
Host disappointments
Edit
Alternate endings
Edit
Winning Faction
Edit
Role Spy - Marquessa

Faction Spy - curr3nt

Follow Spy - EDM

Block - Fat Tony

Save - Vommack

Ask host y/n - Boquise

Vote Manip(x0-2 on self) - marksmanjay

Messenger - Inawordyes

Kill - Segul

Role Master - gnanforu
Day and Night Posts
Edit
Prologue
This was THE highschool summer party of the year, and everyone knew it. How Andrew had snagged an old abandoned mansion was beyond anyone's knowledge. But realistically, who really cared anyway? There was punch!
Andrew made his way to the box-crate stage and whispered something to the band before facing the crowd and turning on his microphone with a piercing screech.
"I just love that", he snickered. "You all know why you're here. And to these lucky 13 your night just got waaaaay better."
A quiet murmur began in the sweaty crowd of teens.
"mew, EDM, current, Gnan, IAWY, Boquise, Vomm, Brainy, Aura, Marq, Segul, Jay and FT please come up here would ya!"
As each made their way to the stage, Andrew read the varying expressions. Some looked excited to be chosen for whatever this surprise was. Others confused. Some just looked drunk and tired.
"Alrighty let's get these party freaks blindfolded!"
The band fell silent momentarily as the box-crate stage floor began to lower, deeper and deeper. The crowd started applauding excitedly. The stage floor lifted as quickly as it had lowered, empty. Even the band was gone. One of the partiers started to get excited as her favourite song began to be played.
Suddenly, Andrew was up on stage again."Let's party!"
---
The lucky 13 were moving.
Down. Somewhere.

IAWY could hear the mechanical sound of the platform lowering as he convinced himself this was all a big joke.
Mew was struggling to remove his blindfold when he felt an unknown hand grab his hands and hold them down.
"Remove the blindfold and I shoot you right here!" the woman shouted.
As Marq quietly convinced herself that this was all a big joke, she felt the harsh felt of the blindfold rub against her nose.
"It's all a joke," she thought.
"We'll be fine... It's all a joke..."
Night 1
She felt the coolness prickle against her skin. "Take off your blindfold" someone whispered behind her ear. She took it off to reveal a dazzling banquet hall. Food, champagne, chandeliers, ruffled curtains. Where were they?
Andrew stood on the central mahogany table amongst the food.
"I'll make this short. Three of you are trying to kill the rest. You three know who you are…you sicko's." He laughed. "The rest of you…well, you'll just have to try and figure it out before you die. Have Fun. Now… I've got a party to attend to."
The lights went out. Some of the girls screamed. The guys were acting like it was all a big joke. IAWY felt something brush his face.
With a whir the lights were on again.
"Oh my god?!?" someone shrieked as one by one each chandelier came hurtling to the ground in a shattering of diamonds and glass. One was falling straight onto IAWY. He was going to die. Until... a courageous hero swooped him off his feet, falling to the ground among the shards of glass. The darkness encased them all. It felt cold and clammy.
Up above, dancing with his friends, one guy thought he heard a bunch of screaming coming from down below. "It must be the beer" he thought to himself.
---
IAWY was saved tonight.
Day 1
Following the chaos regarding IAWY and the chandelier everyone began to panic. Were there truly 3 of them out to get the rest? The answer to this question became evidently clear when three voices started shouting orders.
"This is gunna be too easy," came one.
"We've decided to give you a head start," came another.
"We've got to have some fun atleast," came the third voice.
Boquise thought that last voice sounded familiar. "Mew's one of them!!!" came the first of what could only be a thousand accusations.
"I told you to put on a different voice" shouted the first killer at mew. "But I.."
As they began arguing Marq slowly crept forward, shakily searching the mahogany table for something. Anything. A candlestick. It'd do. "I hope I'm right..." She grabbed the candlestick and ran towards mew's voice, one which would never be heard again.
Mew died today. He was the baddie vote manip (x0-x2 on anyone).
Night 2
Following Mew's death Andrew's guests scattered into the underground chambers of the mansion, the steady beat from the party upstairs thudding in their ears.
Aura was crawling on all fours, sticking close to the walls. They felt like cold stone. She seemed to be in a hallway. If she could just find a crawl space, or hide under something, maybe she could wait this out right? Wrong.
She heard footsteps quickening behind her. She started crawling faster, her heart beat drowning out the music now. The footsteps were getting closer. She could hear the scraping of metal against the stone.
Then she was being dragged back down the hallway she had come from, leaving a trail of blood that nobody would see.
Aura died tonight.
Day 2
Jay felt the chilling tiles of the bathroom behind his back. As he heard footsteps approaching he sunk to the floor. "Is anyone in here?" came Segul's voice. Jay said nothing, he didn't want anyone to know he was in here. You couldn't trust anyone anymore.
"I'm here" came Brainys voice from the other corner of the room. An itching sensation tingled at the top of Jays's scalp as he realized Brainy must have been there the whole time.
The three heard a voice singing to the distant pop music coming from upstairs.
"All the other kids with the pumped up kicks,
You better run, better run, outrun my gun.
All the other kids with the pumped up kicks,
You better run, better run, faster than my bullet."

Three shots rang through the bathroom. The tiles clattered to the floor, reminiscent of the chandeliers that fell only hours ago.
Brainy heard Segul breathing heavily. Jay however, was silent.
Jay died today. He was the vote manip (x0-x2 on self)
Night 3
Current thought he knew what he was doing. If he could climb onto something, like a chandelier that was still intact perhaps, and then stay up there, he should be safe. No one thinks to search up, especially in the dark. Well, that's what he thought.
After securing what he thought was a nice position Current listened out, his ears straining in the silence. Was that... sirens? Maybe, he couldn't be sure. But then he heard something else. A definitive "clink". Two seconds later he felt gravity take over. Two seconds after that he felt nothing at all.
Everyone heard a crackling sound from overhead. EDM heard from her spot under the table, Segul from inside a cupboard, FT who was slowly crawling through the parlour. "Attention! This is your gracious party host Andrew. I wanted to turn the music louder up here to cover your noise. But your not making any. I invite you all to speak up! Otherwise how will I disturb the neighbourhood?!?" The speech ended and the silence began consuming the guests once again.

Current died tonight.
Day 3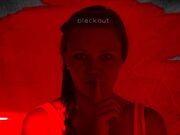 The guests were getting agitated. Enough was enough. EDM screamed through the hallways "Everyone come to the dining room NOW!" It took half an hour, and there was no way of knowing if everyone was there. But eventually the guests decided it was either Brainy or Marq.
Segul felt a gun being placed into his hand in the darkness. "who the heck was that?" he thought. Andrew scurried away excitedly. Segul took two shots. Not knowing exactly where he was shooting. He heard a cry. He had shot someone. Who was it?
A fuzzing sound began. This turned into a hum as one by one fluorescent lights began to illuminate the dining hall. FT and Gnan screamed in unison, like an off-key choir, as they saw the bodies laying across the dining hall table. mew, Aura, jay and current all lay in pieces. IAWY helped Bo place Brainy on the table to join the feast of bodies. Vomm gave them a weird look to show her confusion as to why they felt they needed to move the body.
Andrew then walked into the hall.
"Well that was quicker then I expected. Congrats. You survived. Now, don't report me to the cops and you will stay alive. That is all. Follow me."
He lead the guests to the platform stage they had entered on. Slowly they rose up to the party where the other guests eagerly awaited them. A round of cheers and applause greeted the guests. Marq started crying uncontrollably, still getting over the fact that moments ago a bullet nearly killed her.
"Tears of joy," Andrew shouted with a convincing smile to the onlooking partiers. "Oh what tears of joy. Only they know what happened down there. And it'll stay like that. They know the consequences of revealing the awesomeness that occurred down there" A harmonious sigh spread across the party guests. "For their endeavours they have won the experience of a life time. A caving trip with me. Don't forget to bring your flashlight."
---
Brainy died today.
Congratulations to the GOODIES on winning BLACKOUT MAFIA!
End of Game Roster
Edit
Role Spy - _Auramyna

- Killed N2

Block - Brainiac100

- Lynched D3

Vote Manip (x0-x2 on anyone) - mewminator

- Lynched D1

Role Spy - Marquessa

Faction Spy - curr3nt

- Killed N3

Follow Spy - EDM

Block - Fat Tony

Save - Vommack

Ask host y/n - Boquise

Vote Manip(x0-2 on self) - marksmanjay

- Lynched D2

Messenger - Inawordyes

Kill - Segul

Role Master - gnanforu
List of actions
EDIT HERE
Ad blocker interference detected!
Wikia is a free-to-use site that makes money from advertising. We have a modified experience for viewers using ad blockers

Wikia is not accessible if you've made further modifications. Remove the custom ad blocker rule(s) and the page will load as expected.