Bleach Mafia: Season One was a game designed and hosted by lionheart87 based on the anime Bleach.
It began on May 6, 2012 and ended in a Word of living and Urahara's Shop win in D3 (May 16, 2012).
Game Mechanics
Edit
A tie lynch results in all lynchees dying.
Outing yourself directly results in Host kill.
Role Description
Edit
Goodies: The World of the Living
Wincon: Be the last Standing
Ichigo Kurosaki: A teenage boy with the ability to see spirits. Gains Soul Reaper powers from Rukia's Zanpaktou in order to save his family. Can save once a night. If Isshin saves him, Ichigo gains the RID kill.

Isshin Kurosaki: Father of Ichigo and runs a family clinic. He is overly aggressive with his son, and his mind is destroyed by the loss of his wife. He can RID kill once a night and can give his life to save his son.

Rukia Kuchiki: A seeded member of the 13th Court Guard Squad, and is on her first solo mission in the world of the living. As Ichigo's mentor, she can spy once a night.

Uryuu Ishida: Uryuu is a very intelligent member of Ichigo's class, and the last surviving Qunicy. He uses reishi to attack his targets. Can trap once a night.

Orihime Inoue: Orihime is a normal human and a member of Ichigo's class, and is quite fond of him. She is also best friends with Tatsuki. She has BTSC with Tatsuki, and can block once a night due to her special barrettes she received from her brother, Sora.

Yasotora "Chad" Sado: Chad is much larger and stronger than the rest of his classmates. Ichigo and Chad have a close bond from schoolyard fights. He can redirect a target each night.

Tatsuki Arisawa: A phenomenal martial artist, and close friend of both Ichigo and Orihime, her strengths are proven when in battle. Tatsuki can mimic a target's role on the following phase. (Both living and dead)
Baddies: The Soul Society
BTSC; Night Kill
WINCON: Majority; Ichigo and Rukia must be unable of acting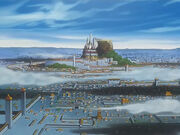 Renji Abari: Childhood friend of Rukia's, and Byakuya's Lieutenant. Uses his brute force because of his lack of intelligence, and can block once a night.

Byakuya Kuchiki: Captain of the 6th Division, and Head of the Royal Kuchiki Clan. Byakuya is rated as one of the most loyal and strongest members of the 13 Court Guard Squads. His status makes him fearful, can either spy at night, or redirect a vote during the day. NOT BOTH

Genryusai Yamamoto: 1st Division Captain and Head Captain of the 13 Court Guard Squads. He is the only one that can power play the baddie roles. Can trap a target on odd nights, and can make his vote count for 0x or 1x on all days.
Indies: Urahara's Shop
BTSC; 2 RID guesses per night
WINCON: 3 Goodie RID's/one Baddie RID; Must Complete RID's with Ichigo, Rukia, or Isshin alive
Kisuke Urahara: Ex Captain of the Research and Development Department in the Soul Society. Can block one vote each day.

Yoruichi Shihoin: Ex Captain/Leader of the Soul Society's Stealth Force. Roll for action: 1. Faction Spy; 2. Random Spy; 3. Role Spy; 4. No Action; 5. Accidental spy; 6. Revival RID
Indies: Hollows
The hollows do not have BTSC, but do know each other's identity.
WINCON: Outlast Ichigo, Rukia, Renji, and Orihime
Sora Inoue: Dead brother of Orihime, and now a Menos class Hollow. Can use his soul to track Orihime's Actions. Spy on even nights.

Menos Grande: A very large, strong, slow and stupid Hollow. Has spy on odd nights, but doesn't get the answer until the end of day. Also has a night kill on even nights.
Host's Summary
Edit
Congratulations to the World of the Living for one of the swiftest wins ever in a mafia.
Congratulations to Urahara's Shop for completing the Indy Wincon.
Congratulations also to Hirkala, for being a N1 Kill, the only kill the baddies have, and still surviing to the end.
MVP of this game goes to coolkid.
If it wasn't for your spot on actions, this game wouldn't have ended as quickly.
Winning Faction
Edit
1. Vineetrika - Ichigo Kurosaki
2. abhisk - Uryuu Ishida
7. Brandonb - Rukia Kuchiki
8. Coolkid - Orihime Inoue
10. MiKi - Tatsuki Arisawa - Killed N2 by the Menos Grande
11. Fat Tony - Isshin Kurosaki
14. TJ - Yasotora Sado "Chad"
6. Hirkala - Kiskue Urahara - Killed N1 by Soul Society, Revived N2
13. Shad - Yorouichi Shihoin

MVP - Coolkid
Day and Night Posts
Edit
 :Prologue:
Enter—Karakura Town

A quiet evening, with dad gone to a convention in Tokyo, Ichigo Kurosaki starts in on his homework before settling in for the night, or so he thought. In light of recent up comings, Rukia decided to reside in Ichigo's closet for some odd reason, but keeps quiet and waits for the next hollow to appear on her spirit phone. It's been almost three months since she last saw the Soul Society.

Rukia has now been stripped from most of her soul reaper powers due to the engagement with a hollow that nearly killed herself and Ichigo's family. Originally she was only attempting to give Ichigo enough reishi to give him the strength for exterminating the hollow, but something went wrong. Ichigo's spiritual pressure overwhelmed Rukia, and ripped most of her reishi away. So it's time for Ichigo to continue in protecting the town of hollows, under Rukia's supervision, while she must hide her spiritual pressure from any on looking members of the Research and Development team of the Soul Society.

Ichigo is constantly pulled from class as per his new "job," and some of his friends are noticing. At times, Chad tries to follow him. Tatsuki and Orihime question to themselves about what has gotten into him. The only one that doesn't raise suspicion is the last remaining Quincy… Uryuu Ishida. If it wasn't for the Quincy's sworn hatred for Soul Reapers, he might actually help Ichigo in the extermination attempts. Instead he goes at it alone, and Ichigo unknowing.
---
"Mister Hat n Clogs," formally known as Kiskue Urahara, always keeps a close eye on the Ichigo/Rukia duo. Whether it's making a geigai for Rukia or making sure Ichigo uses his trusty mod-soul partner, Kon, for the soul form release, He always seems to know what is going on. Could the stealthiest black cat, Yorouichi Shihoin, on earth be keeping an eye on the pair? Or is it just the fact that Kiskue is that creepy?
---
Tonight is just like any other: Ichigo does his homework, Rukia lecture's him from the closet about being more responsible in his newly found position, and Kon being a perverted idiot. After completing his homework, Ichigo lies down and calls it a night. As he is about to fall asleep, Rukia flings the closet door open and says, "Ichigo, it's time to get to work."
Ichigo moans in disappointment, "Already? Crap!! I haven't even got to sleep yet and you're already bugging me about freakin' hollows?"
Rukia puts on her soul glove and rips Soul Reaper Ichigo from his body. "Now's not the time to complain, you idiot, just do your job." And out the window they go, sprinting across the rooftops, and off to the next hollow attack.
---
A Senkaimon opens a ways behind them; The Soul Society's 6th Division Lieutenant Abari and Captain Byakuya Kuchiki Step out of the white abyss behind them. Byakuya mutters, "I feel a strange spiritual pressure…its almost wild."
"I feel it too; could that be our dear Rukia?" Renji's confused voice seems almost scared at the feeling.
Byakuya quickly replies, "No, you must be joking, Rukia would never be that wild in her actions. She is too calm for that. We must bring her back, before we dispose of the little boy she's masquerading as a Soul Reaper. It is a disgrace to the Soul Society[/color], and to the Kuchiki name…It must be cleansed."
Captain Kuchiki's voice echo's in the darkness of the night, sending a chill up Renji's spine. "Yes sir," Renji replied in a swiftly manner. "The head captain's orders were to bring back Rukia for the crimes committed, and eliminate the human that stole her powers. Force can be used, if needed, for the capture of Miss Rukia Kuchiki."
---
Rukia felt Byakuya's words, and trembled with fear. "Oh no, they're here," she thought to herself……
N1: The Past comes back to Haunt
Ichigo and Rukia chase off into the night, with Byakuya and Renji not far behind. After the duo reaches the hollow, Rukia turns to Ichigo and says quickly, "I need to go follow another target, make sure to do a 'Konso' on that little boy when your done." Before Ichigo could react, she was gone.

Ichigo finishes off the hollow that was chasing the young spirit, and finally after chasing the little boy all across town, he gives his little spiel and comforts the scared spirit. "The Soul Society is a happy place, your family and friends are waiting there for you," he explains to the young boy. Ichigo touches the boy's forehead with his hilt, and goes off to save the next victim.

Tatsuki stayed at Orihime's tonight, discussing what should be done, and why Ichigo has been acting so strangely. Finally they come to their conclusions as what should be done... The two friends go each's own separate way into the dead of night. Little does Orihime know, the newly hollowed Sora is close behind.

Tatsuki, thinking to herself while she swiftly moves between the shadows of Karakura High School, wonders what has become of her group of friends, and why they are all acting strangely. "Hopefully i can get some answers tonight." She sees Kitsune racing across the baseball diamond. "Maybe he can help me, that should be enough for now." Back to the apartment she went, knowing what needed to be done tomorrow.

Now was the time, the Squad 6 officers were going to finish what they had come here to do...

Captain Kuchiki had gotten his own orders from Head Captain Yamamoto. With the conversation had, he speaks calmly and serenely towards Renji. "Have you been given your target?' It sounds eerie coming from his mouth.

Renji replied, "Yes sir, shall we go take care of things for the night and report back?"

"Yes," Byakuya agreed. "Now is the time to carry out the plan, take care of it swiftly, make sure no one is around. Unsuspecting humans my be pained by your spiritual pressure. We mustn't upset the balance."

With a flash step, Byakuya was gone.

"Ok, Zabimaru," Renji expressed to himself, "Where is this person of Shadows."

He finds Shadow's spiritual pressure in a cemetery, and goes down to greet her. "Its no fun when they can't see you, but the Head Captain said he didn't want her to act tonight."

"ROAR, ZABIMARU!!!"

With a quick lash from the backside of Renji's zanpaktou, Shadow was out cold.

Soi fon, the Captain of Squad 2 and Leader of the Stealth force and Punishment squad, gave the orders to the two groups as the Head Captain had told her.

The Punishment Squad was to capture and interrogate, while the Stealth Force was to eliminate unsuspecting members of the team in the World of the living. Yamamoto wanted the Punishment Squad to go first. "If you have to use force to bring her in, that is an order!" The Head Captain explained. The team lept through the Senkaimon to the world of the living, and ended up in Auramyna's living room. Before she knew it, she was hit with a few Bakudo incantations, and gone from the world for awhile.

"I don't want people to recognize he's gone, but he is a risk we cannot look over," Head Captain Yammamoto explained to Soi Fon. "I want you to do the job, for I fear your Stealth Force is too big for the job for it to be swift and silent."

Without even an acceptance of the order, Soi Fon was already through the Senkaimon. She enters Karakura town swiftly above the moon, and dives down in a picture perfect cresent. And sees Hirkala walking alone in an alley behind a ramen shop. As Suzumebachi stings him in the chest for a second time, Soi Fon whispers in his ear - - - "A good death is an honorable one, but you couldn't even be executed properly."
Day 1: A dark day at the Sokyoku
As the members gather around Sokyoku hill, eyes began to fall upon a few members in the crowd. Mostly upon blind accusations and unknowing opinions, it was narrowed down to the two most accused suspects, Kitsune and Brandonb. Brandonb said his piece to the crowd, claiming it was not him people needed to be looking at. Some decided to believe him, but there were still many not arround to hear.

After some time had past, and the sun about to set, one member of the execution squad exlaimed something about a human, and everyone knew. As the Punishment squad came with the cloaked member of the Soul Society. After he was raised, and the Sokyoku unleashed, the hood fell off the cloaked member. Kitsune was staring at the mouth of a great Fiery Bird, and knew it was his end. As his white cloak fell to the ground, they saw who it was.

The Captain of Squad 1, and the Head Captain of the 13 Court Guard, Genryusai Yamamoto.
Night 2: Suffering's Confusion?
It was time once again for Ichigo and Rukia to protect Karakura town, and Rukia's soul pager was going crazy. But which blip to follow first?

Uryuu Ishida, surviving his Quincy training was enough to make him do his own business. Putting his trust in his quickness and Seele Schneider, he rushed off to the alley behind Isshin's clinic. Noticing that the girls must be asleep, and Ichigo and Isshin out for the night, his prey would be caught easily. tj came walking down the alley, for a nice midnight walk. Too bad for him, his walk would be cut short, as a Quincy arrow went whizzing by his face, and before he knew it, tj was trapped in a bright blue light. When tj woke up, he was in a hospital bed, chained for the coming day.

Byakuya and Renji appeared once again above Karakura town, seeking revenge. So they split up to, once again, find their dear Rukia. Renji goes off to make sure the road is clear for Byakuya's attack, and only one member is in between them and the target, Brandonb. "I'm pretty bad with kido, so I'm only gonna try this once," Renji says as Brandonb turns around. "Hado Number 31, Shakkaho!" the ball of red energy hits Brandonb in the chest, and pushed him back against a wall. "That should silence you for a night." Renji flash-stepped his way to catch up with Byakuya.

A black cat was seen walking past Hirkala's grave. "I think its time this one gets another chance." After a few incantations, and a great amount of spiritual pressure was let off, Yorouichi walked away from the grave sight.

From out of nowhere, Ichigo noticed a Garganta open across town, and out peaked the glaring eyes of a Menos Grande. "I gotta get over there now," he spoke to himself, and off he went. The Menos came out from Hueco Mundo, and landed on the bike path by the river, right where Miki was standing. Without loss of time, the Menos Grande opened its mouth. Out came a Cero so bright, it lit up the whole town red. That was the sign. Someone had died, and Ichigo couldn't even catch up to the Menos before it escaped back through the Garganta.
Day 2: Closed ears, Blind eyes, Confused Minds, yet a pure Heart
Hirkala, after being raised from the dead had little to say, but enough to purify the minds of the masses...or so we all thought. Today was like any other, thrown accusations, mixed emotions, and two sides of a debacle with one independent. The quick jump on Aaryan, almost guaranteed imminent death, but som protested, and wanted Shadow dead, with little reason. In front of the Punishment Force, Aaryan exclaimed, "How can it be me?! I couldn't even act!!! " Soi Fon decided to make the force step back, and listen to Aaryan's plea, but Ukitake and Shunsui had heard enough. With Shadow nowhere to be found, and the Soul Society gathered around Sokyoku Hill, The two Captains made the captain of squad 6 kneel before the crowd.

Soi Fon, angered because of the Soul Society's oldest captains taking the reins from her, stormed off, pleading for her Lady Yorouichi. Byakuya Kuchiki accepted his honorable and lawful exectuion.
Night 3: The Search Continues
With the past two days being very unlucky for the Soul Society, and Renji being the only one left to finish things...this was crunch time. Rukia has felt much safer walking around Karakura town with her brother now gone, and figured she needed some answers to get her life in the World of the Living back in order.

Tonight, Chad decides that its time to go out and make sure his friends are safe. As he's walking down the river walk, he sees that abhisk has started to track the selected target for the night. But after a stern voiced command, 'El Directo,' a large fist hits abhisk in the back of the head, which sends him into the air. Abhisk is now laying on the bridge, confused, and with a massive headache, but continues on.

Uryuu also thought tonight would be another great chance to show off his Quincy training. His eyes were set on the prince. Prince Marth, minding his own, was sitting at a Ramen booth with a few friends. He always seemed to protect his friends and this time was like any other. The Quincy's arrow was heading for the back of Marth's head, but he dodged in enough time to see some hair fall into his bowl. When Marth turned around, he could no longer move, and was caught in a concrete room, with no windows or doors.
Day 3: The Final Getsugatensho
One last time, the members of the Soul Society, the World of the Living, and the hollows gathered on Sokyoku Hill. The quick-witted and powerful predictions from Orihime "coolkid" Inoue led the World of the Living to a strong finish. But not all could be gained unless both Renji Abari and the Menos Grande had been annihilated. But was it truly going to happen? Was the group positive that Meem and Aura were to blame? With the risk being taken, and everyone wondering about which Bakudo Kiskue "Hirkala" Urahara was going to use, time seemed as almost to stand still. With the little black cat, Yorouichi "Shadow" Shihoin, coming in to say, "All is well, the end shall not be suprising."

Renji "Meem" Abari and the Menos "Aura" Grande stood in front of the crowd. It was their heads on the chopping block, but no one wanted to pull the trigger. "tj" Chad and Uryuu "abhisk" Ishida were standing together, waiting to feel the hammer drop. Rukia "Brandonb" Kuchiki had some final advice to give, and the father and son duo stepped in.

Isshin "FatTony" Kurosaki and his son Ichigo "Vineetrika" stood before the members of this issue, and before anything could be done, their zanpaktous had been drawn. Isshin before the Menos and Ichigo in front of Renji, two quick swings would be all it would take.

The Menos shouted, "I will be the last to go!! Not you little soul reaper!!" And with an opening of its mouth, grew a giant blue cero....A Gran Rey. Renji, staring at the ball of light about to wipe himself away to a mere shadow, knew this was his last stand. The cero released, and after the cloud of blue left Sokyoku Hill, all that remained was a silohette of Renji Abari and his zanpaktou, Zabimaru.

Ichigo, outraged that he wasn't allowed to end the new aquaintence, drew his sword. "I was supposed to be the hero!! I'm supposed to protect everyone!!! That's why I got this power!"

"GETSUGA TENSHO!!!!!"

The strike split the Menos Grande in half, and the team knew it was over, and they had won.
End of Game Roster
Edit
Host: Lionheart87
1. Vineetrika - Ichigo Kurosaki
2. abhisk - Uryuu Ishida
3. Marth - Sora Inoue
4. kitsune - Captain Yamamoto - Lynched D1
5. Meem - Renji Abari - Killed in the end of the game
6. Hirkala - Kiskue Urahara - Killed N1 by Soul Society, Revived N2
7. Brandonb - Rukia Kuchiki
8. Coolkid - Orihime Inoue
9. Aura - The Menos Grande
10. MiKi - Tatsuki Arisawa - Killed N2 by the Menos Grande
11. Fat Tony - Isshin Kurosaki
12. Aaryan - Byakuya Kuchiki - Lynched D2
13. Shad - Yorouichi Shihoin
14. TJ - Yasotora Sado "Chad"
List of actions
EDIT HERE
Ad blocker interference detected!
Wikia is a free-to-use site that makes money from advertising. We have a modified experience for viewers using ad blockers

Wikia is not accessible if you've made further modifications. Remove the custom ad blocker rule(s) and the page will load as expected.