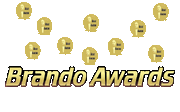 The Brando Awards are an annual award given to the players of Mafia. They occur in January of every year and cover only the previous year of Mafia on both MafiaManiac and BrainDen.
There are 11 active categories (some have been added and some have been discontinued). To see the winners of each category every year look at Brando Winners.
Brando Awards
Winners
Active Awards
Discontinued Awards
Winners Table
Edit
Categories
Edit
Discontinued
Edit
The nominees are chosen by their peers. Each possible nominee has to be nominated by another player, with another player seconding the nomination (except for the Biggest Mafia Blunder category where self-nominations are allowed). Each member can only nominate 1 peer and second 1 other nomination (from 2012).
Official Links
Edit