You will find in this category a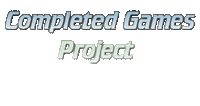 list of
Mafia
Games with an incomplete description. This project will focus on getting
MafiaManiac
games completed first (
COMPLETED
), then move to the previous eras / games on
BrainDen
in order. But you can jump in and edit a game from any era you want.
Tips
You can contribute by editing pages in this Category. Please visit this page Community Portal for generic information regarding wiki editing and note the special formatting available in the toolbox below your editing area (i.e. colors for Goodies, Baddies, etc). When you are finished editing a Game's description, even if it does not have a Host Summary, please delete the HelpNeeded category from the bottom of the game's page.
Thank you for your contributions!
Current status
Statistics per era
List of items to do for each game:
In order to make it easier for people to know what needs doing and what has not been done yet for each game, please use this checklist of items for each game that still needs help. See Blank_Game#List_of_items_to_do_for_each_game:
Trending pages
All items (16)