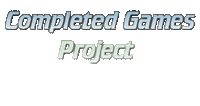 list of
Mafia
Games with an incomplete description. This project will focus on getting
MafiaManiac
games completed first (
COMPLETED
), then move to the previous eras / games on
BrainDen
in order. But you can jump in and edit a game from any era you want.
You can contribute by editing pages in this Category. Please visit this page Community Portal for generic information regarding wiki editing and note the special formatting available in the toolbox below your editing area (i.e. colors for Goodies, Baddies, etc). When you are finished editing a Game's description, even if it does not have a Host Summary, please delete the HelpNeeded category from the bottom of the game's page.
Thank you for your contributions!
Current status
Edit
Statistics per era
Edit
List of items to do for each game:
Edit
Here is a practice player page that anyone can play with to learn: Practice Player
Here is a practice game page that anyone can play with to learn: Practice Game
Here is a videos you can watch that can help anyone to learn wiki editing. MM Videos Wiki Editing

In order to make it easier for people to know what needs doing and what has not been done yet for each game, I have compiled the below checklist of items for each game that still needs help.
Steps 1-5 should probably all be done at the same time.
Initializing
1. Add game to Era category, found at bottom of any game page in the appropriate era.
2. Click on yellow link in the newly edited Era category to bring up box to create new page.
3. Add categories to new game page for current Era, games, helpneeded, and also hybrid if it is a hybrid game (no standard good/bad factions). This is easiest to do before switching editor to while editor is in Visual mode.
4. Switch editor to Source mode and copy our basic game template from Blank Game (open the empty game template, click on edit and copy everything from it to the new game page you are making). Close the template page and save the new game page.
Game in progress
5. Add game to Master List of Games & Players Master list and to current era Era 10
6. Add game picture
7. Edit game info box and completed all info except MVP and end of game roster and winning faction (link to game page, host, starting roster).
7a. Categorized the size of players: Small - 11 & below / Medium - 12-15 / Large - 16 & above
8. For any new players, have dee create a new page for them using Blank Player and updating the player lists at the bottom of the player page
9. Edit top section of game page with host and design info and game start date.
10. Add all game rules.
11. Add role info and color each faction with its faction color.
12. Edit Day and Night Posts for Intro post, Night and Day posts, and final post.
13. Update end of game roster for killed/lynched players showing the day or night the player died. May add role info if the host reveals it.
14. Fill out First to die section of game info box.
End of game.
15. Finalize the end of game roster.
16. Checked that all day/night posts are entered.
17. Add Host's summary if any.
18. Complete winning faction section just below Host Summary section.
19. Fill out top of game page and info box for winning faction, end date, ending roster, MVP
20. After BTSC threads are moved to archives, copy the link to the game's archive threads to the spot for BTSC threads in the game link spot in the info box.
Work on other pages
21. Update all player records to add this game.
22. Update Host's player page to add this game to hosted games
23. Update pages for Died N1, First to Die Club, Bullseye Club
24. Update Master List of Games & Players for Host, First to die, MVP
25. Remove helpneeded category from game page.
26. Delete this list from this game page. All done!