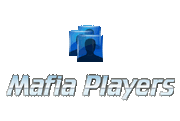 This category contains
MafiaManiac
and
BrainDen
members that have played in Mafia games.
Only players active on MafiaManiac (that signed up for at least one game) are featured in the Era-ordered template. BrainDen and mOs players that are not a part of MM may get player records in the future, but will not be added to the template!
Player pages (and Mafia Records) will be completed in the same order the Eras are completed (from Era 6 backwards), in order to have all the end game rosters finished before the Mafia Records are edited. The rest of the players are placed in the Category:PlayersHelpNeeded category, awaiting for the completion of these Eras.