Disney Movie Mafia was a game designed and hosted by GMaster479 based on the characters from Disney Fairy tales.
It began on May 25, 2012 and ended in a Goodie/Indie win in N8 (June 10, 2012).
Game Mechanics
Edit
GAME EXPLANATION: So for each goodie, there will be two roles sharing one action AND BTSC. They must choose who will carry out their action. If the happy couple can make it to Night 3 while still being together, they will gain a secret power
Role Description
Edit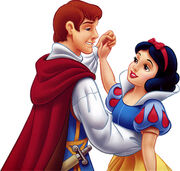 Goodies: The Happy Couples:
- WINCON to defeat all Baddies and Indies
Beauty and the Beast: Can trap someone in their castle. They will choose a victim at night and they will be taken prisoner for the day and the next night (as in the action of that person will happen that night and not be stopped)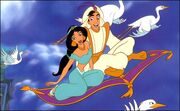 *
Snow White and Prince: With so many dwarves at their disposal, they can choose any vote and either double or triple it.
Aurora (Sleeping Beauty) and Prince Phillip: Can RID Lynch save each day. If they use this power on one another their roles will be revealed

Jasmine and Aladdin: Will use their flying carpet to spy on up to two people per night.

Ariel and Prince Eric: Using the powers of the sea they can actively redirect one person to another each night.

Cinderella and Prince Charming: Using their charm they can block one person each night. Can't block the same person twice in a row.

Simba and Nala: So what if they aren't human. Can choose one person at night to save. Can save each other once.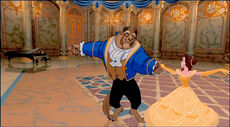 BADDIES: Those Villains
- WINCON: Be in majority
- Have BTSC
- Group Night Kill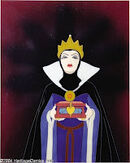 Gaston: A extremely strong but dumb villain. Has RID Kill every night starting N3.

Maleficent: The evil witch can choose one couple every other night and break their BTSC with each other.

Jafar: Can choose one person to steal an action from. If he chooses someone who is acting that night they do not act and he will use their power the following night. If not he will try to steal again the following night

Lady Tremaine: That wicked step-mother. Uses her power she can change one person's vote per day

Ursula: She can choose to spy on either 2 living players or one dead player each night

Scar: A strong lion that blocks one person each night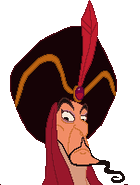 INDY GROUP: Pixar's Greatest
- WINCON: Be in majority
- Each Duo has BTSC (not all 4)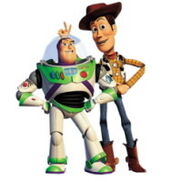 Woody and Buzz: Pixar's greatest duo. Have a spy odd nights and RID Kill even nights. For every successful RID Kill they gain an extra one for the next even night
Mike and Sully: Our favorite Monster Duo: Can scare people into submission each night (Block) and learn their role as well (Spy).
Host's Summary
Edit
What a game. There were lots of twists and turns, as you might expect from one of my games, but overall it was a lot of fun. There were a few mistakes on my end but overall I was very pleased on how this turned out. For those of you who were concerned about balance, I can assure you that there was balance throughout this whole process as you can see by the secret actions. I think that complacency was a big factor in this game. This factored into the baddies dying and the goodies almost losing it. I will focus on the Baddie's demise, and the few key actions that would have changed this game.
First, we have the N3 craziness. Someone should check for the record for most amount of deaths in one night for that one. People noted that not only did I seem to have too many baddies, I didn't give the goodies a kill to fend them off at all. The secret was that the Goodies were ALL to get one as their secret power. The baddies, throughout the whole process, weren't really aware of the power of so many people having BTSC or the possible secret powers that could ensue. The only people who really mentioned this died N3, leaving FT and EDM and Meem all alone. This plus the D2 talks kept them from being a big factor.
Next, we had the Goodies, who used the N3 massacre to their advantage, knocking out baddie after baddie after baddie whether it be by kill or by lynch. If anything, they seemed to do too good of a job, because their complacency came towards the end of the game. They were almost certain all the baddies were gone, but there hadn't been an indy death at all in a lynch and by the time they realized what the indies could do, it was too late. The only person who seemed to care about squashing the indy threat was TJ. On N6 TJ, for the fourth night in a row, had targeted an indy/baddie. However, Slick blocked TJ's killing of Kitsune AND redirection of EDM, which would have made it where the goodies could win outright. That is why, despite being confused about Vine himself, I am giving TJ one of the other two MVP's for this game.
The other MVP is going to Vine. Vine's deception, diligence and carrying of the inactive Kit was extremely crucial for the indy win. While BB and Plasmid pulled off the only successful secret RID recruit, which led to Vine's save N5, Vine really made her time worth it in leading to TJ's lynch and RID Killing Framm. The indies in this game were given a tall task, but played their cards very well throughout and should be commended.
Overall, I want to thank everyone for this game. It was really fun and really active. I really appreciate everyone's dedication to this. I hope you enjoyed the game and congrats to Vine and TJ on their MVP's
Winning Faction
Edit
Goodies
1. Marth - Alladin - Killed N2 by Gaston
3. Fox - Belle - Killed N8 by Woody
4. Slick - Prince Charming
6. MARQ - Aurora - Killed N1 by Gaston
8. tj - Prince Eric - Lynched D6
10. Thalia - Prince - Killed N8 by Woody
11. Phaze - Cinderella - Lynched D1
14. mew - Jasmine - Killed N5 by Prince
16. Hirkala - Beast - Killed N4 by Jafar
17. Gare - Snow White - Killed N6 by Jafar
18. Framm - Prince Philip - RID killed N6 by Buzz Lightyear
22. sparrowhawk - Simba - Killed N5 by Lady Tremaine
23. Izzy - Nala - RID killed N3 by Gaston
24. Berno - Ariel - Mod killed N6

Indy
7. Brandonb - Sully - Killed N3 by Nala
9. Kitsune - Woody
21. plasmid - Mike - Killed N5 by Prince Eric
25. Vineetrika - Buzz - Lynched D7
Day and Night Posts
Edit
Prelude: Happily Ever After?
WILL EVERYONE PLEASE SHUT UP!!! screamed Ursula so that everyone in Lady Termaine's dining room could hear it.

"We all know why we are here, correct? she asked with a twisted smile. "We are all victims to the Happily Ever After sham. That sham that turned good wholesome fairy tales, where we would rise up victorious because of the falters and failures of those annoying princes and princesses, and made us into LOSERS! We my friends...will not take this anymore will we? Happily Ever After is no longer going to be the case for anyone in Disney's Magical Kingdom. We will take all of them by storm and assert our rightful place atop the animated magical world!!

The rest of the fairy tale villains gave the diva octopus a standing ovation and began the planning stages of what would be the bloodiest Disney brawl until...DMM2!
Night 1 - Impaired Sleep
Marquessa was having a hard time sleeping through the night. She was hearing noises all throughout the night. With her partner in bed next to her still asleep, Marq quickly and quietly crept down the stairs and turned the corner. She heard faint mumbles coming from the next room over. She peaked her head around the corner, and got slammed in the face by Gaston's fist. Marq went flying into the wall and was knocked out cold. Gaston went over to inspect the damage, but it seemed that he no longer needed to try and scrounge up a weapon to kill his target, as she was already dead

Kitsune was walking around the grounds in the Disney Kingdom when suddenly he saw a faint glimmer behind him. He thought nothing of it until it happened again, he then turned around a screamed behind him, but no one was there. Then suddenly, a glass slipper conked Kitsune on the head and he was out. As the couple walked away, the Evil Queen snuck out and took the body for the rest of the night and the next day...

In other news, mew was blocked as well by Scar...insert some sort of hyena laugh afterwards here...
Day 1 - 12:01...
Phaze found it no coincidence that the time should have been 12:01AM instead of 12:01PM. Or maybe the fates from Disney had midnight mixed up with noon. Either way it seems that Cinderella was no more...

In other news, Kitsune is free and Thalia will be replacing Thomas.
Night 2- Genie in a Bottle
Prince_Marth85 was quietly walking along, trying not to garner any attention from anyone. However, attention is all that he found. He walked into a house and out from under the couch in the living room jumped Sully. Sully took Marth and squished him up so that you could almost fit him into a briefcase. After Sully felt Marth to be incapacitated, Gaston walked in and decided that he should slice Marth to pieces and fit him in a bottle and send him out to sea...and that is just what he did.

Slick was walking around the grounds, but didn't seem to noticed he was being watched by the Queen from her castle. With her mirror ready, she strategically placed a beer about 100 yards in front of Slick. She watched through the mirror and watched as Slick guzzled down the beer and fall into a deep slumber. She then had Gaston pick him up and place him in a box where he would remain the rest of the day.

Meanwhile, FT was wandering around when suddenly he saw a beautiful girl wandering around the Disney Village. Belle beckoned for FT to follow her, and follow her he did until she led him right into the cage in Beast's castle. There was no getting out for a while.
Day 2- Not fairing so well
Akriti and Bb fought tooth and nail trying to save themselves from the wrath of the various duos and baddies in the land of Disney. However, the fairest of the baddies wasn't fooling many people today, and our Evil Queen took a dive out of the game

Slick is free. FT is still trapped for tonight
Night 3 - Hints? Not hints? Not tonight
As the night began, the couples who were still together were blessed by the greater powers of the Disney universe...leading to exactly what you would expect. Everyone gathered at Cinderella's castle and simply stood around looking at each other, until...
GMaster479 takes a BIG breath*
Nala kills Brandonb
Gaston RID Kills Zaphod/Izzy
Prince Eric and Snow White team up and kill IAWY
The Beast kills Auramyna
Mike blocks HiddenZ
GMaster479 pants like a dog*
...THAT WAS FUN :D
Day 3 - One more casualty
After the bloodbath that was last night, the remaining Disney personnel took a death toll and discovered that the only person who didn't kill someone was the girl with the eight-tentacles...
Night 4 - The Infinity Rose
Slick was recovering from the previous cycle's activities when he ran into Prince Eric. After a quick talk with Eric though, it seemed that Slick would look towards another tonight. Prince Eric then took to the streets and found Vineetrika and with Neptune's trident, he pierced Vineetrika through the heart. However, Simba came running out and had Rafiki heal her

Prince Charming was back again with his love's glass slipper. This time the shards decided to fall on Meem as she was taken out for the night. Meanwhile Meem was not only targeted by Prince Charming, but the Beast as well. The Beast was closing in for his kill when suddenly Jafar swooped in and wisked Meem away. Meem would live just a bit longer.

Mike was having a lot of fun with his blocking power, and decided to go ahead and take Gare out of commission for the night...

The Beast, mad about his failed kill attempt, decided to take out his rage on an unsuspecting Kitsune. Kitsune was tossed in the dungeon for the day and the following night.

Meanwhile, Jafar wasn't done for the night. Jafar hunted down Hirkala and with one fatal swoop, stabbed him right through the back...
Day 4 - Off the Mountain
Meem was the target all along. While other discussion happened throughout the day, there was not one moment when Scar was far from the edge of the cliff...
Night 5- Symbian Nights
Slick was having another rousing time tonight in the magical world of Disney...until Mike realized that Slick could do more harm than good and decided that a quick spook should keep him from his target...

Prince Eric was going to have another active night. After a successful kill before, he decided to turn his sights on plasmid. With a quick turn of the head, plasmid was down for the game...

Meanwhile, Lady Tremaine was tired of seeing all of her friends fall around her. She knew it was time for action, and decided that SH's time was up. Without a thought she kicked SH into the basement where Scar's hyena's were waiting a very delicious snack...

Lastly, Snow White and her Prince felt that mew needed to be taken care of, and with a bite of the apple and a twist of the knife, mew's lights went out...
Day 5- Symbian Days
Fat Tony tried as he might to keep himself alive in this game, but after starting the day on Fox, FT was resigned to his fate. Lady Tremaine was no more...
Night 5 1/2: Manfred Lives
There was a sudden crack as if someone had felled a tree,

an almost cartoon wizard stepped through a door that previously wasn't there. I say almost cartoon because his hands where still normal. The door was about a foot off the floor and as the wizard tumbled to the floor he muttered. "That's the last time I trust that damn mouse." "Calls himself a magician, If he's a magician we are both the figment of someones imagination"

After straightening himself up he begins calling

"Berno, Berno"

Cowering in a corner of the castle kitchen, quite unaware of how inactive players are treated was the object of his quest.

Berno was not quite sure of how to speak up in time for a suitable replacement, not sure how to speak up at all

Nobody is quite sure how the smoke entered the room, some claim that it was in fact an ink blot left by a careless animator or maybe it was a Berno Inferno but when it finally cleared Manfred (after much coughing and cursing) and Berno had disappeared

The only thing that remained was a green tree frog the size of a half eaten candy bar.....
Night 6 - The Cowboy Princes
Prince Charming was wandering around looking for a target to take out with the shards of the glass slipper he had remaining. TJ looked like the obvious choice and he used the shards to pin TJ up to a wall, stopping any action he might have had tonight

Jafar was still doing a pretty good job despite losing a good number of his friends. Tonight, he knew that Gare needed to be taken out because of his very vocal outbursts at night. Without any hesitation, Jafar shut Gare's mouth and threw him over a cliff never to be seen again.

Snow White seemed to have planted another apple at the feet of some poor unsuspecting Disney character. Tonight, EDM took the bait and after falling asleep, the lucky Prince took her out for good.

Buzz Lightyear was tired of hiding away from everyone, keeping to himself. He decided to plan a surprise attack on an unsuspecting member of Disney's Magical Movie Kingdom. With one swoop he took Framm up high into the skies saying "I know who you are, and I know what you did. Say goodbye friend". Framm was left without a helmet floating in space, dying a slow, breathless death.

Lastly, it seemed that both Fox and Slick were trapped by the day/next night trap. Also Berno was Manfred-killed as a result of GM trying to find a backup for 3 straight cycles and getting nowhere.
Night 7 - Crickets
**Cricket Sounds**
Day 7 - To the beyond with you...
After a dull and boring night, the remaining players gathered in front of Cinderella's Castle once again to lynch another Disney character. Despite some skepticism at the beginning of the day, Vine was dragged out, and Buzz Lightyear would be infinitely placed in the beyond...
Night 8 - Prince Woody
Woody was heart-wrenched that he had to take out his buddy Buzz yesterday in order to conceal himself, but he was out for revenge. He first snuck up behind Thalia/Prince and whispered softly to her

"I know you know who I am, but that is not going to spare your life bucko.."

The loaded pistol shot right through her head, leaving her unconscious on the ground. Woody then went up to Fox/Belle as she was trapping Slick in Beast's castle and before Belle could try and stop him, Woody took his second shot and pierced Fox right through her heart. As Fox bled out, Woody went up to Slick in his cell with a big grin on his face.

"I wish I could kill you tonight Prince Charming, but it seems that I am out of bullets. If you weren't so busy chatting it up with Thalia tonight, you might have been able to stop me with that bippity-boppity-boo crap and knocked me out. Thankfully, I am alive and kicking enough to make you a deal. You leave Pixar well alone and let's go on living 'Happily Ever After' knowing that neither of our kind are completely extinct. Sound good to you?"

Slick, still reeling that he could've wiped out Pixar for good had he stopped Kitsune in the first place, looked at him and made the deal. Pixar and Disney would live through it all, and all would at least seem to be happy...for now
End of Game Roster
Edit
Host: GMaster479
1. Marth - Alladin - Killed N2 by Gaston
2. EDM - Jafar - Killed N6 by Snow White
3. Fox - Belle - Killed N8 by Woody
4. Slick - Prince Charming
5. Fat Tony - Lady Tremaine - Lynched D5
6. MARQ - Aurora - Killed N1 by Gaston
7. Brandonb - Sully - Killed N3 by Nala
8. tj - Prince Eric - Lynched D6
9. Kitsune - Woody
10. Thalia - Prince - Killed N8 by Woody
11. Phaze - Cinderella - Lynched D1
12. Aura - Maleficent - Killed N3 by Beast
13. Meem - Scar - Lynched D4
14. mew - Jasmine - Killed N5 by Prince
15. Inawordyes Gaston - Killed N3 by Prince Eric and Snow White
16. Hirkala - Beast - Killed N4 by Jafar
17. Gare - Snow White - Killed N6 by Jafar
18. Framm - Prince Philip - RID killed N6 by Buzz Lightyear
19. Hidden Z - Ursula - Lynched D3
20. Akriti - The Evil Queen - Lynched D2
21. plasmid - Mike - Killed N5 by Prince Eric
22. sparrowhawk - Simba - Killed N5 by Lady Tremaine
23. Izzy - Nala - RID killed N3 by Gaston
24. Berno - Ariel - Mod killed N6
25. Vineetrika - Buzz - Lynched D7
Ad blocker interference detected!
Wikia is a free-to-use site that makes money from advertising. We have a modified experience for viewers using ad blockers

Wikia is not accessible if you've made further modifications. Remove the custom ad blocker rule(s) and the page will load as expected.