Full Metal Alchemist Mafia: Death of the Undying was a game designed and hosted by Prof. Templeton based on Fullmetal Alchemist Manga/Anime Series
It began on March 2nd, 2012 and ended in a Goodie win in D4 (March 12, 2012).
Game Mechanics
Edit
If a player gets a second action and they are blocked or redirected the second action will go through unless they have more then one negating action against them.
If a player has a "but not 2 in a row" limitation on their actions, receiving the stone will essentially compress 2 nights into 1 and that player will get 1 action the night they have the stone and be able to act again the next night.
If a Homunculi receives the stone they can only perform their individual action twice, not the Night kill twice.
If Lan Fan gets the stone she will give it to Ling
If Alphonse gets the stone after he has used his Lynch save he will get another to use at any time, but only 1 additional.
If Gluttony gets the stone while Lust is still alive and after he has used his ability to gobble a vote, he will get another to use at any time, but only 1 additional.
Ties for both Lynch and Ghost votes will be decided by an unannounced coin toss.
OOP = RID action>Block>Redirect>Reflect>Save>kill
Special:
The Philosophers Stone-
The raw material of a philosopher's stone is human souls. The more souls a stone contains the more power it has. During the day the ghosts of the recently deceased will place a vote for a living player who will receive the Philosopher's stone the following night. The more votes a living player has the higher their chances of receiving a second action that night.
Ghost voting will be weighted with the use of STP. When a role's STP are gone their vote will have a weight of 1
Double action chance will be:
1-3 Ghosts
1 vote = 25%
2-3 votes = 50%
4-5 votes = 75%
6+ votes = 100%
4-8 Ghosts
2-3 votes = 25%
4-8 votes = 50%
8-11 votes = 75%
12+ votes = 100%
9+ Ghosts
4-6 votes = 25%
6-10 votes = 50%
10-15 votes = 75%
16+ votes = 100%
STP and Ghost Voting explained
STP's are used to weight your Ghost vote after death. They will be added to your vote to decide what living player will receive the philosopher's stone and depending on the total vote weight for that player, it will also determine the player's chances of receiving double action.
Example:
Dead Player 1 - voting for Alive Player A (secret vote weight 2) (total vote weight 3) Dead Player 2 - voting for Alive Player A (secret vote weight 0) (total vote weight 1) Dead Player 3 - voting for Alive Player B (secret vote weight 4) (total vote weight 5)
Alive Player B will receive the Stone and will have a 75% chance of getting a second action.
Goodies have 2 STP's available to each player for a total of 24 Baddies have 5 STP's available to each player for a total of 20 Scar will have 12 STP's available to him.
Once all STP's are used your Ghost vote will have a weight of just 1.
The use of your STP's and the quantity should be PM'ed to the host before the end of the Day (unless you don't mind the other Ghosts knowing).
Role Description
Edit
Alchemists, Military, Citizens [Wincon: Eliminate the Homunculi]
Edward Elric- The Fullmetal Alchemist – After losing his right arm and left leg due to a failed Human Transmutation attempt, Ed became the youngest State Alchemist in history. Ed is determined to find the legendary Philosopher's Stone, an item with which he hopes to restore his younger brother Alphonse to his real body. Cannot be killed the first night. May choose one of the following actions every night, Spy on a player to learn their role, block a player from acting, or save a player from death. All three must be used once before using them again, after which any may be chosen, but not twice in a row.
Alphonse Elric- An Alchemist - Edward's younger brother whose soul is bound to an empty suit of armor. He knows the identity of Edward. Only once he can choose to hide someone inside his armor to save them from the lynch.
Colonel Roy Mustang- The Flame Alchemist - A State Alchemist and officer in the Military, he is Edward Elric's superior officer. He is adept at political calculation and often is one step ahead of his opponents. He will stop at nothing to shape a better future for the country. Every night he can choose a target to incinerate. If he targets Scar he will be unable kill him while Riza is still alive. He will be told why the attempt failed.
Major Alex Louis Armstrong- The Strong Arm Alchemist - A State Alchemist and officer in the Military, Alex is the scion of the Armstrong family and a remarkable physical specimen. He will use his impressive muscle to trap a player at night and prevent them from acting.
Dr. Tim Marcoh- The Crystal Alchemist – Formerly a researcher for the Military, he now puts his knowledge of Alchemy and medicine to use as a healer. He can choose a player to save from death every night.
Lt. Colonel Maes Hughes- State Military – Roy Mustang's best friend and an officer in the military's investigations department, he can pick a player to spy on and will learn their role. However, if he targets Envy he will instead be killed
Lt. Riza Hawkeye- State Military – Roy Mustang's bodyguard and accomplished sharp-shooter, she is devoted to Mustang and will sacrifice herself if he is targeted for death, either at night or by lynch. She will gain the identity of any Homunculi that successfully targets Mustang.
2nd Lieutenant Heymans Breda- State Military Intelligence Officer – Despite his meat-headed appearance, 2nd Lt. Breda possesses a remarkably keen intellect and strategic aptitude. He may follow a player at night and learn the identity of any others that successfully targeted them.
Master Sergeant Kain Fuery- State Military Communications Expert – A master of electronics, every day he may select a sender and receiver for a message to be sent the following night. On night 1 he may send a message from himself if he chooses. His communications can only be redirected. They cannot be blocked or reflected.
Winry Rockbell- Automail engineer and childhood friend of the Elric brothers. Winry is a skilled mechanic who helps Edward maintain his automail prosthetics. One of her favorite pass-times is baking delicious apple pies. During the day she may bake a player a pie and influence their vote (she PM's the host who a player will actually vote for). Her faction will show as Citizen.
Ling Yao / Greed- Ling is a prince from the Eastern lands and excellent swordsman. In an attempt to bring power back to his people, he freely gave his body over to the Homunculus named Greed and now he and Greed share control. He can choose a target at night and Greed's "ultimate shield will reflect that players actions back upon them. His faction is Citizen.
Lan Fan- She is one of Prince Ling's assigned protectors and is very devoted to him. She can obtain BTSC with him if she can successfully RID him. Before she has BTSC, she will stay in the shadows and learn the faction of anyone that targets Ling / Greed. Any night she can not follow him and instead try to obtain BTSC, but she will not gain any role information that night. If BTSC is established between the two, she can choose to scout for the prince and detect the faction of the player of her choosing. The factions are Alchemist, Military, Citizen, Homunculus. Her faction is Citizen.
Each member of this faction will have 2 Soul Transmutation Points (STP) to use upon their death.
---
The Homunculi (Have BTSC) They may select a kill target every night for their group kill. One of them must be assigned to perform the kill in addition to their normal action. Any targeting actions will first apply to their normal action. [Wincon: Eliminate the Good guys]
Wrath- Formerly a human named King Bradley that was injected with a Philosopher's stone made from corrupt souls; he is the Fuehrer and leader of the State Military. He is incredibly fast and deadly with a sword. He can employ his "ultimate eye" to see through an enemy's defenses during battle. On odd nights he can use this ability to spy on other players and on even nights he can choose to kill a player if he can correctly guess their identity (RID). His faction will show as Military
Lust- Due to her enticing looks and high intelligence, Lust easily and effectively plays the role of manipulator within the Homunculus ranks. She also gives motherly guidance to Gluttony. She can use her womanly charms to prevent a player from acting at night.
Envy- A shape shifter and possibly the cruelest Homunculi, Envy's true form is that of a massive dragon-like monster, but he may assume any form he can imagine. Every night he may choose one of these two options: To protect a player from being blocked, reflected or spied upon, or to redirect one player's actions to another.
Gluttony- Once, he may gobble up someone's vote. If Lust is lynched he will sacrifice himself for her. If Lust dies at night he goes berserk and will swallow players who will be trapped inside the "gate of truth" in his stomach and be unable to perform any actions (including posting) for 1 Night/Day cycle. He will give the name during the Day and it will be included in the Day post. The trapped player may still be killed by the Homunculi that night, but only if Envy performs the kill.
Because of their previous exposure to a philosopher's stone and other souls each member of this faction will have 5 Soul Transmutation Points (STP) to use upon their death.
---
The Independent- [Wincon: Eliminate the Alchemists and King Bradley]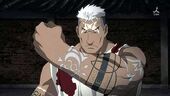 Scar– An Ishvalian warrior whose people were massacred by the State Military's Alchemists. His goal is to see the elimination of all Alchemists and the Fuehrer King Bradley before he dies. He can choose to kill every night, but if he kills a player that is not an alchemist or a homunculi, he will be so ashamed he will not be able to act the next night. His faction will show as Citizen.
Scar's connection to his deceased brother gives him a powerful link to the dead. He will have 12 Soul Transmutation Points (STP) to use upon his death.
Host's Summary
Edit
Thank you to everyone that played. I enjoyed my first foray into mafia hosting. The Homunculi had very little in the way of luck this game. Night one they were going to redirect Ling's reflect onto Akriti, who was Scar, which would have killed her. At the last minute Galois changed it to a redirect of Fuery's message and that essentially caused his death.
I'm disappointed that the ghost voting was not used. The baddies had two opportunities to give themselves a double actions that they didn't take. That part of the game was intended to not only give the people that died a continued stake in the game, but also to add balance if one faction was suffering loses.
Another thing I've noticed in the few games I've played recently; the members here seem well tuned to the slight differences in how the other players post depending on what faction they are. It's quite uncanny and it's not something you can quantify when designing a game. The baddies had a distinct advantage on paper, yet most assumed Aura, EDM, and Slick were in the Homunculus camp by Day 2. Miki was so sure Aura was bad she killed her Night 2.
Which was another interesting twist, Miki and Aura killing each other Night 2. I had to write the post so it didn't seem that way while trying to keep a believable story-line. It you go back and read it, you can see how it could be the same fight from two different perspectives and they both might have perished in the end.
I don't think I can pick one player that should get the MVP. All the goodies did a great job. I did respect Slick's never surrender attitude. It is unfortunate that the bad guys were left with possibly the weakest role and one that a double action didn't really help all that much (although double traps is OK). If I was pressed I might have to go with Miki's correctly killing Envy on Night 2 because that really was a hard blow for the baddies. I think she may have gone on to other kills if Riza hadn't been eliminated already (poor Nox). Akriti would be a good choice also, just because she managed to stay under the radar for awhile and probably would have done so longer if the bad guys weren't taken down so soon. Even so, she managed to out-live 4 of her 6 targets before being put out and caused a nice diversion by not acting Night 2.
I think my next game will not be a typical mafia type game, but will be a team based game. I'm still kicking that idea around and I'll let you know.
I'm in a bit of a pickle. I was given an MVP in Magna Mafia 2 so I felt I should definitely hand one out for this one. All the goodies did very well. It seems like FT and plasmid contributed to the conversation most, Brandonb's message, although redirected, was well thought out and met the intent perfectly and he contributed good posts too. Miki sure hit the mark with her kill on Aura. Roy-Chan did very well for a first showing and was able to RID guess DM as Ling for all the good it did them.
Even though the baddies didn't win they too had their stand-outs. Aura pegged Miki as Mustang on Day 1, she offered the most advice and tried the hardest to appear good, even though it didn't work. And slick was committed right until the end.
Akriti did a fine job as Scar, laying low and causing confusion for the goodies. If the baddies had lasted one more day, she probably would have achieved her wincon.
I found it amazing that Aura and Miki had figured the other out and then targeted and ultimately eliminated each other.
I'm going to award the MVP to MiKi (Miss Killer) because in the end the goodies won and maybe, just a little, because she was Mustang and did what Mustang should have done.
Winning Faction
Edit
Darth Nox - Riza Hawkeye

Plasmid - Winry

Mew - Colonel Hughes

Marquessa - Alphonse Elric

MiKi - Roy Mustang

GMaster479 - Edward Elric

Roy-Chan - Lan Fan

Fat Tony - Major Armstrong

Makai - 2nd Lt. Breda

DarthMask - Ling / Greed

Hirkala - Dr. Marcoh

Brandonb - Sargeant Fuery
MVP - MiKi
Day and Night Posts
Edit
Night 1
Edward and Alphonse stepped off the train that had just arrived in Central City. Ed stretched his back reaching his arms over his head.
"It was a long ride, but it sure is good to back in Central, right Al?", asked Ed
"Sure is brother. It would have been more enjoyable if you hadn't slept the whole way. And if I didn't have to ride in the storage car."
"Come on, lighten up AL", replied Ed as he jokingly punched his brother in the shoulder producing a metallic "Clang!" "Let's head over the Hughes' place. It will be nice to see Mayes and Winry again."
"Shouldn't we go the Central Command first and report to Colonel Mustang? He'll be expecting us."
"Geez. Why do you have to be such a wet blanket AL? Fine, we'll stop there first."
---
As the two brothers marched off down the street a hooded figured watched them from the shadows. When they had rounded a corner, the imposing stranger removed the cloak from his head. He wore dark glasses even though the day was overcast and they could not completely cover the gruesome X shaped scar that was between his eyes and on his forehead. He turned and strode off in the opposite direction.
---
Riza scowled as she stared at Colonel Mustang. He seemed not to notice. "Sir. With this scarred menace running loose in Central City killing State Alchemist, I don't like the idea of you going out unprotected.", she lectured.
"Relax.", Roy calmly replied, sitting back in his chair and putting his boots on the desk. "The major is here and I'm not completely incapable myself."
Major Armstrong had his shirt off in a flash and flexed his impressive muscled physique, flashes of light appearing above his head, "Fear not young Riza, for I, Louis Armstrong, scion of the Armstrong line, will do everything in my power to protect the Colonel. Now if you'll excuse me I have some business to attend to first." As he walked out through the door his uniform was back on and looked pristine. Riza continued to look sourly at Mustang as he reclined at his desk, chewing a toothpick.
---
Doctor Marcoh sat on the shabby bed in his humble living quarters. His shoulders slumped forward as if under a great weight. He sighed heavily and fished a small object from the pocket of his overcoat. "I just hope I still have enough power left to do some good". He stood up and put on his hat before dropping the small red stone back into his pocket and walking out into the darkening evening.
---
Lt. Colonel Hughes and Winry stood in the kitchen of his apartment. "It sure is good of you to come a visit, Winry", Hughes said.
"Oh, I wouldn't miss the chance to see you daughter again and I excited to see Ed and Al after so long. They are coming back to Central today aren't they?"
"That's what I hear. I have some things to take care of tonight so don't wait up, OK?"
"Alright.", she replied. "I want to work on my pie recipe anyway."
"Before I go, would you like to see some new pictures of my darling Elicia. She is the light of my life." Hughes' eyes seemed to glaze over with love as he fished his bulging wallet from his breast pocket. He opened it and a zig-zagged chain of picture cascaded to the floor forming a pile as more and morespilled out.
---
Ling smiled up at Lan Fan around the noodles poking out of his full mouth. He swallowed loudly and said, "I have some, uh, business to take care of. You stay here." He stood and slung his scimitar across his back.
"It is my job to protect the royal heir." A hurt look crossed her face.
"I can defend myself, especially now that He is here with me. I don't want you in danger too."
As she watched him go, she said to herself, "I fear it is you who are in danger, my Prince. I will not fail you."
---
Sergeant Fuery sat huddled over the radio equipment, intently adjusting the dials. "I have to get this communication out. Are you going to be here for a while Heymans?"
"Nah.", replied 2nd Lieutenant Breda. "I have something to do myself. I gotta go keep my eye on something. You take care of yourself."
Fuery didn't respond as he continues to work the communication controls.
---
Wrath was pacing back and forth in an opulent room deep under the city, his sword swinging at his hip as he rubbed his chin in thought. He abruptly stopped and wheeled about to stare at the other Homunculi with his one exposed eye. "You three stay put. I'll handle this myself. He ascended out of the bunker without any further words, leaving the others looking at each other in wonder.
"I hope he brings me back someone to eat", mumbled Gluttony as he absently sucked on his finger.
"Don't worry, dear", replied Lust, rubbing his bald head, "I'm sure we'll find you something before this is done."
"Don't Worry? Ha!" Envy responded, nearly shouting it. "I'm going stir crazy down here. Don't think I'm just going to "stay put". I need to get out and do something. To someone." An evil grin spread across his face as he rubbed his hands together in anticipation.
---
Scar crouched behind a crate in the dark Alley. Darkness had fallen some time ago, but his warrior training had taught him great patience. He would wait for his Target. He hadn't moved from his hiding spot when his target finally came into sight. He slowly rose up to his full height as Galois passed.
"I have come to cleanse your kind from the land." He said slowly, causing the startled Galois to turn and look at him.
"You!?!" Galois yelled out. Regaining his composure he said, "I won't be easy prey." He had barely finished speaking when he lashed out, his quickness surprising Scar who was forced to dodge away. The brickwork of the building exploded from the blow that landed where Scar's head used to be. Scar crouched and came behind his target with incredible quickness. Galois' eyes went wide as Scar's hand grabbed the back of his head.
"Don't be so sure", Scar whispered in his ear just as Galois' head deconstructed, his body falling limply to the ground.
---
Wrath stepped out into the street several paces in front of who he was looking for, his sword drawn and his head lowered. "You know why I've come?" he asked, raising his head revealing his tattooed "Ultimate eye".
His adversary tensed. "Indeed I do." They brought up their hands to defend themselves just as Wrath's sword flashed and a moment later he had disappeared.
Laying in a pool of blood was Darthnox, his last breath escaping.
Day 1
Everyone sat around a massive wooden table in the operations conference room inside central command headquarters. Edward Elric leaned his chair back on two legs and propped his boot up on top of the table. His hands laced behind his head and his eyes closed, he tried to act nonchalant, "So who's running this meeting anyway?" he asked. Then fishing a silver chain and watch from his breast pocket, he flipped it open. "I've got places to be and things to do. Being a State Alchemist isn't all about meetings and paper-work, you know", he quipped with out even looking at the watch.
Just then the wide double doors were pushed open and in marched the Fuhrer followed by several military personnel. King Bradley looked to be a commanding figure in his neat uniform and holstered sword as he walked to the head of the table. Edward was so startled by the sudden appearance of the Fuhrer that his chair toppled over. Edward, his arms spinning, fell to the floor with a crash.
The Fuhrer seemed not to notice and began the meeting. "Military command is deeply concerned by reports that one among us is in fact a traitor. Starting today we will begin interrogations to determine the loyalty of each and every one of you. My own staff included. We will start by taking a vote for whomever the assembled party believes will most benefit from this questioning."
Several names were given and discussed. Brandonb, Aura, and _Hirkala among others. Accusations were made and tempers flared, but ultimately it was _Hirkala who was voted for and he was escorted from the room.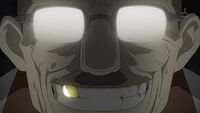 _Hirkala was lead lower into the vast military complex until they were deep within the bowels of the city's underground network. He was brought through a huge door that slammed closed behind him. "Where are we?" _Hirkala asked the escorts. The answer came from across the room. A man wearing a long white lab coat and large glasses said, "Why, you're in laboratory 5, of course". His face split into a wide grin, a gold tooth gleaming between his thin lips. A scream echoed from somewhere within the gloom behind the gold-toothed man as Dr. Marcoh was lead away.

Back in the conference room the meeting was winding down. "Now that that is done with, we can get back to protecting the good people of Amestris", King Bradley smiled behind his eye patch and actually succeed in looking fatherly and kind. "Let's get back to work, people".
One of the large windows exploded inward as a huge form dressed in black swung into the room amid the shower of glass and wood. "NOOOooooo!!!", the figure cried, its long tongue flopping against its chin "You killed her! You killed my Lust! I'll eat you all!" People scrambled for cover. The figure seemed to swell and then its belly split open vertically as a huge mouth formed, its ribs reshaping into sinister looking teeth. "I'll eat you all!" it continued to wail as blackness shot out from its middle.
There was a tremendous sucking sound and a four foot wide trench was carved into the concrete floor in front of Gluttony and extended straight to the gaping hole where the wall used to be. A large portion of the massive table had disappeared as well as several other pieces of furniture. There was no debris. Everything was just gone. Including _GMaster479.
Gluttony rubbed his now closed and sated belly, "Yummy." He leapt out the new opening in the conference room and vanished.
Two guards stood outside the now empty conference room, one of its heavy doors askew, held on by a single hinge.
"What the heck happened in there?" one of them asked.
"Not really sure, but it made a huge mess", the other replied as he turned to peer through the crack between the doors. He turned back, "Do you smell pie?"
The first guard took a few sniffs to sample the air, "Nah. I don't smell a thing."
_GMaster479 is trapped inside Gluttony's "Gate of Truth" and cannot post or act for 1 night/day cycle.
_Hirkala's soul has been absorbed into the Philosopher's stone.
Night 2 - Oh snap!
Colonel Mustang descended down the slick steps further into the vast underground tunnels beneath the city. The air was humid and musty and carried the foul stench of sewage and death. The stairs ended and he entered a cavernous room, its ceiling lost somewhere in the darkness overhead. He snapped his fingers creating a fireball high overhead. The orange glow illuminated a figure streaking down toward him. Mustang dove to the side as the form smashed into the ancient cobblestones where he had been standing. A shower of broken stone pelted him and he squinted against the dust, at the same time he raised his hand to snap his fingers again.
Aura delivered a blow to his outstretched wrist and then a vicious shot caught Mustang in the sternum, forcing the breath from his lungs and sending him smashing into pipe-work lining the near wall with a clatter. His left hand numb from Aura's attack and his ears ringing, he reached over his head for a pipe with his right to pull himself up. Mustang winced at the pain and wetness he felt at his side. Aura's hand shot out of the darkness grabbing his ankle. Mustang clung to the pipe and desperately tried to get the numb fingers of his left hand to respond. The pipe tore free from the wall accompanied by the sound of twisting metal. Aura swung Mustang in an arc and sent him smashing back into the wall where he crumpled into a lifeless heap.
"You were a fool to take me on Colonel", Aura taunted.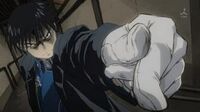 Mustang struggled to rise. A loud hiss filled his ears from the broken pipe over his head.
Aura slowly approached, wary of her adversary, but Mustang didn't move. She was still a few paces away when the smell of raw gas struck her and she heard his fingers snap. Aura's world exploded in a roar of light and heat.
---
Envy waited patiently for his prey, which was not something he did easily. He just itched to cause chaos and suffering. It was in his nature. He grinned wickedly when he saw Miki approach.
"Well hello there my little kitten. Time to play."
Envy pounced at Miki who was just barely able to roll away. As Miki tried to counter-attack, Envy put all his considerable weight to use and delivered a bone crushing blow right to Miki's mid section that smashed her into the stone behind her.
"Hmuph! I would have expected more from you, but I guess you're as useless as the others. Miki slumped to the ground gasping and leaking blood.
---
"Hello plasmid" King Bradley said calmly, stepping out of the shadows. plasmid gasped at the sight of the Fuhrer blocking his path. "You don't look happy to see me, plasmid. Here I thought we could work together for a better country, but you, you have different ideas."
"I…I don't know what you mean", replied plasmid.
"Oh come now. You expect me to believe that. I see everything that happens in this city." He spread his arms and raised them over his head, turning in a circle. "I AM this city!" Bradley shouted.
plasmid took the opportunity that Wrath presented by his turning away and slipped a short dagger from his hip. Incredibly quick and cat-like, plasmid lunged at Wrath just as the Homunculus was turning back to stare at him. He swiped his dagger at Wrath, whose inhuman reflexes saved his throat from being cut. Wrath saw the attack coming and leaned his head to the side instinctively crouching at the same time. The speed of plasmid's dagger still was able to connect with the side of Wrath's face right where his eye patch was, slicing into skin and cutting the patch off.
Wrath brought up his sword and plunged it into plasmid's stomach. He leaned in and stared right into plasmid's surprised face with his Ultimate eye.
"I see everything", Wrath whispered, pulling the sword free. The eye patch floated to the ground and plasmid landed heavily on top of it.
Day 2
Wrath strode slowly into the central chamber inside Laboratory Five where the gold-toothed doctor was waiting for him.
"What is it you want?" he asked the grinning man.
"Father has told me to send for you", the doctor replied. "He thinks the people grow suspicious of you and your actions. He feels your command may be faltering."
Wrath stared at the man without speaking for several moments. He could see the doctor starting to sweat despite the coolness of the facility. "Why am I speaking to you and not Father if that is how he feels?"
"Yes…uh…well you see…the fact is, Father believes you need a lesson. A continuance of your education let's say", the doctor stammered as he took a step back.
"I've had enough of your 'education' old man. I rule this country now". Wrath drew his sword from its sheath, the metal ringing. "I don't think your services will be needed much longer."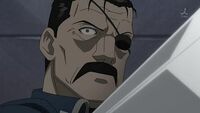 The doctor took another step back and fumbled with something in his coat pocket. "Uh…Father wants you sent to your room, so to speak". A transmutation circle flared to life on the floor with Wrath at its center. The room was bathed in its blood red glow. An eye opened at the center directly under Wrath's feet and long, wavy, black arms began to dance about him. Wrath stood surprised for a moment and then lunged for the gold-tooth doctor as the arms started to envelope him. His sword halted mere inches from the trembling man's throat and the arms began to pull Wrath back into the unblinking eye.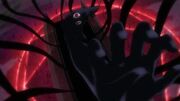 "Noooo!", he screamed through gritted teeth.
With EDM's fist clenched tightly around the sword she stood in the whiteness on the other side of the gate, her chest heaving in anger. She first slammed her fist into the massive gate and then lunged at it with her sword. The blade shattered under the jarring impact, but the gate remained unmarked. EDM silently turned her back to the gate and sat down to wait out her punishment, sword hilt still held in her hand.
Night 3
Makai crouched in the shadows just off Central City's main square. Things had gotten very dangerous in the city of late and it was best to keep a low profile. The only reason he was pit at all was some business couldn't be handled during the day. The entire city seemed unnaturally quiet. From somewhere far off a dog barked once and then was silent. The crunch of gravel sounded directly behind him and Makai turned on the balls of his feet and looked up at a man standing directly behind him. How had that happened? Nothing had moved through the square for an hour now.
The man just stood there with his hands in his pockets looking over Makai's head at the deserted square beyond.
"Can I help you with something, stranger?" Makai asked.
The man lowered his head and fixed Makia with his red eyes and scarred face. Those eyes seemed to burn with their own light, as if fueled by anger.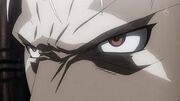 "Perhaps you can", Scar replied. "Perhaps you can help me redeem myself in the eyes of Ishval."
Makai had stood up and was dusting his hands on his pant legs. "I don't think I follow you."
"No. I didn't think a non-believer would." Scar hand was out of his pocket and shot forward with all the speed of a striking cobra seizing Makai's forehead. "Let's see if this helps". Makai's head deconstructed into gore and his body toppled into the darken square.
---
"So hungry", Gluttony mumbled as he shambled along in the tunnels directly below the city streets. "I just need a taste, a little taste". Gluttony halted sniffing the air. "Hmmm, that smells yummy". A wide toothy grin spread across his round face.
Moving incredibly quick and silent for someone so large, he ascended the nearby ladder and stuck his nose against the access cover and snuffed a few more times. Easing the cover aside, he popped out into the cool night air and shambled up the pitch black alley. He saw the delicious source of the scent walking under a pool of light cast by a street lamp. Displaying unthinkable agility Gluttony bounded first to a nearby fire escape and then the rooftop.
Fat Tony strolled along the quiet street. He stopped and fished out a cigar and matches from his breast pocket. He was quite proud of himself for having stolen this particular cigar from Slick's private stock. He held the cigar under his nose and inhaled deeply before wedging it between his teeth. He struck a match and it flared to life forcing him to squint against the sudden glare. As he was about to touch the flame to the cigar it suddenly went out and something wet splashed his hand. "Rain…tonight?" Fat Tony asked of no one and turned his face to the sky.
There was a large, dark mass on top of the sign post. Fat Tony could only make out what appeared to be a huge mouth and very large teeth with a dripping tongue hanging out between them as the mass dropped right onto him. His head, neck and one shoulder were gone in a single bite.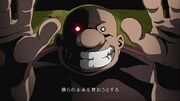 Day 3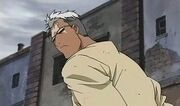 Scar wandered aimlessly through the ghettos of Central City that were inhabited mostly by his displaced fellow Ishvalans. Remorse weight heavily on him since he learned he had wrongly claimed the life of an innocent. An innocent who was no different then all the slain Ishvalan people. An innocent no different then the suppressed people around him. That made Scar the same as the murdering Alchemist he was trying to destroy. He held his arm out in front of him and studied the tattoos that were drawn there. His arm of revenge. His brother's arm. He wished to be rid of it.
He had given up his real name when he started his quest for vengeance. Maybe now it was time to rethink his plan, to re-evaluate.
It had been several days since Scar walked out of Central and headed East. He didn't turn South where his shattered homeland lay. He continued on into the harsh desert. He thought if he could reach Xing, he might be able to find some healing. He might be able to resume his forsaken name. Maybe some day he could again be known as Akriti.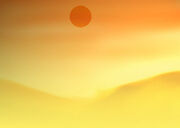 Night 4
Roy-Chan rounded the corner carrying his groceries. The evening was rapidly turning dark and the alleys he passed where like black doorways into the unknown. He had almost reached his destination when a large round body stepped out of one of these dark portals blocking his path.
"You smell yummy. I'm so hungry", the large form said, absently sucking on his forefinger.
Roy-Chan dropped his bag of groceries at his feet, turned and fled back up the street. After sprinting several blocks and aimless turns he leaned against the brick wall panting, trying to look in all directions at once.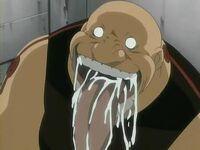 Gluttony dropped from the rooftop right in front of Roy-Chan, his great weight cracking the cobblestones beneath him. Roy-Chan clapped his hands together and slapped his palms to the brick wall behind him. Pillars of brick shot out horizontally and struck Gluttony sending him crashing into the opposite wall amid a shower of stone and debris. Again Roy-Chan was off and running.
"You can run, my tastey treat, but you'll be in my belly shortly", bellowed Gluttony.
Roy-Chan skidded to a halt and wheeled back around, "Who are you calling short, you great big f--". His words were cut off as Gluttony's mouth enveloped him.
Day 4
_Gmaster479 and Marquessa were crounched behind the Central City Library waiting for the signal. Smoke and the sounds of explosions were coming from the City's South-west quadrant just a few blocks away. "I hope mewminator was able to force the Homunculus akaslickster from his hole, brother", Marquessa worried.
"Relax, he's got a whole battalon at his disposal. And judging by the smoke and noise mew has located him.
Just then the signal they were waiting for flashed from the steeple across the square. Brandonb must have seen slick coming this way.
Mewminator shouted orders to his men. They were attemting to funnel the Homunculus into a trap and it was working just as he planned. The area was deserted today just as he expected, but he had his men flush out any citizens before the operation started.Movement flashed across a rooftop at the end of a row of warehouses. "Fire!", he shouted, then to himself, "It's up to them now".
_Gmaster479 slapped his hands to the ground and a huge fist shot up smashing into slick and sending him flipping through the air. He landed on his feet and pounced at the pair, tongue lapping at his cheek from his gaping mouth. Marquessa had quickly drawn a trasmutation circle on the stone and now a wall of block sprang out of the ground blocking slick's path. Slick plowed his meaty fist right through the odstacle without slowing down.
"You've made me angry. I was trying to eat some lunch", slick shouted, spittle flying as _Gmaster and Marquessa were scattered in two directions. _Gmaster had transmuted his metal arm into a blade and slashed it across slick's belly as he jumped at him. Slick's hand wrapped around _Gmaster throat and they both watched his stomach heal itself back up. Marquessa shouted from across the square while Slick opened his mouth to swallow his catch.
Brandonb watched the action from his vantage point across the plaza. He saw Slick's massive mouth open to eat _Gmaster through his rifle scope and he squeezed the trigger.
Slick's head exploded and _GMaster was dropped to the ground. The homunculus staggered around as his neck crackled with red lighting and his head began to reform. Marquessa didn't wait for it reshape. She touched her hands to her transmutation circle and stone spikes struck Slick and lifted him from in front of her brother.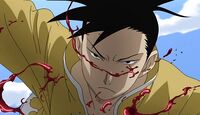 Slick took off bounding down the street. "Why is everyone trying to hurt me. I wish Lust where here", he wailed to himself. He looked back over his shoulder where his attckers had been and when he turned his head back DarthMask's sword sliced through his torso, causing him to trip and roll to a stop. He jumped to his feet and DarthMask lopped off his arm. Slick roared in anger and fright, but DarthMask's sword continued to whip and lash about stinging into his flesh.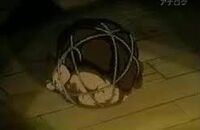 _GMaster arrived and clapped his hands together. Grabbing a nearby metal fence, he transmuted it into a thick coil of wire. Marquessa picked up one end of the coil and her brother the other. Together they looped around the screaming Homunculus as he tried to swat away the dancing DarthMask. "This is for Roy-Chan", DarthMask yelled at Slick giving one final strike before leaping free as Marquessa and _GMaster began tying the Homunculus up in steel. Slick's bulk began to heal in reshape itself from the damage done by DM's sword, but this just caused the steel wire holding him to draw tighter. He was wound up like a ball.
Mewminator and Brandonb strode up. "Well, that's the last one. Good work everyone. He sure makes a cute little package. Speaking of cute packages, have you seen the latest pictures of my daughter", mew asked and his eyes glazed over in adoration. The rest of the assembled crew just sighed.
End of Game Roster
Edit
Darth Nox - Riza Hawkeye

- Killed N1 by

Wrath

Plasmid - Winry

- Killed N2 by

Wrath

EDM - Wrath

- Lynched D2

Akriti - Scar

- Lynched D3

Mew - Colonel Hughes

Slick - Gluttony

- Lynched D4

Galois - Lust

- Killed N1 by

Scar

Marquessa - Alphonse Elric

Auramyna - Envy

- Killed N2 by

Colonel Mustang

MiKi - Roy Mustang

- Killed N2 by

Envy

GMaster479 - Edward Elric

Roy-Chan - Lan Fan

y-chan - Killed N4 by

Gluttony

Fat Tony - Major Armstrong

- Killed N2 by

Gluttony

Makai - 2nd Lt. Breda

- Killed N3 by

Scar

DarthMask - Ling / Greed

Hirkala - Dr. Marcoh

- Lynched D1

Brandonb - Sargeant Fuery
List of actions
Night 1
Player		Role		Action 	  Target 	Result
darth nox	Riza Hawkeye	N/A			Sacrificed/ID'd Wrath
plasmid        Winry		N/A
EDM		Wrath		NK / SPY  MiKi/plasmid  Killed nox / Success
Akriti		Scar		KILL	  Galois	Success
mewminator	Colonel Hughes	SPY	  Brandonb	Success
akaslickster	Gluttony	N/A
Galois		Lust		BLOCK	  _GMaster479	Success
Marquessa	Alphonse Elric	N/A
Auramyna	Envy		REDIRECT  Brand to Akriti  Success
MiKi		Roy Mustang	KILL	  NONE
_GMaster479	Edward Elric	SPY	  _Hirkala	Failed - Blocked
Roy-Chan	Lan Fan		N/A			No Info
Fat Tony	Major Armstrong	BLOCK	  _GMaster479	Failed - Reflected
Makai		2nd Lt. Breda	FOLLOW	  _Hirkala	No Info
DarthMask	Ling / Greed	REFLECT	  Fat Tony	Success
_Hirkala	Dr. Marcoh	NONE
Brandonb	Sargeant Fuery	MESSAGE	  Fat Tony	Redirected to Akriti

Day 1
Winry(plasmid) uses her vote influence on _Hirkala
Gluttony(slick) Swallows _GMaster479
_Hirkala is lynched and found to be Dr. Marcoh.
Night 2
Wrath(EDM) RID kills Plasmid as Winry
Envy(Aura) Night kills Miki
Envy(Aura) redirects DarthMask's reflect to Fat Tony (FT is blocked for the second time in a row this time by himself)
Mustang(MiKi) kills Aura
Hughes(mew) spies Makai as Lt. Breda
Lt. Breda(Makai) follows plasmid and learns EDM is Wrath
Lan Fan(Roy-chan) learns Ling was visited by a Homunculus
Day 2
Fuery(Brandonb) sends a message from Marquessa to himself
EDM is lynched and found to be Wrath
Night 3
Scar(Akriti) kills Makai
Hughes(mew) spies _GMaster479 as Edward
Lt. Breda(Makai) follows Brandonb
Lan Fan(Roy-chan) RID guesses DM as Ling and gains BTSC
Gluttony(slick) kills Fat Tony
Edward(GM) saves GM
Day 3
Akriti is lynched and found to be scar
Night 4
Gluttony(slick) kills Roy-chan.
Day 4
Slick is lynched and found to be Gluttony

Here is Brandonb's and Marquessa's messages, which I thought were a very good use of the communications.
Message 1
Not much said by anyone today, so I thought I'd go out on a limb and ask you your role. After the night post, simply name the role that appears 2 below your own on the role list. If you earn my trust at some point during the game, I will identify myself by using the mystery machine gif in one of my posts.
Over and out.

Message2
To the Intended Recipient of this message: I am 100% sure that GM is ED....I am also a Goodie role just not as powerful
Ad blocker interference detected!
Wikia is a free-to-use site that makes money from advertising. We have a modified experience for viewers using ad blockers

Wikia is not accessible if you've made further modifications. Remove the custom ad blocker rule(s) and the page will load as expected.