Ghost in the Shell Mafia

'
Game information
Host
Plasmid
Link
Game thread: Ghost in the Shell Mafia BTSC threads
Size
Players (Large/Small)
Start Date
5.02.12
Winning Faction
Section 6 and Indy
Roster
player

First to Die
none
Last Remaining
-
MVP
Kitsune
Awards
-
Ghost in the Shell Mafia was a game designed and hosted by Plasmid based on Ghost in the Shell
It began on May 2, 2012 and ended in a Baddie and Indy win in N4 (May 10, 2012).
Game Mechanics
Edit
The first major change from standard rules is that players have a ghost (consciousness or "soul") and a shell (cybernetic body). If you're "killed", then your shell dies, but your ghost lives on. You can continue to post in the thread, and your ghost even has a night action (although it's nerfed compared to your shell's action) and a ghost lynch vote (but it only comes into play if there's a tie). The Engineer character can build new shells for a killed player, so you might even be able to get your shell back. Every player with a shell can choose to use their ghost action instead of their shell action on any given night if they wish.
The second major new thing is the ghosthack. Briefly, the Puppet master can put a player under the control of Section Six by hacking them. Chief Aramaki can remove ghosthacks.
If a player gets lynched, their role is NOT revealed. Their ghost may continue to act, and can even be ghosthacked by a Section Six RID to gain control of a lynch vote, so you probably don't want to out yourself if you get killed. Other weirdness and peculiarities of this game are described in the role descriptions, everyone playing should probably give all the RDs a careful read-through at least once to understand how things will work.
OOA (for ghosthacks): Chief Aramaki's ghosthack removal > using a ghosthack to control a player > establishing new ghosthacks. That means that a ghosthack cannot be broken on the same night that it's made, except by Chief Aramaki's uber-action of removing all ghosthacks. An attempt at using a ghosthack to control a player can be stopped by Chief Aramaki removing the ghosthack on that night, except for Chief Aramaki's uber-actions if the command was posted in the main thread on the preceding day.
OOP (for regular actions): block > redirect > spy = communicate > kill > Chief Aramaki's uber-actions. If Chief Aramaki (or a Section Six player using a ghosthack on him) is redirected, then any uber-action targeting multiple players will only affect the player he is redirected to. If Chief Aramaki attempted to use an uber-action and was not blocked or redirected or killed by this OOP, then his action succeeds and all actions are re-evaluated with the uber-action taking precedence over all other actions. Kills are not blocking except for Chief Aramaki's uber-actions (shells are "mortally wounded" and will die at the end of the night unless saved, but can still carry out their action). If Willis' block gets redirected by Togusa and Willis tried to block someone other than Togusa, the block will be redirected; if Willis tried to block Togusa, then Togusa will be blocked. If Nakamura's vote redirect gets redirected by Togusa, then the player who Nakamura gets redirected to will have their vote redirected to whoever Nakamura asked for the vote to be redirected to.
Posts show: kills, completed replacement shells, blocks that actually prevent an action (whether or not the blocked action would appear in the nightpost), successful saves, and public posts from Paz' ghost. They do not mention establishing or breaking ghosthacks, vote redirects, vote mods by Togusa, Batou viewing baddie BTSC, partially built replacement shells, or messages transmitted or received by Paz' shell. They do not show how votes are manipulated by ghosthacks or whether the engineer used a shell vote ability as a ghost, and they do not reveal lynched players' roles.
Vote counting: First, only votes from players with working shells are counted, and if there is no tie then that player is lynched. If there is a tie, then whichever tied player has the most votes from the ghosts is lynched. If there is still a tie, then all tied players are lynched. (Take all the players tied for most shell votes, and take the subset of those that were tied for the most ghost votes within that subset: that's who dies). If all players are tied after shell voting and ghost voting, then all of the players die and the host wins.

We'll also have some spectators who can sit back and relax and just enjoy the game. They get access to view the BTSC and a "peanut gallery" thread with a RID list, actions and outcomes, and ability to read and post commentary from me and each other on how the game's going. They can (and probably will) talk smack about the players, and can nominate people for an MVP if they do something spectacular.
Role Description
Edit
Section Six
Wincon: Their BTSC must have more working shells than Section Nine. Their BTSC only includes Minister Nakamura and Dr. Willis, it does NOT include the Puppet master. Minister Nakamura and Dr. Willis will be told who each other are, but they will not be informed who the Puppet master is and the Puppet master will not be told who Nakamura and Willis are.
Their BTSC abilities are:
night kill

control ghosthacked players (ghosthacks are described in the Puppet master's RD)

RID one ghost (someone without a shell) per night to ghosthack them without the Puppet master's assistance
Their BTSC thread can be viewed by Batou once in the game. In order to maintain anonymity, there will be a Baddie1 and Baddie2 account that the baddies have access to, and they can post and read in the BTSC using these accounts. Batou will get access to the Baddie3 account when he uses his ability to peek into BTSC, and the Baddie3 password will be changed after the night he spies. Night actions will be submitted by PM, no powerplaying each other's actions. NK targets and ghost RIDs to attempt ghosthacking will be submitted by Minister Nakamura, and ghosthacked player actions will be submitted by Dr Willis, regardless of whether Nakamura and Willis have their shells or are ghosts.
1) The Puppet master
He wins if Section Six wins, but he does NOT have access to BTSC and does NOT count toward their wincon of being in the majority.

His night action is ghosthack. If he has his shell, he names a player to ghosthack them. If he is a ghost, he must RID a player to ghosthack them. Once a player is ghosthacked, the Section Six BTSC learns which role was hacked and can control that player's action. A ghosthacked player is not informed that they've been ghosthacked, and they remain a member of Section Nine as far as wincon is concerned. If a ghosthack is broken by Chief Aramaki, Section Six is NOT informed that the ghosthack is broken, any attempt to control that role will fail, and Section Six will not be explicitly told that the ghosthack control failed, but they will be informed if a previously ghosthacked player is re-hacked. Members of Section Six cannot be ghosthacked; if the Puppet master attempts to ghosthack another Section Six player or himself, the action will fail.
For each ghosthacked player, Section Six may control their actions, may force them to not act, or may let the player's own desired action go through so they have no idea that they've been ghosthacked (default is to not interfere with the player's action). Instead of controlling a ghosthacked player's night action, Section Six can choose at night to specify who that player will vote for during the following day (the player they vote for must be specified at night, not during the following day). There will not be any indication in the day posts of whose vote was hacked; if the hack affects who loses the lynch vote, it will just seem like the wrong player ended up getting lynched. If the ghosthack is used to control a lynch vote, the player's night action will be executed like normal.
If a ghost is ghosthacked or if a ghosthacked player's shell dies, Section Six will not be informed that the ghosthacked role's shell is dead. They may still control that role's ghost ability, but if Section Six attempts to use their shell's ability the attempt will fail and the player's own intended action will be executed.
2) Minister Nakamura
Shell: RID kill or vote redirect during the following day, may specify the player whose vote is to be redirected and the player to which the vote is redirected during the day of voting.
Ghost: vote redirect, but must specify the player whose vote is to be redirected and the player to which the vote is redirected during the night prior to voting.
For both the shell and the ghost abilities, a vote redirect will fail if the redirected player abstains from voting.
Also, Minister Nakamura submits the NK target and the attempt to RID a ghost in order to hack them each night. Those are BTSC group abilities, so they can be used whether or not Nakamura still has his shell.
3) Dr. Willis
Shell: RID kill or block (both night and day actions, does not block voting) or save
Ghost: name a RID and receive confirmation on whether the RID combination is correct
Also, Dr. Willis submits (by PM to the host) the actions for any ghosthacked players. That's a BTSC group ability, so it can be used whether or not Dr. Willis still has his shell.
---
Section Nine
Wincon: destroy both Section Six BTSC shells (Minister Nakamura and Dr. Willis)
1) Major Kusanagi
Shell: kill OR lynch save, must name the person to be saved from lynching during the preceding night (not during the day of voting)
Ghost: RID vote redirect, must name the player to be manipulated and must RID the target of the vote in order for this to work. This action is performed during the day of voting if no night action was used on the night before.
2) Batou
Shell: Block (both night and day [blocks vote manips], does not block regular lynch voting), or get to view Section Six BTSC (once in the game). When he views the Section Six BTSC, he will be given the password to the Baddie3 account that can view that BTSC, and the password to the account will be changed after the spy night.
Ghost: Block (both night and day [blocks vote manips], does not block regular lynch voting), but must name both the player whose action is to be blocked and which player they intended to act on for the block to work. Ghost cannot block Ishikawa or Chief Arakami.
3) Ishikawa
Shell: Submit a list of players, and find out how many Section Six players are on the list. The Puppet master counts as a member of Section Six
Ghost: RID a player and receive confirmation if the role-ID combo is correct
If ghosthacked: Section Six may specify the list of players and Ishikawa will receive the number of Section Six members on the list that Section Six submitted. If the Ghost RID confirmation is controlled by a ghosthack, he will receive a yes/no answer on whether the RID submitted by Section Six is correct but will not be told what RID combination was tested.
4) Togusa
Shell: Redirect (works on both night and day actions) OR vote mod x0 or x2 during the following day, specifies who to vote mod and how to weight their vote during the day of voting
Ghost: Vote mod x0, must specify the person whose vote gets modded during the preceding night
If ghosthacked: Section Six must specify at night if they plan to use the vote mod ability on the following day, if so it will block Togusa's ability to redirect at night.
5) Paz
Shell: Either send a message to a role (sent to that player by the host at the beginning of the following day), or name a role to allow that player to send him a message (at the beginning of the following day, the player gets a message from the host saying that he can send Paz a message, and Paz will receive it at the beginning of the following night. Paz can still receive the message whether or not his shell is still intact.)
Ghost: Specify a message to appear in the night post. The message must be alphanumeric and no more than three characters.
If ghosthacked: If Section Six uses his shell ability, they may either write a message to a role that will appear as if it were sent by Paz, or they may specify a role to invite to send a message to Paz. If they have someone send a message to Paz, the message will go to Paz (without mention of which player or role sent the message unless it's included in the message) and Section Six will NOT see the message.
6) Engineer
Shell: Save, or build a replacement shell for any dead player. The engineer must spend two nights building a shell before it is available; it does not have to be two consecutive nights. Cannot start building replacement shells for anyone who still has a shell.
Ghost: Build a replacement shell for yourself (it takes two nights to build and may not be started while your original shell is still intact) OR shell vote: your vote the next day will count as if you have an intact shell instead of as a ghost vote.
7) Chief Aramaki
Shell: May choose any of the following uber-night actions. He gets things done by giving orders instead of doing things himself. So in order to pull off a night action, he must post the order for it IN THE MAIN THREAD, IN RED in the day prior to the night that it's to take effect. If any other players post orders in the main thread to act as a decoy, they get eliminated as an imposter by Section Nine security forces (mod-killed), and the real Chief's order might or might not go through as the host sees fit.
Available night actions: learn all RIDs, remove all ghost hacks, submit a list of up to five players to be killed, submit a list of any number of players to be blocked, redirect all players (specified as EITHER player X acts on player Y OR role X acts on player Y, and FORCES the player to act as he wishes even if they did not submit a night action). OOP is that if the chief gets blocked or killed then his actions fail (even if he used redirect all players), if he gets redirected then he only executes the action on the one player he was redirected to, if the chief does not get blocked or killed or redirected then his uber-action takes precedence over all other actions.
Ghost: submit a list of players suspected to be ghosthacked. If everyone on the list has been ghosthacked then all of those ghosthacks are broken, but if anyone on the list has not been ghosthacked then his action fails. He may still use this action even if Section Six ghosthacks him and tries to make him do something else.
If ghosthacked: either of the Section Six BTSC players with a working shell may post an order IN THE MAIN THREAD, IN RED as if he were Chief Aramaki. This will count as that Section Six player's next night action, so the Section Six player will not be able to act on the following night. The command will be executed if both the Section Six player who posted in the main thread AND the player with the role of Chief Aramaki survive through the following night and are not blocked or redirected on the following night. (It is not blocked by Chief Aramaki removing the ghosthack on the night of the action's execution.) If either the Chief or the Section Six player are redirected, the uber-action will only affect the player they are redirected to. If the Chief had been ghosthacked earlier in the game and the ghosthack has been broken, the Section Six player will NOT be mod-killed, but the attempted manipulation will fail.
Special note: if Chief Aramaki issues a command in the main thread while he is ghosthacked, then the command he issues will be executed regardless of the fact that he's ghosthacked. In other words, for all practical purposes, a ghosthack will not prevent Chief Aramaki from being able to act.
---
Indy
Wincon: secret. Not incompatible with either a Section Six or Section Nine win.
Character's name: secret

Shell ability: secret

Ghost ability: secret

If ghosthacked: secret
The Indy Info
Character's name: Garbage man. You're a run of the mill guy who's caught in the middle of this battle of cyborgs.

Shell ability: Your vote counts x0. You can specify someone to decide not to pick up the garbage at their house that night. The night post will make some sort of reference to their place being filthy or something.

Ghost ability: Unlike those cyborgs, you actually die if you get killed, like in a regular mafia.

If ghosthacked: Any ghosthack attempt will fail.

Wincon: survive through the end of N4, or to the end of the game, whichever comes first. You will not count against Section Six BTSC having the majority of working shells. (If it's down to two Section Six BTSC shells, one Section Nine shell, and you with or without the Puppet master, then the game ends with a Section Six and Indy win.)

Secret ability: any hosting errors will be attributed to "the secret indy ability".

Also, all of those "spectators" out there are not exactly just spectators. They have access to your BTSC and can talk to you. And they have access to the RID list and any other tidbits I share with them about the game in the commentary thread. Have fun with that.
Spectator Info
Welcome, spectators. The RID list is below, spoilerized just in case you want to try to figure things out as the game progresses. I'll also post any thoughts about the game, any pertinent info shared by the players through PMs, and overall try to make for some jolly good entertainment. All you have to do is sit back and relax and... well... actually....

That part about JUST being spectators was, how you say, A LIE

Welcome, spectators. You've been randomly assigned to one of two teams. All of you have access to the indy BTSC and can read and post to it. Some of you are "Good" and have a wincon of helping the indy win, some of you are "Evil" and have a wincon of feeding the indy whatever BS it takes to get him to lose. +1 rep point for spectators who achieve their wincon and who I (very subjectively) feel had a role in it, or at least gave a really good effort. Check your PMs to find out which of those wincons you have. And enjoy the game.
Host's Summary
Edit
The first thing I've got to say is that as fun as the main game was, there was a whole second game going on behind the scenes that at least from my perspective was just as entertaining. I'll ask a mod to make the BTSCs viewable by everyone; check out the Indy BTSC when you get a chance, and the Peanut Gallery to find out how the "spectators" actually had as much of a role as anyone.
The biggest turning point in the game was undoubtedly the day 3 lynch, which was largely determined by vote manips before the day even started.
and it ended up being shells: EDM vs Abhisk, and ghosts: Sparrowhawk and Nana vs Coolkid. Part of this was because of the baddies' vote manip abilities, they also had a lot of luck from the indy's inherent x0 vote and the nullified Aura vote both working to their advantage, as well as some ghost non-voting likely because it appeared to already be a landslide.
Kitsune was tossed into a role with apparently no abilities, but with what seemed like an unprecedented advantage until the truth behind his real secret ability was revealed. While I was expecting the indy to try to lay low and simply not get killed, he actually took charge and ended up being the most dynamic player in the game. He ended up initially siding with Section Nine which I wasn't expecting; whether that's from boldness to stand against the faction with a nightkill and two RIDs or not totally thinking though which approach would be best, I'll never know, but I bet I can tell you which one he'll claim it was . Part of his success might have been because the most active spectator was Hidzy, who was on his side - I was counting on a mix of truth and lies to make it tough for him, and actually made more spectators Evil than Good. Had I known that the most active spectator would be on his side, I wouldn't have given them permission to reveal any RIDs, but in the end it turned out ok.
But the main reason I'm picking Kitsune for MVP is that he totally BSed! It's amazing how many mafias have had very little BS aside from the baddies saying they're not baddies, but he laid it on nice and heavy, at times doing it for what seemed to be no apparent reason when the truth would have worked just as well. For that, he gets MVP.
Aura was 1 for 2 in kills against Section Six, which ain't bad by any mafia standards and was good particularly in this mafia where there was so little info for most of the game. Nana made an unexpected move of posting through the Baddie1 account in the main thread, which added a chuckle from my perspective and is therefore brilliant, regardless of the fact that it probably contributed to her getting killed by Kusanagi. Still, even without knowing that the indy's vote counts x0 she made a flash vote day 3 that actually made the difference between EDM dying alone and giving the game to the baddies, versus both EDM and Abhisk dying simultaneously to leave Fat Tony as the last goodie/baddie standing for a Section Nine win. Sparrowhawk asked some insightful questions about the mechanics of Chief Aramaki's role that convinced me he could have foiled the baddies if they tried to use the ghosthack for an uber-action.
I feel like I've accomplished one of my missions of preventing the goodies from outing themselves too much or hinting too heavily by having two baddie RID kills. It might have backfired since it not only led to no goodie outing, but practically no goodie talking at all in the main thread until endgame. I'm not sure if it's because two baddie RIDs and a RID ghosthack on ghosts is just too much, or if it's because people just aren't used to baddie RIDs as a mechanic to prevent outing and were overly cautious. Regardless, for future mafias, it might be better to have one baddie RID kill or a BTSC baddie RID ability or the option of trading the night kill for two RID kill attempts or something that wouldn't be quite so much of a disincentive for goodie talking.
I also think the threat of a goodie spying on the baddie BTSC had a great effect on the dynamic of the game. The baddies had to be very careful about what they said early on, having to weigh the benefit they'd get from revealing more to thier teammate and how that stacks up against the risk of revealing info to an enemy. It was clearly making them work less efficiently as a group until they had Batou hacked and knew they could talk freely. As for splitting up the baddies with the Puppet master outside of the BTSC, I was likewise trying to set up a situation where people had to weigh the risks of being picked up as a baddie versus the benefits of being able to communicate with their teammate (the Puppet master telling Section Six which players they ghosthacked each night so the Section Six members can figure out RIDs based on the roles they gained control of, and Section Six telling the Puppet master not to waste ghosthack attempts on Section Six members or someone who's going to get killed) and decide whether or not they want to take the risk of burying a message in the game thread. (I had to make an inpromptu rule against passing ghosthack info through the Baddie accounts once they started to be used in the main thread and could have been a way to transmit that info safely.) But such communication wasn't attempted, and Shadow was stuck firing on her own without seeing any results of her actions, which must have made for a sort of unsatisfying game on the player's side.
The ghost abilities ended up I think being less useful than I was aiming for, and not enough to keep people very involved in the game after they were killed. As for the uber-action that needs to be posted in the main thread on the preceding day, that will have to await another mafia to get field-tested. The indy's real ability of being able to communicate with spectators ended up being more of an advantage than I intended since he didn't have the evil spectators messing with him very much; had I known that would have happened I might have made a rule against naming specific RIDs since they wouldn't be clouded by the Evil spectators' BS, but it seemed to have worked out ok.
I'm also happy to have pulled off a super complex mafia as my first attempt with absolutely no hosting errors. Of course, that's entirely because I had the foresight to make the indy's secret ability be that anything that might on the face of it appear to be a hosting error is actually an effect of "the indy's secret ability" . Paz had the ability of sending/requesting messages to/from any ROLE in the game, but when I got an action requesting a message from Nana (the PLAYER) she was like "o.O they're asking for a message from Minister Nakamura (the ROLE)? No way!" Completely the fault of the indy It might also have been imprudent to let the baddies post to the main thread through the Baddie accounts since they ended up using it to communicate with the indy anonymously, but I was curious how the baddies would use the ability and curiosity is well known to kill lolcats, and some imprudence should be expected because I like to think I'm not a prude.
In the game behind the game, Hidzy was definitely the most active. Prof Templeton also deserves mention – day 1 he got Kitsune to hint that Fat Tony is Ishikawa. Since there aren't any other goodie spies in the game, and particularly no goodie spies that can find out a player's exact role, that should have been a dead giveaway that he's either baddie or indy. The baddies tried to NK him right after that, but didn't RID him throughout the game, and the goodies trusted him leading the day 2 lynch. Fat Tony at least knew the indy was alive late in the game, but I'm not sure if everyone else picked up on that clue that Prof T essentially planted by suggesting that strategy to Kitsune.
And I will finally shut up now.
Winning Faction
Edit
Kitsune - Garbage man

Nana - Minister Nakamura/ Baddie 1

- Ghosted N2 by

Major Kusanagi

Shad - Puppet Master

- Lynched D2

Abhisk - Dr. Willis/ Baddie 2
MVP - Kitsune
Day and Night Posts
Edit
Prologue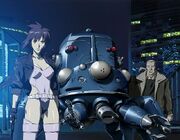 Welcome to the future, 2029. Not the 2029 from 1995, when the original Ghost in the Shell movie was released, but the 2029 from 2012. Unlike the cybernetic bodies of the future from 1995 that have to use cables, these cyborgs are completely free – free from wires, and free from the constraints of mortality that a wire implies to a cyborg. In constant contact with the mainframes of Section Six and Section Nine and no longer storing data within the robot, consciousness is not confined to a body. If need be, the shell can be discarded as the ghost lives on.
It started as a normal day for the Section Nine police force. Togusa's lunch, if you could call the greasy balls of takoyaki from a Neo Tokyo street vendor he popped into his mouth a credible lunch, had yet to cause a predictable digestive misadventure when he heard from Paz. Money was showing up out of nowhere. In the old days soon after all currency was digitalized it wasn't uncommon for people to try to add money to an account out of nowhere. But ever since the currency system was modified, such an appearance would be easily caught. What happened now was more subtle. A few yen here and there, something no one would ever miss, moved from accounts of a substantial fraction of Japan. Not directly into a target account, but into tens of thousands of small accounts, and each of those accounts are directly accessible by Section Six. A crime where on the face of it there was no perpetrator, and no victim, and barely even a perceptible crime worth bothering the police about.
Togusa wasn't concerned about the cyber-crime nearly as much as its implications. "It's elaborate, but this kind of money hardly seems like it's worth the effort considering how much resources Section Six has at its disposal already. The only advantage of doing things this way is that they can use the cash without having it show up on their books. Any clues what they're up to?"
"Not what, but where. Ishikawa found all these laundering accounts spread throughout Japan, but none of them here in Neo Tokyo. They didn't want to arouse suspicion here, so they avoided any local action. And this is exactly where they're heading. Minister Nakamura and Dr. Willis showed up yesterday, and there's nothing in particular that should bring them here now."
Major Kusanagi and Batou were not only in on the conversation, but ahead of it. "We're northbound heading in their direction. They've just headed for the Megatech cyborg factory. Hmph," she added as she saw Batou checking his revolver, the relic that he had some sort of primordial attachment to despite its clearly inferior performance to modern weapons in the field. Batou paid her no heed. But he had bigger problems to worry about just as he looked up from his gun. A spider tank crashed out of the tenth floor wall of a building not far ahead of them, and as soon as it hit the ground it opened fire on their cruiser. Kusanagi and Batou were out of the doors as the still moving car caught fire and kept plowing forward out of control, smashing into one of the tank's legs, hampering it just enough to allow Batou and the major to scurry to safety. "That thing's been hacked" Batou said, knowing this wasn't the time or the place to continue that thought into a debate with Kusanagi over whether technology causes more problems than it fixes.
Night 1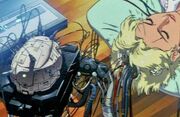 "Listen up, everyone." The unceremonious greeting from Chief Aramaki that was transmitted directly into the consciousness of the Section Nine agents insinuated the gravity of what they were about to hear. This type of unscheduled mass transmission wasn't typical for the Chief. "We've traced the funds that Section Six has been funneling, and they lead to the Megatech factory."
Paz interjected, "Megatech? Why's Section Six after a bunch of new shells?" Chief Aramaki retorted, "I'm getting to that, and please let me finish before any more interruptions." Ishikawa couldn't help himself, "You'll have to forgive Paz, Chief. He obviously learned his manners from the same charm school that taught him cleanliness." He knocked an old orange peel off Paz's shoulder with a tsk-tsk. Paz was getting furious, "Why don't I start cleaning up by wiping that smirk off your face ya wise..." but they were both cut off when Kusanagi fired a round at their feet to stop the shenanigans. "Please continue, Chief" she said.
"Thank you Major. Section Six isn't after an army of shells, they seem to have been interested in a prototype. Project 2501. A shell sophisticated enough to carry out a ghosthack even on ghosts housed in the Section Nine mainframes with state-of-the-art security."
"Jesus!" Togusa said in practically the equivalent of yelling in communication between cyborgs, "You mean we're vulnerable to those punks? Do you know when this Project 2501 is going to be ready?"
"Project 2501, also known as the Puppet master, is already operational and in the hands of Section Six." The comm channel was silent for nearly 500 milliseconds – an eternity to a cyborg. "They're probably already using it now. We also suspect that Minister Nakamura and Dr. Willis have infiltrated our net and are hearing everything we say now. So far I haven't divulged any information that they don't already know that we know. As for the rest of you, be careful what you say and who you trust."
"I know someone I don't trust already," Batou said, "Nana's up to no good, and I'm going to make sure she doesn't mess with our operation." Nana was about to protest, but they were both cut off by an explosion. When the smoke cleared, they found the scorched frame of a shell without a trace of covering left intact and with circuitry that had at best melted into a ball of silicon and at worst completely vaporized. The serial number on the skull frame was GMaster479's.
"So it's already started," the Chief said grimly. "Since there are only three known members of Section Six infiltrating our system, we should have the majority of ghosts in this subnet. I'm putting a spider tank under control of the group, we'll each guide it to eliminate a shell that seems to be working for Section Six, to avoid any single infiltrating agent from taking complete control of it and using it to decimate us. Everyone, put in your commands to guide the tank."
GM was killed by the baddies
Nana was blocked by Batou
Day 1
The spider tank made short work of coolkid, and the Chief felt uneasy. Not only because he was unsure of whether they had destroyed a shell from Section Six or one of their own, but because the commands to the tank didn't add up. He was aware of Minister Nakamura's abilities, but it seemed there was something outside the realm of both Section Six with their new Puppet master and Section Nine at play. What it was, and what its intentions were in this battle, he could only guess.
Night 2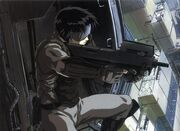 The Section Nine comm channel was left nearly quiet, save for one of the Section Six agents who felt like taking the opportunity to get inside their minds. Reminding them that the enemy was among them. Taunting them, it would seem. Whether it was because of the paranoia this spawned, or because she had an idea of who one of the infiltrating agents might be, Major Kusanagi decided she'd had enough of it. "Show yourself, you little punk" she yelled in response to one of the Section Six transmissions. No answer. Looking around, she may have thought she saw something – a flinch, maybe a bead of sweat. Whatever the cause, she looked square at Nana, leveled her machine gun, and laid waste to her shell.
"Aw hell, I don't know why I'm even bothering to scan these wrecks" the engineer thought to himself. "There's no point trying to salvage anything from them, I might as well just start building new shells." The only useful information he found out from them was told by the screech of his sensor when it picked up the traces of microzeolite from the explosive Section Six used to incinerate GM's shell. As he left the wrecked shells and walked back to his workshop, he heard a faint whine along the way. It was from his sensor; he hadn't turned it off after he left GM's shell. Pointing it around, he found out it was picking up a source from Kitsune. "Microzeolite?... Incendiary! Defenestrate it!" he yelled. "Lolwut?" Kitsune stared at him as the engineer rushed to rip off the explosive that had been planted on his boot and throw it out the nearest window. Kitsune started to look out the window just before the engineer pulled him down so he wasn't hit by the debris from the blast a moment later. After the explosion, they both looked out to see a shocked family on the other side of what used to be a wall of the neighboring building.
Day 2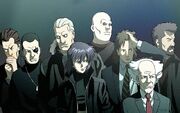 Kitsune had a steely determination in his eyes. "I've found one of our enemies." All eyes turned to him, then saw that he was focused on Shadow. No one was quite sure if Kitsune could be trusted, whether he was lying, or whether he was simply deceived by forces beyond his control. But neither did they want to risk leaving a suspected enemy in their midst. Shadow's defense against Kitsune's accusation was met by a rebuttal in the form of a hail of gunfire.
Night 3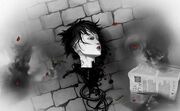 Everyone knew there was still at least one Section Six agent infiltrating the organization, and Major Kusanagi was determined to take them down. People were starting to feel the strain of this fight, and surely one of them would eventually crack. She stopped in front of Lionheart. There was something suspicious about him. Whether that was because he was starting to show the stress of infiltrating the enemy, or because the Major's own circuitry was drawing so heavily from fuzzy logic coprocessors that she was fighting illusions, she left nothing of Lionheart but the remnants of a frame.
Dr. Willis was also set to take actions into his own hands. Little did anyone know, he never took any Hippocratic oath. He just changed his first name to "Doctor" one day and went to work for Section Six. And he felt no tinge from his conscience when he emptied a clip from his handgun into Aura.
With two deaths so far, the others looked for a place to hide. Most were safe for the rest of the night. All except for sparrowhawk, who never found the microzeolite bombs strewn around his safehouse.
End of Game Roster
Edit
Host : Plasmid
sparrowhawk - Chief Aramaki

- Ghosted N3 by

Section 6

EDM - Paz

Lionheart87 - Engineer

- Ghosted N3 by

Major Kusanagi

Kitsune - Garbage man

Fat Tony - Ishikawa

coolkid - Togusa

- Lynched D1

Nana - Minister Nakamura/ Baddie 1

- Ghosted N2 by

Major Kusanagi

Aura - Major Kusanagi

- Ghosted N3 by

Dr. Willis

Shad - Puppet Master

- Lynched D2

GMaster479 - Batou

- Ghosted N1 by

Section 6

Abhisk - Dr. Willis/ Baddie 2
List of actions
EDIT HERE
Ad blocker interference detected!
Wikia is a free-to-use site that makes money from advertising. We have a modified experience for viewers using ad blockers

Wikia is not accessible if you've made further modifications. Remove the custom ad blocker rule(s) and the page will load as expected.