Halloween Mafia III

'
Game information
Host
GMaster479
Link
Game thread: Halloween Mafia III BTSC threads
Size
Players 12 (Small)
Start Date
11.17.11
Winning Faction
Humans
Roster
#, player

First to Die
SH first turned to zombie, Fat Tony first zombie to die
Last Remaining
Tolecnal, Shadow7, Nana7
MVP
Nana7
Awards
-
Halloween Mafia III was a game designed and hosted by GMaster479 based on college campus game of Humans vs. Zombies
It began on November 17th, 2011 and ended in a Humans win in N4 (November 28th).
Game Mechanics
Edit
So this won't be like a traditional mafia. It will be based off a college campus game of Humans vs. Zombies. The idea is the game begins with one ZOMBIE and a whole bunch of HUMANS (probably 12-13 person game.
NIGHTS:
Each night the zombie (eventaully zombies) will try and zombify (recruit) ONE human. Each human will choose a place to hang out at night. Their options are the PARK, the SCHOOL, or JUICE'S CORNER STORE. At the end of each night a post will go up over at GM's porch signifying the events of the previous night and list who was zombified.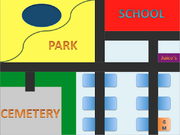 DAYS:
The remaining HUMANS and ZOMBIES will be given a challenge (called MISSIONS) based on where the humans chose to stay the previous night. There will be one challenge for each existing zombie (2 zombies = 2 challenges). If the humans fail the challenge one of the humans in the group will be zombified. If the humans complete the challenge they will gain knowledge/ways to stop zombie night attacks. Posts will summarize the results of the challenges and list those who were zombified
WINCONS and REP POINTS:
The game will end when everyone is a zombie or all the zombies STARVE. A zombie must zombify a human once every 2 sessions (Night and Day) or they will starve and die. The humans will win if all of the zombies starve. As far as rep points are concerned, if the zombie apocalypse succeeds, you will gain rep points based on the number of humans you zombified. If the humans outlive the zombies, the remaining humans will get 3 rep points each and the now starved zombies 1.
Role Description
Edit
ZOMBIES - WINCON - Zombify all the humans
Framm costume: Can recruit/zombify one human per night/day and make them a zombie. Recruited Zombies gain the ability to recruit and gain BTSC with the other zombies. Starve if they don't zombify someone during a cycle (night and day).
HUMANS - WINCON - Outlive all the zombies
The Hunter - the one lucky soul who actually knows how to stop the zombies. Using his "weapon" has a 50% chance of stunning a zombie at night so long as he has ammo

The Lookout - his highly tuned senses make it so if a zombie attacks at night and there is more than once person with him he won't get zombified

The Driver - The driver can pick up certain weapons and supplies during the day using his amazing zombie proof car. This is very helpful for missions.

Jack, Larry, Suzy, Jane, Brian, Gary, Olivia, Daisy - Vanilla neighborhood kids. Still have to choose place to go at night and participate in missions where they can gain certain advantages
12 roles total
Host's Summary
Edit
This game was an experiment for me. I had never hosted something so outside the fabric of Mafia before so balancing and dealing with questions and roles were much more difficult for me this time around. I knew the way the game would work out that I had the ability to balance the game through the chances of things working out, but at the same time I hated the fact that so much of the game was left up to chance when the players should have had more input as to what to do. I probably could have thought this through much better in that sense but despite that we seemed to have a good game that came down to the very end.
What made this game more difficult was the timing. I was really hoping to host this right after Halloween. It would have matched up perfectly with the HvZ games across multiple college campuses, including my own, and I would have been able to draw story lines from that. However the game got put off and ran into my hectic Thanksgiving break schedule. I got through it the best I could but I don't think I have ever been so late on so many posts including this one. I thank everyone playing for their patience with me and the game itself
MVP honors go to Nana7 in this game for really leading the humans and actually taking the ammo info (nerf guns are zombie paralyzers fyi) she got from Slick and seeking out the driver to get herself some ammo. The remaining humans were able to rally around this and save themselves long enough to hold off the zombies. If the coin flip had favored the zombies then tolecnal and Slick/Andrew would be alive and there would have to be a final showdown between the 2 zombies and 2 humans but...so it goes.
Winning Faction
Edit
MVP - Nana7
Day and Night Posts
Edit
Prelude
Last time on Halloween Mafia...

SORRY FRAMM COSTUME BUT YOUR TIME IS UP! I VOTE FOR YOU!

NO!!! THE FLASH VOTE KILLED ME NO!!!
---
10 months later...
On a cool clear night, a lonely solemn man walked down a familiar path. It was a path traveled many times before, but this time the man had more purpose, more presence than the other times he had done this. He turned and began to trod through the rusted metal gates he had seen so often. He quickened his pace as he entered the heart of the cemetery. The rush of adrenaline he was feeling was almost unbearable. Finally he reached the tombstone of his long lost costume, only this time it was not flowers he was putting on its grave. He set up his cauldron on the ground next to the grave of his Framm costume as he recalled that fateful night almost one year ago...
Oh Framm costume, for so long I have missed you. Your death was so cruel, so heartless. How could they have let you perish at the hands of a flash vote? Well today I return to your grave once again only this time with a potion to bring you back to take revenge on EVERYONE on this All Hallows eve. TONIGHT will signify the beginning of your new reign on the neighborhood, a ZOMBIE neighborhood and with our powers nothing can stop us from taking ALL THE CANDY!
With that Phaze's cauldron began to be filled with all sorts of nasty and dark magic objects the likes of which must have taken months to retrieve. Finally he pulled out the most important ingredient, the Framm costume's sunglasses. He threw them in and in a puff of smoke Phaze was killed and the Framm costume was brought back to life through his sacrifice. Now with all the zombie powers at his disposal, his revenge seem almost certain to happen this halloween.
---
Meanwhile back in the village, the children of that infamous neighborhood were again sitting on GM's porch. After last year they were all getting along and were looking into regular old costumes. No one seemed to be able to make up their mind but they all knew that this year there wasn't going to be any talk of stealing all the candies from certain people since they were getting along so well. Little did they know about what had just happened at the cemetery over the hill and that it might not be long before they were at each others candy baskets once again...
NIGHT 1: Framm put on a few...
The kids in GM's neighborhood felt it was taking forever for Halloween to arrive. They were all excitedly waiting for the night to arrive so they can show off their amazing costumes and get some candy. The kids hanging around outside the school were talking about what they were going to do.

"I want to be the Glinda from Wicked" said EDM

"Of course you would EDM." said Darth Nox. "I want to be a dragon!"

"Ooo that sounds cool" said Danté. "Can I be part of the dragon?"

"Sure but you have to be the tail end" quipped back DN

"I think that I am going to be a computer for Halloween. That doesn't surprise anyone does it?" said SH

"Nope not at all SH" said EDM

Everyone was chuckling when something caught their eye heading toward them from near the hill on the cemetery.

"Hey look over the hill! It's Fat Tony!" said Danté

"It looks like he is already in a costume" said SH

"Hi Fat Tony! Cool costume! Is that a... zombie?" asked EDM.

Fat Tony however didn't respond and as he got closer the kids began to realize that this was no costume.

"No...it can't be...GUYS RUN!" screamed Darth Nox. "It's...it's.....ZOMBIE FRAMM!"

The kids all knew what that meant and ran inside the school and split up. The Zombie wandered into the school after them and strolled around knowing he needed some one to feed on in order to live. He ran in to a room and found one of the kids hiding under a desk. The kid made a loud scream that carried throughout the entire neighborhood. The students knew something had happened at the school

At the crack of dawn, the kids who were at the school met in the gymnasium. All of them claimed to have avoided the zombie...but one of them was lying.
DAY 1: SparrowHawking
SCHOOL - The kids in the school were all trying to figure out who was the zombie. Finally three of the four of them ganged up on someone...but everyone chose wrong and Sparrowhawk was able to take one of them down and add to the fray of zombies...but which one
---
PARK - Most of the kids were scared to go to the school and stayed safe in the park all day. Aura and Tolecnal snuck home the long way and avoided the zombie that stayed at the school.
---
END OF DAY 1
NIGHT 2: Nox of old
The park was a bit quieter this evening. Someone thought that he would have more people to play with. Suddenly they saw sparrowhawk come over the hill and ran towards him. That person in the park wasn't at the school the night SH was discovered to be a zombie so it was too late for him..
---
The school was packed tonight with Slick and his gang from last night. Suddenly they heard a noise and Slick told everyone to stay quiet. Slick peaked outside of the gymnasium doors to see Fat Tony roaming the halls. Slick knew this was his chance. He took out his weapon and fired 2 of his ammo at Fat Tony. Both of them hit straight on and stunned him for the night. Since he didn't eat last night, the Framm costume starved to death having gone hungry for 48 hours. Slick had saved the rest of the kids for now but having revealed himself how long could he last?
---
Sometime last night someone else was zombified and now it was their turn to look for prey. Darth Nox stumbled into Juice's Corner and stared down everyone in there. Unfortunately for EDM...she was closest to the door and was feasted upon while the others got away for now...
---
END OF NIGHT 2
DAY 2: School of Fools
JUICES: The kids got away into the Daniel's car and drove out into town. They decided to spend their lunch money on a certain gun and a certain ammo. On their way back the kids saw Nox and EDM waiting for them at the entrance. They drove through town and with with a count of 3 they came out of their cars firing. Taking their ammo they each fired 3 shots and connected on the third one to stun EDM and Nox for the day.
---
SCHOOL: At the school, Slick and the gang decided to stay in for some reason. MiKi seemed to be the only one paying attention. She ran outside in the late afternoon only to find that Andrew was waiting for her. Without hesitation Andrew began devouring her. The now 5 zombies met up and thanks to MiKi knew about Slick's heroics last night. Sparrowhawk, being the only one eligible to feed, decided to take revenge on the sleeping Slick and made him one of them. This of course woke the remaining people who fled the scene in time, one of them grabbing what was left of Slick's ammo on the way out.
---
END OF DAY 2
Night 3: Just the Juice
JUICES: Shadow, Nana and Tolecnal, having successfully kept the zombies off them the day before, knew they were going to be targets. Today MiKi and Darth Nox felt their best chance to survive was to try and feed on them in there but Shadow and Nana knew better. With just one shot from Nana and 2 shots from Shadow, the zombies fell down. They were lucky only two zombies went after them. They were also lucky that Darth Nox hadn't eaten the day before and starved.
---
SCHOOL: At the school, Slick and SH went hoping to find some more humans. However only Danté was there and with nothing to protect him, Slick happily took on the feast...
---
PARK: At the park, Auramyna was grasping onto Slick's remaining ammunition. EDM and Andrew saw her and started after her. Alone and scared Aura fired off all four bullets. One took down EDM but all of them missed Andrew, who feasted on Auramyna and joined her friend Slick while EDM starved from not eating.
DAY 3: The Final Stand that wasn't
JUICES: Shadow, Nana and Tolecnal knew that had to be among the last of their kind. Hearing screams from the other 2 locations didn't help calm their fears. Following their strategy from the day before, they went out in Daniel's car, grabbed a gun for Tolecnal and as much ammo as they could. They pulled up in their car to see not one...not two...but SIX zombies all waiting for them. With one final breath, they all jumped out of the car, closed their eyes and started firing wildly at the zombies. They went through all the ammo they had bought that day and when they opened their eyes they saw all the zombies were stunned. They had survived the day with flying colors...but weren't sure if they could live through the night.
---
So the endgame is simple, 4 zombies need to eat and 3 humans with limited ammo need to be eaten. So long as their is one zombie alive the humans can't win. Choose your locations wisely and good luck
NIGHT 4: And so ends the apocalypse...
JUICES: tolecnal went back to Juices, feeling it was the safest place to be. However, he didn't see Shadow or Nana7 around. Suddenly, two figures appeared through the door, but they weren't the two figures that tolecnal wanted to see. Slick and Andrew were both fighting to get through the door, knowing that both of them need to feast in order to survive. Tolecnal didn't panic however, and took his final pieces of ammo and shot Slick and Andrew both down. He was very very lucky.
---
SCHOOL: Nana7 and Shadow both agreed to go to the school the day before, and only one zombie decided to follow them. Dante came in to find both Shadow and Nana. Shadow wasted her bullet and missed but Nana's aim was true and Danté was taken down. With Aura left to find no one at the park, all the zombies starved and the humans lived through the apocalypse. Game Over.
---
END OF NIGHT 4: HUMANS SURVIVE
End of Game Roster
Edit
sparrowhawk - ZOMBIE

starved to death D3

EDM - ZOMBIE

- starved to death N3

MiKi - ZOMBIE

- starved to death D3

Danté - ZOMBIE

- starved to death N4

tolecnal- David the Lookout

Aura - ZOMBIE

- starved to death N4

Nana7

slick - Hunter the Hunter - ZOMBIE - starved to death N4

Shadow7- Daniel the Driver

nox - ZOMBIE

- starved to death N3

Andrew - ZOMBIE

- starved to death N4

FatTony - ORIGINAL ZOMBIE

- starved to death N2
List of actions
EDIT HERE
Ad blocker interference detected!
Wikia is a free-to-use site that makes money from advertising. We have a modified experience for viewers using ad blockers

Wikia is not accessible if you've made further modifications. Remove the custom ad blocker rule(s) and the page will load as expected.