Justice League UNLEASHED

'
Game information
Host
Yoruichi-San
Link
Justice League UNLEASHED
Size
15 Players (Medium)
Start Date
8.08.12
Winning Faction

Goodies

Roster
#, player

First to Die
FB
Last Remaining
Yodell, Panther, MikeD, Nana, TwoaDay, Jay, Aura, Benjer3
MVP
n/a
Awards
-
Justice League UNLEASHED was a game designed and hosted by Yoruichi-San based on DC Comics Justice Leaugue
It began on August 8, 2012 and ended in a Goodies win in N4 (August 18).
Game Mechanics
Edit
Things that will appear in Night Post: Kills, successful saves, blocks. Kryptonite use will not be shown. Block on block will result in a canceling out of actions and will not be shown (observing roles will also not see anything happening). Everything else in the Night/Day Post is subject to creative license ;P.
Redirect loops will be terminated on the first return, i.e. if A redirects a block to A, will show in the Night Post as A being blocked; if A redirects B's redirect to A it will effectively block B's redirect and nothing else will happen. Only the initial redirect target and action will be seen by observing roles, i.e. they will see A acted on B, but not B acted on A.
All actions are considered to be initiated at Night and 'go through' during the transition b/w Night and Day, so a player's action will occur unless blocked or manipulated.
In the event of a tie: if the tie is due to use of the Joker's ability, no one dies. Otherwise, all tied players die and the last player(s) to add/remove/change their vote to create the tie dies.
Please address your questions to the host in purple. Thanks!
Non-targeted actions (such as Batman's ability) cannot be observed. Day actions (such as Flash's ability) cannot be observed.
Q: What does the np show if someone tries to kill someone who can't be killed? What does it show if the target was saved? In which cases is the target named?
A: If he can't be killed, it will shown that he wasn't killed. If he is saved, then it will be shown by whom he was saved. The target is always named.
Q: If a lynch save were used, would it appear in such a fashion as the d1 post?
A: I'm not sure what you mean by "such a fashion", but it will be indistinguishable if the lynch saved were used, if there was a joker-induced tie, or if the lynchee cannot be lynched.
can superman be lynched? YEs
What are the specific wincons for baddies, indy, and goodies? Last standing.
Q:Is self blocking allowed and successful ? (Purple enough for you?)
A: It would count as block on block, and as the per OP, that results as a canceling out of the blocking action. (ie, block does not show in np)
In case of loops:
Manipulate>Redirect>Block
In case of two roles attempting to redirect the same target (includes under the influence of the RID manipulate):

Amazo using Atom's redirect> Atom> Amazo using Green Lantern's redirect> Green Lantern using redirect

In case two roles attempt to manipulate the same target:

Lex Luthor>Amazo using RID manipulate>Sinestro using Lex's manipulate
Q: Since manipulate is having the player do a certain action, if Lex tries to manipulate a target, could a redirect on the same target take precedence?
A: There's not a conflict here, the manipulate>redirect>block is only in case of loops (i.e if Lex manipulates a redirect and that redirect attempts to redirect Lex), so there's no issue of precedence. As per the OP, the player Lex is manipulating is subject to redirect/block.
can the nk or Lex's manip be redirected or blocked? Yes
can manip force a player to act if the player submits no action or specifically tells you they choose not to act? Yes
and can the Jokers vote steal be redirected so that he steals another's vote, his own if redirected to self? or blocked? Yes
Q:If Green Lantern uses a save action that is not needed one night, is he still barred from using it the next night?
A: Yes, he is barred from choosing the same action two nights in a row, whether or not it is needed or is blocked.
If a spy is redirected, are they told who they were redirected to? ie spy tries to spy B but is redirected to A, are they told A acted/was acted on or that B acted/was acted on? No.
Role Description
Edit
The Assemblage of Supervillains:
(Have BTSC, choose one player each Night to carry out kill, and once in the entire game, may save one player from the lynch)
Lex Luthor: A mere man, yet he earns the title of Superman's greatest adversary for his intellect, ambition, and powers of manipulation. Each Night, he may control the actions of one player if he is able to correctly identify their role. Subject to all role restrictions (if he unknowingly breaks one of them, the player's action will fail and he will be informed it failed). The player he is manipulating is subject to block/redirection. If he manipulates a role that receives information, he receives the information as well. The player he is manipulating is not informed they were manipulated. Cannot manipulate Amazo. If he manipulates the Flash, must specify during the nth Night that he will use the action on the nth Day (and hence no other). He may choose the message targets during the Day.
The Joker: Why so serious? He certainly isn't...except when it comes to going on a serious crime spree. Each Night, he may dose one player with his laughing gas and steal their vote the following Day (i.e. his vote becomes X2 and theirs X0; if the player dies that Night, he cannot gain).
Gorilla Grodd: A hyper-intelligent ape that uses his telepathic abilities to see one player's target OR use his brute apish strength to prevent one player from acting each Night.
Sinestro: A former Green Lantern corrupted by the Yellow power of Fear. May use his yellow power ring to mimic the powers (role abilities) of any one dead Supervillain each Night. (If there are no dead Supervillains, does not act).
The Independent:
Amazo/Professor Ivo's Android: An innovation creation by the late Professor that can replicate the abilities of the beings it comes in contact with. Each Night, it may choose one player to learn their role and abilities. On the nth Night, it may also use n/2 (rounded down) of the abilities it has learned. Not subject to any role restrictions, except Lex's RID manipulate. If he replicates Superman, he gains his invulnerability and susceptibility to krytonite. Will only replicate Villain Night kill ability if he replicates the one chosen to carry out the kill for the Night. If he replicates Sinestro, will only replicate the ability Sinestro is using for that Night, if he is using one. Invincible for first Night and Day.
The Justice League:
Superman/Clark Kent: Somebody save me...well, that's what he's here for. Each Night, may choose one player to save. Cannot save himself and cannot be saved. Due to his Kryptonian physiology, he cannot be killed at Night without the aid of kryptonite. However, since studies have linked prolonged exposure to kryptonite to cancer, no one carries it around with them, hence an attacker must return to their secret HQ to retrieve it, and cannot perform any other Night action in addition to the kill. Use of kryptonite must be specified with the kill, and cannot be used two Nights in a row.
Batman/Bruce Wayne: The only JL member without superpowers, he is arguably the strongest due to his intelligence, discipline, and inner strength. Each Night, he may submit an ordered list (1-4) of four players and four roles. He will learn how many of the players are correctly matched with their roles and how many players have roles that on that list but not matched with them (does not learn which ones). This action cannot be blocked, manipulated, or redirected.
Wonder Woman/Diana: Themysciran Princess with power second to no man. Each Night, may use her lasso of truth on any player to ask them one TRUE/FALSE question (PM's question to host and host will answer TRUE/FALSE, the player themselves is not informed they were acted on; the question must be one the player would know the answer to).
Flash/Wally West: Fastest man on earth...and, as Hawkgirl likes to point out...single. Uses his super-speed to ferry messages b/w roles. Each Day he may choose two roles, one to send, one to receive and the next Night the sender will be informed they may send a message and to which role. The receiver will not be informed of the sender's role. As it is a Day action, it cannot be blocked or redirected, but can be manipulated.
Green Lantern/John Stewart: Using his power ring as an extension of his will, he may choose to do one of the following actions each Night, not the same two Nights in a row: save, block, redirect. Cannot die as long as Hawkgirl is alive. If Hawkgirl dies, also gains the option to kill.
Hawkgirl/Shayera Hol: Her tongue being the only thing sharper than the spikes on her Nth metal mace, this Thanagarian dynamo may target one player any Night to kill, but may not act two nights in a row. Knows the identity of Green Lantern. Is revealed when she dies.
Martian Manhunter/John Jones: Sole survivor of his species, he may use his telepathic abilities to delve into one player's mind each Night and learn their target.
Aquaman/Arthur Curry: King of Atlantis and protector of the oceans, through his telepathic connection to various sea creatures, he may choose one player to watch and learn what players acted on them each Night.
Atom/Dr. Ray Palmer: Brilliant scientist who can shrink himself to the size of an atom and tweak forces on a molecular level to redirect one player's actions each Night. Cannot target the same player two Nights in a row.
Booster Gold/Michael Jon Carter: A hero *cough* from the 25th century, he may choose to occupy one player each Night by pitching his merchandising ideas to them, preventing them from acting. The player will stop taking his calls for a while (i.e. cannot target the same player two Nights in a row).
Host's Summary
Edit
Thanks all for playing. Really bad luck and bad timing (in terms of RL stuff) for the Villains, ridiculously good luck for the Justice League. This is the most one-sided luck I've seen since ABR1, where the heroes lost every single coin toss (no, I'm not exaggerating...every...single...coin toss).
By Y-San
Winning Faction
Edit
Goodies :
curr3nt - Atom - Killed N3 by

Lex Luthor

Yodell - Aquaman
Panther - Wonder Woman
MikeD - Batman
nana77 - Green Lantern
TwoaDay - Hawkgirl
jay - Booster Gold
Flamebirde - Superman - Killed N1 by

Sinestro

Aura - Flash
benjer3 - Martian Manhunter
Day and Night Posts
Edit
Intro
First Arc: Beginnings
The South Pole
Down the cold corridor the lone superhero made his rounds, his steps sounding clearly upon the solid ice floor. Here, this wing of this fortress of solitude, was both sanctuary and incarceration for numerous extraterrestrial species. These poor creatures, like him, were orphans of their various worlds, which had been destroyed by conflict, nature, or...something far more sinister.
As he was portioning out fresh fish to a creature that somewhat resembled a cross between a hippopotamus and a platypus, the alien crystals that comprised the control system for the structure lit up and a voice reverberated upon the frozen walls.
"Kal-el, John is requesting your presence," the voice of the father he never knew spoke evenly.
"Alright, I'm done here, tell him I'll fly out to him," the hero replied, tossing the last of the fish.
"He says that...is not necessary."
A flash of light, and the hero was gone.
Gotham City

The alarm on his bedside sounded, and the vigilante drew himself out of bed after his usual two hours of sleep. He rotated his shoulder was still sore from a rousing 'game of cards' with the Royal Flush Gang, and then threw himself into his morning workout.
When he was halfway through his second set of 100 push-ups, a formally dressed elderly gentleman who was the image of composure, knocked upon his door, carrying a tray.
"Master Bruce, a message."
The dark-haired man wiped the sweat from his brow. "What is it, Alfred?"
"It is from Mr. Jones. He says, 'see you soon'."
The vigilante opened his mouth to protest, but before a sound came out, he was gone.
An island in the Bermuda Triangle

Her opponent was larger, true, and meaner, but the princess did not flinch. She deflected all the heavy punches that came at her with the fury of Heracles with her forearms, raising them in front of her. Her actions were strong and sharp, yet careful and meticulous. Finally, she noticed her opponent's blow slowing, a sign of fatigue, and she made her move, ducking the next swing and countering with a well-placed uppercut, elbow, and flourishing with a spinning roundhouse.
Her opponent staggered a few steps, but then collapsed upon the ground. The audience of her sisters broke into cheers. She smiled and waved.
"Diana!" a shrill cry broke through the applause as a slender cloaked form glided forward.
"Yes, Oracle?" the princess inquired, frowning.
"He calls to you...to come to him..."
The princess huffed and tossed her wavy ebony hair. "I answer the calls of no man."
The Oracle's white, pupiless eyes widened. "But this is no man..."
Before she could finish, the princess was gone.
A neighborhood in Detroit, Michigan

The soldier strolled down the street in his old neighborhood, his hands planted in the pocket of his trench coat, the brim of his hat hiding his features. A sudden breeze lifted it momentarily, revealing shrewd, impossibly green eyes set in mahogany skin that were surveying his surroundings.

There was a cry, and then he was aware of an object coming towards him. He turned, his well-honed instincts prepared for combat. What came at him was...a ball.
"Sorry!" a young boy called to him, jogging forward. "Hey, mister, could you..."
The soldier's tense muscles relaxed and he bent down to pick up the ball and tossed it to the boy.
"Thanks!" the boy cried, giving him a giant smile before turning and running back to his friends.
The soldier inhaled deeply, satisfactorily. Of all the planets he had been sent to as part of the Corps, of all the civilizations he had helped, of all the being he had saved, this was his greatest pride and joy: that he had made this neighborhood safe for children to play in.
He turned, but before he could go, he was gone.
Chicago, Illinois

The warrior paused in front of the cast iron barred gate, and inhaled deeply as she took in the Victorian mansion in front of her. The building was showing only the slightest signs of neglect, which, if she would have thought about it, was surprising since the tenant spent so little of his time in this house...or on this planet. But she wasn't thinking about that. No, she was thinking about her planet, which she had been apart from far too long.
She had been stranded here, on this strange planet called Earth, ever since she had inadvertently chased that criminal into what they called the "zeta beam". After a great deal of effort and time...too much time...she had finally found this man...this one man on this planet that understood zeta beam technology...the one man who could help her get home to her beloved Thanagar.
As the warrior raised her hand to the button that she had learned was meant to alert those inside to the presence of a visitor (strange ritual that...why not just fly to the window?), the device on her belt began to emit a strange noise. The martian had given her that device, for communication, he had said. She ignored it and imagined visions of the beautiful skies of her home as she pressed the button.
A moment later there was a staticky hissing and a voice came over the intercom. "Yes, this is Adam, who's there...hello...hello?"
But there was no reply. Whoever had been there was now gone.
Central City

A red roadster sped around the street corner and whizzed down the road, tires screeching. A few moments later, a red blur came following along the side of the street. Suddenly, the red blur froze and then began moving backwards, stopping in front of two young woman on the sidewalk.
"Hiiii ladies," the speedster accosted them. "Nice day, huh? Say, what are you girls doing later..."
There was a scream in the distance and the sound of swerving. The speedster sighed. "Hold that thought...I'll be back in a minute, I swear." And he was off.
In a few seconds he was alongside the roadster. "Dude," he chided the bank robbers inside of it, "you're really cramping my style." Then he began circling the car, faster and faster, until he became a red twister around it, lifting it into the air. Then with a heave, the twister propelled the car into a nearby swimming pool.

As the sound of police sirens approached, the speedster stopped for a micro-second and smiled at himself for a job well done. Then he turned to return to his more important business...
But even as fast as he was, before he could move, he was gone.
---

"You've got to be kidding me," Flash murmured, blinking, after he materialized in the teleporter room. He glanced around, then noted sounds coming from the next room, so he headed through the automatic sliding doors.
"Figures that the fastest man on earth is the last to the party in outer space," Hawkgirl greeted him dryly.
"Wait, where are we?" Flash's jaw dropped.
"You are in Watchtower," a deep voice answered, as the Martian Manhunter phased through a nearby wall into the room. "I am the one who brought you here."
"Why, Jon?" Superman asked.
"Because there is news that some of your greatest foes have united to form an alliance to take control of the world and destroy you. In order to defeat them, we must also work together, as a team."
Just then, Flash's gaze set upon Wonder Woman, and, true to his name, he was by her side in a flash, leaning his elbow on her shoulder. "I'll team with you any day, babe."
As if swatting a fly, Diana pushed his arm away. Flash went flying into the wall that Jon had passed through. "I have no desire to join with men," she replied firmly.
"Sorry Jon, I work alone," Batman stated, as he was checking a tool on his utility belt.
"And I have no intention of working with an overgrown boy scott, a wingless bat that's nothing without his toys, a spoiled princess, the substitute Lantern, and a guy who puts his libido over his work and fails at both," Hawkgirl declared.

"Well, seeing as how I'm only a substitute, I guess there's no place for me," Green Lantern replied angrily. Then he turned to Martian Manhunter. "Jon, please send us back."
The rest piped up sounds of agreement and one-by-one trudged back into the teleporter room. Superman was the last to go, and as he passed by, he put a hand on Jon's shoulder. "Sorry, friend, it was a good idea, but it looks like its not going to happen."
Martian Manhunter sighed deeply, then he activated the teleporter and sent them back to their respective locations.
After they were gone, suddenly a particle in the air began to grow, gaining form, until it reached the size of a man. "That didn't go so well," Atom remarked.
There was a brief staticky sound, then from the interspacial intercom: "No go, then? Too bad, old chum," Aquaman's voice said. "Maybe next time."
"Well, I have some more experiments to perform. Seeing as how my unique cellular structure is not capable with the teleportation technology, mind giving me a ride back the normal way?" Atom asked. Jon nodded and they headed together to the shuttle bay.
As the shuttle left the satellite, abruptly an alarm began to sound. "Energy signal detected," an automated voice stated.
A moment later there was a flash of light...followed a falling scream and a loud CRASH.
"Skeets," Booster Gold grumbled as he pulled himself off the debris of the table his fall had broke...or it could be said, had broken his fall, "When I said to put us in Watchtower of 2012, I meant put us on the floor."
"Sorry Booster," the levitating egg-shaped gold robot responded. "My calculations in regard to the rotation were not 100% correct."
After Booster gained his feet, he surveyed his surroundings with interest. "So this is the legendary Watchtower, huh? I thought it would be...bigger. It always seemed huganimous in the holo-movies."
"My analysis shows that those movies have a 0.7235% chance of being entirely accurate," said the robot.
"Eh, no matter. Time to save the world and be a hero." Booster grinned widely.
"My analysis shows there are 12,705 crimes you could stop or circumvent within the next hour. How would you like me to order them, by degree of difficulty, danger, or number of humans saved?"
Booster's eyes twinkled. "How about which ones will give me the best publicity and marketing opportunities?"
Night 1: Flame Off
Top Secret Secret HQ, Top Secret Secret Location

Lex Luthor hovered over several charts spread on the table, carefully considering his next move. The Joker reclined back in his chair, twirling the fake (in more ways than one) flower on his lapel. Gorilla Grodd sat with excellent posture reading a hardback book, donning reading glasses. Sinestro stood in one corner, fiddling anxiously with the yellow power ring on his finger.
"Don't you think it's time for action?" he asked with his signature glare.
"Yeah, we should go pay a visit to that Green Lantern," Joker responded, giggling like a hyena. "He's so serious all the time." He put on his best impression of 'serious'. "Reminds me of a certain winged rodent...I'd like to light him up...kekekekeke..."
"That Wonder Woman is the one I'm interested in," Sinestro responded. "So arrogantly fearless and condescending. I'd like to show her what true fear looks like."
"All humans are pathetic creatures," Grodd stated matter-of-factly, not bothering to exclude the present company. "The kryptonian, on the other hand...now that is a worthy foe."
"The Martian is the most dangerous one," Lex finally spoke. "He has nothing left to lose."
"Aw...Lex-y, you afraid of little green men?" Joker taunted.
"At least I don't use gags as weapons," Lex retorted.
Grodd and Sinestro shared a look as the usual argument ensued. It was time to make their exit.
---
Nana was engrossed in the Inu Yasha marathon that was airing on the cartoon network when suddenly a knock came at the door. Must be the pizza I ordered, she thought.
"Hold on a minute!" she called out, fumbling for the remote, which had somehow hidden itself among the couch cushions. The knock came louder. "Hold on!" she cried.
Finally, she found it and paused her DVR. She jumped up and to the door and swung it open...to come face to face with a gorilla wearing glasses.
"Hey, you're not pizza!" she exclaimed.
"No, I am not," Grodd replied. "But I have come to deliver something."
"Oh, what's that?"
She was answered with a blow to the head.
---
Flamebirde was hurrying home after a busy day at work when suddenly he detected a yellow glow coming from behind him. He whipped around.
"You..." he said, puffing up his chest, "I'm not afraid of you!"
"I suppose not," Sinestro responded. "But...what about this?" He generated a form in the image of...Flamebirde's mother.
"AAAAHHHHHHHH...NOOOOOOOOOO!!!!!"
Day 1: Where Have All the Heroes Gone?
Day 1: Where Have All the Heroes Gone?
Apparently heroes do take days off, after all. Many were missing in action. Finally, the group decided that one had to go, he had, um, broken the heroes' code by impersonating a fellow hero, Green Arrow. But when they looked for him, he was nowhere to be found.
Night 2: Joke's On You
Acting upon reports of a strange seismic disturbance, Green Lantern flew (or levitated, technically) to the spot in question, a deep canyon in New Mexico.
As he approached, he noticed the ground shaking. An earthquake? No...he realized as he paused and observed for a moment. The shaking was too regular, too rhythmic, as if someone were beating a drum...
Something metallic glinted in the sunlight. Furrowing his brows, Green Lantern carefully moved closer.
"Hawkgirl?" He said as he recognized the helmet and, of course, the wings. "What are you doing?"
"What does it look like?" she retorted and banged her nth metal mace on the ground once again, sending a shockwave through the nearby rock.
"It looks like you're beating up the ground. What did it ever do to you?"
Hawkgirl turned and glared, not amused. "I went to all that effort to find Strange, and then I was pulled away to join Jon's stupid team," she grumbled, "and when I got back, he was gone again." She banged the mace into the rock again. "I hate this stupid world."
"I don't think it likes you very much either, the way you're treating it," Lantern said. "Why don't you try channeling that energy somewhere more useful? You apprehended criminals on Thanagar, didn't you? There are plenty of criminals you could be apprehending here. Or are you afraid to fight something that will actually fight back?"
Hawkgirl turned to him angrily and opened her mouth to quip back, but nothing came to her. She felt her face flushing, and turned so that he wouldn't see it. "Fine," she muttered, and turned and flew off.
---

Framm sat on his porch, bathing in the warm red rays of the setting sun, sipping freshly squeezed lemonade. Ah...life was good.
He had left the old-school radio on in his kitchen, and the announcer was reporting news that a gorilla had escaped from the local zoo. Bad luck, he thought, oh well, that's pretty far away, I doubt it'll come here.
Suddenly he heard the sound of his front door slamming. Perplexed, as he lived alone, he drew himself out of his patio chair and went to investigate.
He found a large gorilla, seemingly poking at his computer.
"Bad luck indeed!" he exclaimed. He sidestepped carefully and picked up a banana from the fruit bowl on the counter. "Does ape-y want a banana?" He cooed.
The gorilla turned and glared at him. "Why, you inferior species..." Gorilla Grodd hissed. "I simply came in here to use your computer to check the Intelligent Ape Design message boards, but seeing as you've insulted me, you will have to pay."
With that, Grodd grabbed Framm and threw him out the window, rendering him unconscious in the process.
---
Having been abandoned by her friends at the behest of some cute college boys, Marquessa wandered around the carnival grounds alone.
Growing annoyed of children's cries for cotton candy, she withdrew from the hustle and bustle towards the old section of the carnival which had been closed down some years ago and was now deserted.
She came across the old funhouse, the door of which was swinging ajar on its rusty, creaking hinges. The paint on the clown's head above the entrance was cracking and peeling, giving the clown's face an impression of tears.
Suddenly, she thought she saw a shadow move inside. "Hello?" she called out tentatively. "Someone there?"
No response, but her curiosity got the better of her better judgement and she cautiously stepped inside.
She blinked, getting used to the darkness, and a thousand images of herself blinked back at her from the hall of mirrors. A moment later, she saw the shadow again. Determined now, she followed it.
Marq turned a corner, and the shadow rounded the far corner. She sped up and rounded the next corner, only to see it disappear past the next next corner. She broke into a run, closing in on it...she almost had it...just a little more...around a final corner...and...
A wave of something greasy came pouring down upon her as she tripped a string positioned around the turn. She stopped and made a face. Yuck...and it smelled, too...
"Aw," the Joker said, giggling. "Looks like you've caught me!"
After catching her breath, Marq responded, "Who are you? Why are you here?" She coughed as the fumes from the substance flooded her throat. "Isn't the clown show going on right now?" The smell, she recognized it now...it was like...what you put into a car...
The Joker laughed. "Why so serious?" He pulled out a matchbox from the pocket of his green and purple suit. "You should really lighten up!"
He lit the match, and proceeded to light Marquessa up.
---

Hirkala yawned as he turned off the lights of his laboratory in Los Alamos, locked up, and prepared to make his way home. It had been a late night of running various experiments that could change the course of human existence, or at least win him a Nobel prize, and he was dead tired.
As he tossed his briefcase into the back of his lime-green convertible, he felt a rush of wind on his cheek. He turned his face upwards and saw a winged figure flying towards him.
"Hi?" He said slowly. "Nice evening for a fly, no?"
Hawkgirl snarled. "That thing...what an eyesore." She raised her mace, which began pulsing with electricity, and starting pounding furiously away at Hirk's car.
"Hey!" Hirk protested. "What are you doing to my car?!"
Hawkgirl ignored him and continued scrapping the expensive automotive.
"Stop, now! By command of Green Arrow!" Hirk cried.
Green...suddenly, Hawkgirl saw red as she heard Lantern's voice in her head. Abruptly she stopped pounding on Hirk's car...and started pounding on him.
Day 2: Lantern's Light Extinguished
Day 2: Lantern's Light Extinguished
The heroes circled around TheChad, eyeing him suspiciously.
TheChad glared at his accusers, his eyes glowing.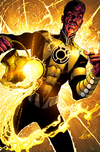 "You lawless ingrates!" he roared, he tossed his head back and summoned up his powers.... His power surged around him and he channeled it to form a whip, which he lashed around. When it hit his would-be attackers, they froze, stunned by their own worst fears.
"Ha! You weaklings! You are no match for Thaal Sinestro!" he cried gleefully. He withdrew the whip and hardened it into a spear, which he prepared to launch at his nearest target, Aura.
Her eyes widened as the razor sharp yellow point came closer and close, but her body was unable to move. Just then, a figure appeared in front of her...
Green Lantern instantaneously grew his power into a thick shield, upon which Sinestro's yellow spear cracked and splintered into a thousand yellow pieces.
"You are done, Sinestro, give up now."
"Nooooooo!" he cried, "I will destroy you, Lantern! I will destroy all of you!"
He rushed towards his sworn adversary, and they clashed in an explosion of green and yellow.
When the light finally subsided enough for the other heroes to see, what they saw was a green aura-ed figure standing over a prostrate form which was pulsating a quickly fading yellow.
"No..." the proud Sinestro's voice was weak, frail. "I will not...be...defeateeeee..." His voice trailed off as his form disintegrated into a million yellow particles, which were fleetly carried off in the breeze, leaving only his yellow ring, which was still glowing, lying on the ground.
Green Lantern turned away, a solemn look on his face. "What a waste..." he muttered, and he and the other heroes departed the scene on their separate paths...
Night 3: Carried Off By the Curr3nt
Night 3: Carried Off By the Curr3nt
Humming When the Moon Hits Your Eye, curr3nt was strolling home down the sidewalk, carrying a takeout pizza (he'd learned better than to order delivery, seeing what had happened to Nana).
Suddenly a shadowy figure stepped out from an alley. It was holding some form of ray-gun and the moonlight glinted off its bald head.
"Sorry, man, you're not getting my pizza," curr3nt said, shrugging.
Lex sneered. "You fool, I'm not here for your pizza, I'm here for your life. But, seeing as I enjoy a sporting challenge, I'll give you one chance to live...if you can stick out your tongue and touch your nose."
Curr3nt smiled to himself. He'd heard this one before. It was just wordplay, designed to seem to imply one thing and actually mean another. That was the thing with words...they could often be taken to mean different things.
"Luk dith?" he mumbled, sticking his tongue and touching his nose with the index finger of his right hand.
"Yes..." Lex pursed his lips, sighed...and then shot curr3nt with the ray gun. "Sorry, I lied," Lex said to curr3nt's corpse. "I just wanted you to die in a silly-looking position."
The CEO of LuthorCorp chuckled to himself as he continued down the street, humming When the Moon Hits Your Eye.
Day 3: Smallvillain
The group closed in on Molly Mae with nearly unanimous animosity.
He glared back at them, pride fiercely burning in his eyes.
"You fools! You think this is over? This is just the beginning! You think you've won, but you have no idea what you've just brought down upon yourselves. Strike me down, and a hundred, no a thousand of me will rise from the ashes and lay waste on your puny world..."
"Lex, stop," his childhood friend and greatest adversary said, shaking his kryptonian head. "It's over. Give up now and we won't hurt you."
Lex laughed haughtily. "You? Hurt me? You're incapable of hurting me. You're incapable of hurting anyone. That was always your greatest weakness...well, except for this..." With that Lex flicked open the panel in the chest of his suit, revealing a piece of glowing green rock.
Pain flooded over Superman's face as the rock's radiation bathed him.
"Maybe he is," a voice cut in sharply. Hawkgirl stepped forward, beating her mace in her palm. "But I have no such qualms."
She roared and rushed towards Lex, and he did the same towards her. Sparks flew into the air as metal clashed on metal.
Lex's suit was strong, and his pride stronger, but they were no match for Hawkgirl's fury.
In the end, Clark kneeled, cradling his old friend in his arms. "I'm sorry it had to come to this," the farm boy from Kansas said to the Luthorcorp heir.
With the last of his strength, Lex reached for Clark's hand and squeezed it as tight as his remaining life would allow. "But it did...have to come to this..."
And then Lex Luthor, billionaire, master manipulator, presidential hopeful, was no more.
Night 4: The End and the Beginning
Night 4: The End and the Beginning

Boughs of fog rolled in from the dewy sea. A lone figure sat on the dock, humming an odd tune.
Suddenly a shadow appeared, a dark entity projected onto the mists. It loomed over the hummer.
"Yodell," said a steady, somber voice. "I've found you."
The silhouette came forward, and two glowing green eyes pierced through the fog.
"Oh, it's you, Lantern," Yodell said, continuing to hum under his breath. "What can I do for you?"
"Nothing," Green Lantern replied. "Just that: nothing. I have come to put an end to your evil ways."
Yodell shrugged. "I think you're confused, old chum."
But Lantern was not having it. He manifested a giant green fist with his power ring and swung it at Yodell, who jumped away just in time.
"If you insist..."
---
Meanwhile...

Booster strolled down the street, waiting impatiently for Skeets to tally their profits.
"$204,572 from that last deal, Booster," the robot finally said.
"Pff...that's not even enough to buy a decent hover-car," Booster lamented. "We've got to go bigger! I mean...seriously, who cares about teaming up with Elastic Man? No, what we need is something more, like..."
Just then Panther came flying around the side of tall brick building, face set fiercely, zoning in on the intended target.
"...Like that," Booster grinned. "Come on Skeets, we've got ourselves a deal to catch."
---
Elsewhere...
Hawkgirl and Flash stood their ground, facing their golden android adversary. "Give up now and we'll go easy on you," Flash declared.
The android's impassive eyes stared at her, and then it's face shifted into a replication of what the humans called "a smile".
Hawkgirl shrugged. "Or not..." She raised her electrified nth metal mace. "I'm fine with doing it this way..." And she swung the mace...
...at the Flash. Taken by surprise, the red speedster barely managed to dodge.
"Hey, what are you doing?"
"I can't...control...it..." Hawkgirl muttered through gritted teeth as she struggled.
Amazo looked on with its inhuman eyes. The ability it had learned from Lex Luthor was appearing to quite useful.
Flash dodged another attack...and another...and another. This is useless, he realized, glancing at Amazo. Maybe if I take the android down...
He rushed at Amazo, readying his fist into a vibrating weapon, and thrust a lightning fast blow at the android...
...which missed as Amazo moved itself out of the way just as quickly. It's unfeeling glare challenged the Flash with his own ability.
"Uh oh..." Wally murmured.
---
As it finished the information from the various satellites it had hijacked, the three glowing circles on the Brain Inter-Active Construct's pulsed and then went dim.
It had seen enough. It was time to finish this.
It turned to activate the device, the electromagnetic disruptor ray which would destroy Earth's magnetic fields and put into motion the irreversible changes that would first overturn the planet's ecosystem, followed by its climate, and finally, the motions of the tectonic plates which would eventually cause the planet to collapse into itself. This tool which had been the annihilator of so many alien civilization would now be Earth's.
"Stop!" A voice cried, as a hole of blinding light seemed to rip through the fabric time and space. Through it stepped a being in a golden helmet and golden cape.
Unflinching, the Brain Inter-Active Construct's eyes glowed and shot out twin lasers at the intruder. The being shimmered out of space-time and back in a few feet and a few milliseconds away.
"I can't let you do this, BrainIAC," said the interloper. "It is not the fate of this planet and the heroes on it to end here."
The sentient super-computer paused to process this new information and this new helmeted variable. A few seconds later, it responded. "Very well, it seems there may be more to learn yet. I will allow this planet to remain as it is...for now."
The other super-being nodded and waved his hand, reviving the feed from the satellites. "Let us watch how this plays out."
---

"You'll have to do better than that, friend," Aquaman said as he dodged the Lantern Corp soldier's enormous green hammer by diving into the water.
Green Lantern scowled and shifted his manifestation into a giant sieve, dipping it into the water and fishing the fish king out. "How's that?"
"Not bad," the fish man responded, "But what are you going to do about that?"
As he spoke, a dolphin jumped out of the water and rammed into Green Lantern, knocking him back.
Taking only a moment to regain his balance, the soldier prepared to counter-attack...
"Aaahhhgggg..." Suddenly he fell to his knees, clutching his head.
The king of Atlantis dropped into the water, doing the same.
---

"I said, LEAVE ME ALONE!!!" snarled Wonder Woman, attempting to shake Booster off her tail.
But the entrepreneur was persistent in his pursuit of profit. "C'mon...I watched holo-toons about you when I was growing up, but you're even prettier in live action! We'd be so good together...think of the marketing possibilities...'Beauty and the Booster'...'The Once and Future Hero and Queen'..."
"The Princess and the Pea-brain?" A voice interjected as a green wall appeared in front of them, halting their chase.
Behind it levitated Nanatern, who was also using his ability to levitate Yodaquaman.
"What are you two doing here?" Princess Panther asked.
"Benjon communicated to us with his Martian mind trick and showed us the error of our ways," Nanatern replied. "We shouldn't be fighting each other. Flash and Hawkgirl are in trouble."
The princess glanced at Boojay with disdain and let out a deep, deep sigh. "Fine..."
---
Panting, Flash Flash Auralution moved out of the way of his own attack from the left as Hawkgirl's mace came from the right. He managed to avoid the strike, but it wasn't a clean dodge, as a gash in the chest of his suit testified to. He winced in pain and felt blood trickle down from the wound. He wasn't sure how much more he could take of this...
"Need some help?" A green force field appeared around him just in time to deflect another lightning fast attack from the android.
The android prepared to launch another attack, but it was knocked off its feet by a geyser of water, courtesy of Aquaman.
Twoahawk screamed, dropped her mace, and crumpled to her knees, clutching her head. A moment later, Martian Manhunter phased in next to her and put his 'hands' on her temples. The tension in her face melted and a serene look flowed over her.
Wonder Woman rushed at Amazo, landing a blow at full force which knocked the android into the side of a building, crashing through it and bringing an avalanche of debris down on it.
"That creature is no stronger than a man," the princess sniffed. She caught the other heroes smiling at her and then added grudgingly, "Well, perhaps not all men are so weak..."
Suddenly, a golden blur exploded up from the pile of rubble and then crashed down onto the pavement, sending out a shockwave which knocked them all back and left a crater on the ground.
From the android's throat came a replication of the laugh it had learned from the fallen villains. "Thank you," it said in replicated tone of smugness. "This saves me the time of finding each one of you myself. Now I have learned all of your strengths."
Immediately, Amazo manifested a green cage around Hawkgirl, shot a geyser of water at Flash, suspended Green Lantern into the air with a red tornado, formed one arm into a mace which it smashed into Aquaman, formed the other arm into a lasso which it ensnared the Martian with, and flooded Wonder Woman's mind with a paralyzing wave of pain.
"You are all now no match for my powers." The android stated matter-of-factly. "I have all of your strengths."
An immense winged shadow appeared from behind the android. Amazo turned its head to an impossible angle and saw a dark figure behind it.
"You may have replicated their strengths," a low, hoarse voice spoke. Suddenly, there was a spark, then a flicker. "But..." The figure emerged into the light of the street lamps, revealing himself to be Batman, holding a lit match. "...you have also replicated their weaknesses."
The android tilted its head, uncomprehending.
The Dark Mike turned his head and cried "Now, Booster!"
From the side, the 25th century "hero" appeared with his robot. A hole opened up in Skeet's front panel and orangish liquid squirted out onto the android. Batman tossed the match at it, and Amazo burst into a blazing ball.
"NOOOOOOOOOO!!!!!" The android cried as the Martian's crippling fear of fire overwhelmed his systems. Its limbs jerked around as it struggled in vain to put out the 25th century chemical enhanced flames. It catapultedinto a building, then into the ground, growing more frantic and hotter by the moment. Finally, it let out one final agonizing scream and shot into the air like a rocket.
A moment or a minute or an eternity later, who knew, the shooting star exploded in the sky like the most beautiful firework the heroes had ever seen.
The group, dirty, scratched, but not all that much the worse for wear, gathered together to watch the colorful show of lights. Then they turned towards each other, their eyes attesting to their unspoken comradery. Maybe this team thing wasn't so bad after all...

"Aw...are we too late to join the party?" A man in a robin hood costume appeared behind them, followed by a pretty blonde woman wearing a black jacket with a black choker around her neck and an attractive brunette in a tailcoat and top hat.
The members of the newly formed team shared a look and a long moment of silence. Then the Flash flashed between the two females, taking one in each arm with a huge grin. "The more the merrier."
Hawkgirl rolled her eyes but couldn't keep the corner of her mouth from lifting up. The rest of also broke out in smiles as well.
"Welcome to the Justice League."

THE END...
...or is it???
End of Game Roster
Edit
Hirkala -Gorilla Grodd - Killed N2 by

Hawkgirl

marquessa - The Joker - Killed N2 by

Joker

curr3nt - Atom - Killed N3 by

Lex Luthor

Molly Mae - Lex Luthor - Lynched D3
Yodell - Aquaman
TheChad - Sinestro - Lynched D2
Panther - Wonder Woman
Framm - Amazo - Killed N4 by

Hawkgirl

MikeD - Batman
nana77 - Green Lantern
TwoaDay - Hawkgirl
jay - Booster Gold
Flamebirde - Superman - Killed N1 by

Sinestro

Aura - Flash
benjer3 - Martian Manhunter
List of actions
Night 1
Hirkala -Gorilla Grodd - Block Nana
marquessa - The Joker - Dose Aura
curr3nt - Atom - Redirect Aura to Aura
Molly Mae - Lex Luthor - manipulate MikeD as Hawkgirl to kill Framm
Yodell - Aquaman - Observe curr3nt
TheChad - Sinestro - Night kill on Flamebirde with kryptonite
Panther - Wonder Woman - Ask Nana: "Are you part of the Justice League?"
Framm - Amazo - Copy Molly Mae
MikeD - Batman -
nana77 - Green Lantern - Block Marq
TwoaDay - Hawkgirl - no action
jay - Booster Gold - inactive
Flamebirde - Superman - no action
Aura - Flash - N/A
benjer3 - Martian Manhunter - Follow Nana
Notes: Well, as Nana wished, Superman is now dead:P. Amazo now has the RID manipulate...this is going to great :D
Day 1
Aura (Flash) decides to send a message from herself to Batman
Villains use lynch save to save Hirk.
Night 2
Hirkala -Gorilla Grodd - Block Framm
marquessa - The Joker - Dose Framm, Night kill on Nana
curr3nt - Atom - Redirect Marq to Marq
Molly Mae - Lex Luthor - manipulate curr3nt as Flash
Yodell - Aquaman - Observe TheChad
TheChad - Sinestro - N/A
Panther - Wonder Woman - Ask Hirkala: "Are you part of the Justice League?"
Framm - Amazo - Copy Twoaday
MikeD - Batman -
nana77 - Green Lantern - Redirect benjer to benjer
TwoaDay - Hawkgirl - kill Hirkala
jay - Booster Gold - inactive
Aura - Flash - N/A
benjer3 - Martian Manhunter - Follow Hirkala
Flash message sent to Batman:
First, I'm Aura - Flash and I'm trying to set up a way you can broadcast your results to me. I may give this code to other goodies, too. In the first post you post after the NP, please ID yourself to me by putting a ;) smiley. (Hope that's not too suspicious looking, :P )
All players are identified by the first letter of their name except
Molly - L , TwoaDay - A, MikeD - D
Roles are E - Lex Luthor
P - Joker
T - Sinestro
R - Gorilla Grodd
H - Amazo
C - Superman
N - Wonderwoman
M - Green Lantern
O - Hawkgirl
S - Martian Manhunter
B - Aquaman
I - Atom
W - Booster Gold
Number correct/correct but wrong position:
0 - :(
1 - :/
2 - :P
3 - :)
4 - :D
If both #s are same, (eg - 0 totally correct, 0 correct but wrong position) then just use one smiley.
So let's say I tried
Nana as superman
Benjer as Martian
Curr3nt as Atom
Yodell as Sinestro
And I got a result of 1 correct and 1 correct role but wrong position, I would formulate this to put in the game thread:
N C B S C I Y T :/
Which I could turn into
":hm: Niiiiice... Could be suspicious, could interrupt your thoughts... :/ "
Obviously that looks crazy and people will probably ask wtf you're on about but it gets the message across, and it will help us work out who's who, in combination with the info other people are getting. Even a zero result is useful so try to give as much as you can. You could even just post the letters without the words attached. I mean, it's already an obvious code. It's up to you. *shrug*
If you get a result where one is correct, let's say Benjer is Martian, you can put that one at the beginning, so BSNCCIYT. Basically, just put the more likely ones at the beginning. If you want to say that "so and so is probably X role", (or hinting at being x role) rather than or in addition to giving your guesses, you can use the same code but identify it with a ;) for a "definite" or a Hmm, for "maybe". If you need to add mire words to make the sentence make sense, just put a comma or a full stop or something and I'll ignore whatever is after it. You can also intersperse words that don't begin with any of the said letters, if needed.

If by chance I choose you to send a message to someone else, please pass on the code and my identity to the person you message, and ask them to ID themselves to us.
Notes: Benjer chose to observe Hirk, but he's going to end up observing himself as he was redirected to self so he's going to see his target visiting himself. Originally Marq was going to attack GL and it would have failed, but she was redirected to self is going to kill herself. This would have been a perfect night for Aquaman to watch Hirk, since he's obviously going to be target of many an action, but he didn't :-(. I was excited that Framm was going to get Hawkgirl's kill [insert devil smiley], but then he was blocked :\.
Day 2
Flash chooses to deliver a message from Hawkgirl to Atom.
Night 3
curr3nt - Atom - Redirect Yodell to Yodell
Molly Mae - Lex Luthor - manipulate curr3nt as GL to save MM
Yodell - Aquaman - Observe curr3nt
Panther - Wonder Woman - Ask curr3nt: "Are you part of the Justice League?"
Framm - Amazo - Copy Aura
MikeD - Batman -
nana77 - Green Lantern - Save Panther
TwoaDay - Hawkgirl - none
jay - Booster Gold - inactive
Aura - Flash - N/A
benjer3 - Martian Manhunter - Follow jay
Notes: Yodell chose to observe curr3nt but was redirected by curr3nt to himself so he'll see that his target was acted on by curr3nt, but curr3nt was killed by Lex...lol
Amazo now has Flash's ability. I'm interested to see what he's going to do with it.
Ad blocker interference detected!
Wikia is a free-to-use site that makes money from advertising. We have a modified experience for viewers using ad blockers

Wikia is not accessible if you've made further modifications. Remove the custom ad blocker rule(s) and the page will load as expected.