Legend of Zelda Mafia

'
Game information
Host
Marth
Link
Legend of Zelda Mafia BTSC threads
Size
11 Players (Medium)
Start Date
10.22.14
Winning Faction

Goodie

Roster
#, player

First to Die
Jay
Last Remaining
Boq, Pi, Slick
MVP
none
Awards
-
Legend of Zelda Mafia was a game designed and hosted by Marth based on The Legend of Zelda Series
It began on October 22, 2014 and ended in a Goodie win in D5 (Nov 3).
Game Mechanics
Edit
OOP in case of loops Block > Trap > Redirect.
What is shown in the NP/DP:
Kill
Trap
Successful Save
Follow Spy
Lynch Save
Spies are not told they are redirected so they would be told that A is B if redirected.
NK is group kill so cannot be blocked.
Day actions are unaffected by block/redirect.
Role Description
Edit
Baddies: Become the majority. (Chooses 1 player to kill every night.) Have BTSC.
Ganondorf - The Gerudo King and ultimate enemy of Link. Will send one of his many minions to spy on a player.

Majora's Mask – A powerful mask able to corrupt those wearing it. Will use it's power to redirect a player to a new target.

Dark Link - An evil doppelganger of Link. While nearly identical and equally skilled as the real Link he has not managed to beat him before. May block a player and appears as Link if spied.
Goodies: Win by defeating baddies
Link - Hero of Time, Hero of Winds, Hero of Legend...Regardless of title he is the Hero! Though out his many incarnations he has been able to perform many tasks. His actions will be decided by a die roll:

1 - Kill

2 - Save

3 - Spy

4 - Block

5 - Trap

6 - Choice of any

Navi - HEY! LISTEN!! She may seem annoying at times but her information is still invaluable. May spy a player.

Zelda - Princess of Hyrule. While usually the one that Link is trying to save, she's not completely helpless. She will use her powers to save a player.

Impa - A member of the Sheikah and attendant to Zelda. One of the Seven Sages, she is strong and agile and will use her ablities to kill for the goodies.

Ruto - The Princess of the Zora tribe. One of the Seven Sages, will surround a player in a water bubble, trapping them.

Darunia - Leader of the Gorons living near Death Mountain. One of the Seven Sages, he is quite strong and will use his brute force to knock a player out (Block)

Saria - Childhood friend of Link. ONe of the Seven Sages, she can use her Ocarina to play Saria's song and calm everyone during the lynch (RID Lynch Save)

Rauru - Sage of Light. One of the Seven Sages, he can take the form of an Owl and keep an eye on a player from the skys. (Follow Spy - Sees who they target)
Host's Summary
Edit
Game Idea and Expectations
Edit
Goodies win. This one was pretty close but goodies still won. If Dd had managed to convince everyone that Slick was the baddie and killed the right target (the one not trapped) at night, the game would have been his but that didn't happen. One thing I will say I didn't like about this game was the blatant outing that occurred. It has always been a pet peeve of mine when it comes to Mafia games when people just come out and tell who they are. It can make things harder for the baddies to hide. While they too can claim a role, it can be harder for them if the role is alive to counter-claim so for them to claim is more risky. I may run this game again sometime soon but add an RID killer to keep outing under wraps.
By Marth
Special commendations
Edit
Host disappointments
Edit
Alternate endings
Edit
Winning Faction
Edit
CommonMan - Zelda

Jay - Link

thanous - Rauru

yuck - Impa

PiOverlord - Ruto

Slick - Darunia

Marquessa - Saria

Hachi - Navi
Day and Night Posts
Edit
Intro N1 D1 N2 D2 N3 D3 N4 D4 N5 D5
Prologue
Link was sitting under a tree in Hyrule Field just relaxing. The small lapse in trouble was nice for once but it did not last long. Before long, a looming dark cloud began to appear over Hyrule Castle. Upon seeing it, Link jumped up, climbed on Epona who whas just beside him and rode off toward the castle to find out what was happening.
Rauru watched the goings on from the Sacred Realm. Ganondorf had somehow managed to use his Triforce of Power to overtake the guards and men of the castle and was using his abilities to rest control of Hyrule. The evil doppelganger of Link was also by his side and somehow had brought back the power to Majora's Mask. Zelda had luckily managed to escape and was hiding out with her attendant Impa. Rauru could tell as things stood, Link would have a difficult time taking on Ganondorf AND Majora's Mask, and bringing along Dark Link was not helping matters. Rauru took on the form of the owl Kaepora Gaebora and went to seek out the other Sages to join with Link to assist in taking down Ganondorf, Majora's Mask, and Dark Link.
Night 1
Slick sat along Lake Hylia, the refreshing air was nice by the water. But being there only made things easier for Ruto who was watching him from near the entrance to the Water Temple. Before he knew what had happened, Slick was inside a bubble and wouldn't be getting out anytime soon.
Rauru, or as he was known in his current state, Kaepora Gaebora, landed on a tree branch and scouted the area. He soon caught sight of who he was looking for and took to the sky, Yuck didn't even pay mind to the owl following him around.
It was time for the holder of the Triforce of Power to take out his first victim, and unfortunately for him, Jay didn't even see it coming. The dark of the night was perfect cover for Dark Link who was able to easily sneak up behind him and stab him with the darkened version of the Master Sword.
Day 1
The sun was hanging low in the sky as the day drew to it's end. Many votes were cast but all on different people. It appeared that a majority would not be found that day and as the day closed, no one would be meeting death for now. Future days, they would not find the same luck.
Night 2
Rauru took once again to she skies of Hyrule field. It was not hard to find his target as he had just been released from his watery prison. He landed on the solitary tree on the small island above the Water Temple and watched over Slick.
Ruto decided to leave Lake Hylia for the night looking for her target and spotted Marq walking out of Kakariko Village. However, she wasn't alone. What appeared to be a floating mask was just behind her. Before it could strike, however, a bubble formed around Marq. She may have been trapped but it knocked away her attacker who quickly fled back into the village before it could be caught.
Day 2
The day had once again ended in a tie. This time between Thanous and Flamebirde. The day before the tie was forgiving but today would not be the same. The day's decision would have to be left up to luck. Who would be the one to go. A silence fell amongst the group as a sudden bolt of lightening split the sky and struck Flamebirde. A black shield and sword fell beside him....It seemed that fate had chosen Dark Link as it's victim.
Night 3
Rauru was still intent on keeping a keen eye on the players as he once again flew into the sky. He scouted around and finally spotted his target, dee. He did his best not to be spotted following her as he flew through the sky.
Ruto decided to go after a former target a second time as she found slick once again, enveloping him in her bubble prison.
After the loss of one of their members the baddies needed to work quickly before they too were found. Common was found by Majora's Mask who took him over and forced him to walk down into Lake Hylia...He never returned though until his lifeless body floated to the surface.
Day 3
Oh crap...I though I hit the post button on this o_o no wonder I wasn't getting action PMs lol
I'll just make this quick since I'm a little scatterbrained at the moment. Yuck lynched as Impa
Night 4
The sky's over Hyrule were clear that night, the moonlight glowing brightly over the field, only the shadow of Rauru obstructing it as he followed DD.
Ganondorf had had his men do enough work and decided this night to get in on things himself this night. He spotted Hachi in the distance and shot a energy ball at him. Hachi was hit, not expecting the attack and was stunned falling to the ground. Before he could shake it off Ganondorf loomed over him before thrusting his sword down through him...
Day 4
As the day ended, the consensus was that Dee was chosen. They had already deduced who she was too it seemed and they were correct. Before she could try to use her powers, Majora's Mask was captured and drained of its power...It was nothing more than a normal albeit creepy mask...Inscribed inside were the words "Ben Drowned"...Hmm...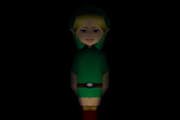 (Just thought I'd add that in for a little late Halloween creepiness. Look up Ben Drowned for some nice creepy pasta goodness

)
Night 5
Ganondorf was down to just himself and needed to work quickly if he wanted to finish this. As Marq was out for a walk through Kakariko Village a large shadow appeared before her. She turned to run but was run through with Ganondorf's sword as she fell to the ground. If he had arrived a moment sooner, he may have been able to help but he wasn't and Rauru flew off after seeing his target had been killed...
Day 5
There was no question in the eyes of those remaining. Try as he might, dd could not convince them the change to Slick and it was all over. Dd was struck down and Ganondorf had been defeated. Though they had ultimately won, there were many losses as well...Link was taken out at the very start and Zelda had also fallen...But where one may parish, another will still rise to continue the legacy of Hyrule's Hero!
End of Game Roster
Edit
CommonMan - Zelda

- Killed N3 by

Baddies

Jay - Link

- Killed N1 by

Baddies

Boq - Rauru

yuck - Impa

- Lynched D3

PiOverlord - Ruto

Slick - Darunia

Marquessa - Saria

- Killed N5 by

Baddies

dd515087 - Ganondorf

- Lynched D5

Flamebirde - Dark Link

- Lynched D2

dee - Majora's Mask

- Lynched D4

Hachi - Navi

- Killed N4 by

Baddies
List of actions
EDIT HERE
Ad blocker interference detected!
Wikia is a free-to-use site that makes money from advertising. We have a modified experience for viewers using ad blockers

Wikia is not accessible if you've made further modifications. Remove the custom ad blocker rule(s) and the page will load as expected.