Manga Mafia 2

'
Game information
Host
Darth Nox
Link
Game thread: Manga Mafia 2 BTSC threads
Size
15 Players (Large)
Start Date
3.6.12
Winning Faction

Goodie

&

Indie

Roster
#, player

First to Die
Slick
Last Remaining
Hirkala, Miki, Fat Tony, Vine, Prof. T, Aura, Plasmid, Meem, Zweefer
MVP
Prof T
Awards
-
Manga Mafia 2 was a game designed and hosted by Darth Nox based on based on various manga characters brought together in a story of his design.
It began on March 6th, 2012 and ended in a Goodie & Indie win in N3 (March 14).
Game Mechanics
Edit
OOP : ressurect> rid kill > save > nightkill/kill > trap/block > redirect > spy( death id as well) > messenger
Q&A
Are you trying to say resurrect can't be acted upon? yes
RID Kill can't be saved, or trapped or blocked? right, its supposed to be punishing if you hint too strongly
NK and kill can't be trapped or blocked but can be saved? (This puts normal kill on same lvl as NK)? right, i wanted that part to be even, as last game the baddies ( you included) decimated the goodies
Are kills blocking or non blocking? blocking
Does NK have a carrier? If not, it doesn't need to be in an OOP. yes
You have trap/block on same level so what happens if trap and block act in a loop? i'll change that to trap beats redirect
Role Description
Edit
goodies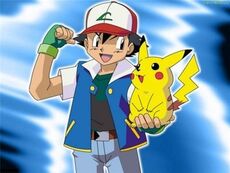 alucard : absolutely loves to kill, and id very very good at it, he uses his blessed bullets to do his deeds. (hellsing/ultimate hellsing) (kill)

Akiyama: a famous former theif, and a master of psychology, this man knows more about you than you think. (liar game) (spy)

Ultear: a master off time magic, a former member of a dark guild of mages, but has joined the side of good this mage can warp time around you for long periods of time ( fairy tail) (trap, can not trap themself)

Kempachi: very hard skinned(literally) shinigami who thinks the only thing important in life is battle, if you can hurt him....... then youre a monster too ( bleach) (block)

Sakura: medical ninja from the land of fire, she has a really bad temper, but is very talented with what she does (naruto) ( save: and odtg ressurect ability, sacrifices herself)

Blair: a magician that can turn from human to cat and back again, and is very good at getting people to do what she wants ( see why in a minute) ( soul eater) ( vote redirect)

Baba: an old witch that specializes in teleporting between the human world and other world (heaven of sorts) and can easily find out who is there ( dragon ball, DBZ and DB GT) ( death id)

Urahara: a former and extremely skilled shinigami, but retired and is currently working in a shop, he doesnt fight anymore, but likes to give info to those in need ( bleach) ( messenger, sends host a message ( 140 characters including spaces, or less) by the day post, and the receives a response the next night phase)

Ditto: a pokemon that has no real ability of its own, so it copies the powers of others ( pokemon, kanto region) ( copy, only alive goodie abilities, and only one time per ability, chooses a role to copy, not a player) ( when only 5 remain ditto can copy roles a second time)

Ash: a pokemon trainer from pallet town who only wants to be a pokemon master........... trouble is, he never labeled his pokeballs....... so he isnt sure who is who (pokemon) ( die roll)

block

trap

kill

save

no action
---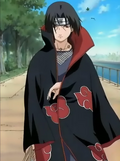 baddies: nightkill ( collective) and btsc
Maximillion pegasus: the inventor of deul monsters that has a dark power, the millenium eye (youll know it when you see it) and can trap peoples soul inside a card, but is in a weak state and can only hold them for 1 cycle ( yugioh) (trap, can not trap themself)

Hades: the powerful leader of dark mage group grimoire heart, is nearly invincible ( except for the power of friendship) and can stop whoever he wants in their tracks (fairy tail) ( block)

Itachi uchiha: incredibly smart ninja from the land of fire, that went rogue, killing his entire family and joined the akatsuki, his skill in battle comes from his masterful use of his sharingan, which he can use to make elaborate illusions to confuse his enemies (naruto) (redirect)

yakoya: a really smart but evil person, his action show both as he is able to see exactly what kind of person someone is and hurts them, for fun (liar game) ( spy)
---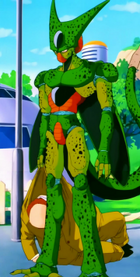 Indy: kill 2 out of 4 random targets and leave the game, can win with baddies or goodies (one target from each faction)
Cell: an android from the future sent back in time to find the 2 that will make him perfect ( DBZ) ( rid kill)
for the first 2 nights when spied, cell appears as random goodie ( if spied twice, appear as the same goodie)
Winning Faction
Edit
Vine - Cell

Hirkala - ash

Miki - ditto

Fat Tony - baba

Slick - ultear

Prof. T - alucard

Aura - Akiyama

Plasmid - kempachi

Hidden Z - sakura

Meem - urahara

Zweefer - blair
MVP - Prof. Templeton
Day and Night Posts
Edit
Introduction:
Michael sits up in his library ready a random book, flipping through the pages a bit too fast to actually be reading the book.
After about 5 minutes michael sighs, exasperated, and tosses the book into the chair next to him. He walks up the stairs to the second story of his library, looking for a certain book.
" Ah, there it is " he says walking over to the bookshelf smiling. He grabs the book and looks at the leather cover marked Manga all-stars and opens to a random page, which just so happens to be when Kira dies.
" he had so much promise, he could have gone all the way to the end....... didnt even get to drop the death note" *skips to last page and smiles* " and the baddies won this one, ssooooooo much death, it was perfect"
"what was sir?" The maid asks
" this was" *points to the book* " so much plotting and the bad guys won in the end! they never win"
"did you write it sir?" says the maid, looking slightly confused
" well kind of, i sort of just put some pages together.......... and then it turned out like this"
" Are you sure you werent hallucinating......" she says looking suspiciously at michael
"im fairly certain i wasnt........ but what the heck, it was fun so im going to try again, you're welcome to watch, but ............ just stay out of this"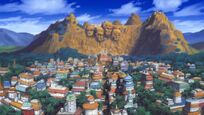 Michael grabs a few of his favorite mangas and rips all of the pages out ( at which the maid is very confused but says nothing). He grabs a page of The hidden leaf village
the perfect setting for round 2 of the battle royal.

After picking the setting michael wquickely chooses a page of Alucard and puts it on the front " a fitting replacement for ichigo............ and he definitely loves killing a lot more then ichigo does" michael thought.
---

The manga world
Alucard appears in the town, and grins, not surprised and very pleased.......... he smells blood and fear, and he slips into the darness, letting the others find each other and slowly start a group and try to figure out whats going on
---
The real world:
The book is slowly pieced together and characters are chosen one by one, first the heroes, and then the villains but when it came to the indy it was a tough choice
" ..... do i want to bring kira back to life......... i mean, he's a very good indy but he did die early"
"sir............ did you just say kira?" she said confused
" yeah why"
"because a letter came here yesterday from a man with that name, marked to a ms.Akriti and ms.miki" she said before retrieving the letter and handing it to michael
Miachael looks at the letter and smiles and laughs a bit and drops the letter
"cell will be the indy this time, someone convinced me" he said
---


Back in the manga world:
The wind outside the Hidden leaf village is slow and very calm, until a time machine jumps into existance.
cell slowly starts to gain power and climbs out of the time machine, concealing himself among the brush, until he finds what who he needs.
---
The Real World:
"perfect, now we just wait for a few days for the action to pick up"
"but sir........... what did the letter say" asks the maid, obviously curious
Michael laughs and and looks at the letter again " nothing for you, just for the ladies" and leaves the room with the letter left on the floor, a picture falls out and the maid pics it up and looks, and giggles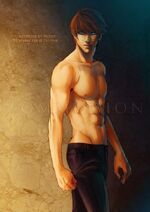 Night 1:Brace for carnage
Everyone was noticing that night was approaching, and at the moment no one could be trusted.......
a couple of people joked to make light of the what was happening, no one had a clue why they were there, and some could feel that someone was watching them. when night approached they all found a house to retreat to and sleep in, but no one felt safe........... justly so
---
Pegasus walks slowly down the street in his red suit, very confident, why shouldn't he be? He was already allies with some of the strongest people in town, but he was ready for some fun.
He found Slick in the street with his equipment, trying to find a place to stay, he smiled and walked over to him saying
"If you like you can come with me, I found wine and dinner in this mansion at the center of the city"
Slick quickly accepted and hurried after him, very happy to get out in the open
20 mins later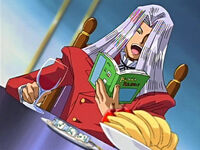 "now Slick , youve eaten my food and had a good time" Pegasus says "now I want to duel" and a grim look comes across his face
"duel?" Slick asks, not very sure what he means
"no cards I see.......... thats too bad" Pegasus says, chuckling, amused by Slick not being prepared. his chuckle turns into a full blown laugh as his left eye starts to glow and shadows start forming around the 2 men................ when the shadows lift Slick lies on the floor, dead
---
Pegasus was at it again, this time he wasnt even subtle as he walked over to Proffesor Tembleton and tapped him on the shoulder. Prof T. jumped, a bit scared until he realized he was looking at a 40 year old man that thought he was 8
"What do you want?" prof T exclaimed
"Only a game" he said showing him a deck of cards and smiling
"I don't have time for this" Prof T said trying to hurry away
"Why of course you do, see, I'll even let you have this one" he said handing him a card
"but its blank......." Prof T responded
Pegasus smirked as he activateded his powers and stole Prof Ts soul, putting it inside the card he was just holding, for the night and the next day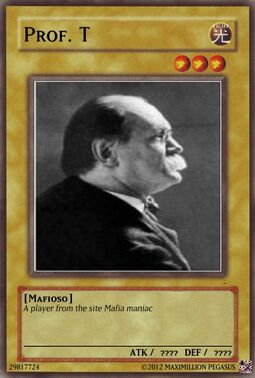 Day 1: Blood in the water:
Manga world
Slicks body was found in the street the next day, cold and lifeless. The crowd stood in a circle around him, mumbling. A few of the more analytical people prodded and examined the body, finding no trace of any sort of knife wound or any bruises.......... it was sort of like he just stopped living.
A few people in the crowd stood, hiding their pressence and whispering in the ears of those who spoke, they said " you're being lied to" " he's the killer" " you're not safe" and they believed every word of it..... each passing minute brought more and more suspicion, and more chaos, until finally there was enough panic to warrant a kill.
Fingers were pointed and accusations were yelled, but only one could take responsibility, Nana was dragged kicking and screaming up to the scaffold, on the way there she bloodied some noses and hurt quite a few people
if she was going to die she sure as hell wasnt going to make it easy on them
As the noose wrapped around her neck the smiles of the dark strangers started to wain..........
" this wasnt supposed to happen" said one
" release her" "she's innocent" they quickly tried to calm the group, but it was too late. the lever was pulled and the floor came out from under her.
thud
and just like that Nana was dead, and as she died her control grew weak, letting the dark energy inside loose, telling everyone in the crowd feel who she was yakoya
the pleased heroes fled back into there houses, their need for revenge satisfied........... but the villains had only just begun their killing spree.
---
The real world: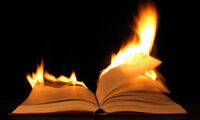 "sir......... somethings happening to the book" Says the maid nervously
" Ah, so its that time already" says michael " thats a character being removed from the rest of the book, and from the look of things they made the right choice today........... i wonder how long they can keep it up"
Night 2: a vampires sated blood lust
The manga world:
The night was cold and damp, but Alucard liked it, he loved the smell of fear. He walked confidently through the streets with a smile on his face and his eyes glowing red with evil satisfaction.
He found who her wanted easily enough, she was the exact smell he was looking for, and she didn't even hear him coming.
"hey" he said, his hand gently brushing against his gun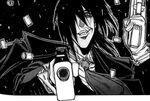 Marq jumped and turned, and before she knew what she was doing, she stabbed Alucard
He only laughed as he slowly took the knife out of his chest, and licked the blade, slowly leveling his gun before he fires one shot, killing her instantly
---
............. all he wanted to do............ was be the best there ever was.......
he walked as carefully as he could through the shadows, trying his very best to help his friends however he could. he found someone wondering and quickly drew the first pokeball he could and threw it, not caring who it was and out came..........
chikorita! use vine whip! and she did just as she was told grabbing miki and holding her still for the rest of the night..........
ash walked away just as Kempachi walked in, making ash hurry away.......... more then a bit frightened by the big man....
Kempachi strolled over to where miki as struggling to get free with a big grin on his face.
" aaaaaaaand one for good measure" he said as he landed a punch on mikis stomach, causing her to collapse in pain
---
The villains were fuming in the hokages mansion, they wanted blood and they wanted it now, Hades walked through buildings, through walls and concrete, leaving a wake of rubble, not even caring about anyone hearing
he found Fat tony sitting in a corner, and without even looking, sent a jolt of magic, knocking FT out cold............ he as not the main target he kept walking and walking until he found Hidden Z
"there you are" said the old man, sending out his chains of magic
Hidden Z tried his best to run away, and to give him credit he got a few feet before being ripped to shreds
Day 2 for 2
Dawn approached after what seemed like forever and like before, the inhabitants were nervous about their target. they went through any evidence they had before making acusations...... and one persons name stood above the rest. he was tied down and submissive for the next couple of days, ready to face his death
the clock stuck mid day, and he heard footsteps outside his tent and he tried to get in a defensive position. Darth mask wasnt going to go silently........... but when they got there, they cut him loose........ he didnt ask any questions, he was just happy to be free, and wondered what the plan was.
Edm was just going to bed, thinking the day was over and DM was going to be hung, the evidence was very convincing........... but she couldnt help feeling some doubt....... when all of a sudden she was knocked out and carried over to the village center
when she woke up she found herself standing in front of the village
"whats going on, why am i here?"
no on answered, but instead tied the noose around her as she cried, wanting answers
"please, im so confused, what did i do, please just someone help me"
a few in the crowd were in disagreement, but most people just wanted to get the job done. she begged for her life until the last second.... minute
an evil smile came across her face as she said "Go baddies" and the lever was pulled
and the form of Hades was revealed
---
the real world:
"interesting, it seems as though they stumbled into that one" says michael as he watches the book catch fire again
"they got hades this time"
"you mean like the disney hades sir" she asked, very confused
"no. this man is actually evil.......... and the goodies got lucky getting him this time"
Night 3:Plans come to fruition
The real world:
Michael sat in his chair alone in his study, the book on the table. He sat, thinking about the nights before, trying his best to see the evidence before him.
"maybe they're wrong" he thought with a grin slowly crawling across his face " that would surely make things interesting. not a moment later, the book started glowing three different colors, one after the other........ Red, Blue, and then finally green.
The maid runs in from the other room and looks at the book, and then at her employer
"whats happening now sir?" she asked, not even surprised at the light show this book is performing
" THE END is happening" He responded, a pleased look on his face
---
The Manga world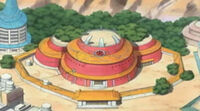 Alucard walked lazily through the streets, he smelled fear........... and oh how he loved it. He glided over to the hokages mansion where he knew for a fact DM was waiting for him.
when he reaches the gates, DM strides out with a look on his face that looks like anxiety and courage.
" look who finally became a man" Alucard mocks
" who are you, and what do you want from me? ive dont nothing wrong" replies DM
" Cut the bull crap, i know who you are pegasus" Alucard
"but how could you-?" pegasus says as he drops his disguise
" i could smell you as soon as we arived" replies the vampire " you and your friends felt so much like i do........ only far weaker"
"care to put that to the test?" replies the duelist " my duel monsters Versus you, the origional vampire, i believe youll find me more of challenge then you think"
" im hoping your right" Alucard responds with an evil grin on, leveling his gun
---
Meanwhile on the other side of the village
Cell clung to the shadows, he may have his second form right now, but there was someone impossibly powerful close........ he needed to stay hidden at the moment and find his target.
he could sense it near as he walked up the stairs and into a room, where Aura sat cross legged, waiting for what was to come
" this was part of the deal, just do it quickly before i change my mind" She said bravely, closing her eyes and waiting for it to happen.
Cell was about to do so........... but suddenly the powerfull being was within yards, and then feet
" what the hell!" cell yelled as alucard went flying through the wall, hit hard from the looks of it. when he got out from under the rubble he looked over to cell only to say
" Boo"
Before jumping back to the fight with pegasus
" now you see the power of my toon monsters Alucard, you cant possibly beat me like that" pegasus gloats
"really.......... so you've actually been trying, im disappointed.......... i thought you werent just going to be another punk"
"what do you mean........ you're just bluffing" he says, not so confidently
" integra isnt here right now" the vampire says " i dont need her permission"
".....for?" the white haired duelist asks
Alucard doesnt answer, but instead makes a sweeping motion with his hands ( see below video)
and says " the bird of hermes is my name, eating my wings to make me tame" RELEASE LEVEL 0 (warning, the below has some disturbing images not suited for younger children)

Pegasus stands Awe struck as alucard transforms, and he soon realizes if he doesnt do something quick he WILL die.
" I SUMMON RELINQUISHED " he yells, hoping to god that this works
relinquished appears from the card when called, just as alucards minions start to flood towards him, the monster manages to absorb the minions, puting pegasus a bit at ease.
---
Back at cell
" this was much easier then i thought it would be" thought Cell as he finished abosorbing AURA
suddenly his power seemed to double, and then triple
"I'VE REACHED MY PERFECT FORM!" he exclaimed "now to go back to my world for that Brat goku........... but what about those 2 over there........ i could probably get one of them" but he thought better of it and fled the scene to his time machine, going back to where he came from
---
hokages mansion
alucard only smiles at pegasus as his minions pound constantly at the duel monster, only playing with it.
"and now you face your end fool" the vampire says cooly
from behind Alucard comes Yokoya,Itatchi and Hades all with the same red eyes as their master. They walked forward and held pegasus still as alucard walked forward....
the last thing heard in the manga world was the white haired duelists scream of pain and terror as Alucard consumed him.
---
The real world
" looks like its a tie" michael mused " never had one of those before"
alucard apears on the cover with his signature smile and a gun in his hands*
"and it looks like our killer didnt disappoint"
" what now, sir?" the maid asks
michael puts the book on the shelf next to the first, on a shelf at head height.*
" now everything goes back to normal" he says with a sigh " and we try and top that for next time

THE END
HEROES and INDY WINS
ROLES will be up next post
Congratulations to Professor Temp ON MVP, that got MARQ the third baddie, really turning the tide in the favor of the goodies
End of Game Roster
Edit
Hirkala - ash

- Survived

EDM - Hades

- Lynched D2

Miki - ditto

- Survived

Marq - Itatchi

- killed N2 by

Alucard

Fat Tony - baba

- Survived

Vine - Cell

- Survived

Nana - Yakoya

- Lynched D1

Slick - ultear

- killed N1 by

pegasus

Prof. T - alucard

- Survived

Aura - Akiyama

- Survived

Plasmid - kempachi

- Survived

Hidden Z - sakura

- killed N2 by

Hades

Meem - urahara

- Survived

Zweefer - blair

- Survived

Darth Mask - pegasus

- killed N3 by

Alucard
List of actions
EDIT HERE
Ad blocker interference detected!
Wikia is a free-to-use site that makes money from advertising. We have a modified experience for viewers using ad blockers

Wikia is not accessible if you've made further modifications. Remove the custom ad blocker rule(s) and the page will load as expected.