Multicultural Murder at Midnight Mafia

'
Game information
Host
Auramyna
Link
Game thread: Multicultural Murder at Midnight Mafia BTSC threads
Size
13 Players (Small)
Start Date
12.20.12
Winning Faction

Goodie

Roster
#, player

First to Die
Brandon
Last Remaining
Slick, FT, Andy, Mew
MVP
FT
Awards
-
Multicultural Murder at Midnight Mafia was a game designed and hosted by Auramyna based on own design.
It began on December 20, 2012 and ended in a Goodie win in D4 (December 30).
Game Mechanics
Edit
Each baddie and goodie will be PMed a Once During The Game action loosely related to their role. There are no secret actions that interfere with the logical process of determining roles.
RID Steal/Kills ARE blocking (except on ODTG actions), kills are NOT blocking. ODTG actions can not be acted upon. (Even being RID Steal/Killed will not block the action.)
Tie lynch rules:
On Day # n, tie lynch = 100 + 20(n)% chance of death.
E.g - D1, 1 person dies, then 20% chance for 2nd person to die.
Then D2, 1 person dies, then 40% chance for 2nd person to die etc.
Redirects:
Redirect fails on day actions, ODTG actions, ask yes/no, RID actions. Fail results are returned.
Redirected spies receive a clear result on the new target (B is [B's role]) if redirected by same faction or screwy results (A is [B's role]) if redirected by an opposite faction
If Virginizer is redirected, it changes the target X
A redirected redirect succeeds.

(If I want to redirect Immanuel to (player X), and someone else redirects me to Lucy-Lou. I redirect Lucy-Lou to (player X) instead of redirecting Immanuel.)
Appears in NP:
Block
Kill
Trap
Successful redirects - role acting, not targets.
Successful RID Actions
Needed protects
Role steal - Dice roller appears as doing the action on his chosen target. Person stolen from is advised they were stolen from.
Result of group save
Cessation of group save
ODTGs appear if it's the type of action that would usually appear. Such actions will be made clear as ODTGs cannot be blocked/trapped/stolen/protected from.
OOP:
ODTG action>RID Kill>Steal>Redirect>Trap>Block
Indy>Baddie>Goodie
Role Description
Edit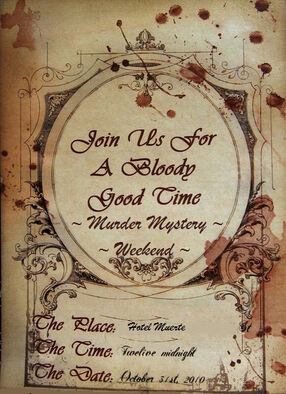 Baddies - NK and BTSC - Gain an unsurpassable majority. NK does not require a carrier as it cannot be blocked/redirected.
Danusia - Role Spy

Anstonio - Block

Luigi - Redirect or Vote Redirect a non-baddie
---
Goodies - Two random goodies have BTSC. Eliminate all other factions.
Mischa - Kill or Follow spy (choice each night)

Alejandro - Redirect

Chintamani - Shield - Protect a player from all actions (spy, goodie/baddie kill, block, trap, redirect, steal) except Virginizer, ODTGs and RID actions.

Maximillian - Role Spy

Trinh - Vote Manip (x0 - x2)

Kaori - Virginizer (Each night chooses X and Y. If X dies, Y's faction is revealed in the Night Post.)

Milo - Block

Zebediah - Ask host a yes/no question

Jamila - Die roll

Kill

Role Spy

Block

Trap

Redirect

Role Steal (name player)
---
Save is an anonymous group vote at night. All vote except baddies (may not vote for self on N1). Tie means no save. Save ceases when 2-4 non baddies are left alive.
---
Indy - WINCON: Has 4 targets and must RID steal from at least 2 of them, outliving the remainder, then leaves the game. Alt wincon - last standing.
Appolonio - Each night chooses 2 actions of: Redirect, RID Steal, RID Recruit, use copied action. Has secret passive ability and ODTG role spy. RID steals have a 25% chance to kill their target.
May only successfully recruit once. A recruit brings their action with them, loses any old BTSC and their name turns green in the post/on role spy.
Either Indy can carry any of the actions. If original Indy dies, the BTSC retains all actions. If recruitee dies, action dies with him.
ODTG Abilities
Baddies - NK and BTSC. Gain an unsurpassable majority.
1. Danusia - Role Spy - golfjunkie
ODTG list n/2 +1 non-baddies and receive roles randomised. 50% chance one is incorrect.
2. Anstonio – Block - Vommack
ODTG also blocks target for N + 1
3. Luigi - Redirect or Vote Redirect a non-baddie - GM
---
Goodies - Eliminate all other factions. Alejandro (Brainy) and Kaori (FT) have BTSC.
1. Mischa - Kill or Follow spy - Slick
2. Alejandro – Redirect - Brainy
ODTG submit RID guess on roster and receive # correct
3. Chintamani - Shield - Framm
ODTG role spy on protect target
4. Maximillian - Role Spy - mew
ODTG broadcast result (faction only) to NP. If you are blocked/trapped, you receive faction.
5. Trinh - Vote Manip (x0 – x2) - Andrew
ODTG view baddies' vote manip before end of day cycle. If no manip is in effect for that day, gains x3 vote for a future cycle.
6. Kaori - Virginizer - FT
7. Milo – Block - mboon
8. Zebediah - Ask host a yes/no question - Bb
ODTG send a message to any player and receive reply.
9. Jamila - Die roll - Nana
---
1. Indy - WINCON: Must RID steal from at least 2 of 4 targets, outliving the remainder, then leaves the game. Alt wincon - last standing.
Targets: Anstonio, Jamila, Mischa, Alejandro
Appolonio - Each night chooses 2 actions of: Redirect, RID Steal, RID Recruit, use copied action. RID steals have a 25% chance to kill their target. - curr3nt
Host's Summary
Edit
Game Idea and Expectations
Edit
Special commendations
Edit
Host disappointments
Edit
Alternate endings
Edit
Winning Faction
Edit
Framm - Chintamani

Bb - Zebediah

Slick - Mischa

mew - Maximillian

Andrew - Trinh

Brainy - Alejandro

Nana - Jamila

FT - Kaori
Day and Night Posts
Edit
Prologue N1 D1 N2 D2 N3 D3 N4 D4
Prologue
"Welcome to the Inaugural Murder Mystery Weekend of the MultiCultural Society," Aura, the hostess announced.
"As you all know from your info packs, you've all been given individual roles; one person being the murderer and the rest of you with varying capabilities that will assist you to hunt down the suspect. To give you the chance to catch the crim, he will need to exit the shadows and "murder" people, but that would remove you from the game which is kinda boring. So instead, the murderer, Appolonio, will steal an item from you, enabling you to play on, and allowing the opportunity to track him down. If he gets a certain number of targets undiscovered, he wins $3000. On the other hand, if someone tracks him down and exposes him, they get the $3000.
There are two main rules - #1: no violence - remember, this is a game. And #2 - don't share your secret abilities with anyone else. You may only discuss your biography as given to you with your role.
So please, take a cocktail and mingle, and perhaps learn a little more about your fellow players.

"
---
Anstonio sidled up to Luigi, slapping him on the back. "Hey man, how you been?" he started.
Luigi turned. "What kind of character is that? You mean your character is an overweight balding businessman?

"
" dry.gif No, just...

Listen: I've got a proposition for you. What do you say we team up and use our abilities together. I mean, you're not the murderer are you? You can tell me if you are." Anstonio said.
"Isn't that against the rules?" Luigi replied.

Luigi looked from side to side

He lowered his voice. "Nah, I'm not the murderer, are you? We could team up. I'll make sure you get through undiscovered ...as long as you share your winnings equally with me."
"NO! I'm not the murderer. Jeeeze...
Okay, well how about we team up together so that we find Appolonio before anyone else." Anstonio suggested.
"Sounds good.

I'm the redirect/vote redirect."
"Okay, I'm the block." Anstonio replied.
Danusia strolled up. "Well, well, well, guys. Looks like you'll be needing my help to find Appolonio. ....I'm the role spy.
"
---
Luigi and Anstonio exchanged glances. Anstonio nodded slowly. Sighing, Luigi turned to Danusia. "Fine. You're in. But don't tell anyone."
"I want my share of the winnings..." Danusia warned.
"Fine, fine! Now quick, let's split up."
And they all walked off in opposite directions.
Night 1
Alejandro inspected his role message.

It seems I need to change someone's target he thought. But why would I do that? What if I change it to the wrong target? What if the wrong person gets spied, or blocked or, or, or, DIES! Biting his knuckles, he quickly scribbled down some names and handed it to the host.
Danusia approached Anstonio. "I was thinking... - "
"
Oh, no, you were thinking. No good can come from that." Anstonio interrupted.
Danusia golf clapped. "Ha, ha. Anyway..." she continued as she looked both ways "I was thinking, maybe we should remove Bb from the game. He will see straight through us. If we get caught cheating, we'll be excommunicated. Or in any case, he's too much competition for the prize."
"Remove him? But how?" Anstonio replied.
Luigi noticed the two talking and joined them. "Remove who?"
Danusia led them into a side room. "Anstonio was just saying Bb is too much of a threat."
"Whaaat? But -" Anstonio started.
Danusia gave Anstonio a pointed look.
Luigi considered this. "Yes, I think you're right," he slowly nodded. "What should we do?" Danusia turned to Luigi conspiratorially and placed a hand on his shoulder.
"Luigi. I know you can take care of it. Work something out."
Luigi wandered over to the buffet for some finger food while he considered the situation. Agonising over his options, he wandered away from the group and into the hallway to get some quiet; some time to think. Proceeding up the main staircase, he explored the mansion the mystery weekend was being held in. Seeing an ajar door, he pushed it open and entered what seemed to be a sitting room with a balcony. Coincidences abound, Bb was having a cigar on the balcony!
Taking his chance, Luigi calmly sauntered on to the balcony, nodded politely to Bb and turned away to light his own cigar. Circling around behind Bb, he suddenly turned and pushed Bb off the balcony into a hedge. Quickly exiting the sitting room, he ducked into the next room where to his great surprise, there was a fireman's pole! Sliding down the pole, he found himself 20 feet from Bb's body. Some guests inside had heard Bb's screams and Luigi's timing was perfect, as he met them at the body. Together they peered up at the balcony.
People assumed that Bb's death was part of the murder mystery and not a real life murder. Milo bailed Fat Tony up and questioned him about his whereabouts prior to the murder, and other extraneous things. Anstonio noticed this and immediately sprang into action, doing "what a goodie would do" and started interrogating curr3nt in full view of the other guests. Puffing out his chest and furrowing his brow, he put on a macho-cop persona, as seen on Cops™, ensuring people were watching him.
Inside the mansion, Aura emptied all the group save ballots on to a desk and counted them up. Tonight Nana would be safe from death.

Spoiler for Night Actions
Luigi kills Bb
Anstonio blocked curr3nt
Alejandro acted
Milo blocks FT
Nana was chosen by the group save (un-needed) with Bb a close second.
Day 1
The hostess stepped outside for some fresh air. Strolling along the front path, she noticed some legs poking out from the bushes. Peering down, she noted Bb was lying ashen white in the garden bed. Looking around, she picked up a stick and poked him

to no avail. Recalling past mafias she had played with him, she poked him a little harder.
Realising he was badly injured or dead, she rushed inside and called an ambulance.
The ambulance sirens brought the guests outside. They were highly surprised as they thought it was all part of the show.
"You mean they were real legs? I thought they were prostheses!" one of them exclaimed. "This was not meant to happen, people. Remember rule 1? No violence? It's a game?" Aura replied. The guests stared back blankly.
If they don't remember rule 1, how will they ever remember rule 2? , she thought.
The guests were in an uproar and before long they turned into a lynch mob. Speaking amongst themselves, they formed a clear consensus that Vommack was to blame. After they finished dealing with him, they checked his wallet.
Spoiler for Vommack was
Anstonio
Night 2
Danusia approached Luigi. "You weren't supposed to KILL Bb! I said take care of it, as in distract him or something. What a mess...
"
"Oh hell, I'm sorry. What should we do now?" Luigi replied.
Danusia thought carefully. "There's only one thing for it. You'll have to kill Framm."
"Huh- Wha- Whaaaaat?!" Luigi started. Noticing Danusia's tense expression, he turned on his heels and disappeared. In the morning, guests would discover Framm dead in bed.
---
Chintamani was feeling very spiritual. Approaching Nana, she invited her to participate in her healing ceremony. As Nana took a seat in fromt of Chintamani, she waved incense around Nana's head and scattered flower petals and rice around her feet, chanting incantations.
"Nana, you will be protected from all actions, good or bad, tonight."
smile.gif Chintamani purred, as she bowed and floated off.
---
Alejandro was still kind of confused about his action but didn't want to ruin the game for others. He scribbled down two more names and pushed the note under the hostesses door.
Milo wanted to be the one to solve this mystery. He needed the money to pay for detective school. Approaching GM, he questioned him, using textbook strategies as per Milo's recent reading of his father's 1966 Detectives Guide to Interrogation Textbook. GM was held up all night, and didn't get to bed until half past five that morning.
As the hostess counted up the votes, she deemed Fat Tony would be saved that night.
Spoiler for Night Actions
Luigi NKs Framm
FT is group saved
Chintamani protects Nana
Alejandro acted
Milo blocks GM
Day 2
A horse drawn wagon carrying brass band instruments

moved down the street. As golfjunkie crossed the road, he wondered Why can I hear coconuts?
The coconut sounding hooves of the horses trampled him until all that was left on the ground was:
Spoiler for You didn't want to listen to him!
Danusia
And that golfclap thing was a total coincidence.
Night 3
Mischa kills _GMaster479
Milo ODTG FID blocks _GMaster479
Luigi Night Kills Brainy
Maximillian ODTG broadcasts a spy on Andrew - Andrew is goodie faction
Alejandro acted
Appolonio RID recruits and his recruit will show up as green from D3 onwards.
FT is group saved.
Day 3
The hostess stood at the podium.
"These last days have been stressful so I thought we'd take a break and watch a performance from the Curr3nt Aff41r5 D4nc3 C0mp4ny. So, um... here they are, the Curr3nt Aff41r5 D4nc3 C0mp4ny!!!
APPLAUSE
As the curtains opened, a cane leaned up against a tall round table with a bowler hat resting on top. As the music started up, the thunderous applause died down. A hand poked out from stage left. wiggling to the beat, turning into an arm, half a body, and then curr3nt, principal of the T4p D4nc3 Company, stepped out on stage, sliding over to the table and smoothly flipping the hat up his arm.
In the audience, Fat Tony exclaimed, "Hey, that's my hat!" Next to him, Slick agreed. "And that's MY cane!" They looked at each other. "He cannot get away with this! Look at all the silly maneuvers he's doing. He'll wreck our stuff!" And with that, Slick and Fat Tony edged past the people in their row, and made their way up to the stage.
Presently, the music slowed down, and curr3nt was at the more lyrical section of his dance piece. Just then, Slick stepped out on stage. "Give me back my cane, you fool!" Curr3nt's pace picked back up to a medium tempo. "If you want your cane, you'll have to come and get it!

" he said, cheekily.
"If I could come and get it, I wouldn't NEED a cane, you moron!

" Slick retorted.
Slick stepped slowly towards curr3nt as curr3nt danced backwards waving the cane and hat around. The crowd cheered at his majestic maneuvering. As curr3nt did a fancy spin, he caught FT coming from the opposite side of the stage, out of the corner of his eye.
"Curr3nt, curr3nt. Curr3nt my man, just give me back my hat and no one needs to get hurt." Fat Tony began.
"Uh-uh," Curr3nt replied. "These props are necessary to my performance art. Sit down and enjoy the show, you fat buffooon."
As Slick and Fat Tony came towards curr3nt from opposite sides of the stage, curr3nt picked up his tempo even more. The faster he got, the more the crowd cheered, and the more suave curr3nt's expression got. His eyebrows were dancing all over his forehead as he expertly dodged Slick and FT's advances. By now the crowd was going crayzee, and FT and Slick were getting frustrated.
Slick stopped for a second and reached into his pocket. FT peered over, curiously. With a gesture of triumphance, Slick pulled out a few boxes of Peanut M&Ms. Tossing one to Fat Tony, they both scattered the small round chocolates across the stage.
At first, curr3nt tap danced around the M&Ms, but then he had a better idea, and began dancing, skating really, on top of the round pebbles. The crowd stood to their feet and went absolutely wild. You could barely hear the music any more. A talent agent in the audience even pulled out his phone and started sending through videos to his Head Office.
Every time Slick or Fat Tony would grab for their equipment, curr3nt would dodge out of their reach, without a break in his step. How could any one man dance at this calibre? But what people couldn't see was that curr3nt was getting tired. Although he plastered a smile on his face, and never missed a beat, he knew the truth. No props were worth this.
He turned to Slick and Fat Tony, and held his hand up in a gesture of surrender.
The men misunderstood his gesture. "Oh no you don't," Slick exclaimed as he pulled out the piece de resistance; his marble collection. As he threw the marbles under curr3nt's feet, curr3nt realised, it was now a matter of survival.
As sweat poured down his face and his footwork could get no fancier, the crowd climbed up on to their chairs and cheered even more wildly, with some even standing on tables or piggy backing one another. They cheered so crazily that their heads looked like muppets with no neck control, and their arms were flopping crazily like marionettes!
Suddenly, curr3nt misstepped, and twisted his ankle. The crowd gasped but he kept on dancing. Seconds later he slipped again, and now it was clear he could not hold this charade for much longer. As the pain on his face turned into a grimace, curr3nt clutched his chest. "I... just... can't... carry... on....." he gasped. Reaching into his pocket, he pulled out a white handkerchief and waved it in surrender.
As he fell to the floor, the cane and hat flew in opposite directions, the cane flying towards Slick and the hat soaring towards Fat Tony. As the men reached up and caught their props on their finger, twirling them around before catching them, blood started leaking from curr3nt's nose and mouth. The music had ended, the finale was over and now all that was left to be done was to check curr3nt's real identity.

Spoiler for CURR3NT is pre-curr3ntly
Appolonio
Night 4
The next day conversations were buzzing about curr3nt's tap routine the previous night. "I've gotta admit that was pretty good dancing even though he was the "murderer in the dark"" said Andrew.
FT and mboon nodded in agreement.
Nana replied: "I don't disagree. But he never really murdered anyone, did he? He was the one who ended up dead in the end."
Up walked Slick "Good riddance to bad rubbish. No one steals my stuff and then teases me with it like that. It's just a horrendous case of antidisestablishmentarianism if you ask me."
Mew looked at Slick curiously. "I never know what is going to come out of your mouth."
Aura interrupted. "Guys, can I have your attention for a second? As you all know, curr3nt had the role of Appolonio and unfortunately he died of a heart attack last night. But here is the catch. He recruited an accomplice before he left. The prize money will go to whoever exposes the accomplice. Or you could just play nice."
---
Mischa was pretty sure he knew who this "accomplice" was. Something not many people knew about Mischa was he was an Olympic Gold medalist in gymnastics from way back. Sneaking up on Nana7, he did a forward double handspring triple twisty flip, aiming for Nana's head. As he ran up he prayed to God: "Please, if Nana is the Indy, let me land square on her head and squash her to the ground with massive head injuries. Blessed be your name, Amen." As Mischa ran up, he slipped on a banana peel and went for a ride. As Nana turned the corner, she felt a rush of air past her. Turning, she saw nothing and walked on, unaffected.
Up ahead, in the garden, someone was waiting for Nana to pass by. As Nana passed down the hallway and into the courtyard, she whistled a happy tune. Nana had thought long and hard about her strategy to catch the accomplice. Confident in her skills of Role Identification, she knew she'd figured out a foolproof plan to expose the Indy. She didn't know who it was yet, but she would almost certainly know by the morning. Her plan guaranteed that.
Sitting on a park bench, she decided to close her eyes for a moment. Putting a scarf over her eyes to block the light, she reclined back. Up above her in the trees was the Indy Accomplice, watching carefully. The Indy Accomplice liked that scarf.... very much. They tied a rope to a solid branch and slowly edged down the rope towards Nana. Reaching down to pluck the scarf from Nana's face, Milo slipped. As he struggled to right himself, Nana started struggling too.
"Stop, stop!" said Milo. "let me untangle you!"
Now entangled in the scarf and the rope, Nana was blinded and continued to wave her arms around wildly. Milo finally pulled the scarf from Nana's eyes but it was too late. The rope had strangled her, and there she hung from the trees, eyes bulging out and lifeless.
Distraught, Milo ran away, taking Nana's scarf with him.
Elsewhere, Slick was group saved that night.
---
Spoiler for Night Actions
Mischa attempted an unsuccessful FID Kill on Nana
Milo RID stole from Nana and accidentally killed her
Slick was group saved
Day 4
The following day, all murder weekend participants were interviewed by the police in an effort to work out where everything had gone wrong. While this was happening, police sniffer dogs checked each guest's room. As the police took statements, one short, sharp, decisive WOOF! was heard coming from upstairs.
"Bob, we've got a winner!" the dog handler called.
The Senior detective excused himself and made a bee-line up the stair case, with Aura and the players following closely behind. Finding themselves outside Milo-boon's room, they saw the K-9 was sitting quietly next to his handler, as his handler placed Nana's scarf in an evidence bag and handed it to Detective Bob.
As two officers stepped up to take Milo-go-boom-boom back to the station, Aura herded the players into another room.
"First of all, allow me to apologise for the way things turned out. Whether by clumsiness or by sabotage, several people died or were seriously injured this weekend; something I have never seen in all my time as a hostess.
I guess you are all wondering about the prize money. Due to the events, the only fair thing is to split the money amongst you all. Of course, you are all welcome to come back for a complimentary murder weekend at a later date, all expenses included."
The guests looked at one another aghast. Taking their cheques, they quickly made their excuses, throwing their complimentary vouchers in the trash on the way out the door.
---
Goodies win!!!
Host comments, rep points and MVP will be announced tomorrow.
End of Game Roster
Edit
Framm - Chintamani

- Killed N2 by

Luigi

Vommack - Anstonio

- Lynched D1

Bb - Zebediah

- Killed N1 by

Luigi

Slick - Mischa

mboon - Milo

- Lynched D4

mew - Maximillian

Andrew - Trinh

Brainy - Alejandro

- Killed N3 by

Luigi

Nana - Jamila

- Killed N4 by

Milo

FT - Kaori

GM - Luigi

- Killed N3 by

Mischa

GolfJunkie - Danusia

- Lynched D2

Curr3nt - Appolonio

- Lynched D3
List of actions
Night 1
Baddies
NK - GM/Luigi kills Bb (carrier for story purposes)
1. Role Spy - GJ - spy Bb
ODTG action on all players except Framm, nana, curr, gj, GM, Vomm.
2. Block - Vommack - block curr3nt
3. Redirect or Vote Redirect a non-baddie - GM - save vote redirect for following day.
Goodies
Kill or Follow spy - Slick - follow Vommack, save Slick
Redirect - Brain - Redirect Framm to GMaster, ODTG spy Bb, save Nana
Shield - Framm - protect gj, save bb
Role Spy - mew - spy BB, save Nana
Vote Manip (x0 – x2) - Andrew - group save Bb
Virginizer - FT - If GJ dies, reveal C3's faction, save Nana
Block - mboon block FT, save mew
Ask host a yes/no question - Bb
Die roll - Nana - spy mew, save Nana
1. Indy - C3 - RID Recruit Nana7 as Danusia, RID Steal Framm as Jamila, Role spy Vommack Group save Framm
Need mboon's block and save, Bb's question and save.
Saves: slick, nana, bb, nana, bb, nana, mew, nana, framm : Nana wins the save!
Results:
GM kills Bb
GJ spies Bb - Bb is Zebediah
Vommack blocks curr3nt - successful (appears in post) but c3 can sneak out of it.
slick follows vommack - vommack targeted curr3nt
brainy redirects framm to GM
Framm protects GM - not needed
mew spies bb - BB is Zebediah
FT's bet doesn't pan out and he is blocked anyway
FT ODTG spies Bb (ODTG can't be blocked) - Bb is Zebediah
Nana spies mew - mew is Maximillian
mboon/marth blocks FT
c3's RIDs incorrect
c3 Role spies Vommack - Vommack is Anstonio
Nana was chosen to be saved.
GJ's ODTG - bb, mew, mboon, andrew, brainy, Slick, ft
milo, maximillian, mischa, kaori, appolonio, zebediah, trinh
(50% chance one is incorrect. Alejandro was swapped with Appolonio.)
Appears in NP
Luigi kills Bb
Anstonio blocked curr3nt
Alejandro acted
Milo blocks FT
Nana was chosen by the group save 

---
Night 2
Baddies
NK - Luigi kill Framm (carrier for story purposes)
1. Role Spy - GJ - Danusia spy Framm
3. Redirect or Vote Redirect a non-baddie - GM - save vote redirect for following day.
Goodies
1. Kill or Follow spy - Slick - follow Framm, group save Slick
2. Redirect - Brain - Redirect Slick to GJ, group save FT
3. Shield - Framm - protect Nana, save FT
4. Role Spy - mew - spy Nana, save Framm
5. Vote Manip (x0 – x2) - Andrew - group save FT
6. Virginizer - FT - If Nana dies reveal curr3nt, group save FT
7. Block - mboon - block GM, save FT
9. Die roll - Nana - steal FT, If curr3nt dies reveal GM, group save mew
1. Indy - C3 - RID Steal mboon as Alejandro, RID Recruit Nana as Maximillian, group save curr3nt
Luigi NKs Framm
FT is group saved
Alejandro acted - redirect succeeded
Milo blocks GM (NK and vote redirect can't be blocked)
Chintamani protects Nana

Mischa follows Golfjunkie (redirected) - GJ targeted Framm
Danusia spies Framm - Framm is Chintamani
FT's action failed - advised he was stolen from
Maximillian can't spy Nana - Nana protected.
Appolonio's RIDs are incorrect
---
Night 3 actions
GM NKs Brainy
GM redirects Nana to FT - Blocked
Mboon FID blocks GM as baddie, save FT
Nana steals mew's spy and spies Andrew , save FT
Mew ODTG broadcast spies Andrew - not blocked by Nana's steal as ODTG can't be blocked, save c3
Slick kills GM, save Slick, redirected to his original target
Andrew - save FT
FT If Nana dies, reveal GM, save Brainy
Brainy - redirect Slick to GM, save Brainy
curr3nt RID recruit mboon as Milo, RID steal Nana as Mischa, save c3 - Recruit succeeded!
I thought it was a bit mean to out the recruit the same night they were recruited, so mboon will turn green from now onwards. At least then they have the choice to hold her block back to create reasonable doubt.
---
Night 4 actions
Mew/Maximillian spy Nana, group save Slick
Slick/Mischa FID Kill Nana as Indy, group save Slick
mboon/Milo RID steal Nana as Jamila, takes the vote manip
Andrew/Trinh group save FT
FT/Kaori If Slick dies, reveal Nana, group save FT
Nana steal Andrew, receive vote manip, group save Slick
Ad blocker interference detected!
Wikia is a free-to-use site that makes money from advertising. We have a modified experience for viewers using ad blockers

Wikia is not accessible if you've made further modifications. Remove the custom ad blocker rule(s) and the page will load as expected.