Open Ended Mafia

'
Game information
Host
Sinistral
Link
Open Ended Mafia
Size
8 Players (Small)
Start Date
April 12, 2010
Winning Faction
Goodies
Roster
#, player

First to Die
JarZe
Last Remaining
Phaze, CherryLane
MVP
-
Awards
-
Open Ended Mafia was a game designed and hosted by Sinistral based on own idea.

It began on April 12, 2010 and ended in a Goodies win in N3 (April 18th, 2010).
Game Mechanics
Edit
Days will be 24 hours long unless someone pleads no contest. Nights will be up to 24 hours long, but may end earlier if all actions have been sent in. I will try to keep to a schedule of 10 PM EST as the ending time for most days, so days/nights may be shortened/extended to resynchronize with this schedule. Notice will be given at the beginning of each day/night.
In the event of a tied voting, one player will be chosen randomly to be lynched.
Role Description
Edit
From the creative minds of our Mafiosphere players comes the unlikely alliance of 007, Inspector Gadget, GlaDOS, The Riddle Master, and the Masochist. They have all united together to take down the Brando Mafia, and the criminal mastermind known as Mr. Glass. However, this alliance is tenuous at best, as some of them may have their own agendas in mind...

The Innocents
007 - Bond. James Bond. The elusive british secret agent, sent on a mission to eliminate the Godfather and Col. Kurtz.

Each night other than the first, MUST visit a player and prevent them from acting that night. May not visit the same player two nights in a row. Cannot target himself. Appears in night post. Does not have to act on Night 1.

Tomorrow Never Dies - Somehow always manages to survive any accidents, even those arranged by Mr. Glass.

License to Kill - Once per game, may visit a player and kill them instead of preventing action.

Independent Win Condition - Prevent Col. Kurtz from torturing his victim. (Will not be announced and game will continue.) Otherwise wins with innocents.

GlaDOS - Rebuilt and affixed with a new morality core, this sentient AI can monitor nightly activity using its connection to many different security systems. Each night, can choose a player to monitor, and will learn who visited that player on that night. On any ONE night, GlaDOS can entice a player with cake and can redirect that player's visit to target a different player of GlaDOS' choosing. This ability will fail if that player was not performing an action that night, or is otherwise unable to do so. After this ability is used, everyone will discover that "the cake is a lie", so it will not work more than once. May not monitor the same player two nights in a row.

GlaDOS' ablities do not count as visits and do not harm Mr. Glass.

Independent Win Condition - Redirect one Brando to kill the other, or redirect Mr. Glass to arrange his own death. (Game Ending) Otherwise, wins with innocents.

The Masochist - Gets a strange sense of pleasure and enjoyment out of his own pain and being targeted by others. May visit another player at night just for fun. (has no effect).

Masochist Points - The Masochist will gain points when he is targeted at night by certain actions. More harmful actions yield more points, based on the chart below:

Action = Points

Killed = 2

Blocked = 1

Watched = 1

Redirected = 1

Riddled = 1

Tortured = 2

Lynched = 2

Saved = -1

Independent Win Condition - Wins if he receives 4 or more Masochist points in a single night, or 10 or more points during the course of the game. The Masochist does not necessarily need to stay alive in order to win. (GameEnding) Otherwise, wins with innocents.

Inspector Gadget - Has many different gadgets at his disposal, which he uses to get himself (and others) out of trouble. Often clueless as to who the real enemies are, Gadget relies on his niece Penny and her dog Brain to help him solve cases.

Each night may visit a player and will use his various gadgets to protect that player from harm. May target himself, but cannot target the same player two nights in a row.

Once per game, may contact his niece Penny at night and she will hack into GlaDOS and provide Gadget with one random piece of information that GlaDOS has received. If GlaDOS has received no useful information, Penny will have nothing to report.

Once per game, Brain will tail the Riddle Master and provide Gadget with information from one of his riddles. Gadget will have to decipher the answer himself though.

Gadget may not contact both Penny and Brain on the same night.

Independent Win Condition - Successfully save at least two different innocents from harm. (Will not be announced and game will continue.) Otherwise wins with innocents.

The Riddle Master - Extremely intelligent, loves to figure things out and pose riddles to others. Each night, may visit a living player and leave them with a riddle in an attempt to gain information out of them. (The player will be informed they were riddled) However, all responses are intercepted and auto-encrypted by GlaDOS (host will create an encrypted message), so the Riddle Master will need to decipher them in order for the information to be useful.

Riddling will not harm Mr. Glass. The messages will be encrypted regardless of whether or not GlaDOS is alive or not. GlaDOS is not privy to the messages.

Independent Win Condition - Figure out the entire roster before the end of Day 2. Each day may submit one completed roster guess. (Game Ending) Otherwise, wins with innocents.

The Riddle Master loses his riddle ability after Day 2 and becomes a regular innocent if he fails his win condition.
The Not-So Innocents
Mr. Glass - Born with a rare disease called Osteogenesis Imperfecta, his bones are extremely fragile and shatter easily. If he is targeted by any physical action at night, Mr. Glass will become incapacitated (his actions fail that night and vote counts as 0 the following day). If he is targeted by more than one physical action on the same night, or targeted again the following night, he dies.
Mr. Glass is searching for someone who is his polar opposite, i.e. someone who is incredibly resistant to harm. He goes around arranging "accidents", usually involving transportation such as a train wreck or plane crash, in hopes of finding someone who will miraculously survive. Each night, Mr. Glass can arrange a deadly accident for the player of his choice. If that player visits someone else that night, the player will be killed in the "accident". If the player does not visit someone else that night, or stays home (targets themself), then no accident occurs.

Clarification: The accident will occur after the player has taken their action, and thus will not prevent the action from taking place.

Clarification #2: If an action causes Mr. Glass to become incapacitated, both the effect of the original action and the incapacitation will take place.

Independent Win Condition - Wins if 007 miraculously survives an "accident". (Game Ending) Otherwise, must be last one standing.
The Brando Mafia (Godfather and Col. Kurtz) (BTSC, Group kill once each night. Must decide who carries out the kill.)
Colonel Walter Kurtz - US Army Special Forces Colonel believed to have gone rogue and possibly insane.

Once per game, may visit a player at night and torture them into divulging their identity. Kurtz may not torture on the same night he is performing the group kill.

The Godfather - Don Corleone. Head of the Corleone mafia family.

Twice per game, can send one of his henchmen to tail someone at night and learn who they visited.

If the Godfather is targeted by Mr. Glass on a night he uses the tail ability, the henchman will die in the accident and not the Godfather, but only if the Godfather is not performing the group kill on that night.
Host's Summary
Edit
Game Idea and Expectations
Edit
Special commendations
Edit
Host disappointments
Edit
Alternate endings
Edit
Winning Faction
Edit
Surge - Inspector Gadget

_unreality - 007

phaze - The Masochist

JarZe - GlaDOS

Cherry Lane - The RiddleMaster
Day and Night Posts
Edit
Intro
Location: MI6 Headquarters, London.
M (over intercom): Bond, report to my office immediately.
007: (arrives, adjusting shirt) You called?
M: Is that lipstick on your collar? I guess we aren't keeping you busy enough these days.
007: (coughs) Well...
M: Nevermind that. We've got an assignment for you. What do you know about a Colonel Walter Kurtz?
007: The American? The rumors have been a bit dodgy, but they say he was stationed down in Cambodia somewhere and now his chamber's short a few rounds. Last I heard, he'd gone missing and they couldn't find him.
M: Yes well... they found him. And now the Americans are asking for our help.
007: How's that?
M: Somehow he's managed to resurface in America... they believe he's now joined forces with the Corleone crime syndicate. (hands 007 a file with some photographs)
007: He does look strangely similar to Don Corleone...
M: Yes, an odd coincidence. In any case, we're sending you to America to assist them in bringing down Don Corleone and apprehending Kurtz.
007: Assist them? I won't be working alone?
M: You are to rendezvous with one of their best agents, Inspector Gadget, and work alongside him as best you can. The US government is also using some kind of modified AI supercomputer to keep an eye on things. You've seen the photos of what Kurtz did to those people down in Cambodia... we want to prevent such atrocities from happening again. There's also been an odd series of accidents lately, multiple car accidents, train wrecks, plane crashes... we're not sure what to make of it. Do be careful.
007: Very well. (starts walking out)
M: Bond? One more thing.
007: Anything for you, M.
M: Do try not to blow anything up.
---
Inspector Gadget was walking down an alleyway, whistling to himself. "Oh no, I was supposed to meet Penny for lunch 10 minutes ago!",remembered Gadget. "Go-Go-Gadget Skates!" Inspector Gadget's shoes transformed themselves into rocket-powered rollerskates and propelled him rapidly down the alleyway. It was a dead-end. Gadget went crashing into some trashcans.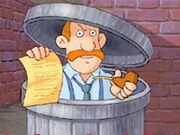 Voice: Psst! Gadget!
Gadget: Chief! What are you doing in there?
Chief Quimby: Top secret mission for you, Gadget. (hands him piece of paper)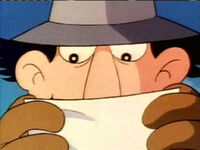 Gadget: (reads to himself) Corleone mafia rumored to be working with M.A.D. agents... possible Dr Claw involvement... US government using modified GlaDOS AI to investigate... British government sending James Bond to assist... prevent civilian casualties... this message will self destruct...
Gadget: Don't worry Chief, I'm always on duty. (crumples message, tosses it into trashcan and walks away)
KABOOM!
Chief: (muffled) ....gadgetttt!
---
A research assistant at Aperture Laboratories typed away furiously at his computer. "Too easy!", he shouted at the screen as he banged on his desk with a clenched fist. His ID badge and name tag fell off the desk and onto the floor. He didn't even notice. His real name was of little consequence. Most of his co-workers often paid him little attention and couldn't remember his name either. They just assumed he was hard at work on another research project, but in fact, he was actually answering riddles on the popular website BrainDen.com, where he was widely known as "The RiddleMaster". He had just finished answering ALL the current riddles posted on the site within about 5 minutes, and now had to wait for more riddles to be posted.
Just then, he received a new private message on the site.
To: The RiddleMaster From: Unknown
CODE
                       #,

                       ###

                      ## ##

                     ##  ##

                      ####

                        :

                       #####

                      ######

                      ##  ##

                      ##  ##

                      ##  ##

                      ##  ##########

                      ##  #############

                 #######  ###############

             #############################

       .###################################

      #####################################;

      ##                                 ##.

      ##                                 ##

      #####################################

      ##                                 ##

      ##                                 ##

      ##                                 ###

   #####                                 #####

  ### ##################################### ###

 ###  ##                                 ##  ###

 ##   ## ,,,,,,,,,,,,,,,,,,,,,,,,,,,,,,, ##   ##

  ##  #####################################  ##

   ##                                       ##

    ####                                 ####

      ######                         ######

         ###############################




There is a Reaper, whose name is Kurtz,

    And, with his sickle keen,


He reaps the people where it hurts,

    And the flowers that grow between.


The RiddleMaster set out at once to solve this new riddle...
---
The Masochist's eyes widened with interest as he sat at home watching the evening news...
"Another commuter train was derailed this morning on its way to Chicago... hundreds were killed... many more injured... this is the 6th rail accident in the past two weeks..."
"TERROR! Infamous torturer and war criminal Colonel Walter Kurtz believed to be hiding somewhere in America! Exact whereabouts unknown!"
Night 1
Penny and Brain sat at home watching yesterday's news. "Uncle Gadget wouldn't tell us what his new mission was, but we've gotta help him, Brain! Something here is going to give us a lead to work on."
Another commuter train was derailed this morning on its way to Chicago... hundreds were killed... many more injured... this is the 6th rail accident in the past two weeks... TERROR! Infamous torturer and war criminal Colonel Walter Kurtz believed to be hiding somewhere in America! Exact whereabouts unknown!
"That's it, Brain! I bet they sent Uncle Gadget to catch this Kurtz guy. Lets go!" shouted Penny. She grabbed her trusty computer book and rushed out the door alongside Brain. They forgot to turn off the TV...
The News
"Breaking news! This just in! A man's body was found floating in the river, the coroner reports there were multiple gunshot wounds found all over his body... this is believed to be the work of the Corleone mafia. The man has just been identified as JarZe ..."
Post by Brandon
This was posted by Brandon, not the host, just after the voting had ended but before the day post. It was a secret message sent by the Riddle Master. After the game ended, it was revealed that the numbers and months were letters (1 is A, January is A). Thus the coded message reads "Unreality is Bond" and the RM, Cherry Lane, was not happy about Surge having posted the secret (undeciphered by him) message. What follows below is what Surge(Brandon) posted:
JOURNAL ENTRIES:
---
21 years old. Allowed to drink. Drank 14 bottles of beer before blacking out. 18 years old. Allowed to vote. Registered to vote on May 1st. 12 years old. September 20th. Parents' 25th wedding anniversary.
---
September 19th was a bad day.
---
February 15th. Another bad day. Still depressed over the 14th. Four times did I call her, yet no response.
---
END
Day 1
Acting on an anonymous tip, the US military surrounded an abandoned building where they suspected the fugitive Colonel Kurtz was hiding.
"We have you surrounded! The building has been wired with explosives! Come out with your hands up!"
Oblivious to his surroundings, Surge continued searching around inside the building for clues.
"This is your last chance!"
Surge made his way up to the roof. Perhaps he would find something up there. Suddenly there was a loud rumbling and the floor beneath his feet began to shake and give way. The building was collapsing!
Go-Go-Gadget 'Copter!

"Phew! That was a close one", Surge thought as he flew around the side of the collapsing building.

"Sir! Some kind of helicopter just launched from the roof!"
"OPEN FIRE!" "Bring it down!" The military fired several bazookas at Surge. His Gadget Copter was demolished and he began falling to his doom.
"Go-Go Gadget Parachute!" yelled Surge.
The military riddled the parachute full of bullet holes.

Go-Go Gadget Wings! Surge started gliding on a makeshift set of wings... then got hit with an RPG.
Go-Go Gadget Coat! Surge's jacket began to fill up with air like a balloon.
The military shot Surge repeatedly with bullets until his coat began to deflate.... along with the rest of his life.
Night 2
The night was dark and rainy. A shadowy figure walked hurriedly through the rain, a rather large package tucked under one arm. He arrived at his destination, a plain looking house that looked almost exactly like every other house on the block. He hid in the bushes for a while, peering inside the windows and making sure his target was inside. After confirming his target, he fiddled around with the contents of the package, placed it right outside the front door, rang the doorbell... and RAN.

Phaze was sitting all alone in his house, waiting for the rain to stop, when he heard the doorbell ring.
"Who could that be?" he thought as he went to answer the door. "I certainly wasn't expecting anyone at this time of night."
Phaze looked out through the peephole but did not see anyone. He unlocked the door and opened it slowly....

"HAPPY BIRTHDAY Phaze!" shouted a man who had been hiding just outside the door. He presented Phaze with an aged, unopened bottle of scotch.
"Care for a drink?", the man asked.
Phaze was taken completely by surprise. "Er... sure... I'm not one to turn down a fine bottle of scotch.. but how did you know it was my birthday? I don't even know who you are..."
"It's a rather long story, I'll explain inside. Please, my good friends call me James..."
---
The news on the television continued:
"The nation continues to mourn the death of famed crimefighter Inspector Gadget... meanwhile citizens are becoming increasingly afraid of the Brando Mafia... a man was killed tonight inside of his home by some kind of explosive device that was placed on his front doorstep... this is also believed to be the work of the Brando Mafia. The entire house went up a large explosion.... Dental records had to be used to identify the man as Sparrowhawk..."
Day 2
Acting on yet another anonymous tip, the military raided a large mansion belonging to Fox, a suspected member of the Brando mafia. The glass windows in the front of the mansion were shattered by tear gas grenades being thrown inside. Fox's bodyguards, choking and coughing, fired wildly at the gas-mask wearing special forces rappelling in through the windows. They managed to injure a few, but eventually Fox's bodyguards were all wiped out. Special forces continued to search the mansion, eventually reaching the upstairs bedroom. They burst through the doors to find Fox, the Godfather, sitting calmly on a chair, with a cat in her lap. "Say hello to my little frien... <cough> ... sorry, wrong movie," said Fox. "I guess this is the end..." The cat jumped off Fox's lap and scurried away as Fox stood up and reached for a gun. The special forces opened fire... and Don Corleone was no more.
Night 3: Showdown
_unreality was speeding down the road in his Aston Martin, heading towards Colonel Kurtz's hideout. With Don Corleone out of the way, tracking down Kurtz's location was simple. On the road up ahead was a security checkpoint, patrolled by Kurtz's personal guards. _unreality lifted a panel on the center console, revealing various buttons and switches underneath. He pressed the button marked "Rockets", causing the front license plate to slide down and two rockets fired out from cleverly concealed holes where the license plate used to be. The security checkpoint was obliterated. "So much for not blowing anything up," _unreality thought to himself as he zoomed on past the destroyed checkpoint. He noticed a large steel gate up ahead, with more of Kurtz's personal guards. These guards were more alert and opened fire on _unreality's approaching vehicle. The bullets ricocheted harmlessly off the bulletproof glass. "Remind me to thank Q for that one," _unreality thought to himself. Just then, the steel gate was opened slightly, creating a gap of about 3-4 feet, just enough for a guard carrying an RPG to position himself and fire at _unreality's car. With amazingly quick reflexes, _unreality flipped a switch marked "Thrusters" and swerved sharply to the left. The right side of the car tilted vertically up into the air and _unreality continued driving with only the left two wheels touching the ground. The projectile whizzed narrowly past the car and exploded off in the distance. Still driving on only two wheels, _unreality did not slow down at all and squeezed the car right through the gap in the steel gate, just barely before it closed shut behind him. He had managed to get inside Kurtz's compound.
Most of the buildings looked abandoned, except for one which was littered with grotesquely mangled bodies out in front. _unreality stopped the car and retrieved a pair of thermal vision binoculars from the glove compartment. He scanned the building and noticed a heat signature about the size of a large man in one section of the building. _unreality revved up the engine on his Aston Martin and drove full speed into the side of the building.
Shadow was taken completely by surprise. _unreality's car came crashing through the wall, heading right at him. Shadow tried to jump out of the way, but was too late. The car slammed into Shadow, then crashed to a stop against the far wall, crushing and pinning Shadow between the hood of the car and the stone wall. Blood trickled out of the side of Shadow's mouth as he mumbled a few barely audible words. _unreality opened the door, squeezed out from behind the inflated airbags and stepped out of the car. He drew his silenced Walther P99 and aimed it at Shadow. Shadow just continued mumbling. _unreality cautiously took a few steps closer so that he could make out what Shadow was saying. "...the horror... the horror..." repeated Shadow. Suddenly, the side of Shadow's mouth twisted into an evil smile and he started laughing maniacally. _unreality fired twice and Shadow's body went still. A small metallic object fell from his hand and clinked on the floor near _unreality's feet. _unreality looked down and his face suddenly became somber when he realized what the object was. The metal pin from a grenade.
End of Game Roster
Edit
sparrowhawk - Mr. Glass

- Killed N2

Fox - The Godfather

- Lynched D2

Surge - Inspector Gadget

- Lynched D1

_unreality - 007

- Killed N3

Shadow - Colonel Kurtz

- Killed N3

phaze - The Masochist

JarZe - GlaDOS

- Killed N1

Cherry Lane - The RiddleMaster
List of actions
Night 1
Inspector Gadget(Surge) saves Surge.
Masochist(Phaze) visits Surge.
GlaDOS(JarZe) monitors Surge.
RiddleMaster(CL) riddles _unreality.
007(unreality) chooses to take no action.
Mr.Glass(sparrowhawk) sets up an accident for JarZe. (immune)
Colonel Kurtz(Shadow) tortures JarZe.
Mafia group kills JarZe, carried out by Fox.
Day 1
Surge is lynched.
RM guess incorrect.
Night 2
RiddleMaster(CL) riddles Fox.
007(_unreality) blocks Phaze.
Masochist(phaze) visits _unreality. (Blocked)
Godfather(Fox) tails CL.
Mafia group kills sparrowhawk, carried out by Shadow
Mr. Glass(sparrowhawk) sets up an accident for _unreality (Failed - Incapacitated)
Day 2
Fox is lynched.
RM guess incorrect.
Night 3
Masochist(phaze) visits CL.
007(_unreality) kills Shadow.
Mafia(Shadow) group kills _unreality.