Pirate: Mutiny Mafia was a game designed and hosted by Boquise based on his own design.
It began on October 17, 2015 and ended in a Goodie win in N6 (October 29).
Game Mechanics
Edit
OOA: Redirect > Block > Kill
Baddie block > Goodie Block
Kills are not blocking
Players won't be told if they got redirected (not even spies)
RID Kills are unblockable and unsaveable
Shows up in NP: Kills, successful RID kills, successful saves, trap, immunities that are used on a player who was targeted for a kill/successful RID kill/successful Save/successful Trap
Redirects can redirect player X to player X
Save can't save the same player twice in a row. (i.e. Save Nana at N1 and then Save Nana at N2)
Vengeful Kill - The player who dies first at N1 will be granted a vengeful kill. If it is used on a player who was successfully targeted by Save or Immunity, that player will survive. Vengeful kill will appear in the DP. The player with a vengeful kill won't get ghost access until he or she has used it (or D1 is over). If it isn't used for the whole D1, the player will lose the opportunity.
Elaboration on immunity: Say Shad uses Immunity on CK, that means that any action (both day and night), except successful RID Kill, made on CK will fail and votes on him will count as 0. However, if Shad is redirected by DD, the baddie redirect, to Araver, Araver will get the Immunity. Shad won't be told this (nor Araver; baddies will be told that their redirect was a success). This also means that Shad won't be able to use Immunity on Araver again, but she can still use it on CK (something she will need to figure out). If Shad is blocked however, nothing will happen and the Immunity is not used.
Role Description
Edit
Baddies:
Quartermaster Samson Frisk – self-vote multiplier (can change his vote's worth to 0x and 2x) (Flavour: Mr. Frisk is tired of the Captain's ways and have devised a plan to take over the ship. A jealous and cruel man.)

Master Gunner Mackerel Dates - Block (Flavour: Thought that Mr. Frisk's plans sounded pretty good, so he joined in. He has the key to all the guns and enjoys shooting people)

Violinist Elias Salta - Redirect (Flavour: One of the musicians. Happened into this mutiny on a whim. Mr. Frisk really thinks that music is important for a pirate, so he took the easiest persuaded one)

Swabbie Wyatt Trembles – Lynch manipulate, RID, not twice in a row. (Lynched player's role won't show up) (Flavour: Tired of being a lovely swabbie and promised to raise in ranks if he joins Mr. Frisk. It wasn't a hard choice for Wyatt Trembles)
Shares a night kill that doesn't require a carrier. Thus it can't be blocked

WINCON = Gain majority and eliminate indy
---
Goodies:
Captain Thomas Haul – vote redirect (Flavour: The Captain of the ship! He is like you could imagine any pirate captain. A bit more honourable than most though.)

Navigator Samuel Jameson – Immunity (can give immunity to one player that will last one cycle. That player can't be acted on and votes on them won't count. If a player has been granted immunity once, they can't be granted immunity again. Samuel Jameson can't use it on himself. This action can be blocked and redirected.) (Flavour: Captain Haul's most trustworthy man. Mr. Jameson has some weird voodoo thing going on in his spare time)

Boatswain Errol Sellick – Faction spy (Flavour: Oldest man on the ship and knows its inside and outside well. No one really cares what an old man hears, so he gets a lot of free information. Even old dogs have fangs)

Chef George Spoons - Block (Flavour: Chef of the ship and in charge on what the crew eats. The smell of his food can knock out even the biggest man. Take that as you will.)

Dr. Oscar Sawyer - Save (Flavour: An ordinary ship doctor that was kidnapped one of those days on the sea. He has however gotten quite accustomed to the life of piracy. At least he doesn't need to pay taxes!)

Helmsman Erasmus Emerson – Roll a die 1 (Faction spy), 2 (lynch immunity), 3 (save), 4 (Follow spy), 5 (block), 6 (kill) (Flavour: It is a huge pressure to be the helmsman. That's why Mr. Emerson drinks a lot during the night, to relieve himself. However that makes his nightly affairs pretty unpredictable)

Carpenter Owen Timbers - Kill (Flavour: Has built the ship with his own hands. Also got his little brother on the ship and is very protective of him.)

Cabin boy Toby Timbers - Messenger (Flavour: An innocent cabin boy that is usually seen running around the ship, delivering messages between the crewmates, so they don't need to leave their posts. He looks up to his big brother Owen and the Captain; his dream is to become a pirate captain himself one day, when he is a bit older.)

Accordionist Atlas Salta – Trap (save + block + silenced + unlynchable) (Flavour: One of the musicians. He really has no idea that his brother has joined the ranks of Mr. Frisk. All he wants to do is play his jolly music and enchant the other men)

Lookout Dan Philips – Lookout spy (choose a target, you will see who targeted your target (aside from you), you can use it on yourself) (Flavour: He sees everything! A bit paranoid, if I have to be honest)
WINCON = Eliminate baddies and indies.
---
Indy:
First Mate Sidney Roberts – N1/D1 immunity. May choose between Role Spy and RID Kill. When lynched, will come up as a random goodie.
(Flavour: Disguised as a man, this lady has heard of Frisk's plan and has decided to show 'em what a strong woman can do! Soon the seven seas will hear about the vicious Captain Sidney Roberts!)
WINCON: Needs to RID Kill at least 1 out of 3 certain roles and outlive the other 2 roles. Indy meeting up this WINCON will result in an indy win and the game ending. Alternative wincon - last one standing. Indy can joint win with the other factions, depending on the circumstances.
Host's Summary
Edit
Game Idea and Expectations
Edit
Special commendations
Edit
MVP goes to Araver for two successful saves (three if Gorilla hadn't decided to give up) and solid play all through.
Host disappointments
Edit
Alternate endings
Edit
Winning Faction
Edit
Goodies
Gubbey - Captain Thomas Haul

Jay - Navigator Samuel Jameson

Slick - Boatswain Errol Sellick

Okosan - Chef George Spoons

Araver - Dr. Oscar Sawyer

Killertanmay - Helmsman Erasmus Emerson

Marq - Carpenter Owen Timbers

Dee - Cabin boy Toby Timbers

Yuiop - Accordionist Atlas Salta

Fergusonar - Lookout Dan Philips
Day and Night Posts
Edit
Intro N1 D1 N2 D2 N3 D3 N4 D4 N5 D5 N6
Prologue - Yohohoho!
At the tropical sea of the Caribbean, a ship has pulled its anchor for the night. The black flag with glaring skull and bones shows it is a dreaded pirate ship! The captain is the infamous Thomas Haul. The crew has partied after having a successful loot earlier that day, however, rumours, dark rumours, have reached the Captain's chambers. The greatest sin aboard a ship is about to take place, or so it says. Yes, indeed, matey, a mutiny is in schedule! And the Captain needs to find out who these scoundrels are and make them walk the plank, before he does.
What none of the factions know, however, is that one of the mates is a lady. And this lady sees the upcoming struggle as a perfect opportunity to take control of the ship. Who will become victorious?
Night 1 - Strange tides during the first Night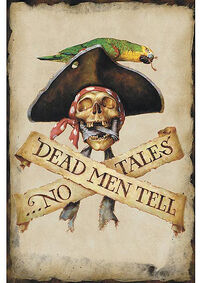 Captain Haul was sitting in his chambers, thinking about those rumours he had heard before, and that paper with a black dot of ink he found on his desk. Would they really be so inferious and start mutiny, my crew? He thought, however his thoughts were broken by a shriek that sent shivers to his bones.
He opened the door. The tree of the ship sang its creeky song as he saw the lifeless body laying in a pool blood. As the sun was rising it casted light on the poor soul, identifying it. Captain Haul's matey Jay Gold was dead. A new day has started, but something sinister has been promised
Jay Gold is killed and has acquired the Vengeful kill
Day 1 - First scoundrel who dies is a filthy shrimp

Captain Thomas Haul had lined up his mateys to know who was behind this dastardous crime - killing a mate. There were especially four people that stood out for him. Slick, Dee, Fergusonar and Thomas' own parrot, Okosan. All of them couldn't walk the plank however. The Captain said: "My friends I stand before you to tell a truth most dire; there lurks a traitor in our midst who hath invoked me ire". The crew was silent as the Captain eyed them. "He don't deserve no mercy, we ought to shoot him with a gun. But I enjoy me games so we'll do this entertaining."

He took up his gun. "One bullet, one matey dies. Yes, even you, parrot!" The parrot took the gun. "Aaack! Wind in sail, wind in sail!" *click* Nothing happened. Then it was the new recruit Fergus turn. *click* Blood sprayed on the deck as Fergus body fell. To the Captain's misery though, it was clear that Fergus was not the culprit, since he had been on lookout last night.

At the same time, DarthMask was abducted by the Ghost of Jay

Fergus was lynched and found out to be the Lookout Dan Phillips
DarthMask got venge killed
Night 2
Marq was NK'd by baddies
Gubbey was RID Killed by Indy
Day 2 - Walk the plank!
After last night's murders, the crew gathered on the deck. Who was behind this?! The crew looked around, and finally stopped at the fresh crewmate Killer. "Oi mate! Yer name sounds suspicious to me!" Before Killer knew it, he was walking the plank. The last thing Killer saw was the salty shark-filled sea.
The poor man sank to Davy Jones' locker as shark bait. His identity, forever unknown.
Non-flavour: Killer was lynched.
Night 3 - Music on the deck; a peaceful night
Dr. Sawyer got a visit this night. It was Yuiop who had eaten something strange. The good doctor let his crewmate rest in his cabin for the whole night.
Meanwhile, AVGH heard the wonderful tunes of an accordian. "What should we do with the drunken sailor?" sang Atlas Salta gleefully as he played his instrument, and AVGH bottled up a bottle of rum and sang too! So enchanted by the music, AVGH wouldn't be able to leave until next night.
Non-flavour:
Yuiop was saved by Dr. Oscar Sawyer
AVGH was trapped by Atlas Salta
Day 3 - Party until we die
Since no one died last night, the crew threw a party. Aura and Olijamin were up against each other and they drank and they drank and they drank and they drank. Until one fell to the depths below (pirates have crazy parties and certain sources say that it wasn't a legit pirate party if no one died).
Olijamin gazed down on the murky waters, not realising how lucky he had been. Aura, the Master Gunner was no more
Night 4 - Man overboard!
Olijamin had the night guard, so the mutineers had to see it to that he disappeared. And hey, when the sea is so pitch black, no one really notices if a man or two are gone.
Meanwhile, Okosan, a parrot cosplaying as a pidgeon, heard the sweetest tunes from the decks below. "Mum's song! Mum's song! I mean... COOOOOOO (Sounds like the song my dear mother sang to me when I was but a fletchling)" He flew to the source and even let himself sit in one of those bird cages, just to hear Mister Atlas' song. Alas, Okosan wouldn't be available for the next day.
Baddies NK Olijamin
Okosan is trapped
Day 4 - Arguments on the ship
Who dun it?
WHO IS IT?
There must be someone's fault that we've become fewer and fewer, and it ain't my fault! Some yell. And others yelled too. In fact, it was a lot of yelling. At the end of the day, Dr. Saab got so tired of all the yelling, so he jumped overboard to the sharks. No one will know if he was the culprit or not.
Night 5 - This isn't N3 I promise!
Yuiop felt that visiting Doctor Sawyer was a good idea, so she did that.
AVHG heard some nice music again (it really enchants the animals on the ship) so he was going to spend the whole night and day to listen to Atlas' music.
Yuiop was saved.
AVHG was trapped.
Day 5 - No more parrot

Okosan had been quite loudly recently, probably because the crew was shrinking, so he could be heard better, so the crewmates decided to get rid of him. Okosan would have none of that however and said "Aaah! Abondon ship! Abondon ship!" and thus flew away from the godforsaken ship.
Content with not needing to kill a bird, the crew went to check what the chef was cooking for them. In their horror, they saw that the kitchen (who no one had been allowed to enter before) was full of feathers. "A bird cooked our meals?!" they yelled. "That explains so much..." As the sun went down, Araver, Dee, Yuiop and Slick could be seen hanging from the ship, seasick like no one else had been before. Meanwhile, the very hairy Gorilla was set free from his cage!
Okosan was lynched and found out to be Chef George Spoon
Night 6 - Swabbie tired of this s***

So things could've gone smoother at the ol' ship. Not only did they lose their Captain Gubbey fairly early, but the wretched quartermaster Saab Frisk had been planned a mutiny all along! And it had worked if it weren't for those meddling brats and their bird. But Saab was long gone, after deciding that Davy Jones' locker sounds like a nice and quiet resort, and he had the stomach to leave his Gorilla, the ship swabbie, all alone! Gorilla explained to Dr. Araver, Boatswain Slick, Accordianist Yuiop and Cabin Boy Dee that he was just tired of swabbing their decks and all. A man gotta have some respect, you know, even if the man happens to be a gorilla. A GORILLA IS SUPPOSED TO BE FREE! NOT MOP FLOORS I TELL YOU! That's why he joined Saab's ranks, honest.

The crew thanked the gorilla by keeping him as a swabbie; Yuiop's music would keep him trapped forever. He is also forced to always wear a cute pink attire when he works. How sweet.

Little did they know how close it was that a surprise attack had happened. If the first mate Olijamin had just gotten rid of Saab, they'd be goners.


Thus the ship pulled up anchors and sailed to shore.

Game ends! Goodies win!
End of Game Roster
Edit
DarthMask - Violinist Elias Salta

- Vengeful kill by

Jay Gold (Navigator Samuel Jameson)

on D1

Yuiop - Accordionist Atlas Salta

Araver - Dr. Oscar Sawyer

Akaslickster - Boatswain Errol Sellick

Olijamin - First Mate Sidney Roberts

- NK'd on N4

Gubbey - Captain Thomas Haul

- RID Killed on N2 by

First Mate Sidney Roberts

Okosan - Chef George Spoons

- Lynched D5

Auramyna - Master Gunner Mackerel Dates

- Lynched D3

Killertanmay - Helmsman Erasmus Emerson

- Lynched D2

Marquessa - Carpenter Owen Timbers

- NK'd on N2

Fergusonar - Lookout Dan Philips

- Lynched D1

Averyhairygorilla - Swabbie Wyatt Trembles

- NK'd N6

Dr.Saab - Quartermaster Samson Frisk

- Lynched D4

Dee - Cabin boy Toby Timbers

Jay Gold - Navigator Samuel Jameson

- NK'd on N1
List of actions
Night 1
Baddies

Saab - N/A
Aura - Block Jay
DarthMask - Redirect Slick to Marq
Gorilla - N/A
NK Jay

Goodies

Gubbey - N/A
Slick - Spy Olijamin
Dee - Message DarthMask
Araver - Save Aura
Marq - N/A
Killer - Save Saab
Okosan - N/A
Jay Gold - Immune Slick
Ferg - Lookout spy Saab

Indy

Olijamin - Role Spies Gubbey
What happens?
Jay is blocked and killed
Slick is redirected to Marq
DarthMask is messaged
Ferg will see that Killer targeted Saab
Olijamin will see Gubbey's role
Day 1
Baddies used RID lynch manip on Slick as Helmsman. Failed
---
Night 2
Baddies

NK Marq
Aura blocks Araver

Goodies

Dee messages Olijamin
Slick Faction Spies DM
Killer Faction Spies Marq
Araver saves himself

Indy
C*Olijamin RID Kills Gubbey as Captain Thomas Haul
What happens:
Dee successfully messages Olijamin
Slick Faction Spies DM
Killer Faction Spies Marq
Araver is blocked
Marq dies
Gubbey dies.
Day 2
Baddies used RID lynch manip on Killer as Helmsman. Success!
Saab self-multiplied his vote x1 (which makes it null… especially since his role is either X0 or X2, not X1)
---
Night 3
Baddies

NK Yuiop
Aura blocks Okosan

Goodies

Araver saves Yuiop
Yuiop traps AVHG
Slick faction spies Dee

Indy
What happens:
Slick faction spies Dee
Olijamin role spies Aura
Yuiop is saved
AVHG is trapped
Day 3
Saab uses self vote multiply x2 - success
---
Night 4
Baddies
Goodies

Slick Faction Spies AVHG
Araver saves Araver
Yuiop traps Okosan
Okosan blocks AVHG
What happens?
Slick faction spies AVHG
Olijamin is NK'd
Day 4 Saab self vote multiply X2 - success AVHG RID Lynch Manips Saab as Quartermaster Samson Frisk - success
---
Night 5
Baddies

NK Yuiop*Slick faction spies Yuiop
Yuiop is saved
AVHG is trapped.
---
Night 6