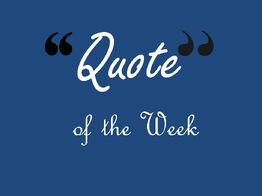 This from Auramyna:
Quote of The Week Competition.
I have a spot vacant in my signature; a couple of spots actually. And I want to use it to showcase the epic-est quotes from week to week.
So I am asking for submissions of suitable quotes. The general guidelines (which are open to revision) are:
One or more of the following.
Something witty but in a poignant way.

Something meaningful

Running jokes that are particular to MMers. (But you have to explain it to the rest of us.)
Eligible quotes are anything from MM or the Shout Box. If an MMer says something on BD, that can be submitted.
Points will be given and scores will be kept. Don't let mo win this
See below for Wiki pages listing quotes by month.
For adding new months, here is a blank template to copy and paste from to the new month: Quotes blank month
Quote of the Week
2011
2012
Scores
Ad blocker interference detected!
Wikia is a free-to-use site that makes money from advertising. We have a modified experience for viewers using ad blockers

Wikia is not accessible if you've made further modifications. Remove the custom ad blocker rule(s) and the page will load as expected.