Soul Eater Mafia was a game designed and hosted by yoruichi-san based on Soul Eater Manga/Anime Series

It began on May 06, 2009 and ended in a Shibusen (Goodies) win in N5 (May 17th, 2009).
Game Mechanics
Edit
Clarification about Soul's "synchronization of soul wavelengths" ability:
His actual ability is to facilitate a message b/w two student groups, hence the message itself counts as a result, and the targets are any and all members of the sender/receiver groups.
Role Description
Edit
Arachnophobia: Has BTSC. Wins if everyone else (except Chrona) is dead. Each Night, chooses a player to target for a kill.
Asura: (Demon) The Demon god. His existence propagates the wavelength of Madness throughout the world. Then intensity of the Madness is inversely proportional to the square of the distance...i.e. in his presence, his victims cannot help but fall prey to the Madness. Each Night, he chooses a player to visit and spread his Madness to. That player will not be able to perform their selected action for the Night. If Asura can correctly guess the character identity of targeted player, he may use that character's fears to manipulate the character with hallucinations into acting the way Asura chooses. Asura may not target the same player two Nights in a row.

Arachne: (Witch) The witch who managed to tame the Demon god...maybe. Sends out her spider minions for information gathering purposes. Each Night/Day, she may send her spiders to visit a player, and they will report back to her what actions were taken on the player, as well as the results of those actions (including Kid's spy and Soul's message).

Mosquito: (Demon) A very old demon who has gone through many different forms in his lifetime. By using the blood he sucks from others, he is able to revert to his previous, stronger, forms. Each Night, chooses a player to suck blood from. He stores this blood in his system until he is ready to use it. At any time during the Night/Day cycle, he may choose to use the blood he has stored to return to one of his previous forms for the length of 1 Night/Day cycle:

100 years ago: (1 player's blood dose) Reverts to a gorilla-like form. Extra muscle mass -> +1 vote weight.

200 years ago: (2 player's blood doses) Was at his quickest. Too fast for prying eyes, he will appear as a random Shibusen character if any information about him or his player actions is sought.

400 years ago: (3 player's blood doses) When he is at his most numerous, Legion. Will cause all other players to appear as Mosquito if any information about them or their player actions is sought.

800 years ago: (4 player's blood doses) His strongest form. Is completely invincible to death (by kill/lynch).

Noah: (Depends...) A mysterious man in Arachne's organization. He is very intelligent and a fast learner. If one member of Arachnophobia dies, he can eat their soul and take on their abilities. He also takes on their classification (Demon/Witch).

The Black-blooded: Wins if everyone else is dead. Do not have BTSC at the beginning. The leader may kill on prime Nights.
Medusa: (Witch) By masquerading as the nurse in Shibusen, she can infect a player each Night with the Black-blood. If that player is one of a Meister/Weapon BTSC group, then if/when they are the sole survivor of their BTSC group, they are driven insane by grief and give in to the Black-blood, joining Medusa and gaining BTSC with her. Black-bloods keep their abilities and gain Demon classification. *Medusa is outed when she dies.

Chrona: Medusa's tortured daughter. Due to the fact that her Weapon, Ragnarok, is infused into her body by Black-blood, she cannot die. If Medusa dies, she is forced to take over her mother's position in leading the Black-bloods. However, the kindness of Maka and the other Shibusen students causes her emotions to waver. If there are no other living Black-blooded and all of Arachnophobia is dead, she joins Shibusen for their win.

Shibusen: Wins if all of Arachnophobia and the Black-blood are dead.
Meister/Weapon groups: Have BTSC. They work in pairs, so in order to preserve soul resonance only one may act each Night except Kid/Patti/Liz. Kid may act with either Patti or Liz but not both each Night.
Maka: Soul's meister. Has the capability to use both an anti-witch wavelength and an anti-demon wavelength. May choose to a player to attack with either Witch Hunter or Demon Hunter, and the attack will only be successful if the correct wavelength is used. Cannot attack the same player twice.

Soul: Maka's weapon. A "talented" pianist, he can use his music to synchronize the soul wavelengths of Maka/Soul, Black Star/Tsubaki, and Kid/Thompson sisters. May choose to send a message secretly through the host between any two of the three groups during the Night/Day*. Must specify sender/receiver of the message. (*If Soul/Maka is not the sender, the message will go through during the day)

Black Star: Tsubaki's meister. Claims to be "the man who willl surpass god". Always needs to be the center of attention. He may choose to redirect any action to himself during the Night.

Tsubaki: Black Star's weapon. She helps others find their inner strength through deep introspection. The player she chooses to target will be able to see any actions they are targetted with.

Death the Kid: Patti and Liz's meister. Shinigami-sama's son. Has an unhealthy obsession with symmetry. Each Night he chooses a player and the host will feed his habit by telling him the number of [mirror] symmetric letters in that player's character identification. (Verdana font, first letters of words are capitalized, rest are lower case)

Patti: Kid's weapon. The younger Thompson sister. Cannot act on the same Night her sister acts on. Behaves like a child. Would accept candy from a Witch. She chooses a location (number) on the roster the density of Witches within a radius of 2 at that location.

Liz: Kid's weapon. The older Thompson sister. Cannot act on the same Night her sister acts on. Is deathly afraid of ghosts, and has a "creepiness" sense. She chooses a location (number) on the roster and discovers the density of Demons within a radius of 2 at that location.

Franken Stein: Marie's meister...and ex-fiance. A doctor and a mad scientist...and "Shibusen's strongest meister". May choose a person to protect from harm (death/mosquitos) during the Night. Cannot protect the same person two Nights in a row.

Marie: Stein's weapon, and a Death Scythe. Her kindness and warmth have a calming effect which destructively interferes with the wavelength of Madness. May choose a person to protect from Asura during the Night. Cannot protect the same person two Nights in a row.
Death Scythes: No BTSC. Having consumes 99 souls of eggs of Kishin an a Witches soul, they are strong enough to operate on their own.
Justin: The youngest to become a Death Scythe in Shibusen's history, achieving that high status at 13. Devoutly worships his "god". Always goes around with earphones blaring techno music in his ears, so he can't hear a thing anyone else is saying. But he is competent at reading lips. Each Night, he chooses a player and reads their lips to discover the target of their action for the Night.
Azusa: Has a genius IQ and is extremely capable at information gathering. She can use the power of clairvoyance to see events at great distances. She can see all the actions that were taken each Night and the targets of those actions (but not results).
Host's Summary
Edit
Game Idea and Expectations
Edit
Congratulations to Shibusen and thanks to everyone for playing! Shibusen managed to lynch both Mosquito and Noah on the pivotal days and also Black Star made a good move redirecting Chrona the Night he died (or else Tsubaki would have joined the Black-blooded ranks ;P). I can make available a log of actions if you're interested...but not right now...right now I really need to go to sleep...
By Yoruichi-San
Upon discovering that the Death Scythes couldn't be made members of the Black-blooded, I thought that Medusa had a really hard win-con. She could only get four members to join her at a maximum and they weren't that easy to get since she had no ability to know who she was targeting (for kills or infection). She would only be able to guess based on posting (which can be difficult to do and some people (ichimaru geek.gif ) are better at it than others). If she were to return in a future version of this, I think she should probably have some sort of info-gathering aspect or have an easier time converting people or have more people from whom she can convert. That's just my observation, though I could be wrong about her since if she had made any hits, it would have been much harder for us.
By SparrowHawk
Yeah, Medusa's win is highly dependent on how well she plays before she dies. I'm going to make some tweeks, but I like the general idea. The thing is, Chrona's invincibility is intended to be the Black-blood Ace-in-the-hole. The wild card is which side Chrona decides to side with, and that is dependent on how well Medusa did before she dies. Personally, I think the number is perfect, there can be at most 6 (4 converted +Medusa+Chrona), but the thing is, all 9 Meister/Weapons have the potential to be converted. As members of BTSC groups die off, the more concentrated the chance that the surviving members will become Black-blooded. The fewer ppl left alive, the fewer ppl left to target and the more likely their partner is already dead. So her chances of gaining the majority increase exponentially as the number of living players decreases, even though at the beginning it seems slim.
I do think Medusa/Chrona should be informed if their infection was successful (in case of BS's redirect). And BS will be made to only be able to redirect the infection once (not counting if he's Madnessed, of course). I don't really want to give them a spy ability...the balancing aspect of the Black-blood is that they gain information from BTSC groups outing themselves as a group. I kind of like that her info-gathering ability is basically her powers of observation ;P (Just like I like the fact that she uses Vectors as her primary weapons :whisting: ). I might give her a save though...her dying so early in this game was what really made it hard for the Black-blood win.
By Yoruichi-San
Special commendations
Edit
Host disappointments
Edit
Alternate endings
Edit
Winning Faction
Edit
ichimaru/Sparrowhawk R2 - Soul

JS - Kid

Einkil - Azusa

JarZe - Patti

rossbeemer - Black Star

seahorse - Tsubaki

Sparrowhawk - Stein

The Merkal - Marie

Dawg - Justin

Limey - Liz

Surge - Maka

Prof. Templeton - Chrona

(won with goodies)
Day and Night Posts
Edit
Intro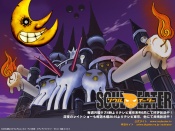 Welcome to Death City, home of Shibusen School for Weapons and Meisters.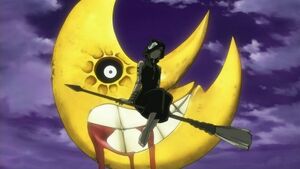 It was Night in Death City. In front of the moon that chuckled maniacally, a hooded figure surrounded by slithering vector-shaped snakes watched the events transpiring below with pronounced interest.
An extra-curricular assignment had been given to a group of promising Shibusen students. After becoming an Iron Chef, the serial killer "Kira" had apparently developed a taste for souls, and hence was well on his way to transforming into an Egg of Kishin. Shibusen School, which had been established to combat the power of the Kishin, was now responsible for taking him down.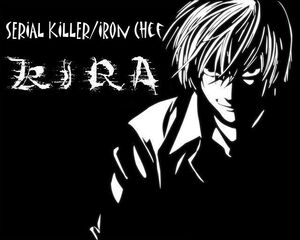 In his kitchen, Kira lifted the lid off the pot containing his latest concoction: Miso-ul Soup. Steam billowed up and Kira took in a deep whiff of the delectable smell and let out a sigh of satisfaction. He reached into his pocket and retrieved a pen that had a spoon at the other end and dipped it into the soup. He brought it up to his lips and allowed the flavorful liquid to coat his tongue. Delicious!
"I've truly outdone myself this time!" Kira congratulated himself aloud, his eyes glowing red with the fire of triumph. "This isn't just food of the Gods, this is food that surpasses anything that the culinary world has ever seen, that will bring it into a new era! I have truly become the God of the new world!"
"Ha!" a mocking voice interrupted. A blue-haired, compactly muscled boy jumped down from the open window and onto the counter. He landed on the cutting board, and the impact caused the liquid in the pots and pans to slosh out into the fire, sending hissing sounds and a burnt smell throughout the room.
Oblivious, the intruder pointed his finger at Kira and proclaimed, "How dare you try to take all the attention for yourself!" His hand then formed a fist, and he brought his thumb to his chest. "It is I and only I, Black Star, who will be the man who surpasses God!"
"Umm...what happened to 'taking the enemy by surprise'..." Tsubaki, the blade Black Star was carrying, muttered.
Utilizing his quick wits, Kira grabbed the handle of the nearest pot and thrust the molten contents at Black Star's face. "Ah! Hot, hot, hot!" Black Star cried, hopping up and down in pain. Tsubaki sighed resignedly.

Meanwhile, Kira made his stealthy exit from the building into the alley in the back. As he pushed his way out the door, he reached into his back pocket and pulled out the folded sheet of paper he kept there "in case of emergencies". The man expertly unfolded the sheet with one hand. His other hand still grasped the spoon-pen, which he brought up to the piece of paper. "So..." he murmured to himself, a smug smile forming on his thin lips. "You say your name is Black Star..."
Suddenly, a red blast caught the paper in his hand, causing it to go up in flames. Kira cursed and glanced around to pinpoint the attacker as he shook out his scorched hand. Standing a few feet away on a hover board was a solemn looking boy, neatly dressed in black, toting a pair of smoking handguns.
Kid lowered his guns and glared at the criminal. "What a despicable sinner you are," he reproached, shaking his head in disgust. "Killing your victims with a heart attack...what an incredibly gruesome act!" The flame of Justice flared fervidly in Kid's eyes. "To make your victims die in such an ugly, asymmetric manner...to force your victims to die grasping their left side in pain...you not only rob them of their life but their last shred of dignity in their last moments as well! It's so grotesque...it makes me sick!" Kid shuddered violently at the thought, and clasped his hands to the sides of his head.
Recovering quickly from his initial incredulity, Kira's shrewd eyes made a rapid assessment of the situation. "True, I am a sinner against the beauty of symmetry." He stated accusingly, "But...aren't you a worse sinner? To walk around with those three white stripes on the left side of your head...your very existence is a sin to symmetry!"
All the color drained from Kid's face. His knees crumpled and he dropped down into the fetal position. "It's true...I'm the lowest of the low. I'm trash. I deserve to die..." he began muttering to himself. His, guns, the Thompson sisters Liz and Patti donned the expression: sweat.gif .

Kira was still laughing to himself as he ran around the corner from the alley onto the paved street. What a tool...
"What's so funny?" a voice asked. Kira turned and saw the shapes of two figures down the deserted streets. The moon was at their backs and their shadows loomed. The one who had spoken was a spiky haired boy with his hands stuck nonchalantly in his pockets. Besides him stood a girl with long pig-tails.
The girl took a step forward. "It doesn't matter, Soul. We just have to take this guy's soul, right?" She stuck her arm out with the palm of her hand open and ready.
"Right. Let's do it, Maka." Soul's lips curved into a sideways smile, revealing a mouthful of sharp teeth. His body lost its form and transformed into light. The light swirled around in an arc into Maka's outstretched hand. When the light rematerialized, it had taken the form of a scythe. Maka twirled the scythe around expertly before drawing it back for a full range of motion. She bent her knees and then pushed off in a powerful lunge. With an amount of strength that it was unfathomable for such a thin body to contain, she swung the scythe fiercely forward at Kira's body, the sound slicing smoothly through space itself...and...
(Cue video)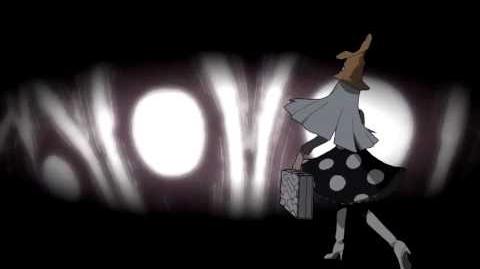 Episode 1 Night Part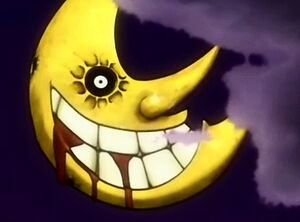 As Mosquito weaved through the billowing clouds of milky white mist that rolled across the floor of Arachne's lair, he pulled out a white handkerchief that he used to daintily wipe the last remnants of IDNE's blood off his pale thin lips. Ah, what a flavorful feast it had been!
When the diminutive demon reached the end of the dank corridor, he turned his gaze up towards the glistening web of spider silk that hung above him like a tapestry. In the middle of the lovely scene sat a beautiful woman with satiny black hair pulled back on top of her head. Her long luxurious lashes parted to reveal intense blue cobwebbed eyes that stared down at her retainer. "How is he?" She inquired with her black fan over her mouth.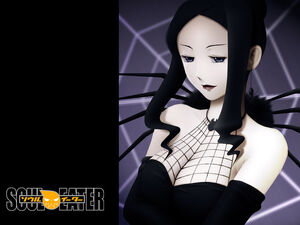 Mosquito bowed, removing his long dark grey top hat from his head. "When I left him, the Kishin was resting comfortably in your chambers..."
Suddenly, there was a crash and the corridor shook violently. A moment later, the scuttering of an army of tiny feet could be heard as a double line of spiders scampered towards Arachne. They crawled up the shiny strands of web directly to her ear. A moment later, she smiled to herself below the fan. "It seems our guest was feeling a bit on the edge..." ("of madness" were the unspoken words)..."and took it upon himself to go out for a nip of fresh air."
Plopping his hat back on top of his head of thin pale hair, Mosquito sighed and muttered, "I guess we're going to need a new ceiling..."

Ichimaru was smiling to himself (as always) as he stepped out the door of his home and onto the cobblestone streets of Death City. He took a deep breath of the crisp Night air before setting off towards his destination. But before he had moved two steps, a luscious voice called out to him, "Yoohoo!"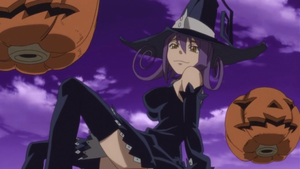 He turned and his eyes met with the image of a pretty woman with, um, "sigificant endowments". Her tight black top and slitted dress did a magnificent job of showing off these endowments as she sauntered towards him. "Well now," she cooed, running one smooth hand sensuously along the rim of the pointy hat she was wearing, "Where are you going this late?"
As Ichimaru opened his mouth to reply, the woman tenderly lifted the hat off her head on gingerly placed it upon his head. Then she moved her hand downwards along his head, stroking his cheek, and ending with her finger on his lips. Ichimaru blinked. "Uh...yeah...what was I going to do again...?"
The woman's full red lips curved into a smile.

In the sky above them, which was eerily glowing red, the bandages around Asura's head unravelled for a moment, revealing his lips curved in a congruent smile. Then they abruptly rewrapped and his form shot across the sky, leaving white lines of displaced air behind him.
Asura landed with a thud on a paved path in the park, the impact propagating cracks radially throughout the ground. While he was slowly standing up, the sound of whistling was carried through the wind to his ears. A shadow appeared in front of him, and a few moments later, a pair of sneakered feet. The Demon god looked up into the concerned face of Limey.
"Hey man, are you alright?" Limey asked, looking around at the damaged ground and extending a hand forward helpfully. "I don't know what happened here, but it looks bad. And you're already wrapped up in so many bandages." He glanced around with uncertainty. "Is there anything I can do to help?"
Without warning, the bandages around Asura's mouth unravelled themselves and his mouth formed a smile, displaying fully his jagged teeth. Startled, Limey stumbled back. Then the bandages around the Demon god's eyes unravelled as well, and he turned their crazed red glare upon his victim. "Yes," he replied to Limey's question, and his body began to shake with excitement. The unwrapped bandages levitated loosely around his form. "There is something you can do for me." His blood red eyes popped open as wide as they could go. "You can DIE for me!!!"
The bandages abruptly tightened into the consistency of steel. They rose upwards behind Asura, pointed impatiently at Limey's frightened form. These special bandages were actually made of Asura's own skin and had been manipulated by the mean Shinigami into imprisoning him for so many years. Now the precious things were hungry, no, they were absolutely ravenous.
The bandage blades shot forward and numerously skewered Limey's body. The air around them was spray-painted a glorious shade of crimson by the fine mist of Limey's blood.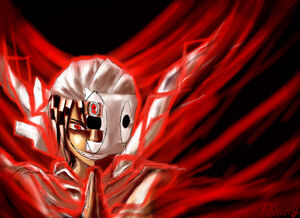 Episode 1 Day Part
The smirking sun shone smugly on Shibusen School's students, who were leaning eagerly off the railings on the roof in anticipation for the new arrivals.
Word had spread about the Kishin's revival and the sage Shinigami-sama had called in the big guns, the Death Scythes, Weapons who had collected and consumed 99 human souls that had become Eggs of Kishin and 1 Witch's soul. The students couldn't wait to catch sight of their renowned senpai.
As a gust of wind blew through the courtyard, rustling up fallen red leaves, three shadows appeared on the horizon. A few moments later, the owners of those shadows stepped into view.
The first was a handsome young man dressed in a preacher's robe with his hands resting languidly in his pockets. Around his neck hung a cross and his ears were plugged with earphones that were shaped like Shinigami-sama's mask.
The second was a serious-looking young woman with smartly bobbed hair. She wore a severe, tailored suit and glasses which she pushed up her nose.
The last was a cheerful blond woman who wore an eye-patch on one eye. Upon seeing the school ahead, she couldn't contain her excitement of returning to her alma mater any longer and bounded gaily towards it.
Just then, Death the Kid happened to be exiting the building and crossing the courtyard. His attention was focused on his sleeves, and he suspected that one sleeve had been cut .17 millimeters longer than the other, and this concern was causing him a great deal of inner anguish. He had decided to head back to his dorm and use his precise-to-the-micron ruler to make sure, when...BAM...he ran straight into the bubbly blond.
"Oh, I'm so sorry!" Marie gushed, bringing her hands up to her cheeks. "Are you alright?"
Kid stood, brushing himself off. "Yes, I'm fine....AYA!" With the anxiety over his asymmetric sleeves still pulsing in his mind, he had looked up at Marie's face and...well, the glaring asymmetry of the eye-patch was too much for him.
When he spoke, his voice came out as a monotone. With his head bowed limply, his hands raised his guns. Those who could see souls would have seen his expanding soul. His eyes were blank, emanating the white light of the power of his soul. "Liz, Patty...power up."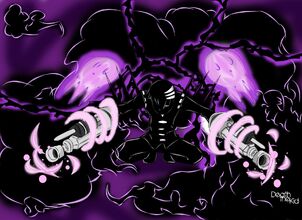 "Uh, oh..." Patty murmured to herself.
Charging...20% complete...40% complete...60% complete...80% complete...
Marie, aka the Merkal, smiled at the boy with a confused and innocent look.
..100% complete.
DEATH CANNON
In the shadows under the arch of the entrance, the hooded figure licked her lips as vector-shaped snakes circled around her head. Medusa had always had an attraction to Stein, after all, they were both scientists, interested in the workings of the world. Now that his significant other was out of the way, she had her chance. Now to find him...
Episode 2 Night Part
Pre-ramble:
Sorry for the delay...I was depressed...which gave me writer's block...so I ended up borrowing some ideas from other hosts (*cough* unreality) and made a comic strip instead...which ended up taking longer than writing the actual post would probably have, due to the lack of good pictures forcing me to take and manipulate screenshots from AMVs on youtube...blah blah blah...(yeah, I know you don't care rolleyes.gif )
Anyways...enjoy ;P
Episode 2: Surge W. Bush Fails Linear Algebra/Killing Two Birds With One Stoner/Why It's a Bad Idea to Greet Mosquito with "Hi there, Shorty!" Night Part
roster added the following 2 deaths:
10) Sparrowhawk - DEAD [?] Killed by Arachnophobia N2
16) Surge - DEAD [?] Killed by Medusa N2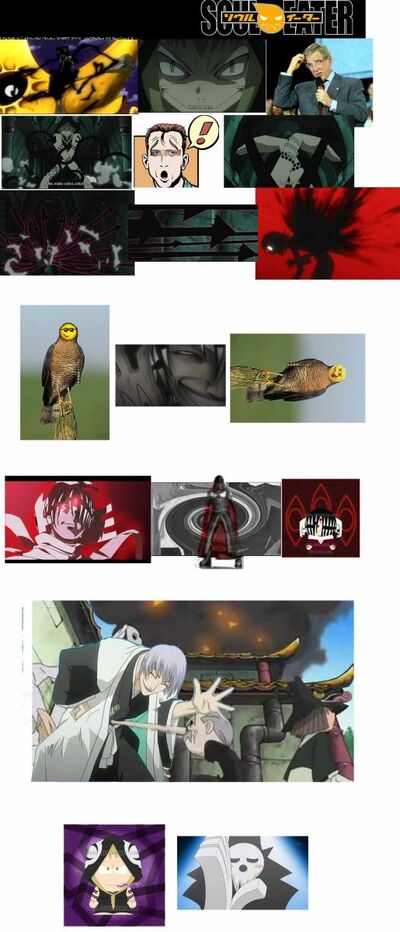 Episode 2 Day Part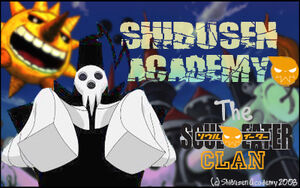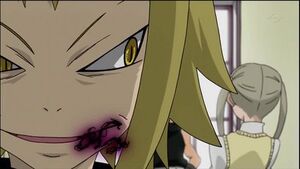 "There you go," Grimtooth told Ox after placing the last band-aid in an X-shape on his shiny bald head. "You should be fine as long as you take it easy for a couple of days." Grimtooth leaned back and picked up a paper bag off the table. Giving Ox a munificent smile, the nurse handed the student the bag of candy, telling him "You've been such a good patient that I made a present for you...it's a special family recipe."
After being thanked by Ox, who left the infirmary, Grimtooth turned away from the door to prevent anyone from seeing the vector-shaped shadow snakes that slithered out of the mouth. Hehe...special family recipe indeed...But the nurse was startled by a voice..."Well, what a bad nurse you are!"
Grimtooth scowled secretly, but then, with an immense degree of self-control, turned to greet the intruder with a feigned friendly smile. Meanwhile, the razor-sharp tip of a vector arrow was peeking out of the sleeve of Grimtooth's white lab coat. Leaning on the door stood a man with glasses in a white lab coat with stitches running across his face and a giant screw sticking out of his head. The man tossed the familiar-looking bag he was holding in his hand up into the air and caught it cooly. "You know that Ox can't have candy. It interferes with his braces." Stein tsked.
"Oh, silly me!" Grimtooth proclaimed with counterfeit embarrassment. The arrow retracted from the sleeve. "It must have slipped my mind!"
Stein shrugged and then turned to leave. But instead of walking away, he stated "You should be more careful..." The lights in the room cast a glare off his glasses. "...Witch Medusa."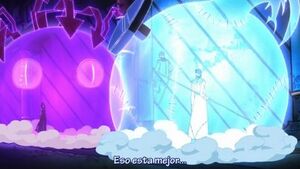 Doctor Stein spun around just in time to knock away the seething shadow snake which had been shot directly at his head. Medusa hissed and glared at him. Those who could see souls would have been able to see their souls rapidly expanding, feeding off the mutual animosity and tension.
The shadow vectors curled up around Medusa's form, preparing to strike. Stein summoned up his soul wave and channeled it into his hands.
"Vector Arrow!"/"Soul Purge!"
Stein lunged forward, his arms extended, wrists together and hands butterflied out. Medusa's shadow vectors streamlined rapidly forwards, their trajectory converging on Stein's position...
"Hey!" a firm voice interjected. Medusa's vectors froze, their tips pointed at Stein's body. Stein halted as well, his hands in position in front of Medusa's waist.
The chipper mask of Shinigami-sama appeared in front of them, incongrously set in an annoyed , reproachful expression. "What do you two think you're doing? Don't you realize you're putting the students in danger by fighting here at school?"
Quick-witted as usual, Stein righted himself into a standing position and pointed towards Medusa, stating calmly "She started it." He pulled a pen from his pocket and began chewing on it. "She's a witch, and she's been trying to corrupt the students."
The annoyance on Shinigami-sama's face metamorphed into fury. From this rage, the black cloaked form steadily grew in size to monolithic stature. "How DARE you mess with my kawaii students!" The entirety of Death City shook as the Shinigami lifted one humongous hand. The shadow of this hand loomed over the astounded witch, who could only stare as if in a dream at the surreal pristine white object as it came down upon her.
"SHINIGAMI CHOP!"

Elsewhere, a bone-thin, pink haired girl felt a seismic shudder shake her frail form. "Medusa...she's dead..." the girl murmured. "I don't know how to handle these things..."
Then she heard the dreaded voice in her head of the demon blade Ragnarok that inhabited her body. "Chrona, you wimp!" Ragnarok taunted. "You just have to do what Medusa tells you! Or else, no food for a week!"
Chrona hugged her scrawny arms to her chest, and she felt a wave of pain as she remembered the kindness that Maka and the rest of the Shibusen students had shown her. "But...but...what if I don't want to?"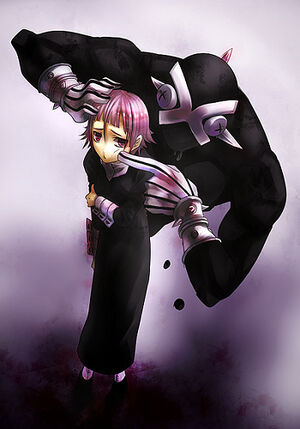 Ragnarok's black form rose from her body. His bulging eyes rolled around as he took her head in his hands and shook it violently.
"Stttoooopppp...yooouuu'rrree sssscrrrrammmbbbbllliinng mmmyy bbbrrraaaaiinn..."
The demon blade finally released her head glowered down at it's vessel. "You don't have a choice, at least not for now. You have to do what Medusa tells you."
"Oh...okay...I get it now." Chrona mumbled with one hand on her head as she attempted to stop the stars from spinning around it. "I just have to kill them all!"
Episode 3 Night Part
Left column is the death of Cute Psycho Bunny. Right column is the death of Ross
3) andromeda (CPB) - DEAD [?] killed by Chrona
8) rossbeemer - DEAD [?] killed by Arachnophobia


Episode 3 Day Part
Maka glanced down at her watch as she flew across the courtyard, with Soul (in scythe form for convenience) in tow. She had overslept that morning and was now late for her first class. She was in such a hurry, she failed to notice the diminutive figure wearing a top hat which crossed her path. She tripped over him and was sent sprawling onto the pavement. Wincing and rubbing her butt as she got up, she muttered "Oh crud, now I'm really short on time..."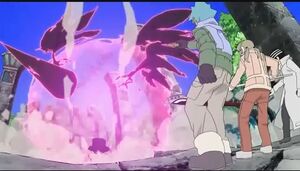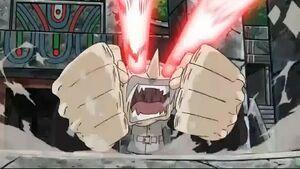 Grey cells, who had been righting his crumpled top hat, turned to glare at her. "Did you just say I'm really short?" His eyes flared red light and his hands formed into fists. Maka, who could see souls, saw his winged one swell up enormously with fury. Suddenly his scrawny arms ballooned out with muscles and his chest rippled out with more muscles.
As Maka watched in bewilderment, Black Star and Kid, toting their respective Weapons, came up behind her on the scene, arguing with each other.
"I'm the man who will surpass God!" Black Star exclaimed. "I'm not the one who's late for class, class has just started too early!"
"Can't you at least sign your name so that the star is drawn symmetrically?" Kid grumbled. But the boys froze when they caught sight of the apparition. "This demon..." Kid said, utilizing his Shinigami senses. "It's very high level."
Black Star grinned. "Excellent. Perfect opportunity to show off my skills. I guess we're going to have to use that."
Inside Soul's mind, his form, clad in a spiffy striped suit, stepped through a heavy crimson curtain into a room with a red and black checkerboard floor. In the middle of the softly lit room stood a beautiful grand piano. Soul stepped resolutely towards it and sat down on the bench.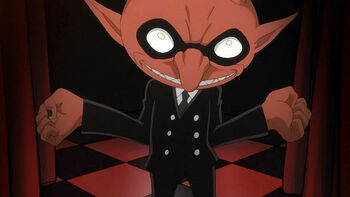 "So...you're going to play it?" A small red demon with horns and wearing an identical suit peeked out of the shadows.
In response, Soul's lips formed into his signature lopsided, jagged-toothed smile. He raised his hands high into the air before touching them down to the keys. As soon as flesh came in contact with ivory, his hands began to fly across the board as if with a mind of their own.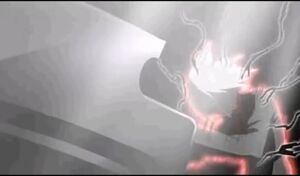 With the first notes of his music, the soul waves of the three friends and Meisters began to vibrate. They closed their eyes and allowed the power of their souls to fluctuated wildly, searching for the correct frequency. Then, the wavelengths came into phase. They opened their eyes simultaneously. Time to act.
Their movements were now coordinated by the melody of the song. Black Star was first. He flew forward with Tsubaki in ninja blade mode towards the opponent. Mosquito lifted his hefty arms to prepare to smash the boy, but as they came down, the ninja boy disappeared in a flash and reappeared behind Mosquito's back. Black Star summoned up his shadow ropes and pulled them around the demon, restraining his movement.
Meanwhile, Kid had been using this time to charge up his Death Cannon. 100% Complete... He sent an immense blast of energy at the trapped opponent.
On the other side, Maka channeled her energy into the form of her ultimate attack. Letting out a howling warcry, she charged at her enemy. She swung the huge blade of light with her uncanny strength, cutting through Grey cells's torso.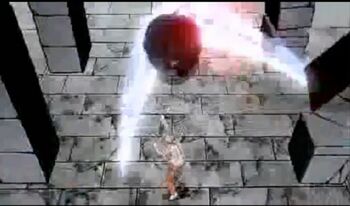 A moment later, the bottom half of the demon's body crumpled to the ground. A moment after that, the top half landed several yards away and rolled for a bit before coming to a stop. The top hat, which had fallen off, was abruptly trampled under the feet of the anxious students as they hurried to class, hoping to avoid the infamous punishment of Prof. Stein.
Episode 4 Night Part
I'm exhausted, so this will be short...
Prof. Templeton sat calmly at his computer, hard at work on a particularly strenuous math problem. Outside, a stripe of lightning briefly lit up the Night sky. A few moments later, a clap of thunder sounded, followed by a the splatter of raindrops. The light from the computer screen flickered as a spider scrambled down the side of the window frame.
Suddenly, there was another flash of lighting, which illuminated an ominous shadow looming over Prof. T's seated form. The silhouette was of a man with several long, thin objects protruding from the body. There was another clap of thunder, and with the boom, Prof. T felt a sharp object impact his side. Tearing his attention away from the intrigue of math, he glanced down at where the injury would have been. There was a large gash in his skin, but no blood flowed out of it. Instead, it swirled around lethargically in the wound before coagulating into a solid mass...a solid black mass.
"Hmm..." Prof. T muttered absentmindedly. "My blood is black..." He stared for a few minutes longer. Then he shrugged and went back to work on the math problem at hand.

His attempt frustrated, the assassin stormed down the hall of the dorm towards the exit. He passed by JarZe's room for the second time that Night. In it, JarZe was still entranced by his computer screen...staring at his own avatar.
Episode 4 Day Part


Unno...anyone seen Riranor?
Riranor?
Shibusen
The Shinigami Weapon Meister Vocational School

Riranoooorrrr?

RIRANOR!
Oh, he went in search of the legendary sword, Excalibur.
Episode 5: Finale
It was late in the Night and in a fluorescently lit room on the second floor, a highly intelligent, strong leader-type Asian woman was working hard at focusing her mental powers. Her comrade, Star, making his Nightly rounds, inquired "What do you see?"
The woman's eyes widened, but her answer came with an eerily calm tone. "I foresee...my own death."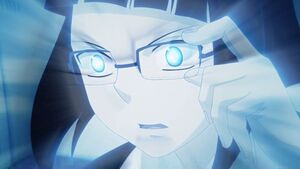 End of Game Roster
Edit
ichimaru/Sparrowhawk R2 - Soul

JS - Kid

andromeda (CPB) - Asura

- Killed by Chrona N

Riranor - Noah

- Lynched D4

Einkil - Azusa

JarZe - Patti

IDNE - Arachne

- Killed N5

rossbeemer - Black Star

- Killed by Arachnophobia N

seahorse - Tsubaki

Sparrowhawk - Stein

- Killed by Arachnophobia N

grimtooth - Medusa

- Lynched D

The Merkal - Marie

- Lynched D

Prof. Templeton - Chrona

Dawg - Justin

Limey - Liz

- Killed by Arachnophobia N

Surge - Maka

- Killed by Medusa N

grey cells - Mosquito

- Lynched D
List of actions
EDIT HERE