Star Trek Mafia II was a game developed and hosted by Araver based on the Science Fiction Series Star Trek. It contained characters from both Star Trek: The Next Generation (TNG) and Star Trek Deep Space Nine, thrown together by the mysterious Q to play a Deathmatch against each other.
It began on February 6th, 2011 and ended in a Cardassian win in D5 (February 19th, 2011).
Game Mechanics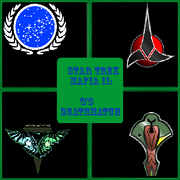 Star Trek Mafia II ran as a standard 4 balanced Factions 12-player Mafia game. The 4 factions: Federation, Klingon, Romulan and Cardassian started with no BTSC, but were able to gain BTSC by targeting the same person during the night (meet).
Day Rules: Tie lynch on day 1 means no lynch. Any other day it means random lynch among the tie. Order of actions (also chronological order actions are executed): RID Save > Trap > RID Kill > Block > First Contact > Spy. Night-post revealing: All succesful actions are shown in the night-post, including spies. Targets for successful spies and unsuccessful RID Kills and RID Saves are not shown. Only the proportion between RID Saves/Kills and the number of people invulnerable to lynch is shown.
Special RID Rules
Each faction has a Leader who can choose between a RID Kill or a RID Save each night
Two pairs: (Federation and Klingons), (Romulans and Cardassians) can not target each other with RID Kills, but can RID Save each other.
2 correct RID Kills on the same target the same night would nullify each other
Traps and RID Saves (limited to once) can save from RID Kills
Special WinCon condition: be in majority, but all the members of the opposing pair (the ones that cannot be RID Killed) should be dead.
Save from Lynch Rules
At night, everybody secretly (via PM) chooses a role from their own faction to be saved from lynch.
A majority of at least 2 votes from that faction must be reached for the role to be saved from lynch.
If that role is voted for the lynch the next day, it is saved from the lynch but role is revealed.
If no role gets at least 2 votes, no one is invulnerable from lynch (however this is only known by host).
One is not allowed to choose the same role twice in a row.
Role Description
United Federation of Planets / Starfleet
WinCon: Wins if it's the last faction standing. Can win by majority only if all Klingons are dead.
Captain Picard Action: Choose two persons to contact each night. One of them is randomly selected by host and is pinged (informed he was discovered by Picard). If he initiates first contact with one of the other 3 factions, he has the opportunity (choice) to send a single message to that faction during the next day. Message will be sent to host who will relay it anonymously to all members of that faction via PM the day after the contact. He can send at most 3 messages during the game.
Captain Ben Sisko Action: Trap a player for the night. He will find out the player's faction but not his role.
Lt. Thomas Riker Action: Each night can choose between a RID Kill that works only against Cardassians and Romulans or a RID Save that works only for Federation or Klingon.
Klingon Empire
WinCon: Wins if it's the last faction standing. Can win by majority only if all Federation players are dead.
Chancellor Gowron Action: He can spy a person each night learning his faction and who he visited (but not the role).
General Martok Action: He can block a person each night.
Worf: Action: Each night can choose between a RID Kill that works only against Cardassians and Romulans or a RID Save that works only for Federation or Klingon.
Romulan Star Empire
WinCon: Wins if it's the last faction standing. Can win by majority only if all Cardassians are dead.
Praetor Neral Action: Each night can choose between a RID Kill that works only against Federation and Klingons or a RID Save that works only for Romulans and Cardassians.
Senator Pardek Action: Is able to follow a person each night and learn who they visited.
Commander Sela Action: Can spy someone's faction each night. Is able to make her vote count x2 during the day (only if she chooses to via PM).
Cardassian Union
WinCon: Wins if it's the last faction standing. Can win by majority only if all Romulans are dead.
Gul Dukat Action: Each night can choose between a RID Kill that works only against Federation and Klingons or a RID Save that works only for Romulans and Cardassians.
Elim Garak Actions: He has a spy action each night and can sweet-talk a person into not-voting (voting counts x0) each day. As a former spy, he has a cranial implant that makes him immune to torture, so blocks won't stop his actions. He is however claustrophobic, so he will die if being trapped at night.
Gul Damar Actions: Can trap a player each night. Damar will die with target if Dukat is targeted successfully for a single RID Kill (Suicidal Bodyguard). After Damar dies, Dukat can be RID Killed as usual.
Host's Summary
Game Idea and Expectations
I was very anxious to host my first 4-Faction game. I wanted to test the hypothesis that in a 4-Faction game, even if one faction is inactive/weaker, the other 3 factions can still strive and reach an equilibrium state that would prevent any one faction to win quickly. Which leads to interesting developments. Which is the best a host could wish for. It's hard to balance a Mafia game so that it remains balanced after one faction disappears or is weakened considerably. In a 3-Faction game, once a faction gets weaker/inactive, then one of the remaining factions almost always has a decisive advantage over the third.
I tried to make all factions symmetrical, each had a RID Kill/Save role and a spy role. Different factions had different style abilities matching the story - e.g. Romulans had more spies and a vote manipulator, Federation had a First Contact role that could be used as an indirect spy and an alliance courier. The last faction, the Cardassians had a handicap (one role could die of claustrophobia if trapped) and an advantage (their leader had a bodyguard that would die and kill his leader's attacker). In retrospect, Klingons were the weakest ability-wise, since their block was rarely useful (could not block RID Kills).
Game
The beginning of the game brought the first surprise: Marquessa (Cardassian weak role) died early in Night 1 after a lucky Federation Trap. This left the Cardassian crippled right from the start and actually helped them a lot since all the other Factions were now striving to reach an equilibrium by crippling each other, neglecting the remaining Cardassians. Also, 2 Cardassians and 2 Romulans gained BTSC right from this night.
My first mistake: frustrated by Sisko/Segul not sending the save from lynch choice, I let the night-post suggest Sisko was semi-inactive. This later lead to an information leak that was speculated by both teammates trying to reach him for BTSC and enemies trying to RID Kill him.
Predictably, Day 1 was a cold war ended in a no-lynch tie. To my disappointment, Picard's First Contact ability was used to contact the Klingons in order to send a double-encrypted spiteful message, instead of a temporary alliance as I expected. Night 2, no one was RID Killed, most of the RID attempts were way off target. Day 2, everyone was looking to expose the Romulan vote-manipulator, and as a side-effect, Onetruth was lynched.
During Night 3, Segul was replaced with Phaze, after failing to vote D1 and D2 and not submitting a correct action in N2. Phaze was warned about the information leak and decided to play. He quickly managed to restore Federation chances by using Sisko's trap to meet and establish BTSC with the Federation Leader Izzy. In the same night, Sparrowhawk (Gul Dukat - Cardassian Leader) was trapped, which protected him from the Klingon Leader's (Glycereine) correct RID. The only faction without BTSC, the Klingons, could have met if Hirkala were not friendly-blocked by Not24. The Romulans (Vineetrika outside BTSC and Fox alone in BTSC) lay low after Onetruth's disappearance.
Day 3 was led by Maurice (Picard) who sold Hirkala as a Klingon (after contacting him in N1). Hirkala was lynched after both of his teammates voted for him. After his lynch and failure to meet the previous night, the Klingons never recovered. They had a chance to meet in N4, but both Federation and Cardassian trap prevented their meeting.
Night 4 was the most eventful of all. Fox gathered all the clues after Maurice outed Hirkala and proposed two targets for meeting with teammates(which was a hint at the Picard role). She RID Killed Maurice as Picard. Maurice's teammates ignored his proposed targets so even if he were not killed, the Federation could have not achieved full BTSC. Izzy RID killed Fox as the Romulan Leader and SparrowHawk RID Killed Phaze as Sisko (using the information leaks from N1 post and the replacement itself).
After an eventful night, Day 4 was a boring bandwagon on the Klingon trapped the previous night - Not24. However, Night 5 had its twists. The Klingon Leader (who did not understand my ambiguous definition of the Cardassian Suicidal Bodyguard - my second mistake) targeted the Cardassian Leader. During the night, the Cardassians chose the Bodyguard's action to trap himself, which would have led to the Cardassian Leader being killed. However, after they asked the hosts a series of questions, they found a way to RID Save the Bodyguard which led to the Bodyguard attacking and killing the Klingon Leader, without dying himself.
Day 5 began with 1 Federation (Izzy), 1 Romulan with a double vote (Vineetrika) and 2 Cardassians (SparrowHawk and Framm18). Sparrowhawk was invulnerable to lynch that day. The day had an unexpected end since both Izzy and Vineetrika assumed incorrectly that Framm was the Klingon Leader. Neither of them asked me about the Suicidal Bodyguard ability. By mid-day, after the Klingon Leader and one of the Cardassians expressed their confusion on the Suicidal Bodyguard ability, I corrected the ambiguity in the game thread (without waiting to be asked). In spite of my correction, both Izzy and Vineetrika remained under the erroneous impression that the second Cardassian had died in N5 and voted each other, instead of making a temporary alliance against the Cardassians. Vineetrika was lynched, bringing the game to an early end with a Cardassian Win.
Special commendations
SparrowHawk for coordinating Cardassians actions and fooling Izzy into an imbalanced alliance
Framm18 for laying low, dodging everybody, and assuming a Klingon role in the end.
It was a pleasure to watch them manipulate the other factions from N1 till the end.
Host disappointments
I did a couple of mistakes: leaked an inactive player in the N1 post and leaving an ambiguous role description that was only explained publicly in D5
This Mafia showed me that no one believes in temporary un-betrayable alliances which make perfect sense on paper. The pairs which could not target each other with RID Kills could make a temporary alliance in early and mid-game and have a duel in the end. No other type of alliance was possible in this game since no one had the incentive to help you get rid of the ones you can't get rid of yourself, when they could kill you instead.
Whole mechanisms were not used (to forge an alliance): e.g. First Contact - courier-like ability, trading a RID save for another faction to someone RID save you (cross RID Saves) to avoid the unique RID save limitation, public coded messages (established after First Contact) to plan different RID Kill targets to avoid the double-RID Kill.
Alternate endings
Alternate ending 1: Had Klingons and Federation worked together during the day, especially after it was obvious that they both lost heavily (after N4), they might have stopped the Cardassians. Neither had vote manipulation to fear from the other, and none could target each other for a kill, so they would have to plan their actions during the night to save themselves + cross save the other (Izzy + Glycereine) and vote for Cardassians and Romulans during the day. If 1 Klingon and 1 Federation were alive in the end, then it was a tie. If more survived the Romulan+Cardassian RID Kills till the end, then it would have been a final lynch deciding one winner between the two factions.
Alternate ending 2: Had the Romulan spy established BTSC with the other two, the Romulan RID kill and the vote-manipulation would have won the game. The Romulan Leader had very little clues on the others and the Romulan vote-manipulator just managed to stay low. In the end-game, because of the vote-manipulation ability, the Romulan (Vineetrika) could have pushed the game towards a coinflip if she targeted anyone else for the lynch, other than the Federation (which was "protected" by Cardassians since they could easily RID Kill her).
Alternate ending 3:During N4, had the Federation BTSC decided to trap SH and RID Save maurice as Picard - neither Maurice nor Phaze would have died. Maurice would have joined the BTSC, and the Federation would have started D4 with full BTSC and no casualty.
By Araver
Winning Faction
Cardassian:
sparrowhawk - Gul Dukat
Framm - Gul Damar
Marquessa - Elim Garak
MVP: SparrowHawk
Day and Night Posts
Prelude
Bored, Q was speeding around galaxies. He was too bored to return to the Q Continuum this time. He thought a little of finding a new race to toy with, or create one. Hmm. Nah, too much of a bother to find one, observe it for a while, poke them a while to understand how you can provoke them, too lazy for that now. Maybe some of the races he already played with .. nah, they're getting boring. Unless, yes … that's something I did not try before. Q was very happy with his particular idea. He would be able to both advance his trials with some of the races he was monitoring and get a lot of fun out of it. Which was very hard to come by these days for a Q. It was going to be Q-fair, it was going to be legen… oh wait, note to self, delete that character from all alternate timelines, this phrase is addicting yet slowly becoming so annoying … dary!
"How have you all been?", Q greeted the three humans in the blue cell. Picard rose to his feet: "I had a feeling it was you Q. What's happening? Explain yourself Q!" Q: "Temper, temper mon capitan, you'll learn in a minute … and you … keep your distance!" gestured Q towards Sisko. "Remember when I told you that the trial is neverending? Then you're not very sharp or you would have deduced that this is merely a new chapter of the trial! This time, the challenge will be a game. I'll leave you for a while to decipher the rules before the game starts" finished Q before dissapearing. "What is he talking …" started Tom Riker before Q reappeared and tossed a manual on the table. " … about?". Picard reached for the manual as Sisko muttered "I should have hit him harder when I had the chance."
Q appeared to three nervous Klingons stuck in the red cell "Kahless left an unfinished prophecy you are bound to fulfill now. Your sacrifice might be … ", Q stopped and disappeared as both Martok and Gowron had launched themselves at him. Reappearing in another corner, he continued "… required." "Q, you should know that Klingons find no honor in your charades. Take us back to where we were before.", replied Wolf. "Look who can now resist what his blood tells him. I'm not that surprised though, I sort of thought this would balance the challenge a little. Read the manual to the other two idiots and convince them it's a matter of honor. And … Qa'pla!"
Q sneaked into the purple cell surprised to find all three Romulans quietly staring at him. "You probably know who I am from the Tal Shiar reports and you should know my reputation by now. You cannot face me and win. You're here to face the other empires in a challenge. If you win, I will change one single historic event of your choosing.". The Romulans continued to watch him without a single word. Q threw the manual on the table and disappeared. The Romulan Praetor nodded to Commander Sela who took the manual and gave it to Senator Pardek. "It seems my friend that we need to plan this one better…", said Neral to Pardek and "… execute it better!" to Sela who nodded in bitter agreement.
Q arrived into the last green cell to find Dukat and Garak at each other's throats, while Damar was slowly recovering in a corner after a sneaky blow from Garak. "Enough!" prompted Q and the two stopped. "Primitive, so primitive! I need you for balancing purposes and I would expect you to think before you ac…" Q lashed out at the two as Damar sneaked behind him and lunged forward. "Save your tricks for the game!", Q said as Damar passed through him and fell into the opposite corner. Q left the manual on the table and vanished without a word. Garak picked it up and handled it to Gul Dukat, "I think he just found a way we both can enjoy each others company for the time being, wouldn't you say so?"
"Hmm!", Q thought to himself, "that's a crazy bunch I picked up. Maybe a little unbalanced but certainly Q-fair. And I can always start it over if … darn … I forgot to put that in the rules. Ahh, can't take it back now or I would never hear the end of it from the Continuum. Why did I pick the races I'm currently on probation for, damn! That's my penalty for being lazy! ... Or maybe … indeed, that would work rather nicely. I can mess with randomly assign them. Oh, that's brilliant Q and no audience around to applaud!", Q grinned and disappeared.
Night 1
Q had found a nice corner of very young galaxy and chosen a nice and quiet solar system. The nearest intelligent species with interplanetary travelling tehnology was more than 10 000 light-years away. He built a nice Dyson sphere around that star and built 12 habitats. Each habitat was a reproduction of that person's homeworld environment and each had more space to move around than they would in a Borg cube. The four chosen leaders had a special kit with 6 black balls and 6 white balls allowing them to kill or save the other players. Each ball was a genetic weapon, DNA coded for one of the others. This nice invention was actually stolen from two battling races that died eons ago (ironically from their own weapons), and fit this deathmatch's purposes perfectly. When activated, black balls would release their deadly content if they sensed the DNA target in range. White balls would release a symbiotic parasite hive-like virus which immunized its DNA coded target against any genetically engineered biological weapons. Well, actually the parasite did not live much, so the protection only lasted for a while. Transportation of a ball to the intended target was done via a simple transporting cube with a dial encoding the 12 players' habitat coordinates. The cube was programmed to accept only one ball per night. All other actions were sent using pen and paper and containers located in the center of the habitat. Containers scanned and teleported their content to Q's central habitat. The use of containers, acting like a primitive messaging system was meant to add an authenticity layer to the whole game. Last, but not least, the standard kit also included a console that allowed each to vote for each other. Other than that, no technology was available to the players. Satisfied, Q retreated and waited in anticipation for the chosen twelve to submit their moves. It was going to be legen . . . oh wait, note to self, it's happening again, the addiction is too powerful even for a Q, need to schedule an appointment for this, wait for it . . . dary!
Gul Damar was pacing relentlessly in his habitat. He was not used to not having Gul Dukat around to pass him orders. They had no time to establish a strategy before being teleported here. He thought for a while and decided to trap the first name that came into his mind. He had anticipated Gul Dukats's choices in the past so he had a strong feeling this anticipation ability would help reunite them after this night. And on the bright side, at least the one with two names Izzy-something would not act tonight. Izzy awoke to hear a humming noise. She got out of bed and was stopped by an invisible force-field. A quick walk around the bed and she discovered the force field surrounded her completely. The container in the other room was unreachable.
Ben Sisko paced his habitat. He had only heard rumors of Q until this incident and so far Q proved as annoying as Starfleet reports told he would be. No way out of the habitat, Sisko had searched thoroughly. He sat down, sighed and wrote down a name. He threw the paper into the container that was supposed to send it to Q. He paced for a while then went to bed.
Q found the note, read the name and smiled. Then he turned the paper on both sides trying to find a second line. Not finding one, he sent a quick response using the container system. Receiving no answer, Q shred the note to pieces. His temper was even shorter than Sisko imagined. He cooled down and drew out a coin. He closed his eyes and let if fall. Heads. Reluctantly, Q inserted the action in the queue and sent a note to Sisko. Marq awoke to hear a humming noise. As she got out of bed, she was stopped by an invisible force-field. Startled, she began to probe in every direction. The force-field surrounded her. Close. Too close for confort. And the lights were out. She tried to calm herself, remembering her training in the Obsidian Order. She stood motionless for a while then started to scream and jump at the forcefield furiously. Ironically, the Obsidian Order had created the perfect spy, immune to torture, yet had missed a simple phobia. Marq's heart stopped just before dawn.
Q's smile enlarged when he saw the report of deadly balls being transported to their intended targets. Well, almost all were black. After a while, it became apparent that no ball had activated its content. "Hmm, wonder how those races managed to wipe themselves out. The low accuracy of these devices would make them useless in large scale wars. Meh."
General Martok had completely "rearranged" three rooms of his habitat before his temper cooled off. He lay down and started to think. If an enemy leaves you a single way to fight, you still need to fight. He thought for a while and selected his target. Fox will not be doing anything tonight. Q received the message and put it in the queue. After all, some degree of determinism had to be maintained.
Captain Picard was pacing his habitat furiously. Q's return to humiliate him was not something Picard expected. Earl Grey tea did not help calming him down. He had read what Q asked him to do and while being somewhat touched that Q gave him an ability that resembled what he stood for, he couldn't help but wonder to what extent was Q again manipulating things behind the scenes. Taking Q's words at face value was surely a mistake. He pondered who would be the most likely choices and finally settled on two names. Either way, he would glean some information of this whole "First Contact" charade. Strangely, he felt the need to hear his Number One's opinion on this. Before the night was over, a beep warned him that something arrived in his container. He opened and found a message from Q inside. He was allowed to send a message when day came. He was still pondering what to say, if anything.
Commander Sela was torn between two choices tonight: gaining more information on the enemy movements or trying to contact the Senator or the Praetor. She submitted the two actions and hoped Q's spying gadgets would at least match the Tal Shiar's spying arsenal and tell her at least which side his target was on. She received the answer when morning came.
Chancellor Gowron had managed to "rearrange" all the furniture in the habitat before crumbling to the floor. There was no escape from the habitat. Tired, he took a short nap and re-read the book Q left him. He found the paper, wrote a name and almost put the paper in the container, before remembering he had to choose a role too. By morning, the container's alert woke him up. He read the two lines and smiled to himself.
Senator Pardek slowly moved through the rooms of his habitat. He had a target in mind, but he was not anxious to send his action. Finally, he wrote a name and a role and sent both pieces of paper through the container. By morning, the container contained a single piece of paper. One line that did not reveal much.
Day 1
Q had paced around all day waiting for something to happen. He saw them talk, and talk and talk. Somehow they did not meet his expectations: neither tried to broke the rules. He did not expect this, at least some of these savage races would supposed to do that. As the hourglass marked the end of the day, Q sighed and appeared to them: "Fine, fine, a tie it is. No one gets lynched today". "But this will change tomorrow. And if you can't take a little bloody nose, maybe you had better go back home and crawl under your bed."
Night 2
After that long and uneventul day, Q went for a long walk along some new galaxies he had on his list. He had made a rule preventing speeding up the deathmatch, and since the Q are not a savage race that breaks its own rules, he had to stick to it till the end. Q was deeply bored. He had thought this game would reveal much about the intelligence of the races and provide enough entertainment. Nothing spectacular so far and he started pacing around the central habitat. Ironically, his nervous pacing around was very similar to the players'. But the irony was lost on Q.
Gul Damar pondered his next move. His gut feeling told him others might anticipate this, yet it felt like the logical move to him. He wrote his orders and put them in the container. Maurice awoke hearing a humming noise. Scared, he looked around for the source of the noise, expecting a feared deadly black ball the game-book showed in great detail. None could be seen. Thinking it was a nightmare, he tried to get out of bed and get a glass of water from the replicator. The warm force-field sizzle stopped him. "Aw, man ... I knew I should have moved that replicator next to my bed. Is a glass of water too much to ask for?". Frustrated he hit his pillow. A brief blinding flash. A glass of water appeared on the side of his bed. Maurice studied it. Tasted it. And drank it. All seemed in order. Sighing, he went back to bed.
Q's smile enlarged when he saw the report of deadly balls being transported to their intended targets. All were black this time. Again, none activated its deadly content. "Hmm, maybe I should have made them target species instead of individuals. Meh. Species cross-breeding would have made a mess of this. They'll find a way eventually".
General Martok's temper had cooled off completely. He had already selected his target and was sure that Izzy would not do anything else for the night. Q received the message, smiled, but put it in the right place in the queue.
Commander Sela thought of a good target tonight. She submitted her action and received the answer when morning came. Not what she expected, but any piece of information is useful in the long run.
Chancellor Gowron had troubles controlling his temper. All that talking made him scream. There is no honor in talking. Talking is for cowards. He took a piece of paper and wrote a name and a role. Hopefully today's action would bring an immediate advantage. He hated being in the dark and unable to strike his enemies. By morning, the container's alert woke him up. He read the line and again smiled to himself. Slowly, pieces were coming together.
Senator Pardek pondered the events of the day. His target's intentions have remained hidden all through the day. He wrote the name and put it in the container. By morning, the container contained a single piece of paper with the answer he was seeking.
"Hmm, the save rule is beginning to confuse them. Good.", Q thought to himself. "I was beginning to regret putting it there", as Q pressed the buttons that made 3 people invulnerable for that day.
Day 2
Q had paced around all day. A very long day. An unexpected solar flare had caught him by surprise and temporarily disabled all the communications in the Dyson sphere. Q hated that surprise and as he had promised to keep all players (and himself) in a normal time-space continuum, he had to wait for the solar flare effect to disappear like all the rest. While the others managed to preocupy themselves with other activities in each's habitat, Q had literally nothing to do. At some point, he thought if he should move the whole Sphere temporarily to a new solar system just to let the game end naturally. Finally, the solar flare dissipated and communications began again.
Everyone started to point fingers again, but they were still shooting blind. Some feeble analysis were attempted to support accusations and pin a most likely victim for the day. No one tried to stall this time, showing that Q's earlier warning about bloody noses had reached them. After the solar flare passed, votes began to pile up on two candidates which had the almost impossible mission of defending themselves without revealing their faction. As the hourglass marked the end of the day, Q appeared to them: "Fine, I see you've reached some sort of consensus. Well, I'll take Senator Pardek with me", and as he said that, onetruth disappeared in a flash, never to be heard from again.
"Now get to work again. And use the red markers I sent you. It *might* persuade me to end the night sooner."
During Night 3
Q returned to his habitated still irritated. He tried some meditation to clear his mind and find find the cause of his irritation. He opened his eyes and knew that something needed to be done. Now. He snapped his fingeres and an old man in a dusty purple robe appeared in the middle of the room, still eating a drumstick. Puzzled by his new surroundings and annoyed that his banquet was interrupted, Manfred was greeted with: "After you do your parlour tricks, you may leave and continue ... whatever it is you were doing at the moment". Manfred caught himself just before he blurted out "Parlour tricks indeed!", prudently reasoning that anyone who could bring him here without using smoke should be treated with the utmost of caution.
"Ok, who has been inactive?" he asked raising an eyebrow. "Oh, Segul is just not being fun anymore could you turn him into a toad?". Resisting the urge to ask why his host could not do this himself, Manfred put on false smile and said "Sure, stand back!". Smoke filled Q's habitat. "Cough, cough. Damn smoke!" complained Q. "Hey, that's my line!" complained Manfred as the smoke cleared leaving them both on the bridge with a toad. "What are you still doing here?" demanded Q. "Uh, right, just leaving ... " said Manfred bitterly.
Manfred's only consolation was that eventually humans would one day surpass the power of those arrogant beings from the Q Continuum. Speaking of which, "Eh, could I interest you in a trade beneficial to both of us?". "What trade?", Q inquired, his patience fading rapidly as usual. "Well, you know, you're short of one player now. And I have an apprentice. Mind you, he's not very bright or something, but I think he could fit nicely in your game. And I'll get rid of the toad in the process, I like collecting toads.". "Hmm. OK, we'll exchange toads. Whatever." Manfred opened one of his pockets, reached in, searched for a while and then pulled Phaze out. Then he took the toad and disappeared. "Don't just stand there. Go to your quarters and read the book". "Yes, Mas.." Phaze managed to say, with a strange glint in his eyes, before Q transported him to Segul's former habitat.
Night 3
Q was mildly enthusiastic this time. Somethings did interfere with the game, but quick adjustments made the fire burn again. He smiled as actions began to come in. Some of those looked pretty interesting. He asked his replicator for a coffee with extra sugar and began feeding the queue. Ironically, as the game absorbed his interest, his behavior turned Q-less.
Ben Sisko was annoyed. Pacing again the habitat. His fists clenched around an imaginary baseball. He missed DS9. And the whole habitat decored with New Orleans furniture was bringing too much memories. He sat down and wrote down two names. He threw the paper into the container and started pacing again. Been exposed to Q's whims and unknown biological weapons was starting to get to him. Sparrowhawk awoke to hear a humming noise. As he tried to rise up, he was stopped by an invisible force-field surrounding him. He smiled and went to bed knowing he was at least safe tonight. By morning the force-field disappeared.
Gul Damar had been thinking all day at his next move. His inability to obtain information directly made him shoot in the dark mostly. However, in the long run, information might still be gleaned the hard way. He wrote his orders and put them in the container. Vineetrika awoke hearing a humming noise. As she tried to rise, she was stopped by the force field. Satisfied that black balls only appeared in her nightmares, she went back to sleep.
Q's smile enlarged when he saw the report of deadly balls being transported to their intended targets. Again, all were black. All floated around for a while, but only one managed to activate itself. By morning, the ventilation systems managed to clear the air completely.
General Martok's was a little frustrated. He knew he could not affect all the actions, but he still had to try. He had selected a new target and was sure that Hirkala would not do anything else for the night. Q received the message and put it in right place in the queue.
"Hmm, the save rule is still confusing some of them. Good.", Q thought to himself. "Then, we're keeping it", as Q pressed the buttons that made 2 people invulnerable for that day.
Day 3
Q just stood there and listened to them. He tried to make sense of it all. He had to recheck his list from time to time. These creatures amused him. Some of their plans were fairly obvious (for Q at least), others were so complicated Q could make no sense of them. Slowly, the pace of the game captured Q and he began to try to anticipate some reactions. His predictions were off most of the time. But the experiment was far from over.
Finally, as the hourglass closed on the end of the day, Q appeared to them: "Seems like you'd like me to take a Klingon with you. Or so you think. Very well, Chancellor Gowron, it's game over for you.", and as he said that, Hirkala disappeared in a flash, never to be heard from again. "Now amaze me with your skills.", Q gestured and all public communications ceased for the day.
Night 4
Q ate popcorn all night. As soon as actions started to come in, he knew this night was going to be special. A critical mass of information had reached the players and started to put things into motion. He started to feed the queue, analyzing all implications. This was starting to look ... epic.
Ben Sisko was pondering his next move. A grin appeared on this face, as the implications of his strategy were clear in his mind. This time, he smiled while he threw the paper into the container.
Gul Damar had submitted his move and was confident this time. One way or another, some information will definitely come out this night.
Not_24 awoke hearing a humming noise. As he tried to reach his Rubik-themed pillow that had fallen to the floor, he was stopped by a force field. However the force-field seemed to humm strangely. And strange lightning-like flashes occured from time to time. It took him almost half a night to figure out that the flashes were caused by interferences from the two force-fields in place. "Go figure!". He smiled to himself, grinned, then started laughing out loud. He came to an abrupt stop when he realized the pillow was still unreachable on the floor. Cursing, he went back to sleep without a pillow.
Q's grin enlarged when he saw the report of deadly balls being transported. Again, all were black.
He had peaked and knew the results already.
One ball appeared in Maurice's habitat and started to move around till it reached his bed. Maurice awoke because of the clicking sound. As his mind raced, his fingers clutched for an invisible forcefield protecting him. Alas, there was none. His body started to change as the mutagenic weapon rendered forced his DNA to mutate. By morning, after the ventilation system cleared most of the dust, his body's form was barely visible on the bed.
One ball appeared in Phaze's habitat and floated to the replicator where Phaze had just asked for a sandwich. His eyes opened wide and he quickly looked for a second black ball. As he thought and prayed that the RID was incorrect, he heard the click. As his mouth opened to scream, his cells started to lose cohesion and he melted to the floor.
Another ball appeared in Fox's habitat and floated towards her bed. She was deep asleep, struggling with nightmares. Again. She did not hear the click. Soon after, Fox's problems disappeared forever.
Commander Sela was determined to try to find more information tonight. She submitted the two actions and hoped the answers would guide her the next day. She received one answer when morning came.
"Hmm, let's recount the saves... Hmm, the save rule is still confusing some of them. Good.", Q thought to himself and pressed the buttons that made 2 people invulnerable for that day.
Day 4
Q stood there in anticipation. After a very eventful night, the end-game was nearer. Seeing them plan their strategies was insightful for Q. Some of the moves, previously a mystery to him, were now clearer. But the end could not be predicted completely. Much could happen still. Finally, as the hourglass closed on the end of the day, Q appeared to them: "Well, you've let me choose this time and I chose Not_24. Very well, General Martok, I'm afraid it's game over for you.", and as he said that, Not_24 disappeared, never to be heard from again. "Now is when things get really interesting... ", smiled Q before disappearing.
Night 5
Q was unable to stop himself from pacing around all night. So many endings were possible now. Actions started to come in and possibilities were selected. However, as players refined their strategies and changed their actions accordingly, the conclusion was clear.
A single white ball was being transported this night. And this was the first white ball which actually clicked as it came in promiximity of its target. It hovered till it reached Framm's head. As a quick scan revealed the best location for his species, a small hypospray protruded from the white ball over Framm's carotid artery. It inserted a sample of the virus. Framm mumbled something, but did not wake up. Its mission accomplished, the white ball hovered away in the next room and started its slow decomposition process. By morning, all effects would go away. Till then, Framm's parasite infection would provide excellent side-effects.
Gul Damar had submitted his move and was confident this time. Izzy awoke hearing a humming noise. As she tried to get out of bed she encountered a forcefield. "Hey, that is so uncool. ". She threw the pillow at the forcefield but the pillow was forced back into her face. "Hmmm. I suppose this is not exactly the worst that could have happened. Meh."
A single black ball was also transported this night. As it made its way towards the target, it clicked. Q froze the time, ensured the ball was already armed and transported it away to a neutral docking bay, away from its target. He beamed two persons to the bay as well, and un-paused time.
Glyc and Framm looked around startled. Neither expected to wake up in a different environment. As they moved towards each other, fists clenched, they saw the black ball hovering above them. It was emitting a green light that meant it's content was already armed. They had the time to glance back at each other and hold their breaths as the light turned purple. Framm watched as Glyc's cells started to mutate and Glyc fell to his knees. As he stood there, heart pounding, expecting the worst, Framm saw Glyc's eyes widen in realisation of what was happening. The black ball fell to the floor, its deadly content released and its mission accomplished. Framm also fell to his knees. As the ventilation systems cleared the bay, his thoughts cleared. He felt renewed and invincibile now.
"Hmm, let's recount the saves... ", Q thought to himself and pressed the buttons that made 1 lucky person invulnerable for that day.
Day 5
At the beginning of the day, Q draw the plans. There were 4 possible outcomes for this day and each lead to a different path. Many factions could still win this depending on the path they chose. Q looked briefly at the branches he had written on the paper, then threw them away. "I hate probabilities. They're boring and actually don't predict anything." He chose to watch the day, invisible, from within the central habitat that the players were using.
Voting started early as some had decided to publicly coordinate and prepare for an end-game. Sela finally chose to make her vote count, sensing that the end of the game was near. Two hours before the deadline, no one had changed positions, and it seems that the lack of information and previous mis-directions had pushed the game towards a path, which had the smallest chances beforehand. As the hourglass closed on the end of the day, Q appeared to them: "Well, you've made a choice, and I will respect it. Very well, Commander Sela, I'm afraid it's game over for you.", and as he said that, Vineetrika disappeared, never to be heard from again.
Finale
"Now, this has become pretty straight forward ... ", smiled Q. "So, I won't bother letting it occur in real-time ... in fact I'm surprised you manage to do anything at this speed." "Tonight, Gul SHukat will RID save self and Gul Frammar will trap self, leaving Dizzy Riker with no target. And the next day, well, that is a clear win for those two silent sneaky Cardassians ... Bla, bla, you know the drill."
Izzy started to say something, but as Q gestured quickly, she was silenced. Q turned to Framm and SparrowHawk: "Congratulations my Cardassian gladiators ... You've actually made this experiment very interesting. I'm sure some of the tactics I've seen can be used in say, larger-scale wars?" winked Q as the two Gul's looked each other and smiled.
"As for you, my poor Federation friend, I'm afraid instead of going home ..." Q clapped once and they were all transported to a Cardassian Galor-class starship. "... you're just here to complete the puzzle. As a piece I'm afraid."
As Izzy recovered from the instant teleportation, she saw a big wall of the bridge of the starship had been transformed into a bas-relief depicting an ancient Roman arena. Nine figures were featured, most of them in contorted positions or screaming in horror:

Marquessa - the delightful Cardassian spy, trapped mercilessly ... before even having a chance to play;
Onetruth - the Romulan Senator who had reached the end of her mandate ... prematurely;
Hirkala - the Klingon Chancellor who had been lynched by his own companions ... for survival purposes;
Phaze - the New Orleans-born Captain whose mind-tactics had succeeded in exposing the enemies ... at the expense of his own skin;
Maurice - the Captain whose bets with fate failed him once he was no longer on Enterprise ... and whose enemies were more anxious to contact him than his allies were;
Fox - the Romulan Praetor who had troubles getting RID of her opponents ... for the first time in her long life in politics;
Not24 - the Klingon General who had believed in honor ... and was backstabbed for his naive beliefs;
Glycereine - the Klingon who had rushed to battle disregarding the hidden traps ... and found an honorable death in battle;
Vineetrika - the Romulan Spy who had almost succeeeded in fooling everyone ... yet ultimately put her trust in the wrong person;

As she looked at the details of the faces, the strange realization that the figures were at some point alive came to her. And just as her face reflected that horrible realization, Q motioned and she was turned to stone. A tenth figure was now looking in shock from the wall:

Izzy - the Federation trigger-happy Lieutenant who had almost gotten away with everything ... until she met her match;

"Yes, this is my parting gift to you. I had to, hmm, rearrange some quarters and modify some cargo bays for this, ... but I won't bother you for the details." nodded Q to the two Cardassians who were in awe of the whole scene. "And for you, mon Capitan... , aww, ... Gul. Mon Gul. Nice ring to it, I'll get used to it. I have another parting gift." Q handed SH a trophy, "An award, taken from early Federation history, but I believe you would understand its purpose. It is given to the one which has decisively contributed to winning the game. Now go conquer more ... ah, whatever it is you dreamed before I whisked you away.", Q clapped and disappeared again.
"One more thing, ..." Q interrupted the two happy Cardassian who had opened a case of ale. "Don't hold your breath, I might be back and need you for ... things", and Q disappeared again.
"My dear friend, let us toast for the reunification of the Cardassian Union. And for wiping the smile off that dreadful Sisko's face".
Q returned to the Q-continuum whistling a happy tune. His experiment was a success. At least for a first experiment, and the universe was so large, it had plenty of samples for experimentation. He already had a list of things to do and was busy sorting them out in his head. "Maybe the Delta Quadrant. There are funny races there. Need to spice it up a little this time. Hmm. So many ideas ..." Q was no longer bored. For a while.
End of Game Roster
Host: araver
Vineetrika - Commander Sela - Vanished by Q in D5
Fox - Praetor Neral - RID Killed in N4 by

Riker

Glycereine - Worf - Dead in N5 after a failed RID Kill attempt on

Gul Dukat

Phaze (Segul) - Captain Ben Sisko - RID Killed in N4 by

Gul Dukat

sparrowhawk - Gul Dukat
Hirkala - Chancellor Gowron - Vanished by Q in D3
Maurice - Captain Picard - RID Killed in N4 by

Neral

Marquessa - Elim Garak - Suffered a heart attack in N1 while trapped
Izzy - Lt. Thomas Riker - Vanished by Q in final post
onetruth - Senator Pardek - Vanished by Q in D2
Framm - Gul Damar
Not 24 - General Martok - Vanished by Q in D4
Actions
List of actions
Actions N1
1. Vineetrika - Commander Sela - Spy Not_24 - Not_24 is Klingon
2. Fox - Praetor Neral - RID Save Izzy as Com. Sela - failed (RID incorrect)
3. Glycereine - Worf - RID Kill Izzy as Gul Dukat - failed - target was trapped
4. Segul - Captain Ben Sisko - Trap Marquessa - Marq died
5. sparrowhawk - Gul Dukat - RID Kill Izzy as Capt Ben Sisko - failed target was trapped
6. Hirkala - Chancellor Gowron - Spy Glycereine - Glyc is Klingon and visited Izzy
7. Maurice - Captain Picard - contact Hirkala or maurice - first contact with Klingons succeeded - Hirkala notified
8. Marquessa - Elim Garak - Spy Hirkala - failed /dead
9. Izzy - Lt. Thomas Riker - RID Kill SH as Neral - failed (Izzy was trapped)
10. onetruth - Senator Pardek - Follow Izzy - Izzy was trapped before targeting anyone
11. Framm - Gul Damar - Trap Izzy - worked
12. Not 24 - General Martok - Block Fox
Lynch save votes N1
1. Vineetrika - Commander Sela - Save Praetor Neral
2. Fox - Praetor Neral - Save Praetor Neral
3. Glycereine - Worf - Save Worf
4. Segul - Captain Ben Sisko - Did not submit
5. sparrowhawk - Gul Dukat - Save Gul Dukat
6. Hirkala - Chancellor Gowron - Save Worf
7. Maurice - Captain Picard - Save Riker
8. Marquessa - Elim Garak - Save Gul Dukat
9. Izzy - Lt. Thomas Riker Save Riker
10. onetruth - Senator Pardek - Save Commander Sela
11. Framm - Gul Damar - Save Gul Dukat
12. Not 24 - General Martok - Save Worf
Riker, Worf, Neral and Gul Dukat cannot be lynched D1 Actions N2
1. Vineetrika - Commander Sela - Spy Hirk - Hirk is Klingon
2. Fox - Praetor Neral - RID Kill Framm as Riker - failed (RID incorrect)
3. Glycereine - Worf - RID Kill maurice as Gul Dukat - failed
4. Segul - Captain Ben Sisko - submitted a "trap Phaze" action??
5. sparrowhawk - Gul Dukat - Kill Hirkala as Sisko - failed
6. Hirkala - Chancellor Gowron - Spy Framm - Framm is Cardassian and visited maurice
7. Maurice - Captain Picard - contact Framm or maurice - failed (Trapped)
8. Marquessa - Elim Garak - Spy Hirkala - failed /dead
9. Izzy - Lt. Thomas Riker - RID Kill maurice as Praetor Neral - failed
10. onetruth - Senator Pardek - Follow SH - SH visited Hirkala
11. Framm - Gul Damar - Trap maurice - worked
12. Not 24 - General Martok - Block Izzy - worked
Lynch save votes N2
1. Vineetrika - Commander Sela - Save Sela
2. Fox - Praetor Neral - Save Sela
3. Glycereine - Worf - Save Martok
4. Segul - Captain Ben Sisko - Save Riker
5. sparrowhawk - Gul Dukat - Save Gul Damar
6. Hirkala - Chancellor Gowron - Save Gowron
7. Maurice - Captain Picard - Save Picard
8. Marquessa - Elim Garak - dead
9. Izzy - Lt. Thomas Riker - Save Sisko
10. onetruth - Senator Pardek - did not submit
11. Framm - Gul Damar - Save Gul Damar
12. Not 24 - General Martok - Save Gowron
Sela, Gul Damar and Gowron cannot be lynched D1
(Vine, Framm, Hirkala)
Actions N3
1. Vineetrika - Commander Sela - chose to not act, trapped
2. Fox - Praetor Neral - RID Kill Vine as Picard - failed (RID incorrect & target trapped)
3. Glycereine - Worf - RID Kill SH as Gul Dukat - failed (RID correct & target trapped)
4. Phaze - Captain Ben Sisko - Trap SH - SH is Cardassian
5. sparrowhawk - Gul Dukat - Kill Phaze as Sisko - failed (you were trapped)
6. Hirkala - Chancellor Gowron - Spy SH - blocked before acting
7. Maurice - Captain Picard - contact SH or maurice - random.org selected maurice - no first contact allowed (same faction)
8. Marquessa - Elim Garak - dead
9. Izzy - Lt. Thomas Riker - RID Kill SH as Sela - failed (RID incorrect & target trapped)
10. onetruth - Senator Pardek - dead
11. Framm - Gul Damar - Trap Vine - worked
12. Not 24 - General Martok - Block Hirkala- worked
Lynch save votes N3
1. Vineetrika - Commander Sela - chose to not act, action ignored due to being trapped anyway
2. Fox - Praetor Neral - Save Neral
3. Glycereine - Worf - Save Worf
4. Phaze - Captain Ben Sisko - Save Picard
5. sparrowhawk - Gul Dukat - Save Gul Dukat - trapped, action ignored
6. Hirkala - Chancellor Gowron - Save Martok - blocked, action ignored
7. Maurice - Captain Picard - Save Riker
8. Marquessa - Elim Garak - dead
9. Izzy - Lt. Thomas Riker - Save Riker
10. onetruth - Senator Pardek - dead
11. Framm - Gul Damar - Save Gul Dukat
12. Not 24 - General Martok - Save Worf
Riker, Worf cannot be lynched D3
(Izzy, Glyc)
Actions N4
1. Vineetrika - Commander Sela - Spy SH - SH is Cardassian
2. Fox - Praetor Neral - RID Kill Maurice as Picard - worked - Died afterwards
3. Glycereine - Worf - RID 24 as Sisko - failed (RID incorrect & target trapped)
4. Phaze - Captain Ben Sisko - Trap 24 - 24 is Klingon- Died afterwards
5. sparrowhawk - Gul Dukat - Kill Phaze as Sisko - worked
6. Hirkala - Chancellor Gowron - dead
7. Maurice - Captain Picard - contact maurice or Framm - dead
8. Marquessa - Elim Garak - dead
9. Izzy - Lt. Thomas Riker - RID Kill Fox as Neral - worked
10. onetruth - Senator Pardek - dead
11. Framm - Gul Damar - Trap 24 - double-worked
12. Not 24 - General Martok - Block 24 - did not work (or it kinda indirectly did work since he was double-trapped)
Lynch save votes N4
1. Vineetrika - Commander Sela - Save Neral
2. Fox - Praetor Neral - Save Sela
3. Glycereine - Worf - Save Martok
4. Phaze - Captain Ben Sisko - Save Sisko
5. sparrowhawk - Gul Dukat - Save Gul Damar
6. Hirkala - Chancellor Gowron - dead
7. Maurice - Captain Picard - dead before submitting save Picard
8. Marquessa - Elim Garak - dead
9. Izzy - Lt. Thomas Riker - Save Sisko
10. onetruth - Senator Pardek - dead
11. Framm - Gul Damar - Save Gul Damar
12. Not 24 - General Martok - trapped before action was executed
Sisko and Gul Damar cannot be lynched D4. However Sisko/Phaze is dead which leaves only Framm.
Actions N5
1. Vineetrika - Commander Sela - Chose not to act
2. Fox - Praetor Neral - Dead
3. Glycereine - Worf - RID Kill SH as Gul Dukat - killed by Damar, SH's bodyguard, who was saved from dying
4. Phaze - Captain Ben Sisko - Dead
5. sparrowhawk - Gul Dukat - RID Save Framm as Gul Damar - worked
6. Hirkala - Chancellor Gowron - Dead
7. Maurice - Captain Picard - Dead
8. Marquessa - Elim Garak - Dead
9. Izzy - Lt. Thomas Riker - RID Kill Glyc as Gul Damar - trapped before acting
10. onetruth - Senator Pardek - Dead
11. Framm - Gul Damar - Trap Izzy - worked
12. Not 24 - General Martok - Dead
Lynch save votes N5
1. Vineetrika - Commander Sela - Save Sela
2. Fox - Praetor Neral - Dead
3. Glycereine - Worf - Did not submit (as all other Klingons were lynched)
4. Phaze - Captain Ben Sisko - Dead
5. sparrowhawk - Gul Dukat - Save Gul Dukat
6. Hirkala - Chancellor Gowron - Dead
7. Maurice - Captain Picard - Dead
8. Marquessa - Elim Garak - Dead
9. Izzy - Lt. Thomas Riker - Save Riker - trapped before acting
10. onetruth - Senator Pardek - dead
11. Framm - Gul Damar - Save Gul Damar
12. Not 24 - General Martok - Dead