The Walking Dead

Fight The Dead, Fear The Living
Game information
Host
Dee & GMaster479
Link
The Walking Dead BTSC threads
Size
13 Players (Medium)
Start Date
5.12.2014
Winning Faction

Goodies

and

Indy

Roster
#, player

First to Die
WakeUpDonnie
Last Remaining
Izzy, Aura, Slick, Barc, Yuli, Magic
MVP
Izzy
Awards
-
The Walking Dead was a game designed and hosted by Bluesky & GMaster479 based on The Walking Dead TV series.
It began on May 12, 2014 and ended in a Goodie and Indy win in D4 (May 20).
Game Mechanics
Edit
OOP is RID Kill > Block > Redirect > Kill > Spy
Tie Rules: Day 1: Tie = No Lynch ; Day 2 onwards: Tie = Random lynch between tied players
Shown in NP:
Successful Save
Successful Kill
Successful Redirect
Successful Block
Note:
Players will be told how many votes is the majority every day phase. (e.g. : With 10 players alive, 7 votes is needed to gain majority).
Players will be told if there action succeeded or not.
Role Description
Edit
Baddies
NK: Has BTSC, no carrier and cannot be block/redirect; gain majority
The Governor

: Godfather. Appear good if spied; And cannot be lynched unless majority of votes has been reached.

Merle Dixon

: Role Spy

Caesar Martinez

: Block
---
Goodies: Eliminate all baddies
Glenn Rhee

: Faction Spy

Daryl Dixon

: Redirect

Rick Grimes

: RID KILL

Maggie Greene

: Messenger

Hershel Greene

: Save/Doctor

Michonne

: Block

Andrea

: Choose one person each night. If you die, the chosen's person faction will be revealed

T-Dog

: Lynch Save. Can only use 2x the entire game

Carl Grimes

: Vote Redirect.
---
Indy: Secret
Shane Walsh
Secret Indy
RID Kill every night: Outlive Andrea, Merle and Rick (Must RID Kill either Rick or Merle. If not achieve survive until game ends.
Host's Summary
Edit
Game Idea and Expectations
Edit
End of Game Notes:
I know I screwed up a lot, it may or may not have an impact on the game, and if ever, I just hope it didn't have big effect.
1. Making sure all the person who has BTSC have access. There was a problem in Marth's BTSC. And he got the access with at least 14 hours left. I told him I'll extend the time to compensate for him but I wasn't able to do so and forgot to tell him. The reason, I can't extend it due to time/timezone problem. I can only limit the end of phase time between 11pm-12am EST.
2. Apologies for the the 2 late Night results. I wasn't able to wake up earlier than I'm supposed to. Stupid alarm.


3. The block thing on Izzy during night 1 isn't supposed to happen. I didn't know RID Kill can't be blocked. From that moment I started to get confused about RID Kills, so I always consult GM, the reason why I can't answer some of the questions by Aura.
4. Excuse me for the wrong spelling, grammars, phrases or if there are combine words that is difficult to understand in Night/Day results. English is my second language.
Other Notes:
1. Izzy had a good start, both the baddies and Indy benefited Donnie being killed. At first I thought Izzy was just lucky, but she got a good deductions how Marth can be a baddie. (Oh, regarding the replacement thing, I replaced the two previous players because they are really inactive, no post, no reply and/or has been not online in MM for days.).
2. When Hachi wants to risk and target himself as the NK, I was like WHAT?! You did great though.
3. Boquise saving the Governor


4. Boquise deducing the Indy WinCon. More or less he was right.


5. I kinda wish Izzy didn't reveal Hachi for more crazier stuff.


6. Aura had the most questions, be it in PM or thread.


7. Barc's post is hilarious brilliant, that kind of imagination and analysis
I'm awarding the MVP to Izzy because she did well in this game and achieved her wincon very smooth.

Congrats Izzy and goodies!!
Overall it was tiring but fun hosting this game. It was my first time here in MM being the host, I enjoyed it and had a lot of

s too behind the scenes when you guys arguing about the wrong things. Thank you GM for helping me
. And thank you guys for playing
. Hope you had fun!
By the way any thoughts, comments, or complaints?]]
By Dee
Special commendations
Edit
Host disappointments
Edit
Alternate endings
Edit
Winning Faction
Edit
Indy
Goodies
EDM

Aura

Magic

Jay

Barc

Yuli

Boquise

Donnie

Slick
Day and Night Posts
Edit
Prologue
This is a game of survival and horror set in a post apocalyptic. This isn't a normal zombie game, rather it will be the tale of humans struggling to survive from their new situation and each other. No one is safe.

It had been well over a year since the "Walkers"

had taken over the Earth. Sheriff Rick Grimes, and his ragtag group of survivors had been doing pretty well, given the circumstances. They had set up camp at an old abandon prison, though it needed a little... cleaning. They had the food, guns, supplies, and shelter they needed to survive.

Unfortunately, they weren't the only ones who thought so. A man known as "The Governor" File:Thedon.gif saw their setup as nothing more than a huge cache of weapons, and food, and was willing to go to extremes to get it.
Night 1
"Has anybody seen WakeupDonnie?"
BANG
BANG BANG
A scream in the distance had everybody running out to the woods. His lifeless body on the ground, WakeUpDonnie was dead.
The group ventured out into the woods, half to release steam, and half to find out if the walker this close to their camp was a roamer, or one the Governor set loose on them.
A few miles out they heard something in the trees, a loud sound. Upon closer inspection, Zaphod was limp on the ground, unconscious, knocked down by Caesar. They are already worried about the Walkers and now they still had the Governor's crew to deal with.

The group headed back to camp, and mourned the loss of WakeUpDonnie.
Day 1
The day was hectic. The bright, hot sun beat down on the prison yard, which have lots of walkers outside the fence. Preparations were made here and there, as everyone knew that, soon, the Governor and his team would come in. It was only a matter of time. Rick and his group took turns keeping watch though, in case anything happened.
There were lots of gunshots and gun, but at the end of the day… Nothing happened. Carl was there to help and make decisions.
Night 2
Food was starting to get scarce, and everyone knew they would need to restock soon. Jay, Marth and Yuli set out for a trip to the city. The trip wasn't so bad, and the city looked pretty clean. There are few walkers in the distance, so they made their way in safely. They spotted a nearby store, and after a quick check, they decided it was safe to go in. A few Walkers here and there, were taken out quietly. Once they got the supplies they needed, they get out of the store.
While walking through their car, a bunch of Walkers were headed down the street. Something must have drawn their attention because there are too many. It wasn't even worth shooting, so they run as fast as they could. But there are too many Walkers in every direction and they were trapped. Marth, Yuli and Jay fired guns trying to cut a path for the three of them to run through, and they managed, to an extent. They get most of the way going through before they heard Jay scream. Marth turn around his head, saw a few walkers, leaning over Jay, eating at his chest.
"Come on!" Marth yelled, as he turned to look towards Yuli.
Yuli and Marth knows there's nothing they could do but to leave Jay and the scene.
BANG
Marth was shot and killed instantly. Yuli looked around and saw Shane from afar with a sniper rifle.
Yuli, while driving a car was blocked by Caesar.

Little did they know, the walkers are set up by the Governors group.

Notes:
The players being together is for story purposes only.
I forgot to add this in previous day phase but for this phase: With 10 players alive, 7 votes is needed to gain majority for the Governor. (Regardless, if the Governor is killed at night, I will always add this note every day phase).

Summary of Action:
Ceasar blocked Yuli
Baddies killed Jay
Shane RID Kills Marth
Day 2
It was a long day. Glen and Maggie were patrolling the prison yard as always. In the distance they noticed the Governor's vehicle and immediately called Rick. Daryl, Hershel, Michonne, Andrea and Carl is there too. The Governor's group and Rick's group stared at each other. After some time, Merle assisted by Caesar, opened their truck and release Magic_luver101. He was tied up and they all walk closer towards the prison yard.
A moment of silence passed before Rick's group began to draw their weapons as if they are getting ready whenever there will be an attack soon. The Governor started to point the gun at Magic_luver101's head. Rick's group gasped. But before the Governor could fire, T-Dog attacked him from behind. They had hand to hand combat, T-Dog manages to win. Him and Magic_luver101 runs inside the prison. Luckily no one died in the end.
Night 3
And they thought they are finally safe in the prison the day they found it.

The people in the prison are starting to get worried. It's nearly dark but Hachi hasn't returned yet.

The Governor's group is not pleased to what happened the last time they encountered Rick's team. They want a revenge, so they decided to head over again to prison.
"Give me your supplies and let us have the prison and we will spare your lives", demanded the Governor.
"I'm sorry but we can't".
"Then you leave me no choice".
"Dang, how is it that those guys are always ahead of us", someone whisper. As they saw Hachi at the back of the Governor's group. The Governor have a little patience so he suddenly bring out his little knife and cuts a little skin of Hachi. Blood is starting to spill over Hachi's body. Suddenly a herd of Walkers started to come near the prison little by little.
"One last warning".

Before Hachi will be harmed again, a shot rang out. Lots and lots of gun fires had been exchange.

The Governor's was taken aback and decided to retreat. And let the the people inside the prison deal with the Walkers.






After the survivors killed all the Walkers, they all can't help but feel sorrowed and some of them cries.

Hachi is laying down in the ground, they thought he was already dead. But Hershel take a quick look and said, there's still time to heal Hachi. I can save him.
In the woods, Yuli is haunted by Caesar. He tried to hide the best as he can but Caesar is there and managed to knock him.
Day 3: The Fall of The Governor
"I've got more people, more fire power. We need this prison," says Hachi, threatening to kill all the people inside the prison if they aren't out by sundown. No agreement happened between them. All-out war ensues. Guns crack, knives cut and the zombie hordes descend on the two groups, magnetized by the sound of the unfolding battle.
Rick and The Governor exchange punches. After quite some time, The Governor almost won, but Michonne out of nowhere appears, sneaks behind him, plunging her katana through his chest.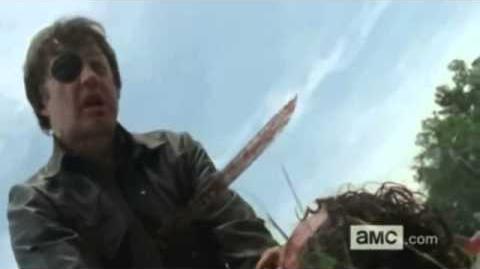 Night 4
It has been a day since The Governor died. A lot has happened in the prison yard. The fence are starting to get wobbly and to give in soon.The Walkers are hungry and piling up outside the prison gates. While prison people are trying to figure out what to do in order to make their place more secure, they heard someone yelling, "Look", pointing at the gate. They all rushed to the gate but when they got there, the gates had been broken.The prison yard is not secure anymore.
Daryl, looking out in every directions. He grabs his crossbow and started looking for someone. As soon as he saw Gentleman Boquise, Daryl raises his crossbow, insisting to change his target to someone else.
Rick's group runs fast inside the prison. They decided to stay in a room that looks safer, looked at each other and sense someone is missing, not only one but a lot of people is missing. "Where is Gentleman Boquise?". No one was able to answer.
Outside, EDM is hiding in a fenced enclosure at the prison. Walkers can sense her but no one will be able to reach her. Little did she know, Shane is watching her from afar and starts aiming. Booff. EDM was shot but before she died, she left a note saying Slick is actually one of the Governor's group.
Slick's name is crossout, but underneath, it's Mew's name written on it.
Shane left and started his journey going to the Terminus.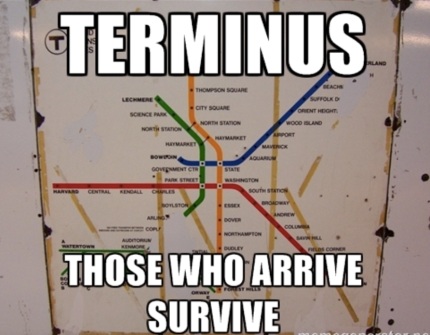 Elsewhere, Gentleman Boquise, Mew and Yuli is out on the woods. As the Governor's group, on their way going back to Woodbury, they heard a sound in the bushes and they are alerted. They saw shadows and movements where it;s coming from, they fired a shot. Gentleman Boquise is dead. Caesar blocked Yuli, Michonne blocked Mew. And everything is blurry.
Day 4: It's Over
Hours have passed, and the Governor's group are still in the woods. Mew was all alone now, he cannot see where are the others. He saw a few walkers in the distance, and was able to kill them without a sound. He walks silently so he could return to Woodbury safely. On his way to the right, he didn't notice there is a stone in front on him causing him to fell. He got hurt and scream, blood are starting to come out in his arms. A moment later, Walkers are starting to go on his way. He quickly runs, but unfortunately he stumble into the pit full of Walkers. There is no escape, Walkers started eating him.
Mew is lynched as Caesar Martinez.
End of Game Roster
Edit
EDM - Andrea

- Killed by

Shane

N4

Aura - Daryl

Magic - T-Dog

Hachi - The Governor

- Lycnhed D3

Jay - Maggie

- Killed by the

Baddies

N2

Barc - Glen

Izzy - Shane

Yuli - Michonne

Boquise - Hershel

- Killed by the

Baddies

N4

Donnie - Rick

- Killed by the

Baddies

N1

Mew - Caesar

- Lynched D4

Slick - Carl

Marth - Merle

- Killed by

Shane

N2
List of actions
Night 1 Baddies
NK WakeUpDonnie - Success
Marth - Merle - Spy WakeUpDonnie - Success
Mew - Caesar - Block Izzy - Success
Goodies
EDM - Andrea - Faction reveal Izzy
Yonk5 - Daryl - No Action (inactive)
Magic - T-Dog - No action
Jay - Maggie - Send message to Izzy - Success
DragonFreak - Faction Spy - No Action (inactive)
Boquise - Hershel - Save self
Donnie - Rick - RID Kill Jay as Governor - Failed
Indy
Izzy - Shane - RID Kill Jay as Rick - Failed
Day 1 Goodie
Slick - Carl - Vote redirect Magic to Yuli - Success
---
Night 2 Baddies
NK Jay - Success
Marth - Merle - Spy Jay - Success
Mew - Caesar - Block Yuli - Success
Goodies
EDM - Andrea - Faction reveal Yuli
Aura - Daryl - Yuli to Jay - Failed
Jay - Maggie - Send message to Yuli - Success
Barc - Faction Spy Hachi - Success
Boquise - Hershel - Save Slick
Indy
Izzy - Shane - RID Kill Marth as Merle - Success
Day 2 Goodie
Slick - Carl - Vote redirect EDM to Magic - Success
Magic - T-Dog - Lynch save self - Success
---
Night 3 Baddies
NK Hachi - Failed
Mew - Caesar - Block Yuli - Success
Goodies
EDM - Andrea - No Action
Aura - Daryl - EDM to Boq - Failed
Barc - Faction Spy Boq - Success
Boquise - Hershel - Save Hachi - Success
Indy
Izzy - Shane - RID Kill Hachi as Rick - Failed
Day 3 Goodie
Slick - Carl - Vote redirect Hachi to Hachi - Success
Magic - T-Dog - No Action
---
Night 4 Baddies
NK Boquise - Success
Mew - Caesar - Block Yuli - Success
Goodies
EDM - Andrea - Faction reveal Mew - Success
Aura - Daryl - Boq to Izzy - Success
Barc - Faction Spy Mew - Success
Boquise - Hershel - Save Izzy
Indy
Izzy - Shane - RID Kill EDM as Andrea - Success
Day 4 Goodie
Slick - Carl - Vote redirect Yuli to Mew - Success
Magic - T-Dog - No Action
Ad blocker interference detected!
Wikia is a free-to-use site that makes money from advertising. We have a modified experience for viewers using ad blockers

Wikia is not accessible if you've made further modifications. Remove the custom ad blocker rule(s) and the page will load as expected.