Ultimate Marvel Mayhem was a game designed and hosted by IDoNotExist & Brandonb based on Marvel Comics heroes and villians.

It began on May 13, 2009 and ended in a Heroes (Goodies) win in D4 (May 21st, 2009).
Game Mechanics
Edit
The Day/Night: BOTH last about 24 hours. During the day, everyone votes for someone to be lynched.
The Night: It will be 20 hours for receiving PMs, and we must have all PMs in by that time. The post will be written and go up w/ in the next 4hrs.
Addressing the Hosts: For any questions or comments or anything else that is addressed towards the hosts, please color the text in red so that it will be easier for us to identify. Thank you
In the event of a Tie Lynch Vote: Both players will be killed
Q&A
Q1) So the Venom can, essentially, kill someone every other night? Also can the Spideys stop Venom's kill?

A1) Yes, he could kill someone every other night. And yes, the Spideys could stop it.

Q2) Can Dr Doom stop the lynch of a fellow Super Villain? If so, can he stop the lynch of himself?

A2) Yes, he can stop the lynch for anyone that he can RID

Q3) Do the Secret Alliance also win with their respective Vallians/Heroes? What happens if it's just Heroes and the Hero member of the Secret Alliance left in the game? The game presumably goes on yeah, and the remaining SA member plays on to be the last one standing?

A3) The Secret Alliance is essentially a separate faction and MUST be the last faction standing in order to win. If it comes down to the Heroes vs. the Secret Alliance, the game goes on till one or the other is remaining.

Q4) Do the Villains know the ID of Apocalypse?

A4) Yes, the Villains know the ID of Apoc. To summon him, the Villain BTSC just PMs the host that they want Apoc to join them, and he will be added to their BTSC at the end of that current day/night cycle. (If he is added at the same time that another Villain happens to die, the living Villains will get to choose which of the deceased Villains's abilities that Apoc will assume).

Q5) What if Venom's target is saved? Do they get to make posts again?

A5) Venom's target will not be able to make any more posts in the thread for the rest of the night, period. This helps to prevent conflicts in the event that someone was to change their minds. But just for clarification, Venom's action does not go into the night post. So only he will know who he chose, and only he will be notified if his target was saved from his attack.

Q6) Will it be made clear who has stopped the lynch? I.e if either Dr. Doom or the Silver Surfer (having stolen Dr.Doom's ability) successfully stop the lynch, is it made clear in the Day Post who stopped it?

A6) Either way it will be Dr. Doom himself, or the SS appearing as Dr. Doom (you won't be able to tell the difference).

Q7) Would it be part of the Night Post if the 'Spideys' meet up one Night? What if they both select each other, or the same person, but no save is performed, is it still part of the Night Post?

A7) Yes, no matter what circumstances they will meet, it will be up in the post.

Q8) If we receive a message from Venom can you please remind us that will die if we speak? that sounds to me like something that would easily be forgotten, at least until right after I click on Add Reply and die

A8) Absolutely! It will be made quite clear that the chosen player is unable to post along with the PM message they receive from Venom.

Q9) what happens if the Surfer tries to ID Apoc?

A9) If Apoc has not been summoned and taken on an ability, then nothing happens (except he gets Apoc's ID)

Q10) If saved from Venom's first attack, basically that attack is stricken from the records and he has to do it twice again?

A10) Yes, they will basically be stricken from the records. But keep in mind, Venom's target will not go into the night post unless it's a successful kill.

Q11) what exactly are the restrictions on Iron Man's suits? Can he wear the same suit twice indefinitely? It looks like he must change to keep them different, but then there's the & beyond suit which seems to be the previous 4 suits.

A11) On night one through four he must wear the specified suits. On night 5 and beyond he can wear any suit he wants... but not the same two nights in a row

Q12) Is it public who the Hulk kidnaps? Or does just the target get pmed?

A12)Yeah, The Hulk's target will appear in the day post with the lynch.

Q13) Can you please clarify that Dr. Doom can stop the lynch of himself specifically?

A13) Dr. Doom can stop the lynch for himself, or anyone else that he can RID.

Q14) Does the Surfer's spy ability override Apoc's ability to look like Spidey when ID'd?

A14) Yeah, The Surfer will not be fooled.
Clarifications on what night actions will and will not be shown in the night post
WILL be mentioned:
Kingpin's Post
Kingpin's block
Venom's Second Successful Bond Attempt (ie. if he kills)
Villain BTSC Kill Attempt
Silver Surfer successful save
Secret Alliance successful save
Spidey successful save (or saving from either of Venom's bonding attempts)
Iron Man Successful Save
Iron Man Block
Iron Man Kill Attempt
Thor Block
Human Torch Kill
Human Torch Saving Invisible Woman
Invisible Woman Kill
Invisible Woman Successful Bodyguard
will NOT be mentioned:
Venom's First Bond Attempt if successful or not
Apoc's
Silver Surfer's use of ability #1
Spidey Uneventful save
Iron Man Spy
Iron man Uneventful save
Dare Devil Spy
Anything about The Punisher's choices (whether successful or not, they will not be mentioned)
Invisible Woman Uneventful Bodyguard
The same applies for is the Silver Surfer uses any of the above mentioned actions.
Role Description
Edit
Some of the most powerful beings ever have joined together to prove themselves stronger than all the Heroes combined, and share world domination (yes, they have serious overcompensation issues). But when you're dealing with a group this greedy... there's bound to be betrayal. One random member among them has secretly joined with a Hero, in a quest to rule supreme over all others.
As a group they get to make one kill each night (they must choose which member of their BTSC will carry out the attack). They have BTSC and win as the last faction standing. The BTSC Villains know the ID of Apocalypse.
Dr Doom (Victor Von Doom):(Starts with BTSC) The second most intelligent character in the entire Marvel Universe, and among the most powerful. Any day but not two in a row, he may use his incredible power to stop the lynch of a player IF his incredible intellect is able to RID his target.

The ability is considered to be used only if it is successful. *The saved player will not have their ID revealed publicly for that lynch. *Must have the RID PMed to the host before the end of the day. *He may submit multiple RIDs (1 for each player) pending the lynch results. *This ability cannot be blocked.
Venom (The Alien Symbiote):(Starts with BTSC) A diabolical, bloodthirsty killer. Each night may choose a player to bond with. But bonding to these strong willed Super Heroes is more difficult than with normal humans. So it takes two consecutive successful attempts before he can fully bond. During the first attempt, Venom leaves a lasting impression on his victim. Venom PMs a message and the target's name to both of the hosts. A host passes on the message to the target ASAP. Once the target receives the message, they may not make any more posts for the rest of the night, or they will exhaust themselves and DIE.. If Venom successfully bonds with the same player again the following night, he will kill that player. (A save may prevent the initial attack or the second attack). **If Venom is blocked at night, his message will still go through, but the bonding action will not be successful.
Kingpin (Wilson Fisk):(Starts with BTSC) Sure, he may not have the sheer power that his counterparts possess, but he has influence. As the underground king of the city, each night the Kingpin may use his influence over the crime syndicates to spread word on the streets, about whatever he likes. This announcement will be posted in the night post. He may also use his position of high authority among the local gangs, to cause a particular disturbance each night that will distract the player of his choosing from completing their primary objective (has no effect on Johnny's auto-save of Susan). But of course, being the high-roller that he is… The Kingpin's ID will be revealed when he is killed.
Apocalypse (En Sabah Nur): A shape-shifter with complete control over the atomic structure of his body. He knows the identities of all the Super Villains and wins with them, but blends in with the Super Heroes. Apocalypse is so egomaniacal, that he will view the death of any other Super Villain as a sacrifice made to summon him. Once summoned, he takes on the ability of any one Super Villain that died before him. **If spied (at any time) he shape-shifts and appears to be 'Spidey'.

Apoc Summoning Details:

The Villain BTSC may choose to summon Apoc any time, and Apoc is not summoned into the BTSC group until the BTSC Villains have chosen to do so.

Apoc will not have BTSC until the Super Villains choose to summon him.

If no Super Villain deaths have occurred at the time of his summoning, then Apoc does not and will not gain any additional ability, ever.

Apoc will join the BTSC at the end if whatever cycle he is summoned

Independents
The Silver Surfer (Norrin Radd): (Objective is to be the last one standing)

The Surfer can analyze and manipulate matter and energy, and molecularly restructure or animate matter at will, even transmuting elements or creating objects. He can project energy in various forms for offensive and defensive use. He also has telepathic ability, including mind-reading. Each night he may take both of the following main two actions;
choose a player to mind read and learn their role PLUS how to copy their 'original unique' ability. The Silver Surfer is the only one that is able to ID the members of the Secret Alliance through his mind reading ability. (this does not kill his target, and the Surfer is not subject to the limitations of any ability he gains (with the exception of Dr. Doom's lynch stopper). IF he targets a villain, he will only gain the kill ability if he targets that night's chosen killer. IF he targets Iron Man, he will gain the ability of the distinct armor that Iron Man is wearing that night). OR instead, any night but not two in a row he may become invincible for the night OR following day, but his ID will be revealed if he is subject to death from either occasion.

in addition to ability #1 he may use one of his collected abilities on any chosen target.
The Silver Surfer is invincible for the first night and day. **If he steals Apocalypse's ability, he will be shown as being saved by Apocalypse in the post. **If spied, he influences the spy-er to only see him as 'Spidey'. **If blocked on an odd night, ability #1 will be the one that is blocked (except for the 1st night). If blocked on an even night, the second ability will be blocked.
---
The Secret Alliance: (They have BTSC, Objective is to be the last two [or one] standing)
One Super Hero and one Super Villain made a deal, that they would secretly defect from their respective groups and join forces to win this battle on their own. This independent faction has an additional ability to save (never the same player 2X in a row, & must specify which member will carry out the saving action), AND an additional secret ability. **If either is spied, then they show up as they normally would individually. **A successful save will appear to be made by 'Spidey'

Spoiler for The secret ability...:will be revealed publicly for the first member of the Secret Alliance to be Lynched, but nothing will be revealed if the second member is lynched.
The Secret Alliance's Secret Ability:
Each night, the Secret Alliance (S~A) may attempt to RID kill a player! However there are limitations…
RID kill attempts may only be made once during any Night/Day cycle.
If done during the DAY, the RID kills will be instant (ASAP for the hosts to get around to it).
If done during the NIGHT, the RID kills at the end of the night, in the post.
Any RID guess must be made via PM (should be sent to both hosts for fastest response) and may not be retracted.
IF a Super Villain is RID killed, and both S~A members are alive, then the Super Villain member of the S~A will be outed to the Super Villain BTSC.
IF a Super Villain is RID killed, and one member of the S~A is dead, the dead member the S~A will be outed to the Super Villain BTSC.
IF a second Super Villain is RID killed, then the other (non-previously outed) member of the S~A will be outed to the Super Villain BTSC.
Susan Storm may not be RID killed at any time. Thor may not be RID killed after he is lynched.
Additional clarification: If the villain member of the Secret Duo is one of two final members of the Super Villain BTSC, the non-secret duo member will have final say over the use of the regular Super Villain kill ability.
This information will be revealed publicly for the first member of the Secret Alliance to be Lynched, but nothing will be revealed if the second member is lynched
The Super Heroes
One of the greatest Super Hero alliances to have ever existed.Their jobs are to rid the world of the menaces that threaten them, and restore order. They win as the last faction Standing
Spiderman (Peter Parker): Picks a target to protect each night. Cannot pick the same target to save twice in a row. Gains BTSC with The Scarlet Spider if there is any form of interaction between them (If The SS and Spiderman choose to save the same player, or if Spiderman chooses to save The SS, or visa versa.) Spiderman and The SS's successful saves will be ambiguous in the night posts unless they meet. **Cannot successfully save Susan Storm. **If spied just appears to be 'Spidey'
The Scarlet Spider (Benjamin Reilly): Picks a target to protect each night. Cannot pick the same target to save twice in a row. Gains BTSC with Spiderman if there is any form of interaction between them (If The SS and Spiderman choose to save the same player, or if Spiderman chooses to save The SS, or visa versa.) Spiderman and The SS's successful saves will be ambiguous in the night posts unless they meet. **Cannot successfully save Dare Devil. **If spied just appears to be 'Spidey'
Iron Man (Tony Stark): Over the years, Tony Stark has assembled a great collection of various armors. Each night, in an effort to "keep things interesting," Tony wears a different suit to fight in.

Night 1-Classic Suit (saving)

Night 2-Stealth suit (Spy)

Night 3-S.K.I.N. armor (block action)

Night 4-War Machine (killing)

Night 5 & beyond-Choice of any previous armor (but not the same two nights in a row).

Then Iron Man may select a player to use it against (including himself).
Thor (Donald Blake): The mighty Thor holds such sway over man, whether Mutant or not, that he may not be lynched by them if his identity is revealed (if he's lynched, he doesn't die but his ID is revealed). During any night but not two in a row, Thor may use his mystical hammer 'Mjolnir' to release an energy known as the "Anti-Force" to block the actions of a chosen player.
Dare Devil (Matthew Murdock): He may technically be blind, but this super agile Hero sees better without eyes than you can with them. Each night he may stealthily track down and spy upon a particular player. (PMs the Host the name of a player each night, and the Host PMs the role following the night post).
The Hulk (Bruce Banner): May kidnap a person each night (must PM me the player's name before the day post goes up). That player may not use any night or day power or vote, and will only able make only 1 post while stuck in the Hulk's grasp (If the kidnapped player chooses to make more than one post, or chooses to make a vote that will not count, HULK SMASH… and the player will be unable to act for another night). The kidnapped player will still be subject to the lynch AND night actions while in the Hulk's grasp. **The Hulk cannot kidnap himself
The Punisher (Frank Castle): Not having true powers like the rest of the cast, The Punisher must be more careful. Each night he can set traps by making (1/4)*n different predictions about what specific night actions will take place (Role-Y will choose Player-X, and may not predict any sort of inactivity). For each trap that he lays correctly, the role that falls for the trap will lose their vote the following day, and The Punisher gets that additional vote in the following day's lynch as his own. If he gets all predictions correct, he will have perfectly orchestrated his traps, and be safe for the night in addition to the additional votes that he gained. (the results of 1/4*n will always be rounded down but never equal less than 1, n=number of living players going into the night) **If blocked, he loses all guesses.
The Human Torch (Johnny Storm): A wild vigilante who kills for the Innocents, and brother to Susan Storm (The Invisible Woman). The Human torch has the ability to fry someone any night but not two in a row. However, if his sister Susan is successfully attacked on the night that Johnny is attacking someone, then Johhny abandons his initial target and kills the player that is targeting his sister (only applies to Venom if it's the second attempt). If his sister is attacked on a night where Johnny is inactive, he will just save her and will not kill the attacker. Johnny may not target Susan to kill. (knows the ID of the Invisible Woman)
The Invisible Woman (Susan Storm): Sister to Johnny Storm (The Human Torch). As long as the Johnny is alive, Susan cannot be killed. However, if her brother dies, she becomes a vengeful maniac gaining the following ability. Any night but not two in a row, the Invisible Woman may choose to do only one of the two following actions:

1- Act as a stealthy vigilante, and kill a chosen player to avenge her brother.

2- Use her ability to create force fields and act as a bodyguard to a chosen player. *(see spoiler for details)

Spoiler for *IW Details*: If any non-killing action is taken against the protected player, then the player making the non-killing action will be killed by the IW as if the action were intended to be malicious, and the IW will be fine.

However, If the action taken against the protected player is to kill, then the IW will die for the protected player while killing the attacker.

Self-Saves are the only exception to IW's bodyguard kill
Host's Summary
Edit
Game Idea and Expectations
Edit
Special commendations
Edit
Host disappointments
Edit
Alternate endings
Edit
Winning Faction
Edit
Joe's Student - Scarlet Spider

rossbeemer - Iron Man

Limey - Human Torch

JarZe - Invisible Woman

grey cells - The Punisher

Shadow - Spiderman

sparrowhawk - Dare Devil

Pirate Hunter Zoro - Thor
Day and Night Posts
Edit
Prologue
"Finally, we are all here."
Three figures stood together in the middle of a large warehouse as a fourth crawled from a window to join the others. The man who had spoken, stood in stark contrast to the black creature ambling towards the group, wearing a pure white suit covering his massive bulk, and holding a diamond studed cain.
"You should not make us wait, I've got things to do and places to be."
"We will do as we wish," hissed the creature, it's slithering form composing into a more human figure. "Why have you called for us?" asked the creature, Venom, now also recognizable as Daily Bugle reporter, Eddie Brock.
"I have been wondering that myself, Venom. Why have you summoned us Doom?" Wilson Fisk, a.k.a. The Kingpin addressed what appeared a man in a dark green cape with a hood shadowing his metal armored mask.
"Patience will reveal to us the plans of the one called the second smartest man in the world." Apocalypse towered over the rest of the group. The word 'second' was emphasized just enough to achieve a slight glance from behind Doom's Dark Mask.
Dr. Doom pressed a concealed button on his armor and a holographic image appeared in midair, between the group. The image depicted various scenes of the four villians being defeated in their attempts to obtain wealth, wreak havoc, and exact revenge. Apocalypse forced to teleport after a failed attack on the infuriating X-Men, The Kingpin yelling in rage at the meddlesome DareDevil, Spiderman swing away from Venom as he screeches in agony from Iron Man's sound wave, and finally ending with the bothersome Fantastic Four cleaning up the final wreckage of another of Dr. Doom's foiled schemes.
"This is why I have called you here."
"What is this outrage?! I did not come here to be embarrassed by a few past minor setbacks!" thundered Apocalypse.
Doom continued. "If we are to succeed, we must work together and act intelligently, discarding our pride, to accomplish a common goal; the death of the heroes and the following reign of vengeful villiany! With our power and our knowledge combined, we will be an unstoppable force that will take over the world!"
Apocalypse voice boomed loudly throughout the room. "I have heard enough! My own plans have been set in place for thousands of years, and I have not the time to discuss this further. However, although you may not be worthy to take my side as my horsemen at this moment, I cannot deny the role that your abilities and influence may one day have in pursuit of my goals. You may summon me when you require my presence, but for now, go about your scheming in my absence." Then, he was gone, without a sound or movement, leaving no room for discussion.
Fisk tapped off the ash from his cigar. "Bet he would be great at parties. Frankly, that guy ticks me off anyway. Good ridance. I think the immortality has gone to his head. I, for one, don't have the time to waste like he does. Show me your plans Doom."
Doom shifted his gaze, "And you, Venom? Would you not enjoy tearing the limbs from the spider who has caused you so much pain and suffering."
The black substance once again started creeping over Eddie's face and body, and revealed long pointed teeth on an inhumanly large smirk.
"We're in!"
---
Millions of lightyears from earth, a star winks out of existence.... "I am not satisfied. Herald, find me a planet to subdue my hunger."
"Yes, master."
---
Back on earth, in the Avenger's Mansion
Iron Man, Thor, The Hulk, and Spider Man are gathered around an apparition of the great Watcher, Uatu. Iron Man speaks to the group.
"Most of the other Avengers are out dealing with other matters, but the generous Tony Stark has offered use of the Estate for some pressing matters. Thank you for coming on such short notice. Uatu, show them what you have shown me"
The great Watcher, looking disproportianate with his oversized head, stepped forward and addressed the group. "I have risked much coming here, but there comes a danger of which I must warn you."
An image appeared before the heroes of a man, seemingly covered entirely with silver skin, flying through space on what appeared to be a surfboard.
"As we speak a great power is heading toward earth, the sort of which you have never dealt with before. This power is but a sign of worse things to come, a herald of the great Galactus, devourer of worlds. This being has been imbued with the Power Cosmic, but he must be destroyed to preserve this world. That is why I have come. You must be ready to combat this coming threat. I can interfere no more, but I will be watching. Good luck, heroes." With that, he was gone.
Spiderman's eyes got wide as he turned to the other heroes, "That surfer guy looks like he could be trouble for you bucket head. It seems you have another person to compete with for the role of Tin Man. There's only room for one in The Avengers... and I think I like his look better""
Iron Man glanced at the webslinger. "We must not take this warning lightly. If Uatu has risked contacting us for this word of caution, it must be a great threat. I have already contacted Reed Richards, who is working on a device which will hopefully subdue this coming menace, but we must first trap him. We will keep our eyes open and maintain a constant watch for this, 'Silver Surfer'. This meeting is over, Avengers out."
---
???
"Oh God, what have I done?!"
It Begins!
"Stanley, shut that window! It is freezing out there, you'll get a cold!"
Stanley jumped, surprised at the sudden voice of his mom as she walked into his room. Stanley had been staring out the window again.
"How many times have I told you, anyone who goes around at night in a mask can't be trusted. That criminal should just leave us alone and let the cops do their job. Now shut the window."
Stanley reluctantly pulled down the window and his mom walked over and latched it shut.
"I don't want to catch this window open again, you hear me? Now go to bed, you have school in the morning."
Stanley climbed into bed and took one last glance out the window, just in time to see a silver streak of light, like a shooting star, move across the sky. Closing his eyes, Stanley thought of the star and whispered, 'I wish I was a superhero'.
That night, in his dreams, he would be.
---
The Silver Surfer finally arrived at his destination. As he descended from the sky in a brilliant flash of light, he considered the planet that was to be the next meal of his Master. Realizing the brightness given off by his body, the Surfer mentally focused on dimming his skin, as to hide in the darkness of the night, then shot towards the city in search of a proper specimen to examine.
---
Susan Richards, a.k.a. the invisible woman, never felt as invisible as when her husband, Reed was working on his next invention. Reed's feet were sticking out from under a massive jumble of metal plating and wires. She felt like she was speaking more to the machines than to her husband.
"Reed, listen to me. You need to talk to Johnny. He has been getting more sporadic lately and I think his powers have gone to his head."
"Ben, can you grab the Wave Portal and bring it over to the Containment device please? We need to get this done as quickly as possible so that we can focus on getting you back to normal again."
"Reed, just stop for a second and listen to me!"
Mr. Fantastic's head snaked out from under the machine on an inhumanly long neck.
"I'm sorry, Honey. Please calm down, I can't see you when you are this upset. Ok, now, what were you saying?"
"It's Johnny. I'm worried about him. His temper is getting out of control and if he doesn't calm down he is seriously going to hurt someone."
"You know how important this work is, Susan. I can't leave it now, not when the Silver Surfer is so close. We have to finish the Containment device so that we can catch him and find out why he is here. Johnny can take care of himself, you know he will be alright."
"You guys talking about me?" The Human Torch, Susan's brother, Johnny Storm, engulfed in flames, flew into the room and floated in front of the couple. "Hey, wish me luck. I got a hot date tonight, and with me there, it can only get hotter." Then took off out the door.
"Johnny..."
"See, a little exuberant, but he's fine."
Then, Reed Richards, considered the most intelligent man in the world, shrugged and went back to work.
---
Frank Castle, gazed out over the city of Manhattan. He looked down at the final charge that was to be set, and placed it on the side of a drain pipe leading down to the alley.
Castle had been tracking someone the night before and decided instead to utilize his weapons in a more stealth stategy.
After climbing the rest of the way to the roof, Castle removed the sniper rifle from his back and pointed it towards the street.
---
Ichimaru was driving home from work, and he must have been really deep in thought thinking up a great new Mafia idea, because he didn't notice his car beginning to drift across the center line.
"Hhhhmmmm....that would be interesting...I wonder how that wouHOLY CRAP!"
Awakening to his predicament, Ichimaru threw his wheel to the right, just missing the oncoming traffic, but clipping a motorcycle with two passengers, causing them to loose control and swerve off the shoulder and into a set of bushes.
Ichimaru quickly pulled over to the side, braked and ran to the accident.
"Oh my gosh, are you alright? I completely didn't...."
"WHAT THE HELL, MAN?!"
The man who was driving the bike quickly stepped towards Ichimaru. It must have been his imagination, but it looked to Ichimaru like the man was physically steaming.
The woman who was riding with him ran to his side and grabbed his arm. "Johnny, calm down. I'm alright and it didn't hurt the bike, lets just go to the movie."
The man pulled his arm away from the woman and got up in Ichimaru's face. "Why don't you learn to drive, dumb ass, you could have gotten us killed!"
"I'm sorry, I didn't..."
"Shut up!" Ichimaru's car exploded into flames, the wreckage spilling into the road, causing cars to swerve out of the way and slam into eachother.
"Whoa, let's talk about this. If you don't relax you are going to get someone killed!"
"Maybe I should kill somebody! I am tired of holding back just cause my sister tells me to! Sometimes people just need to die, starting with you!"
Just moments before the ball of fire Johnny shot incinerates Ichimaru, Spidey swung down and picks him up from the street.
"Chill out hot head, or I'll have to tell your mommy about your little temper tantrum."
Spidey set Ichimaru down on a roof top, well out of harm's way. "Hey there, thanks a lot."
"No time to waist, buddy. I got to get this kid taken care of. It's not just you, if he doesn't learn how to control himself, he's gonna get a bunch of innocents killed."
---
Back at the Avenger's Mansion, Tony Stark suits up. As he walks into the common room, he notices the Mighty Thor asleep on the couch.
"Rest easy tonight, my friend. Tommorow we will need all of your power"
As Iron Man flies out of the mansion, a phone rings.
---
Dare Devil jumped across the roof tops and vaulted over an air duct. Landing in a graceful role, he came up into a full run and continued on his trail. Despite his total blindness, this lawyer had learned how to maneuver and see better than most people with 20/20. And tonight he was tracking someone specific.
---
Ross never liked the back alleys, but they were the quickest way home, and tonight, he had a lot of work to do.
"Hey there, boy, come join the party."
"Huh?" Ross turned just in time to get hit in the face by a brick to the face.
Completely caught off guard, Ross was only able to get his arms in front of his face and reeled back from the sheer force of the hit. By the time he got his bearings, he was hit again, but this time by an attacker behind him. Ross never saw it coming, and was easily subdued by a third guy that wrapped him in a bear hug.
"Your lucky I wasn't sent here to kill you kid, or your arms would be broken." said the guy that had thrown the brick. "You must be pretty important if Kingpin wants you out of the way tonight. This is nothing more than a distraction and you fell right into it! Hahahahaha!" Then Ross was hit again and left laying on the ground as the men turned and walked out of the alley as if nothing was out of the ordinary, leaving the stunned Ross.
Just before leaving the alley he shouts back, "Oh yea, and make sure everyone hears this is from The Kingpin."
He pulled out a hand scribbled note from his pocket and read, "fellow members of the Syndicate, and our enemies… I'm going out on a limb to tell you that we have discovered a turncoat in our midst. i may be reading to deeply into their posts but I decided to out them as being part of a Secret Alliance before they get a chance to screw us. This person uses the alias… Limey"
---
THE DAILY BUGLE
RUMORS SPREAD OF THE NEW TRIO OF TERROR
A gruesome murder occurred today that can only be described as heartless and bizarre. But it is not the type of murder you would expect. A well loved penguin from the local zoo, nicknamed Shadow for his dark black appearance, was found mutilated with what appeared to a cruel and unsuccessful attempt to make a penquin bot. Police are still investigating the source of the murder, but rumors are going around that this is the work of a new group of supervillians, nicknamed the Trio of Terror, lead by the mastermind, Dr Doom, the number one candidate behind the murders. Not much is known about this villianous group, nor whether it is restricted to three members.
---
"Pick up, Dammit!"
---
Just as Dawn began to break, and everyone began to sigh at the sight of a new day, they all began to feel... odd. At the same time, all of the people involved in last night's occurrences were brought to their knees in blinding pain.
"Just in case you were wondering what is going on, we are just trying to prove a point." said a voice that emanated in all of their heads.
"We are Brandonb the Punisher, and IDNE the Merciful, two of a race known as the Celestials, the most powerful beings in the universe. We saw the events of last night and were very amused. But now we want to keep this going and make things a little more.... interesting..."
"This day, we want you to each choose someone that we will... 'remove'... from your battle. But of course, you are only going to get their secret IDs, so choose wisely."
The pain began to subside as the telepathic message continued to be burned into their brains. Then they heard Brandonb comment, "I find myself intrigued by a man that, like me, calls himself 'The Punisher' and decided to grant him the ability to not only physically harm his victims with his trapping predictions of other's actions, but to also to obtain their vote as his own, in order to have more sway over the results in the vote."
Just then a list appeared in the heads of each combatant. A list of generic aliases... including their own name.
"Let the games begin..."
Celestials - IDNE the Merciful and Brandonb the Punisher
Secret IDs
1) Joe's Student
2) rossbeemer
3) Fox
4) Limey
5) Cute Psycho Bunny
6) seahorse
7) JarZe
8) ichimaru
9) Einkil
10) grey cells
11) Prof. Templeton
12) Shadow - DEAD [?] killed by The Super Villains
13) sparrowhawk
14) Pirate Hunter Zoro

Double Trouble (D1)
Once again a searing pain began shooting through the heads of Earth's most powerful beings. Within their consciousness, they began to perceive the words of the Celestials.
"Looks like you all have made up your minds and decided who should die next."
This is the final roster:
Celestials - IDNE the Merciful and Brandonb the Punisher
Secret IDs
1) Joe's Student - voting for CPB
2) rossbeemer - voting for CPB
3) Fox - voting for Limey
4) Limey voting for seahorse
5) Cute Psycho Bunny - voting for Fox
6) seahorse - voting for Einkil
7) JarZe - voting for Fox
8) ichimaru - voting for CPB
9) Einkil - voting for JarZe
10) grey cells - voting for Fox
11) Prof. Templeton - voting for GC
12) Shadow - DEAD [?] killed by The Super Villains
13) sparrowhawk - voting for CPB
14) Pirate Hunter Zoro - voting for Fox

"Two participants?! Well, what a suprise! Ha ha ha! This is entertaining! We most certainly did not expect this, at least not so soon.
I see that the one called CPB decided it was a good idea to dance on the edge of time and wound up loosing her balance. The way that mortals tempt fate, without taking into consideration the consequences! It is absolutely fascinating."
"FOX, CPB, YOU HAVE BEEN DEEMED UNFIT TO CONTINUE AND SO YOU MUST BE ERADICATED " The two players dropped to the ground in agony.
CPB began emitting a shrill shriek, the black substance jumping from her body, unable to withstand the sound coming from it's own host, finally abandoning the suffering host and slinking away to a nearby storm drain.
Fox uttered not a word or noise as she dropped to her knees. Just before she hit the ground, she heard a voice, even through the pain, calling her back to consciousness.
"You are not finished yet. You must stand up and fight again."
Fox then felt a helmet being placed over her head, while at the same time the pain completely subsided. She looked up to see two slits in a metal mask looking down at her, and smiled.
Fox began to stand, but the helmet disintegrated and Fox was once again on her face in blinding pain.
"Your technology is nothing compared to our knowledge and power!"
Despite the pain, Fox was able to force one arm under her and struggled to get her foot in place.
"I see that you have a strong will, Fox"
The pain in Fox's head begins to subside.
"And you seem to have assistance from someone that has great knowlege concerning you. This must be the doing of the one they call Dr. Doom. Fine, we will allow it. We'll allow him to feel special for this moment. Fox, you are free to continue this game, for now."
"Stand up, all of you. I will return again in the morning."
The heroes began to stand, the pain finally subsiding. However, one hero was still suffering.
"WRAAAAGH! HULK HEAD HURT!! MAKE IT STOP! MAKE IT STOP!"
The Hulk grabbed Fox and screamed in her face.
"MAKE IT STOP!"
Then with a giant leap, he was gone... still holding Kat in his grasp.
God of Slumber
Thor awoke to the sound of a few of the other heroes returning to the Avenger's Mansion.
"By the sound of your sleeping, I can see why they call you the God of Thunder. Perhaps they should call you 'Snore, God of Slumber, instead."
"I required the time to recharge my powers. This has been sufficient. I shall use my almighty Mjolnir to dispose of a foe for the night. You shall see my power."
Thor walked out of the mansion to find his target for the night.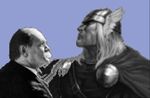 Walking through the streets of Manhattan, Thor came upon his target as he was tying his shoes. Hearing the approach of the God of Thunder, Prof T turned and faced the mighty God.
---
(Hulk with Fox)
---
Without money, and unable to get contact with the avengers, the mysterious man climbed into the next car that stopped for him.
He was lucky enough to be picked up by a couple on vacation, who were nice enough to give him some clothes and not ask too many questions. Now, he was forced to hitchhike back to Manhattan, NY.
"I hope I am not too late."
---
THE DAILY BUGLE
THINGS ARE NOT AS THEY APPEAR
Another gruesome murder occurred last night, even more bizarre than the last. A local swashbuckler named Pirate Hunter Zoro was found dead in an alley last night. This, sadly, is not extremely uncommon in our fair city… despite all of the vigilante superheroes (WHY is that?). However, what made this murder strange, was the manner in which he was found. Zoro was found crushed and suffocated, hanging upside down in what can only be described as a black cocoon. With a very similar M.O. to that of what Spiderman does to subdue live criminals for police custody. The local authorities are scratching their heads about this, considering it appears to be the work of a villain named Venom A.K.A. CPB who was found dead yesterday. Even stranger, this is not known to be Venom's normal M.O. Rumors are circulating that this may have been an ordered hit from the 'Trio of Terror' group.
---
Celestials:
"The events of last night were disappointing when compared to those of the day before, but I guess it is acceptable after the events of the day. Today we will kill another. Perhaps that will force things to progress to the rate that we know you all are capable of... Choose who it will be."
Dr Doom's Day (D2)
The Celestials:
"Fox, after contacting the other members of our little game, they have overwhelmingly decided that you are the next to go. I think that all of those unaware of your identity are eager to see your true face. Although I doubt that you will be eager to reveal what's behind behind that mask of yours. None of your tricks or inventions will save you this time, Dr. Doom. I am sorry to say that we will not be so merciful today."
Then, as if someone had flipped off a light, Kat blinked out of existence.
---
With a sigh of relief to have made it through another day, JarZe turned to face the sunset. "Who knows what sorts of atrocities will befall us tonight. Well whatever happens, I will... *GASP*"
Just then, JarZe felt his arms pinned to his sides. He was being squeezed in a giant green fist, and was finding it difficult to breathe. "Me no like you. Me think you bad. Me stop you from being bad!"
The Hulk took off into the fading light, holding Jarze in his grasp. JarZe just closed his eyes and accepted his fate... after all, what choice did he have?
---
Well Kat, I honestly can't say that I'm sorry to see you go since you're already gone and this lynch was extremely convenient tongue.gif. Though I will say that it would've been nice to have you still around to make things interesting. Good luck in school! Night 3 Begins NOW!
Pork Roast
Johnny was still pretty ticked off about the ichimaru fiasco and really felt like he needed to blow some steam. He hadn't been able to finish his date that night and instead ended up at home without a girl, being yelled at by his sister, Susan, for his little 'temper tantrum'.
It was time to get out and do something, and this time do it right. Not as Johnny Storm, but as the Superhero, the Human Torch.
Johnny put on his special flame retardant Fantastic Four suit and started out the door when he was stopped by Reed Richards.
"Hey Johnny, where are you headed? I need some help finishing up this project for Tony Stark and I could really use your hand. We have to have this completed before the Silver Surfer starts causing problems. I'm worried that other than the bright light we saw a few nights ago we havent heard anything more of him. Iron Man and the Avengers have been searching the entire city, and I have my scanners running 24/7, but there has been no sign of him."
"Sorry Reed, I gotta get out of here for awhile." Johnny began walking backwards out onto a balcony on the side of the Baxter Building. "I'll be sure to let you know if I see anything."
Johnny jumped back, off the balcony. "Flame On!"
---
Mr. Fantastic wasn't the only one worried about the inexplicable disappearance of the silver superbeing.
"You would think a flying silver surfboard would be an easy thing to spot." thought Iron Man, flying through the skies of New York.
"He must be hiding somewhere. Perhaps he has the ability to look like a normal human being. And we are still looking for the remains of that trio of Terror. Maybe I should start asking asking around town."
Iron man decreased his thrusters, slowing his flight and causing him to begin to descend to the streets below. He landed just outside of a late night diner and saw a local coming out of the diner.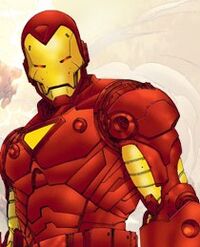 "Excuse me, sir." Iron Man walked up to the man who had just exited the diner. "I am not very familiar to this town and I need some help navigating to some of the local late night hangouts. I am looking for some information. Think you could help me out?"
The man thought for a moment, stunned to be confronted by Iron Man.
"Sure, there are quite a few places I could take you to on my way home, follow me."
"Lead the way."
"This is going to take a while. Looks like I won't be doing much else tonight." Einkil thought.
---

The Human Torch blazed through the sky, leaving a trail of flames in his wake. He now knew exactly what he was going to do to prove himself. He heard all this talk of the Trio of Terror and knew that even with the threat of the Silver Surfer, this was still a threat that would plague the city if it was not taken out. And the Human Torch new exactly where to go.
The Human Torch located the spotlights in the sky, which led him to a huge public event, celebrating the grand opening of a new library near the town center. His target was there, alright. The Kingpin always making an appearance at these sort of things, showing off his humanity. He had apparently made a large contibution himself. It was how he was able to stay large in the publics eye and get away with so many of his crimes.
Johnny perched on a nearby building and watched as the proceedings continued. "No need to disturb anyone else." he said waiting for his chance.
In all the confusion of the event, he almost didn't notice the white stretch limousine, the back bumper riding loooooow to the ground. There was only one high roller that could cause a limo to roll so low.
The limo rode away from the event, probably to avoid the rush, falling right into the hands of the Torch.
"He's just making this too easy. Flame On!"
The Human Torch soared down, firing a blaze down on the limo, torching a line right down the middle, the front and continuing on and the back end flipping once then coming to a sudden halt.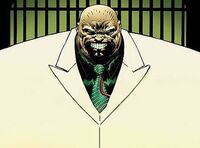 "WHAT IS THE MEANING OF THIS, THIS IS HOW YOU TREAT A BENEFACTOR OF THE PEOPLE!" No mistaking that gravely voice, he definitely has his target.
"No bribbing your way out of this one, fatass." Johnny amps up the heat, continuously pouring a wide stream of flames at the vehicle. The booming voice is muffled as the molten metal slowly falls into itself, cooking the passenger so that the smell of burning fat is all that is left in the air. The fat hisses as it hits the searing pavement.
As Johnny flies away, confident that he has at last done something right, the only recognizable piece of the limo is the liscense plate:
Prof T
---
Hey, where's JarZe at? He's been rather quiet recently. Thought Bb
Last I heard, he was still out on his date with the jolly green giant. replied IDNE
Secret Revelation
Bickering Bickering Bickering.... yet unanimous.
"I think Einkil is Apoc, there's no doubt about that" thought one person. I think I will choose to have him killed.
"He's pretty much confirmed... may as well go after him" thought another.
While all the others were considering their votes, the Secret Alliance decided to not leave it up to the group, but rather, take matters into their own hands. Having established Einkil's ID... the SA finally revealed their secret ability.
In silence, the SA sneaked up on Einkil, who was meditating in his living room. "I heard you coming" he said. "Just promise me that it will be swift."
There was no reply... only silence. Moments later, Einkil was gone.
---
With that, the votes for Einkil are pointless, and dead men cannot vote pinch.gif So..... There are currently no votes, and only 3hrs remaining in the day... The twists just keep on coming tongue.gif
Day 3 Dare
Once again you have cast your votes, but an absence of a target at the last second caused many to fumble around, looking for another to attack. With such short time on your hands, how were you all able to act under pressure?
Majority: 3 Votes- 13) sparrowhawk - DEAD (DareDevil)
Not well, it seems.
Better luck tonight...
Surf's Up for Ichimaru
Cutting through the sky with and incredible lack of resistance, he began to contemplate his place in the universe. "I'm finally nearing my goal of removing all the threats to my master."
He thought to himself about how there is so much potential in the beings here, and how much he disliked eradicating so many lives.
"Well, the time has come." The Silver Surfer began to slow as approached the place where he sensed his target was residing.
Looking up into the sky, he saw the glow of the Surfer descending towards him. "I'm so far away from everyone else… he must be here for me... great down.gif " ichimaru grumbled under his breathe.
He could see the Surfer turn his head back and forth, looking for him. Then, the Surfer turned... ichimaru had seen spotted.

Ichimaru glanced grimly up at the Surfer, who hovered 15 feet above ichimaru. The two exchanged dead stares, both hoping that this was not going to get ugly.
"There is nothing that you can do ichimaru, your situation is hopeless. I suggest that you make this easy to avoid any suf.." WHAM! Ichimaru had leaped into the air and caught the Surfer completely off guard, delivering a brain blending blow to the face. Ichimaru didn't care for what the Surfer was saying about not resisting his demise, damned if he wasn't going to try.
Slightly dazed, but still standing firm on his board, the Surfer retorted, "It has been a while since I have taken a hit like th..." ichimaru had leaped into the air again, but this time with his arms spread wide to snatch this polished punk off of his metal mount.
But the Surfer was not about to be dethroned so easily. Just as ichimaru came into touching distance of the Surfer, he froze. And not just stopped moving, but actually began to hover weightlessly in the air. An impenetrable forcefield had formed around him.
"I tried to tell you that there was nothing you could do. I hope that you can forgive me, please understand that I am not doing this for malicious purposes."
"Then what have we done? Why are you doing this?"
"I have... No Choice."
With that, the extremities of the glove-like field began to quickly twist in perverse directions. Like a body-shaped blender in mid-air, the twisting became a blur as ichimaru's flesh and bones ripped and shattered.
Then The Silver Surfer solemnly turned and dashed away on his board. Moments later the forcefield dissipated, and the ichimush fell to the ground with a sickening splat.
---
Wow, this is great. We must say that this is getting intense! Keep up the good work everyone. It's not over yet!
Wipe Out (D4)
The Silver Surfer soared through the sky, not oblivious to several eyes that were watching him from another dimension. The powers bestowed on him by the great Galactus did not restrict him to only seeing the realm that a normal human sees.
The herald of Galactus mentally slowed his board and hovered in midair, remaining still, staring forward, revealing his awareness of their presence and waiting for them to unveil themselves.
"You are not like the others that we have encountered on this planet."
The voice had no true discernable source, but echoed within the surfer's mind.
"Your chemical makeup is strange to us, and there is a dominating force that is not your own controlling your thoughts and perceptions."
The Silver Surfer felt the beings probing his mind, which he recognized from the minds of previous heroes he had investigated as the celestials. It was not painful, for he did not feel pain, and it did not disturb the surfer, for he was taught to supress emotions. It was, however, keeping him from his duty to serve his master.
"I see that you resist us. No sense resisting, we are much more powerful than you and we could destroy you in an instant if we chose. Your defense is great compared to that of the others, but is nothing to us."
"We do not wish to destroy you. The end of the current conflict draws near, however, we have been enjoying ourselves much, we do not wish for it to end! We shall begin a new conflict!"
The Surfer realized that he was being overpowered and dropped to his knee, fist on his board, drawing power and defending against the onslaught of the probe. The consciousness attacking his mind was no longer just observing, it was attempting to alter it. Though he sensed his power was insufficient, he would oppose any threat to his master, even if it cost his life. This was his purpose.
"Is that really your purpose? To stand by your master? Why do you scope out worlds to be consumed by the very same being which desired to consume your own homeworld? We wish to free you, Norrin Radd!"
The Silver Surfer's eyes shot open. This involuntary reaction surprised the surfer. Something in his mind recognized the word. No, a name. His name.
A memory broke into his mind of a time when his skin was not silver. He was a boy, swimming in a crystal clear sea, laughing and playing with other children.
This cannot be. These are not memories. Not mine. The elementals are altering my perception, filling my head with thoughts as they choose.
The Silver Surfer could already feel the changes being made on his mind as his emotions and feelings were unlocked and began to flare up. He felt confusion, loneliness, frustration, and anger.
"We are not inserting anything into your mind, only removing a few barriers. You, with your mastery over your own structure should be able to sense this is accurate. These are your thoughts, your experiences."
His mind began flooding with his old memories. His home world, Zen-la. His mother and father. His years as a child. The coming of Galactus. His offer of obedience and the curse of his new life as the Silver Surfer.
"You see! We are releasing you from your bond of servitude! We do not think that you desire to serve Galactus. Now, what will you do with your new freedom? Show us your true nature, Norrin Radd. Reveal to us the role you will play in the battle to come!"
Norrin Radd felt the presence release him, however, the memories remained. Unused to the feelings of emotions and the pain they brought, he had trouble concentrating. He saw now that they truly were his own memories and had been blocked for milleniums by Galactus. He needed time to think, time to process these new changes.
I must leave this world and figure out who I am.
The Silver Surfer began to ascend through the clouds, up into the atmosphere.
"Oh no, you don't!"
WHAM! Iron Man slammed into the Silver Surfer, who had been so occupied with his own thoughts that he had not sensed the metallic marvel approaching him.
The hit had been so great that it had forced the Surfer off of his board, and the two were now plummeting toward the ground, Iron Man's thrusters propelling them faster than gravity alone could draw them.
Just feet above the ground, Iron Man released the Surfer and converted his momentum forward to avoid crashing.
The Silver Surfer struck the ground, causing a rumble to shake the nearby streets. The pavement cracked and shot out of the ground at odd angles, creating a large crater.
Giving the Surfer no chance to regain his bearings, the Human Torch swooped in and enveloped the crater in an intense blanket of flames.
"Let's see how you handle the power of the sun."
The Human Torch continued to pour on the firepower, until the Surfer's board slammed into the back of his head, knocking him out cold.
The invisible woman screamed as she ran toward her brother. "Johnny!"
"Not now, Susan! We need to take care of this first. Johnny's been hit worse, he will be alright."
Used to the harsh temperatures of space, the Surfer had used the time to summon his board, pretending to be affected by the onslaught of the inferno.
The Silver Surfer began to walk out of the still burning ground, stretching out his arm to receive his board.
"I have been through many suns a thousand times hotter than your own. This cannot harm me."
"But it gave me plenty of time to wrap you up, tin head!" Before the board reaches his outstretched hand, Scarlet Spider swings in and shoots a stream of web at the surfer, constriting his arms. "Time to take out the recycling."
The board flys right over spidey's head, slicing through the web holding him up and heads back to its master, who has torn through the web surrounding his body. Scarlet Spidey flips once and lands low to the ground.
"Cant let you have this back!" The board again stops, contained in the Invisible Woman's force field and is drawn towards her.
"Release my board!" The Silver Surfer breaks his normal composure, unable to contol his emotions without Galactus' barrier, and begins running towards the Invisible Woman.
The Scarlet Spider swoops in, just in time to keep Sue out of the Silver Surfer's Cosmic bolt of energy. "Ah ah, is that the way to treat a lady? Scarlet Spider looked down at the Invisible woman in his arms. "You got it Susan?" The Invisible Woman nods, concentrating on the force field as she is being carried by the web slinger, pulling along the board behind them.
The Silver Surfer begins chasing after Spidey, only able to keep up due to the enhancements Galactus has given his body. He shoots out a beam of cosmic power, forcing Spidey to drop the Invisible Woman, who looses her concentration on the board.
The board soars back to it's owner and the Surfer hops on. "I am done here, leave me be."
"We can't have you leaving now." The wall behind the Surfer explodes with the traps that the punisher has riddled the building with.
The wall falls back, revealing a colossal machine, surrounded by wires, with an opening on the front. The Silver Surfer turns to see the machine and is slammed in the back by The Thing, forcing him and his board into the containment chamber, which quickly shuts behind him.
"Why don'tcha take a load off for awhile?" Grumbles the Thing.
As the opening shuts, the Silver Surfer is screaming inside, pounding the door, shooting burst after burst of cosmic rays at the enclosement.
"You can't hold me, I am free! I am finally free!"
Reed Richards steps out from behind the machine and presses a button that triggers the chamber. An intense light streams out of the machine.
"Why don't you stay in there for awhile, at least until we can figure out what to do with you."
All of the remaining heroes; Iron Man, Scarlet Spider, The Punisher, the Invisible Woman, and The Human Torch, now recovered, all stood around the chamber, gazing inside at the surfer who stared back at them. He was talking, but they could not hear what he was saying.
Iron Ross- "Good job everyone. It was only with our combined efforts that we were able to accomplish this."
Scarlet JS - "Looks like you came out on top, Metal head."
Invisible Jarze- "How are you feeling, Johnny?"
The Human Limey- "oooowwww...."
GC Punisher- "I get the feeling this isn't over."
---
Back at the Avenger's Estate.
The Human Torch leaned back and rested his arms on the back of the couch. "So, what happens now? Did we win?"
The Punisher looked suspiciously over at the Torch. "You would like that, wouldn't you. To just move on and forget about the issue of this Secret Alliance."
Scarlet Spider jumped up and looked around at his fellow comrades. "Oh yea! How are we supposed to know we're not still being spied on by one of the baddies? We can't go on not trusting eachother forever."
"I think I can help clear things up."
The remaining heroes turned to the mysterious stranger that had just entered the room.
Iron Man was the first to recognize the weary looking man. "Bruce!"
"We thought you were turned to ichimush!"
Bruce Banner looked frantically around the room. "The Hulk, where is he?!"
Iron Man walked towards his companion. "Whoa, calm down. What do you mean. You are the Hulk."
"No....no, that wasn't me. Isn't me. At least, not anymore." Banner stopped looking out the windows and sat down, putting his face in his hands.
"Careful guys, we suspected him as the Secret Alliance, remember? Are we so sure we can trust him now?" The Punisher pulled the shotgun off his back.
Iron Man stood infront of Bruce. "Whats going on Bruce. We saw you ripped apart by the Silver Surfer. How did you survive?"
Bruce looked up and seemed to gaze at nothing. "You mean it? He's gone?" He focused on Iron Man. "You saw the Hulk die with your own eyes! Haha! I am free!" Bruce again dropped his face into his hands and began to cry. "I am finally free."
"Bruce, please, tell us what happened. What do you mean 'He's gone'?"
Banner looked up at each of the heroes, now surrounding him. "I am so sorry to have caused you so much pain."
"A man came to me and said that he knew who I was and he knew how he could fix me." Banner kept speaking, his eyes looked like they were glazed over as he stared into space. "He called himself, Einkil. Said he could remove this curse that plagued me, forced me to be constantly undercontrol of my emotions. I know that I had him under control, and he was a useful component to the Avengers, but he could also cause so much damage. I could not resist the chance to finally rid myself of that beast. I could sense something was wrong, but I ignored my hunches and decided to trust this man anyway. He brought me to a lab and had me lie on a bed. I was put to sleep and I vaguely remember waking to the sound of laughter, cruel laughter. Then I heard his voice.
"'I have finally created my horseman of Death!'"
"It was Apocalypse."
"When I woke up again, I was lying naked in the middle of Death Valley. It took me days to get back here. I tried reaching you, but it seems that you were all busy."
"We were all out trying to take on the Trio of Terror and the Silver Surfer. We were forced to take on Venom, Dr. Doom, the Kingpin, and Apoc."
Iron Man placed his hand on Bruce's back. "But, finally, everyone has been taken care of. There is nothing more to worry about, friend."
"I wish that I could be so sure."
---
Miles away, Apocalypse sat contemplating what had occurred over the past few days. He had managed to teleport himself to his fortress, disquising his disappearance as a killing.
"It seems that no one is capable of doing my work but me. Perhaps I have become lazy over the centuries, seeking out others to do my bidding and only acting when others call on me. I will conquer these heroes myself. Once I obtain the powers cosmic from this new being, I will be an unstoppable force and the world will bow to me!"
---

And with that, the game comes to its end. The Heroes had a unfathomable run of preferential events, while Lady Luck bitch slapped the baddies.
End of Game Roster
Edit
Celestials - IDNE the Merciful and Brandonb the Punisher (hosts)
Joe's Student - Scarlet Spider

rossbeemer - Iron Man

Fox - Dr Doom

- Lynched D2

Limey - Human Torch

Cute Psycho Bunny - Venom

- Lynched D1

seahorse - Silver Surfer

- Lynched D4

JarZe - Invisible Woman

ichimaru - The Hulk and Secret Alliance

- Killed N4 by Silver Surfer

Einkil - Apocalypse and Secret Alliance

- Killed D3 by the Secret Alliance

grey cells - The Punisher

Prof. Templeton - Kingpin

- Killed N3 by The Human Torch

Shadow - Spiderman

- Killed N1 by The Super Villains

sparrowhawk - Dare Devil

- Lynched D3

Pirate Hunter Zoro - Thor

- Killed N2 by The Super Villains
List of actions
NIGHT 1
Baddies

Group Kill – Shadow (carried out by Doom)
Fox (Dr. Doom) -
Prof T (Kingpin) – Block rossbeemer
Einkil (Apocalypse) (Secret Alliance)
CPB (Venom) - seahorse
Independents

Seahorse (Silver Surfer) – Targets GC
Secret Alliance
Goodies

Shadow (Spiderman) – Saves rossbeemer
JS (Scarlet Spider) – Saves JS
rossbeemer (Iron Man) – Saves rossbeemer
Pirate Hunter Zoro (Thor) – none
Sparrowhawk (Daredevil) – Spies Pirate Hunter Zoro as Thor
ichimaru (Hulk) (Secret Alliance) – none
Limey (Human Torch) – Kill ichimaru
JarZe (Invisible Woman) – none
GC (Punisher)
1. Venom bonds with GC
2. Venom bonds with Prof. T
3. Venom bonds with Shadow
N1 Results:
Limey attacks ichimaru who is saved by the S~A save.
Surfer gains The Punisher's ability
---
Day 1:
Kat is saved by Dr Doom (herself) and Cute PB is lynched
SA tries to RID kill Zoro as Johnny Storm (fail)
Hulk Kidnaps Kat
---

NIGHT 2
Baddies

Group Kill – Pirate Hunter Zoro (by Venom)
Fox (Dr. Doom) – none
Prof T (Kingpin) – Block GC
Einkil (Apocalypse/Venom) (Secret Alliance) – Joe's Student
Independents

Seahorse (Silver Surfer) –
Ability 1 - Select JarZe
Ability 2 - Punisher
1. Spiderman saves seahorse
2. Iron man choose kat
3. Thor choose PT
Secret Alliance
Goodies

JS (Scarlet Spider) – Saves Seahorse *Cannot Vote
rossbeemer (Iron Man) – Spy Einkil as Spidey
Pirate Hunter Zoro (Thor) – Blocks PT *Cannot vote
Sparrowhawk (Daredevil) – Spy Einkil as Spidey
ichimaru (Hulk) (Secret Alliance) – kidnap kat
Limey (Human Torch) – none
JarZe (Invisible Woman) – none
GC (Punisher)
1. Spiderman targets woon for a save
2. Scarlet Spider targets woon for a save
3. Silver Surfer tries to gain Kat's ability(ID)
N2 Results:
Thor Blocks PT (so Kingpin cannot block GC)
Punisher steals a vote from Scarlet Spider
Silver Surfer steals a vote from Thor
Surfer gains The Invisible Woman's abilities
---
Day 2:
Kat is lynched
SA tries to RID kill GC as Spiderman (fail)
Hulk Kidnaps JarZe
---

NIGHT 3
Baddies

Group Kill – rossbeemer (blocked)
Prof T (Kingpin) – no action taken
Einkil (Apocalypse/Venom) (Secret Alliance) – JS for 2nd success and a kill (blocked)
Independents
Seahorse (Silver Surfer) –

1- Chooses ichimaru
2- uses IW bodyguard ability on himself
Secret Alliance
Save – Prof T (blocked)
RID –
Goodies

JS (Scarlet Spider) – no action
rossbeemer (Iron Man) – Block Einkil
Sparrowhawk (Daredevil) – Spy Prof T
ichimaru (Hulk) (Secret Alliance) – Kidnapped JarZe
Limey (Human Torch) – Kill Prof T
JarZe (Invisible Woman) – none
GC (Punisher)
1. Kingpin targets Jarze for a kill
2. Secret Alliance saves ichimaru
N3 Results:
Einkil was going to successfully kill JS as Venom, and kill rossbeemer, and save PT from the Torch's attack... but was blocked by Iron Man.
Surfer gains Hulk's ability and finds out that ichimaru is the Hero SA member.
---
Day 3:
SA RID kills Einkil as Apoc (kills himself in agreement with ichimaru)
Sparrowhawk was Lynched
---

NIGHT 4
Independents
Seahorse (Silver Surfer) –

1. Spy JS
2. Kill ichimaru
Secret Alliance
Goodies

JS (Scarlet Spider) – save JS
rossbeemer (Iron Man) – no action taken
ichimaru (Hulk) (Secret Alliance) – no action taken
Limey (Human Torch) – none
JarZe (Invisible Woman) – none
GC (Punisher)
N4 Results:
Silver Surfer kills ichimaru
Surfer gains Scarlet Spider's ability
---
Day 4:
seahorse (The Silver Surfer) is lynched.
Game Over tongue.gif
Ad blocker interference detected!
Wikia is a free-to-use site that makes money from advertising. We have a modified experience for viewers using ad blockers

Wikia is not accessible if you've made further modifications. Remove the custom ad blocker rule(s) and the page will load as expected.