Ultimate Marvel Mayhem II was a game designed and hosted by Brandonb based on Marvel Comics heroes and villians.

It began on July 13, 2009 and ended in a Secret Alliance win in D3 (July 21st).
Game Mechanics
Edit
The Day/Night: BOTH last about 24 hours (whenever the timer ends). During the day, everyone votes for someone to be lynched.
Timer: Ends will be AT the hour. Example: 1:59 would still be ok, but at the tick of 2:00 the day would have ended.
The Night: It will be about 20 hours for receiving PMs, and we must have all PMs in by that time. The post will be written and go up w/ in the next 4hrs. The timer will dictate when the exact ending time is.
Addressing the Host: For any questions or comments or anything else that is addressed towards the host, please color the text in red so that it will be easier for me to identify. Thank you smile.gif
In the event of a Tie Lynch Vote: Both players will be killed
Blocks: Will not have any effect on RIDs and will NOT be mentioned in any post. It will be as if the initial action never occurred. The blocked player will be privately informed that they were blocked, but not by what role. Blocks will stay in effect during the night they were initiated AND the following day. Blocking abilities Trump everything else in the event of a paradox.
Guide to Mafia: Please consult Unreality's guide for all further specifics about Mafia-type games.
Q & A
Q1) So the Venom can, essentially, kill someone every other night? Also can the Spideys stop Venom's kill?
A1) Yes, he could kill someone every other night. And yes, the Spideys could stop it.
Q2) Can Dr Doom stop the lynch of a fellow Super Villain? If so, can he stop the lynch of himself?
A2) Yes, he can stop the lynch for anyone that he can RID
Q3) Do the Secret Alliance also win with their respective Vallians/Heroes? What happens if it's just Heroes and the Hero member of the Secret Alliance left in the game? The game presumably goes on yeah, and the remaining SA member plays on to be the last one standing?
A3) The Secret Alliance is essentially a separate faction and MUST be the last faction standing in order to win. If it comes down to the Heroes vs. the Secret Alliance, the game goes on till one or the other is remaining.
Q4) Do the Villains know the ID of Mister Sinister?
A4) Yes, the Villains know the ID of Mr Sinister. To summon him, the Villain BTSC just PMs the host that they want Sinister to join them, and he will be added to their BTSC at the end of that current day/night cycle. (If he is added at the same time that another Villain happens to die, the living Villains will get to choose which of the deceased Villains's abilities that Sinister will assume).
Q5) What if Venom's target is saved? Do they get to make posts again?
A5) Venom's target will not be able to make any more posts in the thread for the rest of the night, period. This helps to prevent conflicts in the event that someone was to change their minds.
But just for clarification, Venom's action does not go into the night post. So only he will know who he chose, and only he will be notified if his target was saved from his attack.
Q6) Will it be made clear who has stopped the lynch? I.e if either Dr. Doom or Apocalypse (having stolen Dr.Doom's ability) successfully stop the lynch, is it made clear in the Day Post who stopped it?
A6) Either way it will appear to be Dr. Doom himself, you won't be able to tell the difference.
Q7) Would it be part of the Night Post if the 'Spideys' meet up one Night? What if they both select each other, or the same person, but no save is performed, is it still part of the Night Post?
A7) Yes, no matter what circumstances they meet, it will be up in the post.
Q8) If I receive a message from Venom can you please remind me that I will die if I speak? Because it seems to be something that would easily be forgotten.
A8) Absolutely! It will be made quite clear that the chosen player is unable to post along with the PM message they receive from Venom.
Q9) What happens if Apoc tries to ID Mister Sinister?
A9) If Mister Sinister has not been summoned and taken on an ability, then nothing happens (except he gets Sinister's ID). If Sinister has taken on an ability, then Apoc gains that ability.
Q10) If saved from Venom's first attack, basically that attack is stricken from the records and he has to do it twice again?
A10) Yes, they will basically be stricken from the records. But keep in mind, Venom's target will not go into the night post unless it's a successful kill.
Q11) what exactly are the restrictions on Iron Man's suits? Can he wear the same suit twice indefinitely? It looks like he must change to keep them different, but then there's the & beyond suit which seems to be the previous 4 suits.
A11) On night one through four he must wear the specified suits. On night 5 and beyond he can wear any suit he wants... but not the same two nights in a row
Q12) Is it public who the Thing kidnaps? Or does just the target get pmed?
A12) The Target will be privately PMed.
Q13) Can you please clarify that Dr. Doom can stop the lynch of himself specifically?
A13) Dr. Doom can stop the lynch for himself, or anyone else that he can RID.
Q14) Does Apocalypse's spy ability override Sinister's ability to look like Spidey when ID'd?
A14) Yeah, Apocalypse will not be fooled.
Q15) Can the Invisible Woman die the same Night as Johnny?
A15) No, not even if Johnny is blocked.
Q16) Would Venom's first attack count against the Invisible Woman if Johnny was still alive? If Venom attacks IW the first time on a Night while under Johnny's protection, but then Johnny dies, will IW die if Venom attacks again the following night?
A16) Yes, the first attempt would count because it is not a successful attack. So if Johnny were dead by the second night then yes, the IW would be vulnerable.
Q17) If Apocalypse targets the Invisible Woman does he become completely invincible during the night?
A17) The Invisible Woman's abilities are distinctly protection from another source that it not herself (Johnny Storm). That is not an ability that they player is endowed with, it is merely part of the role like in the last game. So if Apoc targeted IW, he would gain the choice of the two abilities in her RD (he would not be able to use both at once).
Q18) If Apocalypse targets Ghost Rider does he become completely invincible during the night? What happens?
A18) First let me say that Ghost Rider does not have any limitations but the "any days but two in a row" that applies to his block. His lack of voting power and 50% vote-death are abilities that he possesses. That said, If Apoc would gain all of Ghost Rider's positive and negative traits. So if he chose to use Ghost Rider's abilities then he would be susceptible to the Celestial detest that burdens Ghost Rider and would die with 50% of the vote the following day.
Q19) If Apocalypse would die with 50% of the vote the following day. Could he prevent that using the invincibility option in his #1 ability?
A19) Yes. IF Apoc used Ghost Rider's ability, he could bypass the 50% voting weakness by sacrificing his #1 ability and make himself invincible during the day. However he would be outed with the 50% vote against him.
Q20) What happens if Ghost Rider is attacked? Does the Night post say which player was attacked or just that ghost rider was?
A20) The post would just say that Ghost Rider was attacked.
Q21) What happens if Apoc is attacked on N1?
A21) The attacker will be informed that they were blocked.
Q22) What happens if Ghost Rider is blocked?
A22) Then he will be unable to use his own blocking ability, but he will still retain his invincibility.
Night post actions
WILL be mentioned:
Carnage's Post
Venom's Second Successful Bond Attempt (ie. if he kills)
Villain BTSC Kill Attempt (unless blocked)
Apocalypse successful save (Shown as Spidey save)
Apocalypse kill attempt (will demonstrate copied ability)
Secret Alliance successful save (shown as Spidey save)
Spidey successful save (or saving from Venom's 2nd bonding attempt)
Iron Man Successful Save (or saving from Venom's 2nd bonding attempt)
Iron Man Kill Attempt
Human Torch Kill
Human Torch Saving Invisible Woman
Invisible Woman Kill
Invisible Woman Successful Bodyguard
will NOT be mentioned:
All blocks and kidnaps
Venom's First Bond Attempt if successful or not
Sinister's Summoning
Apocalypse's use of ability #1
Spidey Uneventful save
Iron Man Spy
Iron man Uneventful save
Captain America Spy
Anything about The Punisher's choices (whether successful or not, they will not be mentioned)
Invisible Woman Uneventful Bodyguard
Role Description
Edit
The Super Villains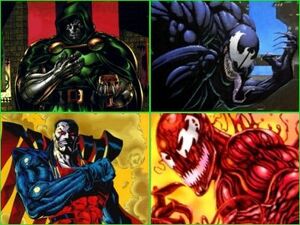 Some of the most powerful beings ever have joined together to prove themselves stronger than all the Heroes combined, and share world domination (yes, they have serious overcompensation issues). But when you're dealing with a group this greedy... there's bound to be betrayal.
One random member among them has secretly joined with a Hero, in a quest to rule supreme over all others.
As a group they get to make one kill each night (they must choose which member of their BTSC will carry out the attack).
They have BTSC and win as the last faction standing. The BTSC Villains know the ID of Mister Sinister.
Dr Doom (Victor Von Doom):(Starts with BTSC) The second most intelligent character in the entire Marvel Universe, and among the most powerful, as been brought back for a second chance. Any day but not two in a row, he may use his incredible power to stop the lynch of any player IF his incredible intellect is able to RID his target.

The ability is considered to be used only if it is successful.

The saved player will not have their ID revealed publicly for that lynch.

Must have the RID PMed to the host before the end of the day.

He may submit multiple RIDs (1 for each player) pending the lynch results.

This ability cannot be blocked.
Venom (Mac Gargan):(Starts with BTSC) The Alien Symbiote has found a new host, and a new diabolical bloodthirsty killer has risen. Each night Venom may choose a player to bond with. But bonding to these strong willed Super Heroes is more difficult than with normal humans. So it takes two consecutive successful attempts before he can fully bond. During the first attempt, Venom leaves a lasting impression on his victim. Venom PMs a message and the target's name to the host. A host passes on the message to the target ASAP. Once the target receives the message, they may not make any more posts for the rest of the night, or they will exhaust themselves and DIE.. If Venom successfully bonds with the same player again the following night, he will kill that player. (A save may prevent the initial attack or the second attack).

If Venom is blocked at night, his message will still go through, but the bonding action will not be successful.
Carnage (Cletus Kasady):(Starts with BTSC) Incredible power combined with violent insanity. Each night Carnage paints a message about whatever he likes on billboards using the blood from innocent civilians. These messages will be announced in the night post. He may also string up a player of his choosing who will not be able to act during that night.
Mister Sinister (Nathaniel Essex): Knows the identities of all the Super Villains and wins with them. However, Mister Sinister does not start with BTSC because is busy on his own developing a genetic experiment to enhance himself in order to take down Apocalypse. Once a Villain dies, Sinister may be recruited into the Villain BTSC and use the deceased body to genetically add their ability to himself.

May only be used once.

If spied (at any time) he uses his telepthic ability to appear as 'Spidey'.
Sinister Recruitment Details:
The Villain BTSC may not call upon Sinister to join the BTSC until one of them dies, and Sinister does not join the BTSC group until the BTSC Villains have chosen to call upon him for help.
Sinister will not have BTSC until the Super Villains choose to summon him.
Sinister may only gain an ability once, during the game, and only at the time summoned, and only from a deceased Villain.
Sinister will join the BTSC at the end if whatever cycle he is summoned.
Sinister may take on the ability of a Villain that dies at the same time that he is summoned. Example: If Venom dies at the end of day 1, Mister Sinister can be summoned right then at the end of Day 1 and immediately take over Venom's ability. In other words if he is added at the same time that another Villain happens to die, the living Villains will get to choose which of the deceased Villains's abilities that Sinister will assume
---
Independents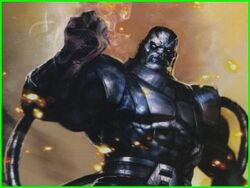 Apocalypse (En Sabah Nur): (Objective is to be the last one standing)
Having absorbed the power cosmic from The Surfer into his augmentations. Apocalypse can analyze and manipulate matter and energy, and molecularly restructure or animate matter at will, even transmuting elements or creating objects. He can project energy in various forms for offensive and defensive use. He also has telepathic ability, including mind-reading. Each night he may take both of the following main two actions;

1-choose a player to mind read and learn their role PLUS how to copy their 'original unique' ability. Apocalypse is the only one that is able to ID the members of the Secret Alliance through his mind reading ability. (this does not kill his target, and Apoc is not subject to the limitations of any ability he gains (with the exception of Dr. Doom's lynch stopper). IF he targets a villain, he will only gain the kill ability if he targets that night's chosen killer. IF he targets Iron Man, he will gain the ability of the distinct armor that Iron Man is wearing that night). OR instead, any night but not two in a row he may become invincible for the night OR following day, but his ID will be revealed if he is subject to death from either occasion.

2-in addition to ability #1 he may use one of his collected abilities on any chosen target.

Apocalypse is invincible for the first night and day.

If he steals Dr. Doom's ability, he will be shown as being saved by Dr. Doom in the post.

If spied, he influences the spy-er to only see him as 'Spidey'.

If blocked on an odd night, ability #1 will be the one that is blocked (except for the 1st night). If blocked on an even night, the second ability will be blocked.
---
The Secret Alliance: (They have BTSC, Objective is to be the last two [or one] standing)
One Super Hero and one Super Villain made a deal, that they would secretly defect from their respective groups and join forces to win this battle on their own. This independent faction has an additional ability to save (never the same player 2X in a row, & must specify which member will carry out the saving action), AND an additional secret ability.

If either is spied, then they show up as they normally would individually.

A successful save will appear to be made by 'Spidey'

The secret ability...will be revealed publicly for the first member of the Secret Alliance to be Lynched, but nothing will be revealed if the second member is lynched.
---
The Super Heroes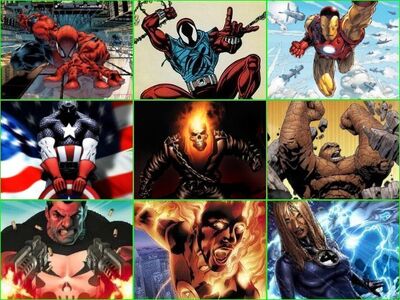 One of the greatest Super Hero alliances to have ever existed.
Their jobs are to rid the world of the menaces that threaten them, and restore order.
They win as the last faction Standing
Spiderman (Peter Parker): Picks a target to protect each night. Cannot pick the same target to save twice in a row. Gains BTSC with The Scarlet Spider if there is any form of interaction between them (If The SS and Spiderman choose to save the same player, or if Spiderman chooses to save The SS, or visa versa.) Spiderman and The SS's successful saves will be ambiguous in the night posts unless they meet.

Cannot successfully save Susan Storm.

If spied just appears to be 'Spidey'
The Scarlet Spider (Benjamin Reilly): Picks a target to protect each night. Cannot pick the same target to save twice in a row. Gains BTSC with Spiderman if there is any form of interaction between them (If The SS and Spiderman choose to save the same player, or if Spiderman chooses to save The SS, or visa versa.) Spiderman and The SS's successful saves will be ambiguous in the night posts unless they meet. </span.

Cannot successfully save Captain America.

If spied just appears to be 'Spidey'
Iron Man (Tony Stark): Over the years, Tony Stark has assembled a great collection of various armors. Each night, in an effort to "keep things interesting," Tony wears a different suit to fight in.

Night:

1-Classic Suit (saving)

2-Stealth suit (Spy)

3-S.K.I.N. armor (block action)

4-War Machine (killing)

5&beyond-Choice of any previous armor (but not the same two nights in a row).

Then Iron Man may select a player to use it against (including himself).
Captain America (Steven Rogers): The Greatest soldier ever. Captain America has incredible agility and fighting ability. And recently, thanks to Tony Stark, he obtained a new shield that helps him remotely gather intelligence. Each night he may stealthily track down and spy upon a particular player using his shield, though he must get within 100 yards to do so. (PMs the Host the name of a player each night, and the Host PMs the role following the night post).
Ghost Rider (Johnny Blaze): Having made a deal with the devil, during the night Johnny Blaze becomes an incredible and unstoppable force known as Ghost Rider. Only during the day, in the form of Johnny Blaze, is he susceptible to death. However, his interference is not appreciated by the Celestials, so if at any time he gets 50% or more of the vote against him (this includes the influence of the Punisher ability), he will die. Ghost Rider's vote counts as zero (though the Punisher may still gain from predicting Ghost Rider's actions). During any night but not two in a row, Ghost Rider may summon hellfire to incapacitate a chosen player for the night.
The Thing (Benjamin Grimm): Any DAY but not two in a row, he may choose a player to kidnap and run off with for up to 48 hours (One night and one day cycle, takes effect at the end of the day that the PM is received). The Thing must PM me the player's name before the day post goes up. That kidnapped player AND the Thing may not use any night ability or day power or vote, and will only able make only 1 post each (If the kidnapped player chooses to make more than one post, or chooses to make a vote that will not count, then It's CLOBBER'N TIME… and the player will be unable to act for an additional 24 hours... same goes for The Thing). The kidnapped player and the Thing will still be subject to the lynch AND night actions during the Kidnap. This will not be mentioned in any post.

The Thing may release the target and return to voting/posting at any time.

The Thing cannot kidnap himself.

If blocked at night, the Thing would not be able to initiate a kidnap the following day, and/or would be forced to release anyone he was currently holding.
The Punisher (Frank Castle): Not having true powers like the rest of the cast, The Punisher must be more careful. Each night he can set traps by making (1/4)*n different predictions about what specific night actions will take place (Role-Y will choose Player-X, and may not predict any sort of inactivity). For each trap that he lays correctly, the role that falls for the trap will lose their vote the following day, and The Punisher gets that additional vote in the following day's lynch as his own. If he gets all predictions correct, he will have perfectly orchestrated his traps, and be safe for the night in addition to the additional votes that he gained. (the results of 1/4*n will always be rounded down but never equal less than 1, n=number of living players going into the night)

If blocked, he loses all guesses.
The Human Torch (Johnny Storm): A wild vigilante who kills for the Innocents, and brother to Susan Storm (The Invisible Woman). The Human torch has the ability to fry someone any night but not two in a row. However, if his sister Susan is successfully attacked on the night that Johnny is attacking someone, then Johhny abandons his initial target and kills the player that is targeting his sister (only applies to Venom if it's the second attempt). If his sister is attacked on a night where Johnny is inactive, he will just save her and will not kill the attacker. Johnny may not target Susan to kill. (knows the ID of the Invisible Woman)
The Invisible Woman (Susan Storm): Sister to Johnny Storm (The Human Torch). As long as the Johnny is alive, Susan cannot be killed. However, if her brother dies, she becomes a vengeful maniac gaining the following ability. Any night but not two in a row, the Invisible Woman may choose to do only one of the two following actions:

1- Act as a stealthy vigilante, and kill a chosen player to avenge her brother.

2- Use her ability to create force fields and act as a bodyguard to a chosen player.*(see spoiler for details)
IW Details
If any non-killing night action is taken against the protected player, then the player making the non-killing action will be killed by the IW as if the action were intended to be malicious, and the IW will be fine (does not effect daytime abilities).
However, If the action taken against the protected player is to kill, then the IW will die for the protected player while killing the attacker.
Self-Saves are the only exception to IW's bodyguard kill
---
Info revealed at end of game:
TEAM SETUP
Heroes
Strengths
lynch Majority
the most abilities
Potential 3 blocks, 3 saves, 3 kills, two spies, voting manipulation, various invulnerabilities
Weaknesses
Least amount of starting info
Villains
Strengths
BTSC
group kill (no fear of friendly fire)
decent voting Potential
Lots of starting info
Potential 1 lynch stopper, 1 blocker, 1 silencer/save director, 2 messengers, 1 replacement.
Weaknesses
one of them is not one of them tongue.gif
Outed if kill is blocked
Apocalypse
Strengths
Potentially two players in one
Copied abilities are unrestricted for usage
Hard to find
Unspyable
blocks have less impact against him
Hard to kill
Weakneses
one player faction (only takes one kill to eliminate this faction)
Very little info
Least amount of voting power
Secret Alliance
Strengths
the most starting info
Secret ability (causes paranoia)
Knows Villain BTSC actions
save ability
Hero spy does not reveal SA status
Weakneses
Only two of them. 1 kill Half the faction is gone
lynch will out the team secrets
Very little voting power
Secret ability is HEAVILY restricted
The Secret Alliance's Secret Ability:
The Secret Ability depends on what abilities the Hero is bringing to the table.
If the Hero is Scarlet Spider or Spiderman then the ability is an RID kill using the following guidelines.
- RID kill attempts may only be made once during any 1/2 cycle (Night or Day) but not two in a row.
- RID kills will be instant (ASAP for the host to get around to it).
- Any RID guess must be made via PM (should be sent to both hosts for fastest response) and may not be retracted.
- IF a Super Villain is RID killed, and both S~A members are alive, then the Super Villain member of the S~A will be outed to the Super Villain BTSC.
- IF a Super Villain is RID killed, and one member of the S~A is dead, the dead member the S~A will be outed to the Super Villain BTSC.
- IF a second Super Villain is RID killed, then the other (non-previously outed) member of the S~A will be outed to the Super Villain BTSC.
---
The above information will be revealed publicly for the first member of the Secret Alliance to be Lynched, but nothing will be revealed if the second member is lynched. Nor will the restrictions below this line be revealed.
---
- Not Susan Storm, nor Ghost Rider, nor Apoc, nor the other non-SA Spider character may be RID killed at any time.
- The S~A Spidey's saving ability may not be coupled with the S~A saving ability to save both players at the same time.
- Additional clarification: The villain member of the Secret Duo may never have the final say over the use of the regular Super Villain kill ability.
For the sake of preservation for any future games... I have left out the other possible Secret Ability options that pertain to the other roles.
Host's Summary
Edit
Game Idea and Expectations
Edit
Great game everyone! I was really rooting for you there at the end Sparrow! It was sooooooo close! pinch.gif
And thanks again Unreality! You really brought my outline to life, and then some! I wish I could write those kinds of fight scenes!
---
Yeah, this game really came down to who made the best decisions with the info that they had.
The SAs really were flawless this game, and Apoc only slipped up on N3 by not using his invincibility for the lynch (I think that's what got him in the last game too) pinch.gif I was really surprised that the Heroes didn't start outing all of the baddies that they had on D2. All of the tied lynches really hurt them, and if Johnny Storm had survived that lynch they still might have had a chance blush.gif
By BrandonB
Special commendations
Edit
Host disappointments
Edit
Alternate endings
Edit
Winning Faction
Edit
seahorse - [Carnage - SA]

grimtooth - [Scarlet Spider - SA]
Day and Night Posts
Edit
Prologue
---
Chapter 1
---
"WHAT A SHOW!" Bb the Punisher exclaimed as the entertainment ended. "I knew they could do it! And whadya know? My boy The Punisher came through in the end!"
"This isn't right" replied IDNE the Merciful. "Don't get me wrong, I enjoyed the show, but out of respect we really shouldn't be meddling with the Gods. I doubt they could beat us, and I know they cannot destroy us, but…."
Bb then understood what he meant. Thor, a God and nearly immortal, had been defeated in the battlefield, virtually lifeless. In response IDNE the Merciful, the only Celestial who would EVER consider doing such an act in favor of an enemy, teleported down to earth and scooped up Thor.
"We shall pluck a golden apple for you, and somehow you will be revived" said IDNE. Then in a flash he was gone.
"What a ripoff!" Said itachi the merciless as he approached Bb's position.
---

Across oceans, among a desolate mountain range, in a vast and expansive cave, Apocalypse strode through the entrance
"Back so soon? Such a shame that the fourth horseman didn't live up to your expectations." Mr. Sinister calmly turned around to face the one that had gifted him. "Everyone thinks you are dead, but I knew better"
"There is no longer a need for the 4th horseman. That being the Fantastic Four just captured… I have an idea."
Then in a blind, both Apoc and Sinister had teleported away.
---

Through the streets of New York City, where the previous day had shown the capture of the Silver Surfer in Central Park, a police truck carted a criminal towards his new home for the next few years.
"Can you believe this guy?" said the officer driving the truck. "I've heard that they are never able to establish a motive for his crimes. I honestly think that he does it just for media attention."
"Oh, you mean Bruce Campbell back there? King of the B-list criminals! HAHA!" both officers laughed and amused themselves during the long drive.
Mac Gargan, once a gifted detective, had given up his mind for the considerable physical strengths given to him by an experiment years earlier. He now sat sedated, handcuffed, and insane, in the back of the paddy wagon alone…
"How are ya doin back there Mr. Popular?" the second officer asked in an effort to taunt the confidence-stripped man in the back, as the truck continued to speed off towards Ryker's Island prison with all four on board.
---

Back on the mainland, Mr. Sinister teleported into the Avenger's estate. He had arrived in a corner of a massive lab room. The walls were high and white, and the ceilings were high and arched with an industrial ventilation unit at the apex. There was giant electronic equipment of all sorts scattered everywhere, setup in various stations across the expansive white marble floors. Along the wall that his right shoulder was against, was a huge window leading out to a large steel balcony. Directly across the room from it was the entrance door at the end of a short hallway filled with various sensors
From his position he could see the containment unit that held the Silver Surfer and his board, as well as sense only one other person around.
Using the element of surprise, Sinister quickly used his telepathic abilities to discretely subdue Reed Richards with ease.
Not wanting to reveal that he was still alive, Apocalypse teleported in as soon as Richards was down. "Now watch for others, this shouldn't take long" said Apocalypse as he smiled at the containment unit.
The Surfer sat next to his board, he had spent the past few hours helpless inside the cell, contemplating his current existence, as well as remembering bit by bit his old life. Then as the beast approached him, he let his thoughts go. "None of that matters now, I can figure it out later" he thought to himself. "Right now I just need to survive…"
Apocalypse stood beside the entrapped Silver Surfer's board, he could feel the power contained within it. The Surfer himself was powerful, but the source… the board… that was what Apocalypse was here for. So he placed his hands on the clear glass-like substance on the containment unit, turned to Sinister, and grinned.
The whole scene burst into a blinding bright light, and all that could be heard was a loud humming and Apocalypse's yells. "THE AGE OF APOCALYPSE BEGINS!!" He took his eyes off of Sinister and looked down at his celestial augmentations that glowed bright in a spectacular light show of colors as they absorbed the new energy.
Inside, the Surfer began to turn a soft lead color, as his board began to show signs of fading also… then BOOM!
---
Chapter 2
---
"I hope you enjoy your new buddy, he stabbed his last cellmate in the eye with a sharpened piece of metal… in his sleep, the first night after arriving." said the Ryker's prison guard as he introduced Mac to his new 5x8 cell. "Close cell 28!"
"So, you are the infamous Cletus Kasady?" Mac Gargan smirked. "I remember you in the news, way back when you burned down that orphanage."
Kasady, sitting in the corner of the cell, on the stainless steel throne with his pants around his ankles, grunted "and who the F*&% are you?"
"You've got to be kidding… I am THE SCORPION!" Mac said as he struck his most menacing pose.
"Ech" Kasady accidentally cut his thumb on the lever as he flushed, then turned around to see the very powerful looking Mac Gargan, standing on one foot with both hands in the air, in a sort of Karate Kid Mantis-stance.
Kasady cracked a smile, not because he was amused at Gargan, but because he remembered breaking off that toilet handle, sharpening it, and using it to attack his previous cellmate in his sleep. Then he wiped his bloody thumb on his shirt and hopped up onto the top bunk.
Again stripped of what little confidence he had left, Mac sat down on the bed and put his head in his hands… He was totally distraught, He was a total joke, He was totally oblivious to the fourth being that had been on the paddy wagon as it slithered in through bars in the window and plopped onto the floor next to his foot…
---

The entire scene erupted into a bright red flash as the containment unit exploded violently.
"Wha… What have you done!?" roared Apoc as he turned to face Mr. Sinister who had just fired a massive energy blast at the vulnerable Apocalypse. "I was not finished, and you almost hit me!"
"I wasn't aiming for you." Sinister replied as the red flash subsided.
Just then Apocalypse turned to see a very pissed off chrome surfer rise from the rubble on his unscathed board. The Surfer grimaced as he extended one arm in front of him in a 'stop' motion. An incredible white energy blast exploded from his palm and enveloped Apocalypse.
However, at the sight of the Surfer's initial gesture, Apocalypse had instantly teleported away before the damage could be done. The Surfer stood looking down at the nothingness that remained of his attack after the blast subsided. Then he flew up on his board, seamlessly he seemed to melt through the ventilation unit in the ceiling and he was gone.
Meanwhile, Mr. Sinister had dragged Reed Richard's unconscious body away from the battle and awoken him from the telepathically induced slumber. "Richards, despite my contempt for you, you must reassemble the Heroes. My plan to have the Surfer destroy Apocalypse has backfired, and now he possesses powers that rival the Surfer himself. It will take all of us to stop him…"
Just as Richards was about to spew some multisyllabic scientific jargon that amounted to the equivalent of saying "I understand," Mister Sinister teleported away to prepare his next attempt at undermining Apocalypse.
---

The giant orange Thing walked in to find Reed Richards still laying on the floor "Hey stretch Armstrong, are you OK? I was in the lobby and I heard a boom from up here. What's going on?"
Moments after he began to explain what had just happened with Apocalypse and Mister Sinister, Johnny Storm flew in from the open balcony doors, the red blazing surface of his body quickly fading quickly into blue spandex.
"Hey RubberBandMan! What the heck happened to you?"
"Well you see, I was working at my desk with my…"
The front doors burst open "Reed! What happened to you? Are you OK?" the Susan Storm interrupted her brother.
"On second thought, we should just for everyone to arrive."
---

The symbiote slid up Mac's leg, covering it in a shiny black goo. Mac lifted his head from his hands and looked down to see this glistening shadow rapidly envelop his leg and spread across his body with baffling speed.
He quickly stood and tried to wipe it off his waist, to no avail. He barely had a chance to scream before the goo reached his head, covering his mouth.
Startled, Cletus Kasady hopped down and punched Mac right in his shiny black goo-covered face. But… his hand… it was stuck.
Sensing Kasady's terrible nature and finding him to also be a suitable host, the symbiotic alien goo began to slide off of Mac's face and up Kasady's hand. However, as soon as it ran across the cut in Kasady's thumb, it appeared to stop its expansion up his arm.
All of this had happened so quickly. His hand had gotten stuck on Mac's face, then he tugged twice and his arm was free. A large amount of the goo had seemingly run up his arm but now appeared to be receding into his hand.
Meanwhile, Mac's head was completely covered in the shiny black substance. Unable to breath, he collapsed to the floor.
Kasady, completely unaware of Mac's situation, was mesmerized by the goo dissipating in his hand. "Maybe I have some kind of immuni…" then it hit him. He felt as if his insides were on fire. A pain not unlike acid running through his veins swept over his body and he collapsed in blinding agony, as the last of the goo entered his bloodstream through the fresh cut on his thumb.
---

"…Yes Richards is OK, you need to come back to headquarters right away. Uh huh, yes of course we are working on it. Oh, and by the way, I have a surprise for you when you get back. _______ end transmission." Iron Man turned to the other Heroes, "He agrees, we need to head this off."
Dangling by a web upside down from the ceiling in the corner of the room, the Scarlet Spider looked saddened by previous events. "But without Thor, Dare Devil, Spiderman, and The Hulk, it's going to be tough taking on Apocalypse even with Mister Sinister's help."
"Well you guys seem to be a little light, mind if I bring some more weight to this fight?" The satin orange stones around the corner of the Thing's mouth curved up into a cocky rocky grin.
---

The cinderblock wall facing the prison courtyard exploded violently sending debris into the cell, covering the awakening cellmates in a cloud of dust.
The two creatures, no longer men, stood and stepped up to their new doorway to the world, wondering what the hell had just happened. Then in a flash, a dark being appeared in the room behind them. The two turned to see him leaning against the large metal door.
"I have a proposition to make…" said Mister Sinister as Carnage and Venom listened intently.
---
Chapter 3
---
Back in on the Celestial plane the debate continued.
"The Villains were cheated! Madame Web or the Scarlet Witch or someone else must have been interfering with that battle!" itachi the Merciless said. "Ah, and it looks like things are heating up again for another battle."
"Hmm… it was strange how the Heroes dominated the Villains AND the Surfer AND the member that had betrayed them. But I believe the Heroes would've won in the end even if there wasn't this 'interference' that you are unfoundedly claiming." Bb the Punisher retorted.
"Wanna bet? If Dr. Doom were still around, the Heroes wouldn't stand a chance!"
"Yeah right, I'll make that bet… what did you have in mind?"
"Thor's Hammer was left behind when IDNE took him to safety. That thing can shatter our Celestial armor, sounds like a worthwhile trophy."
"Heh… I like it… but let me even the playing field. If you bring back Dr. Doom from wherever you sent him when we removed from the last battle, then I get IDNE to revive a Hero of my choosing."
"Deal"
Never before could a Celestial be killed, not even by another Celestial. But if a Celestial also controlled the power of Thor's hammer… He could rule the entire universe….
So both Celestials each set out to revive a lost soul from the previous battle. "Well, If Madame Web did have something to do with the events in the last game… then I guess I know who I need to bring back to win this bet." Bb thought to himself and smirked as he teleported to the zoo.
---

"I hope you like it."
Iron Man threw the large saucer at the Massive doors at the entrance to the Avenger's mansion just as the doors burst open. With lightning reflexes Captain America spun one time as he caught the disk behind his back and had the arm strap securely fastened to his right arm before his momentum stopped with him facing the room filled with the greatest Marvel Heroes ever known.
"Hmm, feels lighter than my old one. Stark, what exactly is new with this shield?"
"It has all the bells and whistles that you are used to. Impenetrable, light weight, and aerodynamically balanced. However, it's now equipped with a remote control device. Try letting go of the handle and twisting it a half turn clockwise while it's attached to your arm."
Captain America twisted the shield and a surprised look appeared on his face when it detached from a small sleek unit which the arm strap was securely fastened to.
"Now if you throw the shield, it will permanently maintain its centrifugal momentum to silently hover as long as you desire. You can also view whatever is directly below the hovering shield using the screen on the unit on your arm. It has a remote feed from a small camera on the inside of the shield. And on top of that, you can use that unit to remotely control the flight of the shield as it flies, sending it wherever you like within a hundred yard radius, and bringing it back whenever you want."
"Ha! What a nice new toy! Thank you Ton…."
"Hey guys, I think you're gonna want to see this!"
The Punisher put the news up on the big screen. Every channel was blanketed with urgent news about two creatures destroying Ryker's Prison and heading into downtown Manhattan. They said that one was Venom, previously reported to have died a few days earlier. The other creature looked like Venom, but was red, skinny, and described as incredibly dangerous.
"Well ain't that a bitch?"
Startled, the room full of Heroes turned back to the front door to see… SPIDERMAN? "But… You are dead!?" The Scarlet Spider was already standing next to him, his spider sense had tipped him off to someone coming through the door.
"Yeah, so I've been told." Spiderman, obviously bewildered but smiling told the Heroes about how he met something called a "Celestial" and that it told him that he was being brought back for the greatest battle ever known.
"Was it The Punisher?" asked The Punisher.
Now even more confused, Spiderman responded "Uhh… I have no idea what you are talking about… that was weird? Anyways, he did tell me that Doctor Doom was coming back? I assume that he was dead too? I don't remember anything after our conversation with Uatu about the Silver Surfer. After that the only thing I remember is that Celestial telling me that they were watching this time too... whatever that means."
"Wonderful… as if we don't have enough problems to worry about! But right now we need to get downtown. Spidey, I'll fill you in on the way there." *THWIP* The Scarlet Spider elbowed Spiderman in the ribs and winked. "C'mon now, I'll race ya!"
"We need to experience what we are dealing with downtown before we can know exactly how to defeat it." Captain America, the great strategist, explained to the others. "We don't have any time to lose, LETS GO!"
N1- Along Came A Spider
"OH MY!"
Stanley jumped, surprised at the sudden voice of his Mom in the front seat, breaking his concentration on the PSP game he was engaged in the back passenger-side seat. They had been driving down some deserted back suburban roads in their red SUV on their way home from Stanley's late evening hockey game when his mother slammed on the brakes.
"Vandals! Why would they pour gas on the road!?" Out in front of the car a large single streak of flames ran across the two-lane pavement and ended in the dirt on the right side at a railroad crossing.
Stanley's Mother slowly drove the car off the side of the road to avoid the flames. If she had been going any slower she would have been going backwards "Oh my, I hope that there isn't any glass."
After what took WAY too long to accomplish, the SUV finally made it back onto the pavement 15ft ahead of the flaming bubbling pavement, and started to pick up speed.
Just before turning back to the warming glow of his PSP game, Stanley a glanced out the window. Just on the other side of the tree line, about thirty meters away, he saw a bright glow. Then the trees ended and clear as day he could see a man dressed in black... He was on a large flaming motorcycle driving down the train tracks.
Stanley couldn't take his eyes off of him. The motorcycle driver's head had giant orange flames blowing back from his head. Then he tuned and looked directly at Stanley... There was no smile, there was no flesh, only a menacing flaming skull with deep hollow eyes and a wicked grin staring back at him.
Then the motorcycle surged forward at blazing speeds leaving behind a streak of burning railroad tracks. Stanley closed his eyes, and thought of the demonic being he had just witnessed and said "Boy, I'm glad I'm not a superhero!"
---
In the middle of the city, swinging high above the bright lights of the streets, a spider-like man gracefully flew through the air after letting go of his web at the high point of his swing.
THWIP
"Just around this next high-rise." He was on his way to protect a particular person… The police could handle the small crimes tonight, he had a more important person to devote his time to.
"OH NO! I hope I'm not too late!" In the distance he could see a figure perched outside the 15th story window of the apartment building… the window belonging to the person he had chosen to protect for the night. He swung his legs as hard as he could and cut through the air with surprising speed.
"DON'T MOVE!" He yelled as he let go of the web and flew straight towards the bricks beside the window, hitting the bricks with a graceful and nearly soundless landing, his legs sprawled out, and his hands ready to defend himself.
The familiar dark figure perched on the wall just on the other side of the window leaned forward, allowing the light from the window to cast upon his mask. "Come here often Spidey?"
To the surprise of both of them, they each had a nearly identical mask staring back at themselves. "I was just about to ask you the same question."
Spiderman and the Scarlet Spider chuckled, then agreed that they would fair far better in the future if they coordinated their plans with eachother.
---
SCREEAAACH
Ghost Rider slammed on his breaks in the middle of Hell's Kitchen, ironically where he belonged. He turned his head back and could hear the distant screams of someone in trouble.
Burning his tires and making a standing turn with on leg down, a huge fireball erupted from the back tires, searing the paint off of a light pole 20 feet away.
His bike ROARED when he took his foot off the ground and released the brake. Heading back down the path he had just come from, splitting the fiery tracks he had previously left behind, he noticed the side of a building on a street corner up ahead of him. It had a large halogen light hanging off of it, illuminating a large torn billboard.
Written in a dripped red substance was a long and tedious message which read "Greetings those of Superhero and/or Apocalypse status... we are the Supervillains. Vuwahahahahaaa! Our inflated egos, deranged senses of justice, cruel childhoods and tragic love stories have twisted our inner moralities to allow for ridiculous cosines of connivery. We are even prone to turning against one another, like a pack of bloodthirsty jackals who have smelt a dead animal roasting in the hot African sun. We long to tear each other apart until we have destroyed the Secret Alliance member within us... easier said than done, you say? Wrong! In his second post of the BTSC forum, "the Merkal" slipped up, knowing the identity of an innocent. Outed as the enemy among us, the rest of us Supervillains jumped on the chance to kill our traitor. If the kill goes through properly, The Merkal should be dead tonight, and our end of the Secret Alliance destroyed! Wooppee! Take it or leave it, that's the truth."
"What the hell is this?" Of course he didn't have time to bother reading this message written in blood, he had to find out where it was coming from.
Ghost Rider rode straight up the side of the building, leaving a flaming trail right through the center of the message. At full speed he made it to the roof, and rocked off into the sky. Everything went into slow motion as he turned back to look at the building below. Then extending his arm, he whipped out a long chain that wrapped around a large iron pipe on the rooftop. He then pulled hard, and time returned back to normal as his bike straightened out and landed perfectly with a loud screech.
There in front of him was the head of The Merkal. His face was beaten and broken, he was nearly impossible to recognize. There was no sign of his body.
"The Villains must have done this" he growled. "This settles it. Those pansy Heroes are going to need my help. So few of them ever have the fireballs to actually kill a Villain when it comes down to it."
The Ghost Rider took off in a blaze of fire, leaving The Merkal's melon behind.
---
Just as Dawn began to break, and everyone began to sigh at the sight of a new day, they all began to feel... that same old pain.
All at the same time, the people involved in last night's occurrences were brought to their knees in blinding pain.
"Hello again…" said a voice that emanated in all of their heads.
"I am Brandonb the Punisher, a Celestial, one the most powerful beings in the universe... But many of you already knew that. Since your last skirmish, I have developed a liking for your antics. They please me, and when I saw the events of last night, I decided that it would be nice to have a sequel."
"Again, I want you to each choose someone that I will... 'remove'... from your battle. Choose wisely..."
The pain began to subside as the telepathic message continued to be burned into their brains. Then they heard Brandonb comment, "I am VERY displeased with the arrival of a new participant. Another godlike creature that is completely indestructible… This will not do, yet I do not wish to tip the scales so much by removing him from my little 'game'. So I have decided that the one secretly known as Ghost Rider will lose in my little vote if he merely gets half of the votes at any time... yes, that will do nicely."
Just then a list appeared in the heads of each combatant. A list of generic aliases... including their own name.
"Let the games begin... AGAIN"
D1- Twisted!
Just as the sun began to set, everyone began to feel... that same old headache. All at the same time, the people involved in the day's events were brought to their knees in blinding pain.
"Hello again…" said a voice that emanated in all of their heads.
HAHA! Very Entertaining! I can't believe it!
I have contacted the members of our little game, they have decided on a tie! A real honest tie! There's some serious shenanigans happening around here. Haha
(JS and Limey both lynched)
N2- Bloody Murder
"MOMMY! What's that!?" asked a little girl asked her mother ask she gripped her hand tightly.
The two were standing in the middle of Times Square in the late evening, trying to flag down a cab so they wouldn't be late to see 'Muppets on Ice.' Then the mother looked up…
Her shriek was only equaled by one hundred others around her on the sidewalks. They had looked up at the giant screen in the center of Times Square, where a slimy red figure was crawling across the glass and drawing a message which he inked with a small globe in his left hand.
You wuz incorrect yarday bout Mekal. We aint lie. Mekal-SA. Traitor among us. Like we said. Tonite, who we kill? We kill to win! Okay not yet. But we kill... we killin Sparrowhawk, sorry dood. Oh and we blockin Einkil, we think he da Apocalypse. Tonite he use ability sponged from night 1 ya know.
Now with a thousand eyes on him, the creature finished writing his message and chucked the globe over his shoulder, shot out a web-like tendril and swung away with spider-like agility.
"EEEEIIIIIIK!!!!!" the globe hit the ground with a sickening *thwuk* in front of the little girl. The red mass rolled a few times, stopping at her feet. The face of a random innocent person stared up at her, eyes wide, with the most horrific expression.
---
Back in Devil's Kitchen…
Grimtooth walked through an alley on his way to engage in some sort of super act (Hero? Villain?) no matter… what mattered was that he was not alone. Unknown to him he was being stalked…
At the far end of the alley, a figure came running towards him. "Ah, I finally found you!"
Coming face to face with him, yet cloaked in darkness, CPB's voice echoed off the walls. "I've been looking everywhere for you…"
Grimtooth opened his mouth and blinked, then suddenly she was gone! "Did I just imagine that!?" he muttered to himself with an unsure twinge in his voice.
"That was… weird." Then he darted off into the darkness, fearing his mind wasn't playing tricks on him.
And it wasn't… against the brick wall where grimtooth had just previously stood, CPB faded back into existence with the moonlight lightly casting a soft glow upon her unmoving face.
Terror filled her eyes, yet she didn't say a word, she didn't move a muscle. Then, entering the alley from the end that grimtooth had moments earlier, a large set of fiery eyes approached her shedding their own hellish glow.
"I knew someone would fall into my trap!" he looked on towards the direction which grimtooth had gone. "You have no idea what you are up against… Speak wisely, for these words shall be your last."
"Apocalypse, you're a fool if you think you can take on all of us!" CPB spit in his face.
"I am no longer the same being that you once knew, for each night a grow stronger. Not that it matters anymore to you." Then Apocalypse released the force field he had used to pin CPB against the wall.
And with a snap, CPB exploded outwards as a hundred microscopic force fields deep within her expanded instantly. They grew from the inside out and ripped her apart with such velocity and force that her remains would never be fully removed from the bricks in the alley around them.
Apocalypse smiled as he dropped the 'sneeze guard' force field he had created in front of his face to shield from the blood spray. "My revenge is at hand."
---
I am relatively pleased with the events from last night. Keep up the good work, I can't wait to see what happens next!
Ad- Afternoon Demise!
As the various Super Heroes and Villains considered who would be the next to go... elsewhere, action was being taken...
Dawg was minding his own business, sitting in his bedroom thinking about who he wanted to go next, when silently someone(s) stepped up to the other side of his door.
There was no telling if there were one or two, but they knew who Dawg was, and what he was, and also that he was going to die...
Dawg never made it out of his bed. The person/people overtook him too quickly and with too much surprise. He died today, but not totally in vein... because word about the S~A's ability soon spread...
D2- Tie? <-May contain bonus materials wink
After the sudden and unexpected death of Dawg, the Heroes and Villains alike fell silent. No one bothered to make another claim, no one bothered to put up a fight...
"Wow, I am absolutely baffled. Another tie... my my... what am I going to do with you people?"
Celestial Brandonb the Punisher spoke directly to seahorse and Marth... They both fell to the ground in agony as if they could feel their brains were melting "Good effort there guys, but I'm afraid I gotta put you both d...." . . . "DIE! HAHAHA!!!" the maniacal laughter resounded a few moments later, only to be drowned out by the lone screams of Prince Marth.
Then suddenly... Silence...
"Keep it up guys... I'm rooting for you..." he said, then he was gone...
N3- Mmmmm Cheesy!
Again dusk set in on the city of Manhattan. From a far distance in the suburbs, a late evening sky diver had a birds eye view of the city. He thought about how the lights shining bright through of the office windows in the various sky scrapers looked like vertical lines of low stars descending into the earth's surface.
"What the hell?" A bright fiery star then appeared shooting up that vertical line of stars, leaving a bright beautiful trail behind it. The sky diver lifted her goggles momentarily and rubbed her eyes thinking that the lights must have been blurring together.
---
"I hope I'm not too late…" he thought to himself. "I've had way too many run-ins with damn decapitated heads recently, and CPB is counting on me…"
As he continued to drive his flaming motorcycle up the side of the high-rise, keeping his tires between the edges of the glass and on the thin beam separating them. Then he saw something up ahead hurtling towards him.
He barely had time to react and swerve out of the way, when the body of PHZ came hurtling past him. He didn't know if she was dead, but she wasn't making a sound.
SCREEEEEECH...... BOOOOM!!
Time slowed again, as Ghost Rider ripped up on his handlebars with all of his might, bringing his front tire off the glass and forcing his bike perpendicular to the side of the building. Turning sideways, the back end of his bike kept its momentum going upward… then he slammed on his rear brakes and his back end whipped around sending the front end crashing back into the beam between the glass windows. This created a huge eruption radiated outwards, forcing massive plates of glass to explode out of the building.
VROOOOM
Now facing downward, he kept his hollow hellish pits for eyes pinned on CPB. A fireball erupted from tail of his bike as he gassed the bike as hard as it could go.
Time resumed to normal and Ghost Rider barreled downward in the direction from which he had come, set on rescuing PHZ. So much force was being thrown into the building from his back tires that glass continually detached from the building in his fiery wake.
---
Meanwhile, in the streets not too far away…
Sparrow was strolling down the sidewalk, on his way to a movie. Glancing into an adjacent store window he smiled at the large neon 'NY Style Pizza' sign behind the glass.
Then his focus, and his expression, both changed. Sparrow noticed in the reflection, a familiar man standing on the other side of the street watching him… Someone was shadowing him…
Sparrow turned away from the sign and kept walking nonchalantly, not letting on that he knew. "It will take him a while to cross that street, I just had to time the light right so that it's busy when I make my move."
Then the time came. Sparrow darted off the sidewalk and into the darkness of a nearby alley to lose his tail. "I'll be long gone before he has a chance to catch me…"
Not willing to be shaken, Shadow took to steps and with his foot pushing off the curb, leapt over three lanes of traffic, landing on the hood of a cab in the fourth lane (fyi, anyone in this game could do that wink.gif… well maybe not the Punisher tongue.gif).
Shadow bolted into the alley after Sparrow. "Don't run! I didn't mean to startle you! Wait Sparr…"
"I think I really like this ability… heh heh heh" Apocalypse grinned widely and bowed to put his face right into Shadow's. "Surprise… you aren't the only one stalking him!"
Unable to move, Shadow terrified eyes told the story.
"I think I know what you are trying to say, I'm heard it over and over again for millennia. But now is my time, and I don't care anymore… not that I ever cared." Apocalypse grinned, then went to work with the most creativity he could muster.
Moments later, a fleshy mess splattered onto the sidewalk just outside the entrance to the alley, followed by a nearly intact bloody skeleton clattering onto the pavement. The nearby screams of witnesses, viewing his work, were music to Apocalypse's ears.
He smiled, because in the darkness… Shadow was gone.
---
"Just a little further"
The ground was approaching rapidly, and Ghost Rider still had a little more distance to cover before he was within grabbing distance of PHZ.
"No time left." He whipped out his chain and snapped it out at the falling PHZ, the end just barely wrapped around her outstretched motionless wrist. Then with a quick tug, he pulled her back to him and slammed on the breaks.
Fighting gravity, and holding PHZ across his lap, Ghost Rider pulled up on his handle bars and hit the ground with a *CRASH*
They came to a stop right at the bottom of the building next to the entryway. The fire receded from his hands as he cradled PHZ.
Laying across his lap with Ghost Rider's forearm braced against her shoulder blades for support, PHZ raised her head and her eyes snapped open and looked around. Trying to grasp the situation, she looked up at him confused.
"Are you ok? You were unconscious falling off of this building. What happ…"
Then gravity caught up with them. A large plate of glass sliced downward and splintered as hit the sidewalk, but not before sending PHZ's head rolling into the streets…
Ghost Rider's eyes flamed when he saw the message from Carngae scrawled in blood across her shirt "Cheesy"
sigh "Damn it"
Ad- Going Ghost
OK, I'm out for the day. If anything happens that needs taken care of while I am gone, I have made a few requests for others to take care of it thumbsup.gif
---
"Finally, I'm rid of you!" Brandonb was pleased with the decision to rid the battle of Ghost Rider "Johnny Blaze. You have two choices, either keep your end of the deal and leave, or I can MAKE you leave. Mutants and humans are fine, but demonic beings from the other realm, like the one possessing you, are NOT welcome."

Johnny's skin BURST into flames as did his little motorbike. It began to twist and transform into the behemoth bike that had seen so much action the past few nights. "What's wrong? Where are your balls or fire now?" Ghost Rider got on his bike and took off. "I'll be seein ya."

"If I ever see you again it'll be too soon." Bb the Punisher smiled. "It's coming down to the wire now… I wonder which way this is gonna go?"
---
Thanks for playing JarZe. You made the most of what you could do in the short time that you were able to act.
Day 3 continues and ends when the timers runs out! Someone please place the votes back where they were (leaving out the votes made for and by JarZe). Thank you!
Ad- Dubya Tee Eff?
Hey guys! I'm extremely sorry that I had been out of town all day long yesterday visiting my brother in rehab (sorry, but I'm sure you can understand why I missed this). Anyways, I had made an attempt at getting someone to fill in for me to take over the JarZe aspect... but I didn't consider the RID causing it to happen especially early and without notice to the fill-in (because the PM went to me of course pinch.gif). Anyways, I reviewed the day and based on various times that things occurred, here's the deal...
Kat's RID was made earlier in the day (as it so happened, exactly 6hrs before the end of the day according to the time stamp) and as indicated in the ability, is instant, so JarZe also died at that time b/c with Kat dead, JarZe would have had majority. I guess in my head I was thinking that things would have occurred differently in the thread in response to what happened. But overall I cannot expect players to act in a manner assuming that their competitor is speaking truthfully and change their votes based upon various claims. At the same time I cannot allow conditional votes made via PM that other players cannot take into consideration and respond to. So woulda-shoulda situations are ambiguous and really don't work at all the way I had anticipated. I should have put the game on a 24hr delay, I really messed up by not being around yesterday, and I apologize.

So... the day will resume at the point where the last game altering decision was made, which is when Fox and JarZe should have died. Beginning now there are about 6hrs remaining in day3. This is the best I can do short of delaying the game till next Sunday pinch.gif
D3- Bonding
Many thanks to Unreality for writing the story!

A soccer mom's SUV crawled down 5th Avenue at a snail's pace. The buzz of an in-car television could be heard drifting across traffic: "sszzzss - sorry, having technical difficulties - sszz - due to increased acitivity of - szsss - meteor shower - szzss - mild meteors expected to hit Manhattan later tonight - sszss". Then the SUV exploded.
"There we go" Dr. Doom snorted, returning a device to the back clasp of his belt.
It was a battle of the baddies... Unreality aka Dr Doom. Sparrow aka Apoc. And the Secret Alliance: Grimtooth the Scarlet Spider and Seahorse as Carnage, the descendant of Venom. They had gathered in Central Park of NYC to hear Brandonb's verdict.
A tie, AGAIN! Brandonb boomed from his celestial mount, somewhere in the intangible cyan sky. For the third day in a row! Make up your minds, sheeple!
The sun was setting behind the Statue of Liberty like a golden egg, slowly reddening under a blazing flame. He bent down, peering at his subjects. You have failed Apocalypse he noted.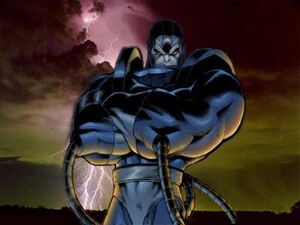 Apocalypse snorted in derision, arms crossed.
You did not use your invincibility last night, so that brings your revenge spree to an end... the mighty Celestial continued. "You are not worthy of the augmentations that I granted you." The various enhancements that had been endowed to Apocalypse by the celestials began to crumble and decay.
During this time, Grimtooth had been praying to avoid detection. But nothing escaped the attention of Brandonb. And you! he boomed. The other victim of our tie!
The Scarlet Spider stood there, baffled by this immortal opponent.
Brandonb chuckled. You are not special, You must be punished.
A hailstorm of fire blazed down on Grimtooth, enveloping him in a solid solar flare. By the time the light and noise was gone, the last memory of Grimtooth was a scorched circle on the ground.
The Celestial turned his attention back to Apoc, smiting him as well in a crackling ball of violet, violent electricity.
With those menaces to society dead... Brandonb mused, focusing on the two survivors: Seahorse and Unreality. That leaves you, to duke it out.
"Well look what we have here. A couple of Supervillains, but you betrayed us!" Unreality exclaimed, with all the arrogance of Dr. Doom. "This is the ending I promised, Seahorse. You remember, way back when I deduced that you were the SA traitor among us. I pulled a little deception test on Frost and Limey, who was the original Venom, and neither of them were the SA. That left you. I told you my theory; that it was only possible for either of our factions to win if we worked together. And we did work together, and here are the results, as promised!"
"You have suffered more casualties than me," hissed Seahorse.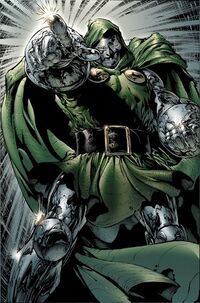 "Yes, but we had more people to spare. Limey was Venom, but died. Shadow, previously Mr. Sinister, took his place... when Shadow died, that left me. When Grimtooth died, that left you. It's me and you, Seahorse..." As he said this, Dr. Doom pulled some kind of powerful technological device from a belt clasp in his back.
While he was doing that, Carnage said, "Speaking of Venom... I have recovered the symbiote... I have Venom with me now... and I can feel that he is eager..."
"No, wait!" Unreality cried, but tentacles launched out of Seahorse's chest and knocked Unreality over. The device he had pulled out skittered away on the grass, useless.
More tentacles writhed out of Carnage's limbs, stretching and feeling the air.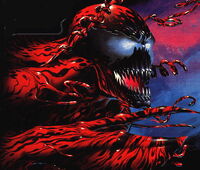 Then Carnage extended his open hand, revealing a black blob of extraterrestrial goo. It was a gruesome sight; even more gruesome to see it leap out in a streamline toward Unreality who was crabwalking away, scrambling in fear.
Carnage laughed in a mix of ecstasy and rage as the glistening black symbiote burst into a wide web to cover Unreality. All of the goo struck at once, piledriving into him.
As Venom's alien essence invaded Unreality's body, he squirmed and fought and screamed and shouted, his limbs writhing, his face contorted in pain. Blackness oozed out of his poors and gummed up in his eyes... under his mask, miniature tentacles slithered out of his nose and closed around his face. His terrified, anguished screams became maniacal laughter as the transformation was complete. Underneath the armor of Dr. Doom, Venom was reborn.
Venom burst an array of tentacles outward, shedding the Armor of Dr Doom. He then rose to his feet, pushed up by his strong, tensile tentacles. His blackskinned body rippled with an extrasolar muscular system. He cocked his head to the heavens and shrieked with exhilaration. The sun had set and night was fast approaching. Central Park was deserting, either from the onset of the night or all the screaming, who knows.
But the people were leaving.
"We have to chassssse them down!" hissed Carnage. "We must replicate and use these pitiful humans to regrow a new army of alien symbiotes, here on Earth!"
"Yessss" growled Venom, and excitement filled his eyes. The personality of Unreality was locked up somewhere deep inside, unable to overpower this alien presence in his mind.
The two alien behemoths sprinted off through the shadowed trees, silently hunting their prey.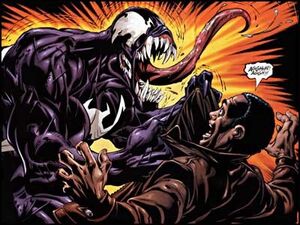 When Venom spotted a target, he gabbed him to see the terrified expression in his eyes. Then slimy tentacles launched out of Venom's abdomen, drawing the screaming human into the maw, where the human was reprocessed as the symbiote reproduced asexually, bonding the human. Then the ex-human now-symbiotic-creature was ejected onto the pavement covered in slime in a scene that mirrored that of Dr Doom's conversion.

And there were no superheroes left to stop it.
---
"Well well well. It looks like I win!" itachi the Merciless grinned at the realization that he had won the bet.
"Not a chance. The Secret Alliance is made up of both a Villain AND a Hero. This is... ANOTHER tie." Brandonb the Punisher winced at the fourth occurrence.
"Good point... So who gets Thor's Hammer?"
"Thor does!" IDNE the Merciful burst into the Celestial debate.
"Are you kidding? He's dead, and I'm sure as hell not going to let it fall into the wrong hands." itachi grasped the Hammer tightlly.
"No he's not. He has been healed and desires to obtain his Hammer again so that he can fight the mess that you two helped create."
Soon there were dozens of symbiote-bonded creatures running around Manhattan, infecting everyone they saw and causing mass chaos.
"Fine, let him have it." Brandonb mused. "It's more fun to observe anyways."
---
Meanwhile, dark storm clouds were collecting overhead, and a few streaks appeared in the sky; the beginning of the meteor shower.
Venom had spotted a particularly juicy target. A human was dashing up some scaffolding on the side of a nearby skyscraper, shouting and flailing her arms as she tried to get away from Venom's tentacles.
Venom launched himself off the pavement fifty feet away, calculating the jump to land exactly on the girl, squashing her flat against the building and ingesting her in his abdomen, all in one motion. Venom barely noticed Carnage creeping toward the building below.
After the girl was ejected, writhing in the slime of a new symbiote, Venom pushed her away and bounded up the side of the building like a gecko, enjoying the exhilarating speed and the raindrops (which were now hammering down from the heavens).
When Venom was near the top, he lept off the side of the building and soared into open air, sliding over the slippery (and very small) helipad that marked the roof.
He then strode the edge and looked out over the city, grinning. An incinerated SUV was smoking in the street below, and he could see the scorch marks where Grimtooth and Sparrowhawk had been obliterated. He could see Carnage- wait a minute!
Carnage blasted up from the side of the building too, knocking into Venom's chest and sending the both of them skiddering across the wet concrete to the opposite edge of the roof.
"Youuu cannnnot be trusssted to survivvvve!" Carnage spluttered, as rain cascaded down and lightning forked around the sky, followed by thunder that shook the foundations of the skyscraper.
"Why not???" Venom spat, struggling to regain control.
"You have served you purposssss, and there is that shred of Dr. Doom inside of you!" Carnage explained. "Dr. Doom is smart, and very powerful, and may break free from your control!"
"You mussst underssstand," Venom insinuated. "He could not be trusssted to coexxxist with me. I have supresssed him!"
"We cannnot take the chancsse!" With that, the symbiotic tendrils of Carnage's right arm shaped into a large hammer, and pummeled it into Venom's face. The alien shrieked and kneed Carnage off.
Carnage sailed into the rain, over the ledge of the building, but he wasn't worried... a host of tentacles blasted out and wrapped hold of Venom's neck, and the edge of the building. Venom had just a half second to realize what that meant before - yank! Carnage was tugged taut and Venom was launched off of the roof, roaring in anger.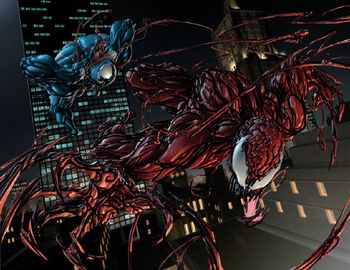 Venom's tentacles shot out now too, enveloping Carnage's body in a writhing, tangling nest. Carnage screamed and tried to bat him away, his own tentacles slipping from the slippery roof. Venom scrambled up the side of the building, rolling onto the surface - just as a meteor blasted past, decimating the far corner of the helipad roof. Another meteor streaked over the stormy sky and rammed the skyscraper with an intense, fiery force. The impact shattered every glass window on every floor of the building, and the meteor slid to a burning equilibrium at the far end of the building, near the bottom.
With that, the building began to creak, slowly tipping toward a busy intersection. Cars honked, people screamed, symbiotes ran around like nuts. The building's midsection, on fire, was hissing and splattering as the rain drummed into it steadily.
Venom and Carnage were both on the ever-sloping roof of the building, struggling to hold on as they strangled each other with tentacles. Another meteor plummeted closer, this one a bit bigger than the last two.
A shard of lightning blazed down, meeting the tip of a lightning rod on the adjacent building. The tumultuous roar of thunder accompanied the impact of the mother meteor, which slammed into the roof of the building... Venom and Carnage unraveled their tentacles from each other and both jumped off opposite sides... the meteor crashed into its target with an epic explosion. The shock wave shattered all the windows along the entire street and a massive lateral fireball rocketed in all directions down the canyon of the intersection while charred flaming concrete chunks rained down on the streets.
Needless to say, utter pandemonium had ensued.
It was impossible to know whether Venom or Carnage had survived, and indeed only they and the Celestials knew.
Brandonb could see that this alien symbiote threat had taken over, and the superheroes would have to team up now. No more quarreling amongst themselves about who was in charge. The remaining heroes would have to exchange identities and work together to conquer this extraterrestrial menace. Yes, that was the only way. For next time, on Ultimate Marvel Mayhem 3...
---
Congratulations Secret Alliance!!!
CONGRATULATIONS SEAHORSE AND GRIMTOOTH!!!
End of Game Roster
Edit
Celestial: Brandonb the Punisher (host)
Limey - Venom

- killed by The Celestial Punisher D1

The Merkal - Thing

- killed by

The Super Villains

N1

Shadow - Sinister-turned-Venom

- killed by

Apocalypse

N3

Ein/FOX - Captain America

- killed by

Secret Alliance

D3

seahorse - Carnage - SA

Dawg - Iron Man

- killed by

Secret Alliance

D2

grimtooth - Scarlet Spider - SA

- Lynched D3

CPB - Spiderman

- killed by

Apocalypse

N2

JS - The Punisher

- killed by The Celestial Punisher D1

JarZe - Ghost Rider

- dismissed by The Celestial Punisher D3

sparrowhawk - Apocalypse

- Lynched D3

CL/Prince Marth - Human Torch

- killed by The Celestial Punisher D2

Unreality - Dr. Doom

- killed at end

Zoro - Invisible Woman

- killed by

The Super Villains

N3
List of actions
NIGHT 1
Baddies
Group Kill – The Merkal (by Limey)
seahorse [Carnage] (Secret Alliance) – Block Einkil
Limey [Venom] – attack grimtooth
_unreality [Dr. Doom] –
Shadow [Mr Sinister] –

Independents
sparrowhawk [Apocalypse] – Spies/Copies Pirate Hunter Zoro. Finds out that she is the Invisible Woman.
Secret Alliance
Save – Declined
RID – Declined
Goodies
CPB [Spiderman] – Saving CPB
grimtooth [Scarlet Spider] (Secret Alliance) – Saving CPB
Dawg [Iron Man] – Save Dawg
Einkil [Capt America] – Spy grimtooth
JarZe [Ghost Rider] – No Action
The Merkal [The Thing] –
Cherry Lane [Human Torch] – No Action
Zoro [Invisible Woman] – No Action
JS [Punisher] – Gets +1 voting power
1. Apoc targets PHZ
2. Apoc targets sparrowhawk
3. Apoc targets Einkil

N1 Results:
The Merkal is killed
Apocalypse gains Invisible Woman's ability
The Punisher takes Apocalypse's vote
Captain America is blocked by Carnage
The Spideys meet up!
Venom sends the message to Einkil
Spoiler for Venom's N1 message:
Helllllooooooo grimmmtooooooothhh.... I am bonnnnnding with yooooooooooou!
And tomorrow night, you will be attacked again, yessessssssssss
What can I do to stop thisssss? you inquiiiiiiire?
IT IS SIMPLE!
Tell usssss who you aaaaarrre... each role will be asssssociated with two WORDS.... use those words in one of your postsssssss on day 1 tomorrrrrow....
if you do nnnnot, we will killlllllll you tomorrrrrow!
apoc jiggly, jello
spiderman savant, seething
scarlet spider wobbly, warped
iron man intrinsic, intuitive
captain america flowering, unfurling
ghost rider tenacious, tyranny
the thing elaborate, elongated
the punisher joyful, jubilant
the human torch query, quiescent
the invisible woman laughable, linguistic
they can be in any order, yesssss. Do not lie... if we even sssussssspect a deceptionnnnnnnn, we willll killlllll you!
but iffff you posssst your role in the abovvvve manner, we will NOT KILL YOU!!! Forrrr you willll be betttter to usss alive than ddddead!
---
Day 1:
JarZe and Sparrow's votes had 0 weight. So the day ended in a tie 3 3.
Limey [Venom] gets Lynched
JS [The Punisher] gets lynched
---
NIGHT 2
Baddies
Group Kill – Sparrowhawk (carried out by Shadow)
seahorse [Carnage] (Secret Alliance) – block Einkil
_unreality [Dr. Doom] –
Shadow [Mr Sinister/Venom2] – bond with CPB
Independents
sparrowhawk [Apocalypse] –
1) Target Einkil, Learns that he is Capt America (not very helpful).
2) Bodyguard grimtooth
Secret Alliance
Save – Dawg
RID – Dawg as Iron Man (D2)
Goodies
CPB [Spiderman] – saving grimtooth
grimtooth [Scarlet Spider] (Secret Alliance) – Saving PHZ
Dawg [Iron Man] – Spy seahorse, learns that he is Carnage.
Einkil [Capt America] – Spy Zoro
JarZe [Ghost Rider] – Blocks Shadow
CL/Prince Marth [Human Torch] – No Action
Zoro [Invisible Woman] – No Action

N2 Results:
Venom sets out to kill sparrow and bond with CPB but is blocked by Ghost Rider.
Captain America is blocked by Carnage again
Apocalypse bodyguards grimtooth using IW's ability. and kills CPB(Spiderman) when she tried to save grimtooth.
Iron Man discovers seahorse is Carnage
Ghost Rider discovers Shadow is a Villain
seahorse outs himself as the SA member, and what the SA secret ability is, to the villain BTSC. However, he lies and says that the RID can't kill villains.
Venom sends this message to CPB
Spoiler for Venom's N2 Message: (could not access spoiler)
---
Day 2:
Prince Marth is lynched
seahorse is lynched
Dr Doom saves seahorse
SA RID kills Dawg as Iron Man (Success!)
seahorse outs grimtooth as the other SA member to the Villain BTSC but does not give his role.
---
NIGHT 3
Baddies
Group Kill – PHZ (carried out by seahorse)
seahorse [Carnage] (Secret Alliance) – blocks PHZ
_unreality [Dr. Doom] – cannot act (D3)
Shadow [Mr Sinister/Venom2] – bonds with Sparrowhawk
Independents
sparrowhawk [Apocalypse] –
1) Target JarZe, learns that he is Ghost Rider
2) BG Self (using IW ability) – Kills Shadow/Venom
Secret Alliance
Save – Unreality
RID – Fox (D3)
Goodies
grimtooth [Scarlet Spider] (Secret Alliance) – grimtooth
Ein/FOX [Capt America] – Spies Shadow
JarZe [Ghost Rider] – Cannot act
Zoro [Invisible Woman] – Kill Unreality

N3 Results:
Invisible Woman tries to kill unreality but is blocked by Carnage
Villains kill PHZ
Venom targets Apoc early in the night in hopes that Apoc will change his action. Apoc does, and uses the bodyguard on himself because he knows Venom is visiting him... killing Venom/Shadow
Venom sends this message to Sparrowhawk
Spoiler for Venom's N3 Message: (could not access spoiler)

Day 3:
SA RIDs FOX as Captain America (Success!)
Votes put JarZe (ghost rider) over the 50% mark and he is eliminated
Tie lynch between Sparrowhawk and grimtooth
Sparrowhawk is Lynched
Grimtooth is lynched
---
Planned actions for Night 4: Carnage (SA) vs Dr. Doom (Villain)
Dr Doom attacks Carnage with the Villain kill
Carnage either blocks Unreality or saves himself with the SA ability and survives the night.
Planned actions for Day 4:
seahorse RIDs unreality during the day before the lynch ends.
Game Over. Seahorse is the Lone survivor!