Ultimate Marvel Mayhem VII

The Final Battle? With Great Power Comes...
Game information
Host
Brandonb & Coolkid
Link
Ultimate Marvel Mayhem VII BTSC threads
Size
Players (Large)
Start Date
1.1.15
Winning Faction

Heroes

Roster
#, player

First to Die
Inawordyes
Last Remaining
Jay Gold, RedPhantom, Hachi
MVP
Jay Gold
Awards
-
Ultimate Marvel Mayhem VII was a game designed and hosted by Brandonb based on Marvel Comics heroes and villains.
It was co-hosted by Coolkid.
It began on January 1, 2015 and ended in a Heroes win in N6 (January 16).
Game Mechanics
Edit
The Day: Will last about 24 hours with a strict end time. During the day, everyone votes for someone to be lynched.
The Night: It will be about 20 hours with a strict end time for receiving PMs, and I must have all PMs in by that time. The post will be written and go up w/ in the next 4hrs.
Addressing the Host: For any questions or comments or anything else that is addressed towards the host, please color the text in red so that it will be easier for me to identify. Thank you
In the event of a Tie Lynch Vote: Both players will be killed
Blocks: Will not have any effect on RIDs and will NOT be mentioned in any post. It will be as if the initial action never occurred. The blocked player will be privately informed that they were blocked, but not by what role. Blocks will stay in effect during the night they were initiated AND the following day. Initial blocking abilities Trump everything else in the event of a paradox.
Powerplay: Due to the structure of the factions, no powerplaying will be allowed in this game. You never know if your teammate is really your teammate…
Meditation: Any night that a player has an action to make, they may forgo all night actions (or actions for the following day) in order to clear themselves of Thanos' mind-enslavement. After the meditation players will be informed if they had been enslaved.
Anonymity: This game is played where each player shall receive his own unique MM login that pertains to their own name in this game. Although everyone will be able to view the game, only those logins will be given mod-permissions to post in the thread or see BTSCs. ALSO, PLEASE DO NOT CHANGE THE PASSWORD ON YOUR ANONYMOUS ACCOUNT! And please do not share your MM name with players in your BTSC (if you are in a BTSC).
Backups and Inactivity: Inactivity is going to be strictly enforced against. If you choose not to vote or discuss during the day then I need notice via a PM. If you have no ability during the night, I still need to receive a PM. If you show no activity in the thread and I do not receive anything for a full day or night phase, you will likely be swiftly replaced. Backups are always welcome to sign up. All unused backups will receive 1 rep point for being on standby ready to jump into the game. If a backup is called upon to play but is not available, the rep point will be forfeited.
Role Description
Edit
The Super VIIllains
Some of the most powerful beings ever have joined together to prove themselves stronger than all the Heroes combined, and share world domination (yes, they have serious overcompensation issues). But when you're dealing with a group this greedy... there's bound to be betrayal.

One random member among them has secretly joined with a Hero, in a quest to rule supreme over all others. As a group they get to make one kill each night (they must choose which member of their BTSC will carry out the attack).

They have BTSC and win as the last faction standing. The BTSC Villains know the ID of Apocalypse.
Dr Doom (Victor Von Doom):(Starts with BTSC) The second most intelligent character in the entire Marvel Universe, and among the most powerful. Any day but not two in a row, he may use his incredible power to stop the lynch of any player IF his incredible intellect is able to RID his target.

The ability is considered to be used only if it is successful.

The saved player will not have their ID revealed publicly for that lynch.

Must have the RID PMed to the host before the end of the day.

He may submit multiple RIDs (1 for each player) pending the lynch results.

This ability cannot be blocked.

Venom (The Alien Symbiote):(Starts with BTSC) A diabolical, bloodthirsty killer. Each night Venom may choose a player to bond with. But bonding to these strong willed Super Heroes is more difficult than with normal humans. So it takes two consecutive successful attempts before he can fully bond. During the first attempt, Venom leaves a lasting impression on his victim. Venom PMs a message and the target's name to the host. If Venom successfully bonds with the same player again the following night, he will kill that player. (A save may prevent the initial attack or the second attack). The host passes on the message to the target at the end of the night.

If Venom is blocked at night, his message will still go through, but the bonding action will not be successful.

Kingpin (Wilson Fisk):(Starts with BTSC) Sure, he may not have the sheer power that his counterparts possess, but he has influence. As the underground king of the city, each night the Kingpin may use his influence over the crime syndicates to spread word on the streets, about whatever he likes. This announcement will be posted in the night post. He may also use his position of high authority among the local gangs, to cause a particular disturbance each night that will distract the player of his choosing from completing their primary objective (has no effect on Johnny's auto-save of Susan) he may not choose the same player two nights in a row.

Apocalypse (En Sabah Nur): A shape-shifter with complete control over the atomic structure of his body. He knows the identities of all the Super Villains and wins with them, but blends in with the Super Heroes. Apocalypse is so egomaniacal, that he will view the death of any other Super Villain as a sacrifice made to summon him. Once summoned, he takes on the ability of any one Super Villain that died before him. Also, until he is recruited, Apoc may have 2x vote.

If Apoc is spied (at any time) he shape-shifts and appears to be 'Spidey'.



Summoning Details
Apoc will be automatically recruited at the end of the cycle that follows the death of the first villain.
Apoc may only gain an ability once during the game, and only at the time that he is recruited.
Apoc loses his vote ability when he is recruited.
---
Independents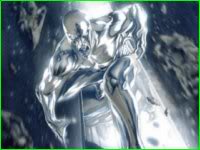 Silver Surfer (Norrin Radd): (Objective is to be the last one standing) The Surfer can analyze and manipulate matter and energy, and molecularly restructure or animate matter at will, even transmuting elements or creating objects. He can project energy in various forms for offensive and defensive use. He also has telepathic ability, including mind-reading. *Silver Surfer is invincible for the first night and day. **If spied, he influences the spy-er to only see him as 'Spidey'. **If blocked on an odd night, ability #1 (A&B) will be the one that is blocked (except for the 1st night). If blocked on an even night, the second ability will be blocked. (The Surfer will be outed when he dies) Each night he may select action A or B from both of the following main two actions (see spoiler for details);
See Spoiler
1-A-> Choose a player to mind read and learn their role PLUS how to copy their 'original unique' ability. Surfer is the only one that is able to ID the members of the Secret Alliance through his mind reading ability. (this does not kill his target, and Surfer is not subject to the limitations of any ability he gains (with the exception of Dr Doom's lynch stopper).

IF he targets a Villain, he will only gain the kill ability if he targets that night's chosen killer.
IF he targets Iron Man, he will gain the ability of the distinct attribute that Iron Man is using that night).
If he steals Dr Doom's ability (and uses it), he will be shown as being saved by Doom in the post.

1-B-> Any night he may choose a player to mentally enslave (the player will not be informed that they were targeted). The enslaved player will be willing to sacrifice themselves if Surfer is put into immediate danger of death.

All death scenarios occurring on the same night will be redirected to the slave of Surfer's choosing.
A player may not be sacrificed on the same night or the following day that they are enslaved (or on a night that they are medidating).
Any night, Players may choose to abandon their night actions, in exchange for meditating and eliminating any mind-enslavery that they may or may not have effected them.
Meditation is only successful a night following a mind-enslavement (may not prevent mind-enslavement the same night that it is occurring).

2-A-> He may use one of his collected abilities from 1A on any chosen target.
2-B-> He may choose to NOT use one of his collected abilities the current night, in exchange for using TWO abilities the following night.

They must be two abilities that are collected from two different roles.
The two abilities do not have to be used on the same target.
---
The Secret Alliance: (They have BTSC, Objective is to be the last standing) One Super Hero and one Super Villain made a deal, that they would secretly defect from their respective groups and join forces to win this battle on their own. This independent faction has an additional ability to save (never the same player 2X in a row, & must specify which member will carry out the saving action), AND an additional secret ability.
If either is spied, then they show up as they normally would individually.

A successful save will appear to be made by 'Spidey'.
The Secret Ability will be revealed publicly for the first member of the Secret Alliance to be Lynched, but nothing will be revealed if the second member is lynched.
---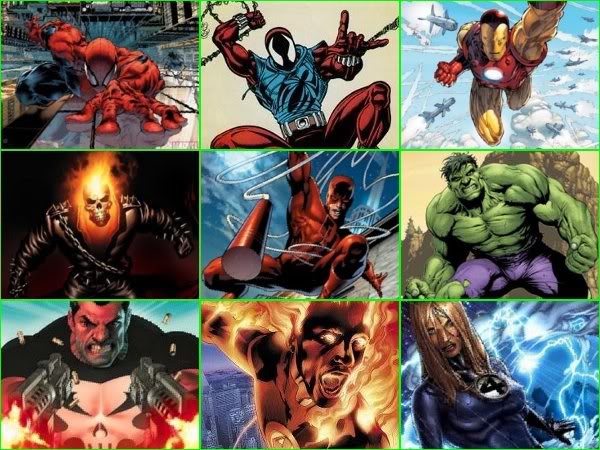 One of the greatest Super Hero alliances to have ever existed.
Their jobs are to rid the world of the menaces that threaten them, and restore order.
They win as the last faction Standing
Spiderman (Peter Parker): Picks a target to protect each night. Cannot pick the same target to save twice in a row. Gains BTSC with The Scarlet Spider if there is any form of interaction between them (If The SS and Spiderman choose to save the same player, or if Spiderman chooses to save The SS, or visa versa.) Spiderman and The SS's successful saves will be ambiguous in the night posts unless they meet.

Cannot successfully save Susan Storm.

If spied just appears to be 'Spidey'

The Scarlet Spider (Benjamin Reilly): Picks a target to protect each night. Cannot pick the same target to save twice in a row. Gains BTSC with Spiderman if there is any form of interaction between them (If The SS and Spiderman choose to save the same player, or if Spiderman chooses to save The SS, or visa versa.) Spiderman and The SS's successful saves will be ambiguous in the night posts unless they meet.

Cannot successfully save Dare Devil.

If spied just appears to be 'Spidey'

Iron Man (Tony Stark): Over the years, Tony Stark has assembled a great collection of various armors. Each night, in an effort to "keep things interesting," Tony wears a different suit to fight in.

Night:

1-Classic Suit (Save)

2-Stealth suit (Spy)

3-S.K.I.N. armor (Block)

4-War Machine (Kill)

5&beyond-Choice of any previous armor (but not the same two nights in a row).

Then Iron Man may select a player to use it against (including himself).

Ghost Rider (Johnny Blaze): Having made a deal with the devil, during the night Johnny Blaze becomes an incredible and unstoppable force known as Ghost Rider. Only during the day, in the form of Johnny Blaze, is he susceptible to death. However, his interference is not appreciated by the Celestials, so Ghost Rider will die at the end of the day if at any time he gets 50% or more of the total possible votes against him (this includes the influence of the Punisher ability). Ghost Rider's vote counts as zero (though the Punisher may still gain from predicting Ghost Rider's actions). Every night Ghost Rider may summon hellfire to incapacitate a chosen player for the night. May not choose the same target 2x in a row. Also, in a strange twist of fate, Fiery Ghost Rider Johnny and Blazing Human Torch Johnny have allied to protect the Invisible Woman.

Dare Devil (Matthew Murdock): He may technically be blind, but this super agile Hero sees better without eyes than you can with them. Each night he may stealthily track down and spy upon a particular player. (PMs the Host the name of a player each night, and the Host PMs the role following the night post). Additionally, if DD so chooses, he may assist his target and give that player an additional use of their action to be used on the following night.

The Hulk (Bruce Banner): Any DAY but not two in a row, he may choose a player to kidnap and run off with for up to 48 hours (One night and one day cycle, takes effect at the end of the day that the PM is received). Hulk must PM me the player's name before the day vote ends. That player may not use any night or day power or vote, and will only able make only 1 post while stuck in the Hulk's grasp (If the kidnapped player chooses to make more than one post, or chooses to make a vote that will not count, HULK SMASH… and the player will be unable to act for another night). The kidnapped player will still be subject to the lynch AND night actions while in the Hulk's grasp. This kidnap will not be mentioned in any post.

Hulk may release the target at any time (takes effect at the end of that cycle).

Hulk cannot kidnap himself.

If blocked at night, Hulk would not be able to initiate a kidnap the following day, and/or would be forced to release anyone he was currently holding.

The Punisher (Frank Castle): Not having true powers like the rest of the cast, The Punisher must be more careful. Each night he can set traps by making (1/4)*n different predictions about what specific night actions will take place (Role-Y will choose Player-X, and may not predict any sort of inactivity). For each trap that he lays correctly, the role that falls for the trap will lose their vote the following day, and The Punisher gets that additional vote in the following day's lynch as his own. If he gets all predictions correct, he will have perfectly orchestrated his traps, and be safe for the night in addition to the additional votes that he gained. (the results of 1/4*n will always be rounded down but never equal less than 1, n=number of living players going into the night)

If blocked, he loses all guesses.

The Punisher may not predict meditation.

The Human Torch (Johnny Storm): A wild vigilante who kills for the Innocents, and brother to Susan Storm (The Invisible Woman). The Human torch has the ability to fry someone any night but not two in a row. However, if his sister Susan has a successful kill attempt made against her on the night that Johnny is attacking someone, then Johhny abandons his initial target and kills the player that is targeting his sister (only applies to Venom if it's the second attempt) and saves his sister. If his sister is attacked on a night where Johnny is inactive, he will just save her and will not kill the attacker. Johnny may not target Susan to kill. (knows the ID of the Invisible Woman).

The Invisible Woman (Susan Storm): Sister to Johnny Storm (The Human Torch). As long as EITHER of the Johnnys are alive (Torch OR GR), Susan cannot be killed. However, if her brother (torch) dies, she becomes a vengeful maniac gaining the following ability. Every night, the Invisible Woman may choose to do only one of the two following actions (may not do the same action two nights in a row):

1- Act as a stealthy vigilante, and kill a chosen player to avenge her brother.

2- Use her ability to create force fields and act as a bodyguard to a chosen player.

Details:

If ANY night action is taken against the protected player, then the player making the action will be killed by IW, and IW will be fine (does not effect daytime abilities).

IW cannot be enslaved by Surfer.
Host's Summary
Edit
Game Idea and Expectations
Edit
Special commendations
Edit
Host disappointments
Edit
Alternate endings
Edit
Winning Faction
Edit
Heroes
Jay Gold - Delta/Invisible Woman

Vommack - Rho/Iron man

Akaslickster - Gamma/Spiderman

Inawordyes - Omicron/Human Torch

Benjer3 - Iota/Scarlet Spider

Prince_marth - Mu_/Dare Devil

RedPhantom - Epsilon/Ghost Rider

Hachi - Omega/Punisher
Day and Night Posts
Edit
Prologue N1 D1 N2 D2 N3 D3 N4 D4 N5 D5 N6
Prologue
"Finally, we are all here."
Three figures stood together in the middle of a large warehouse as a fourth crawled from a window to join the others. The man who had spoken stood in stark contrast to the black creature ambling towards the group, wearing a pure white suit covering his massive bulk, and holding a diamond studded chain.
"You should not make us wait, I've got things to do and places to be."
"We will do as we wish," hissed the creature, its slithering form composing into a more human figure. "Why have you called for us?" asked the creature, Venom, now also recognizable as Daily Bugle reporter, Eddie Brock.
"I have been wondering that myself, Venom. Why have you summoned us Doom?" Wilson Fisk, a.k.a. The Kingpin addressed what appeared to be a man in a dark green cape with a hood shadowing his metal armored mask.
"Patience will reveal to us the plans of the one called the second smartest man in the world." Apocalypse towered over the rest of the group. The word 'second' was emphasized just enough to achieve a slight glance from behind Doom's Dark Mask.
Dr. Doom pressed a concealed button on his armor and a holographic image appeared in midair, between the group. The image depicted various scenes of the four villains being defeated in their attempts to obtain wealth, wreak havoc, and exact revenge. Apocalypse forced to teleport after a failed attack on the infuriating X-Men, The Kingpin yelling in rage at the meddlesome DareDevil, Spiderman swing away from Venom as he screeches in agony from Iron Man's sound wave, and finally ending with the bothersome Fantastic Four cleaning up the final wreckage of another of Dr. Doom's foiled schemes.
"This is why I have called you here."
"What is this outrage?! I did not come here to be embarrassed by a few past minor setbacks!" thundered Apocalypse.
Doom continued. "If we are to succeed, we must work together and act intelligently, discarding our pride, to accomplish a common goal; the death of the heroes and the following reign of vengeful villainy! With our power and our knowledge combined, we will be an unstoppable force that will take over the world!"
Apocalypse's voice boomed loudly throughout the room. "I have heard enough! My own plans have been set in place for thousands of years, and I have not the time to discuss this further. However, although you may not be worthy to take my side as my horsemen at this moment, I cannot deny the role that your abilities and influence may one day have in pursuit of my goals. You may summon me when you require my presence, but for now, go about your scheming in my absence." Then, he was gone, without a sound or movement, leaving no room for discussion.
Fisk tapped off the ash from his cigar. "Bet he would be great at parties. Frankly, that guy ticks me off anyway. Good riddance. I think the immortality has gone to his head. I, for one, don't have the time to waste like he does. Show me your plans Doom."
Doom shifted his gaze, "And you, Venom? Would you not enjoy tearing the limbs from the spider who has caused you so much pain and suffering?"
The black substance once again started creeping over Eddie's face and body, and revealed long pointed teeth on an inhumanly large smirk.
"We're in!"
---
Millions of light-years from earth, a star winks out of existence.... "I am not satisfied. Herald, find me a planet to subdue my hunger."
"Yes, master."
---
Back on earth, in the Avenger's Mansion
Iron Man, Thor, The Hulk, and Spider Man are gathered around an apparition of the great Watcher, Uatu. Iron Man speaks to the group.
"Most of the other Avengers are out dealing with other matters, but the generous Tony Stark has offered use of the Estate for some pressing matters. Thank you for coming on such short notice. Uatu, show them what you have shown me"
The great Watcher, looking disproportionate with his over-sized head, stepped forward and addressed the group. "I have risked much coming here, but there comes a danger of which I must warn you."
An image appeared before the heroes of a man, seemingly covered entirely with silver skin, flying through space on what appeared to be a surfboard.
"As we speak a great power is heading toward earth, the sort of which you have never dealt with before. This power is but a sign of worse things to come, a herald of the great Galactus, devourer of worlds. This being has been imbued with the Power Cosmic, but he must be destroyed to preserve this world. That is why I have come. You must be ready to combat this coming threat. I can interfere no more, but I will be watching. Good luck, heroes." With that, he was gone.
Spiderman's eyes got wide as he turned to the other heroes, "That surfer guy looks like he could be trouble for you bucket head. It seems you have another person to compete with for the role of Tin Man. There's only room for one in The Avengers... and I think I like his look better""
Iron Man glanced at the web-slinger. "We must not take this warning lightly. If Uatu has risked contacting us for this word of caution, it must be a great threat. I have already contacted Reed Richards, who is working on a device which will hopefully subdue this coming menace, but we must first trap him. We will keep our eyes open and maintain a constant watch for this, 'Silver Surfer'. This meeting is over, Avengers out."
Night 1 - It Begins!
"Stanley, shut that window! It is freezing out there, you'll get a cold!"
Stanley jumped, surprised at the sudden voice of his mom as she walked into his room. Stanley had been staring out the window again.
"How many times have I told you, anyone who goes around at night in a mask can't be trusted. That criminal should just leave us alone and let the cops do their job. Now shut the window."
Stanley reluctantly pulled down the window and his mom walked over and latched it shut.
"I don't want to catch this window open again, you hear me? Now go to bed, you have school in the morning."
Stanley climbed into bed and took one last glance out the window, just in time to see a silver streak of light, like a shooting star, move across the sky. Closing his eyes, Stanley thought of the star and whispered, 'I wish I was a superhero'.
That night, in his dreams, he would be.
---

The Silver Surfer finally arrived at his destination. As he descended from the sky in a brilliant flash of light, he considered the planet that was to be the next meal of his Master. Realizing the brightness given off by his body, the Surfer mentally focused on dimming his skin, as to hide in the darkness of the night, then shot towards the city in search of a proper specimen to examine.
---
Susan Richards, a.k.a. the invisible woman, never felt as invisible as when her husband, Reed was working on his next invention. Reed's feet were sticking out from under a massive jumble of metal plating and wires. She felt like she was speaking more to the machines than to her husband.
"Reed, listen to me. You need to talk to Johnny. He has been getting more sporadic lately and I think his powers have gone to his head."
"Ben, can you grab the Wave Portal and bring it over to the Containment device please? We need to get this done as quickly as possible so that we can focus on getting you back to normal again."
"Reed, just stop for a second and listen to me!"
Mr. Fantastic's head snaked out from under the machine on an inhumanly long neck.
"I'm sorry, Honey. Please calm down, I can't see you when you are this upset. Ok, now, what were you saying?"
"It's Johnny. I'm worried about him. His temper is getting out of control and if he doesn't calm down he is seriously going to hurt someone."
"You know how important this work is, Susan. I can't leave it now, not when the Silver Surfer is so close. We have to finish the Containment device so that we can catch him and find out why he is here. Johnny can take care of himself, you know he will be alright."
"You guys talking about me?" The Human Torch, Susan's brother, Johnny Storm, engulfed in flames, flew into the room and floated in front of the couple. "Hey, wish me luck. I got a hot date tonight, and with me there, it can only get hotter." Then took off out the door.
"Johnny..."
"See, a little exuberant, but he's fine."
Then, Reed Richards, considered the most intelligent man in the world, shrugged and went back to work.
---

Frank Castle gazed out over the city of Manhattan. He looked down at the final charge that was to be set and placed it on the side of a drain pipe leading down to the alley.
Castle had been tracking someone the night before and decided instead to utilize his weapons in a more stealth strategy.
After climbing the rest of the way to the roof, Castle removed the sniper rifle from his back and pointed it towards the street.
---

In the middle of the city, swinging high above the bright lights of the streets, a spider-like man gracefully flew through the air after letting go of his web at the high point of his swing.
THWIP
"Just around this next high-rise." He was on his way to protect a particular person… The police could handle the small crimes tonight, he had a more important person to devote his time to.
"OH NO! I hope I'm not too late!" In the distance he could see a figure perched outside the 15th story window of the apartment building… the window belonging to the person he had chosen to protect for the night. He swung his legs as hard as he could and cut through the air with surprising speed.
"DON'T MOVE!" He yelled as he let go of the web and flew straight towards the bricks beside the window, hitting the bricks with a graceful and nearly soundless landing, his legs sprawled out, and his hands ready to defend himself.
The familiar dark figure perched on the wall just on the other side of the window leaned forward, allowing the light from the window to cast upon his mask. "Come here often Spidey?"
To the surprise of both of them, they each had a nearly identical mask staring back at themselves. "I was just about to ask you the same question."
Spiderman and the Scarlet Spider chuckled, then agreed that they would fair far better in the future if they coordinated their plans with each other.
---

Back at the Avenger's Mansion, Tony Stark suits up. As he walks into the common room, he notices Johnny Storm asleep on the couch.
"Rest easy tonight, my friend. Tommorow we may need all of your power"
As Iron Man flies out of the mansion, a phone rings.
---

Dare Devil jumped across the roof tops and vaulted over an air duct. Landing in a graceful role, he came up into a full run and continued on his trail. Despite his total blindness, this lawyer had learned how to maneuver and see better than most people with 20/20. And tonight he was tracking someone specific.
---

As the night was coming to an end, Theta was out and about in the dark alleys of the city. It didn't matter when, or even why, what mattered was who... or what... was lurking in the shadows behind him.
"Ssssooo sssssorry that you had to be the firsssst to go!" The lurker hissed
Theta whipped around, staring into the darkness. "WHO'S THERE!?"
"It'ssss no use dragging this out. Time to say goodbye!!!"
The black creature, Venom, strode towards him. Theta didn't have a moment to register before... "UGNH!" Theta's grunted as his body arched, his torso ripped forward and his head and feet whipped backward.
WHAT!? Venom ROARED as Theta flew at him, belly first, and lifted off into the air, over Venom's head and out of the dark alley.
Venom turned to see where he went, just in time to see that Theta had actually been carried off by a red blur swinging from a web.
"Are you OK?" Spidey asked Theta.
The wind having been knocked out of him, Theta responded with a smile and a nod as Spidey swung him to safety.
---

Just as Dawn began to break, and everyone began to sigh at the sight of a new day, they all began to feel... odd. At the same time, all of the people involved in last night's occurrences were brought to their knees in blinding pain.
"Just in case you were wondering what is going on, we are just trying to prove a point." said a voice that emanated in all of their heads.
"We are two of a race known as the Celestials, the most powerful beings in the universe. We saw the events of last night and were very amused. But now we want to keep this going and make things a little more.... interesting..."
"This day, we want you to each choose someone that we will... 'remove'... from your battle. But of course, you are only going to get their secret IDs, so choose wisely."
The pain began to subside as the telepathic message continued to be burned into their brains. Then they heard Brandonb comment, "I find myself intrigued by a man that, like me, calls himself 'The Punisher' and decided to grant him the ability to not only physically harm his victims with his trapping predictions of other's actions, but to also to obtain their vote as his own, in order to have more sway over the results in the vote."
Just then a list appeared in the heads of each combatant. A list of generic aliases... including their own name. "Let the games begin..."
Day 1 - A New Day!
Once again a searing pain began shooting through the heads of Earth's most powerful beings. Within their consciousness, they began to perceive the words of the Celestials.
"Looks like you all have made up your minds and decided who should die next.
I see that the one called Epsilon decided it was a good idea to dance on the edge of time and wound up loosing his balance. The way that mortals tempt fate, without taking into consideration the consequences! It is absolutely fascinating."
"Epsilon, YOU HAVE BEEN DEEMED UNFIT TO CONTINUE AND SO YOU MUST BE ERADICATED "
The masked crusader dropped to the floor in agony, clutching his temples. A brilliant light struck him from the heavens, its radiance as if pulling on his spirit itself. As his desperately clinging soul hung by its last tendrils, however, the light was suddenly eclipsed.
"Wait, Celestial Punisher. Albeit Epsilon certainly deserves to be punished for his prolonged absence from the fight, it appears it is not as of yet his time to be removed from this plane."
The words echoed in Epsilon's head, however the pain itself began to subside. Epsilong began to stand, but as he did so, the light returned with a roar from the heavens and the pain along with it.
"Their mortal plans are nothing compared to our knowledge and power!"
Despite the pain, Epsilon was able to force one arm under her and struggled to get hisfoot in place.
"I see that you have a strong will, Fox"
The pain in Epsilon's head ceased.
"Perhaps there is value in your continued existence. Fine, we will allow it. We'll allow you to feel special for this moment. Epsilon, you are free to continue this game, for now."
"You have all been graciously spared punishment, for now. However do not expect such leniency in the future. Tomorrow brings a new day, and we will see you in it."
The heroes began to stand, the pain finally subsiding. They glanced around each others, seeing new aspects of each other, some light, some dark. Those must be the phantom after-shadows cast by the bright lights, must they not... ?
Night 2 - Fire Balls or No Balls?
"OH MY!"
Stanley jumped, surprised at the sudden voice of his Mom in the front seat, breaking his concentration on the PSP game he was engaged in the back passenger-side seat. They had been driving down some deserted back suburban roads in their red SUV on their way home from Stanley's late evening hockey game when his mother slammed on the brakes.
"Vandals! Why would they pour gas on the road!?" Out in front of the car a large single streak of flames ran across the two-lane pavement and ended in the dirt on the right side at a railroad crossing.
Stanley's Mother slowly drove the car off the side of the road to avoid the flames. If she had been going any slower she would have been going backwards "Oh my, I hope that there isn't any glass."
After what took WAY too long to accomplish, the SUV finally made it back onto the pavement 15ft ahead of the flaming bubbling pavement, and started to pick up speed.
Just before turning back to the warming glow of his PSP game, Stanley a glanced out the window. Just on the other side of the tree line, about thirty meters away, he saw a bright glow. Then the trees ended and clear as day he could see a man dressed in black... He was on a large flaming motorcycle driving down the train tracks.
Stanley couldn't take his eyes off of him. The motorcycle driver's head had giant orange flames blowing back from his head. Then he tuned and looked directly at Stanley... There was no smile, there was no flesh, only a menacing flaming skull with deep hollow eyes and a wicked grin staring back at him.
Then the motorcycle surged forward at blazing speeds leaving behind a streak of burning railroad tracks. Stanley closed his eyes, and thought of the demonic being he had just witnessed and said "Boy, I'm glad I'm not a superhero!"
---

SCREEAAACH
Ghost Rider slammed on his breaks in the middle of Hell's Kitchen, ironically where he belonged. He turned his head back and could hear the distant screams of someone in trouble.
Burning his tires and making a standing turn with on leg down, a huge fireball erupted from the back tires, searing the paint off of a light pole 20 feet away.
His bike ROARED when he took his foot off the ground and released the brake. Heading back down the path he had just come from, splitting the fiery tracks he had previously left behind, he noticed the side of a building on a street corner up ahead of him. It had a large halogen light hanging off of it, illuminating a large torn billboard.
Written in a dripped red substance was a long and tedious message which read "Dr. Doom quietly laughed, stroking his chin calmly. He was watching closely as the Avengers and their friends discussed the happenings of the previous day.
"So Dr. Doom, will you be informing them as to why the lynch didn't occur?"
Dr. Doom pondered these words. Surely it could end some confusion and ascertain some control over the game, however this confusion was too entertaining to watch. He smiled at Venom and said
"Their thoughts are amusing. Let them continue to struggle as we continue to thrive."
Venom grinned maniacally as she continued with her plans for the evening."
"What the hell is this?" Of course he didn't have time to bother reading this message written in blood, he had to find out where it was coming from.
Ghost Rider rode straight up the side of the building, leaving a flaming trail right through the center of the message. At full speed he made it to the roof, and rocked off into the sky. Everything went into slow motion as he turned back to look at the building below. Then extending his arm, he whipped out a long chain that wrapped around a large iron pipe on the rooftop. He then pulled hard, and time returned back to normal as his bike straightened out and landed perfectly with a loud screech.
There in front of him was the head of Omicron. His face was beaten and broken, he was nearly impossible to recognize. There was no sign of his body.
"The Villains must have done this" he growled. "This settles it. Those pansy Heroes are going to need my help. So few of them ever have the fireballs to actually kill a Villain when it comes down to it."
The Ghost Rider took off in a blaze of fire, leaving Omicron's melon behind.
---

Just as Dawn began to break, and everyone began to sigh at the sight of a new day, they all began to feel... that same old pain.
All at the same time, the people involved in last night's occurrences were brought to their knees in blinding pain.
"Hello again…" said a voice that emanated in all of their heads.
"I am Brandonb the Punisher, a Celestial, one the most powerful beings in the universe... But many of you already knew that. Since your last skirmish, I have developed a liking for your antics. They please me, and when I saw the events of last night, I decided that it would be nice to have a sequel."
"Again, I want you to each choose someone that I will... 'remove'... from your battle. Choose wisely..."
The pain began to subside as the telepathic message continued to be burned into their brains. "I too have experienced the bitterness of betrayal. So I'll give you all a little hint to make things interesting." Bb said with a tone of scorn "Epsilon is NOT part of any secret alliance...."
Day 2
Just as Theta was about to be lynched, Gamma sacrificed himself in order to appease the daily lynch-lust of the Celestial hosts.
Night 3 - Bloody Murder
Again dusk set in on the city. From a far distance in the suburbs, a late evening sky diver had a bird's eye view of the city. He thought about how the lights shining bright through of the office windows in the various sky scrapers looked like vertical lines of low stars descending into the earth's surface.
"What the hell?" A bright fiery star then appeared shooting up that vertical line of stars, leaving a bright beautiful trail behind it. The sky diver lifted her goggles momentarily and rubbed her eyes thinking that the lights must have been blurring together.
---
"I hope I'm not too late…" he thought to himself. "I've had one too many run-ins with damn decapitated heads recently, and Iota is counting on me…"
As he continued to drive his flaming motorcycle up the side of the high-rise, keeping his tires between the edges of the glass and on the thin beam separating them. Then he saw something up ahead hurtling towards him.
He barely had time to react and swerve out of the way, when the body of Iota came hurtling past him. He didn't know if Iota was dead, but he wasn't making a sound.
SCREEEEEECH...... BOOOOM!!*
Time slowed again, as Ghost Rider ripped up on his handlebars with all of his might, bringing his front tire off the glass and forcing his bike perpendicular to the side of the building. Turning sideways, the back end of his bike kept its momentum going upward… then he slammed on his rear brakes and his back end whipped around sending the front end crashing back into the beam between the glass windows. This created a huge eruption radiated outwards, forcing massive plates of glass to explode out of the building.
VROOOOM*
Now facing downward, he kept his hollow hellish pits for eyes pinned on Iota. A fireball erupted from tail of his bike as he gassed the bike as hard as it could go.
Time resumed to normal and Ghost Rider barreled downward in the direction from which he had come, set on rescuing Iota. So much force was being thrown into the building from his back tires that glass continually detached from the building in his fiery wake.
---

Over on the other side of the city…
Theta walked through an alley on his way to engage in some sort of super act (Hero? Villain?) no matter… what mattered was that he was not alone. Unknown to him he was being stalked…
At the far end of the alley, a figure came running towards him. "Ah, I finally found you!" The Invisible Woman's voice echoed off the walls. "I've been looking everywhere for you…"
Then Theta was thrown up against a wall and pinned by some sort of invisible restraints. And Theta saw a figure begin to fade into existence in front of him. But all he could notice was a set of eyes, filled with a fiery hellish glow.
Theta didn't say a word, he didn't move a muscle. Not that he didn't want to… He wanted to fight, or flee, or do anything… His muscles tightened and struggled, but something was holding him in place.
"You have no idea what you are up against… Speak wisely, for these words shall be your last."
"Susan Storm I presume? You're a fool if you think you can stop me!" Theta spit in her face and began to shapeshift… into the Silver Surfer!
"I am a being like no other, for each night I grow stronger. You do not stand a ch…."
And with a snap, Theta exploded outwards as a hundred microscopic force fields deep within him expanded instantly. They grew from the inside out and ripped him apart with such velocity and force that his remains will never be fully removed from the bricks in the alley around them.
The Invisible Woman dropped the 'sneeze guard' force field she had created in front of her face to shield from the blood spray and said solemnly "That one's for you Johnny."
---

"Just a little further"
The ground was approaching rapidly, and Ghost Rider still had a little more distance to cover before he was within grabbing distance of Iota.
"No time left." He pulled out his chain and whipped it towards Iota
The end of the chain just barely wrapped around his outstretched motionless wrist. Then with a quick tug, Ghost Rider pulled Iota back to him and slammed on the breaks.
Fighting gravity, and holding Iota across his lap, Ghost Rider pulled up on his handle bars and hit the ground with a *CRASH*
They came to a stop right at the bottom of the building next to the entryway. The fire receded from Ghost Rider's hands as he cradled Iota.
Laying across his lap with Ghost Rider's forearm braced behind his shoulder blades for support, Iota raised his head and his eyes snapped open and looked around. Trying to grasp the situation, he looked up at Ghost Rider, confused.
"Are you ok? You were unconscious falling off of this building. Said Ghost Rider. What happ…"
A loud metallic demonic laugh rang out from the roof top. It was Dr. Doom.
And right then, gravity caught up with Ghost Rider. A large plate of glass sliced downward and splintered as hit the sidewalk, but not before sending Iota's head rolling into the streets…
Day 3
Dr Doom saved Alpha from the lynch.
Night 4 - This Is Not A Test
The night was so clear, and moon was full and bright. Everything was easily visible. But so cold. It's so cold that various surfaces glitter when the moonlight reflects off of the frozen condensation. Even brick walls look like they are covered in glitter. As if they had been sneezed on by… well… any given character from the DC universe (because they all sneeze glitter).
---
Delta headed out of the office after a long day's work, blithely considering what to have for dinner. Upon reaching the car, Delta heard the click of the keyless lock and placed a hand on the door-handle.
Before Delta could open the door, however, a black tendril wound itself around his hand, ceasing his movement.
"And where do you think you're going?" Venom leered through large jagged teeth. An unnaturally long tongue flicked out and licked the slimy black lips.
Delta turned his head away. "Anywhere you're not, ew, uh, ever head of breath mints?"
"What?" Venom blew out into a malformed black hand and took a whiff. "It's not...HOW DARE YOU!"
But Delta had caused the distraction he needed to grab the container of mace he had from his briefcase. He sprayed Venom straight in the face.
The symbiote howled and its black appendages began lashing around wildly. His thick tail caught Delta right in the stomach and sent the unfortunate fellow flying off the edge of the parking structure.
---
On this cold night Sigma has a big bad feeling in the big bad city. But nonetheless he continued on, stalking his target from nearly two blocks away as he walked down the sidewalks and strolled through various alleys.
Sigma took his time closing in. Inch by inch, foot by foot, he closed his distance. His target eventually entered into a park, and sat down on a bench in front of a water fountain. Strangely it hadn't been turned off for the cold weather, instead, a strange yet beautiful design of frozen ice cascaded from the spire in the center of the fountain.
Sigma continued to close in from behind, until he was close enough to see large plumes of breath encircling the head of the target.
Then, about twenty feet away, Sigma noticed something strange. A glittering cloud emerged in front of him only five feet away… like someone exhaled mightily right in front of him.
"Damn it…" a pleasant voice piped up. "I just couldn't hold my breath any longer."
And at that moment, standing only a few feet away, the invisible woman became visible.
Caught off guard, Sigma immediately posed in his defensive fighting stance. He took a deep breath and began to speak, but his words froze in his throat.
"I can't let you come any closer. But whether you're friend or foe I can't let you walk away either… I'm sorry about that." She said.
Sigma blinked, confused. He tried again to speak but couldn't. His lungs were full but he couldn't exhale. He tried inhaling deeper, but no matter how much he breathed in he couldn't exhale, and didn't feel like he wasn't getting any air.
"It will be ok" said the Invisible Woman. "I have created a force field in each of your lungs, not allowing them to contract to exhale. I've been told, from those that I have tested this on, that it has a very similar sensation to drowning. But you should know… this is not a test."
Sigma tried to yell, but couldn't. He tried to move, but could feel his lungs tugging, as if the force fields were not only static inside his body, but also static in this place in time, not allowing him to move in any direction. He struggled for a moment, but soon his head bowed and his body went limp….
---
Venom rubbed his eyes, which still stung a bit, and glanced in the direction Delta had flew. "Ha! That's what you get for messing with ussssss."
VRRROOOOOMMMMMM
Venom's hiss was interrupted by the roar of a motorcycle engine. Flames shot outward as the vehicle and its burning rider came over the ledge, holding an unconscious Delta in his arms. "Well look-y what I found falling from the sky!"
"Noooooooo!" Venom leapt forward, attempting to snare the rider and his prey in his black grasp. However Ghost Rider was too fast for the villain, quickly swerving around and zooming off, leaving Venom coughing amidst the fumes of his exhaust.
Delta began coming to as they passed a recently washed over billboard along the highway. "What?" he blinked and thrashed around. "Who...where am I?"
The flames of Ghost Rider's face appeared to flicker into a smile. "Relax," he spoke calmly. "You're safe. Just keep your head on."
Delta only stared at his rescuer with a befuddled look. Ghost Rider laughed and drove them into the sunrise.
Day 4
Beta was lynched as Dr Doom.
Night 5
Rho is killed by the Villains
Iron Man and IW target Lambda for the kill but he is saved by "Spidey"
Rho is cleared of being SA
Day 5
Lambda is lynched and found to be Apocalypse, a member of the secret alliance! The SA secret ability is an RID with certain restrictions.
Omega is killed by the secret alliance!
Night 6
The city was quiet, or at least at quiet as a city could be, wherein rival factions lay in wait in the shadows, watching and scheming, waiting for an opportune chance to affect each others' demise.
A door creaked open in an alley indistinguishable from any of the other hundreds of alleys in the city. The alley light buzzed and dimmed as a man in a dark trench-coat stepped out into the night. As he shut the door, however, the man's hand trembled and he grasp it with the other hand to stop the shaking.
Kappa shook his head, moving out into the street. There was something wrong with him, he was certain, but he did not know precisely what. He had felt it, some sort of disturbance, ever since the previous night, a sensation that he was not quite himself. And there had been the dreams - full of a darkness, an uncontrollable force that appeared to spread and devour everything in its wake. He had attempted to fight it, but it was of no use, it would inevitably swallow him as well and he would wake up in a sweat.
He realised he was sweating now, walking past a homeless man sitting cross-legged in the street. The homeless man glanced up hopefully, proffering a dingy hand. Behind him, however, his shadow appeared to Kappa to grow into a monstrous form, which opened a wide mouth to laugh silently at his current state. Hastily he ran away, stumbling and grasping into the air.
A minute later he came upon a park and collapsed onto its grass, panting for breath. However, as he began to recover, an enormous shadow loomed over him.
"Found you," Venom leered. "Did you really think you could get away from usssss?"
Kappa shook his head and rose to his feet. "No, I wasn't trying to get away, just to get worked up. To get angry." His eyes began to glow green. "You wouldn't like me when I'm angry." His body began to expand and to take on a green pallour. Bulging muscles tore through his coat and the legs of his trousers.
The Hulk roared and smashed his immense fists down where Venom stood. Black goo splattered over the ground and onto the massive monster.
"Puny alien," Hulk grinned. However as he began to lift his arms the black splatter started to writhe and move. He attempted to shake it off, but to no avail. It climbed purposefully towards his head. "Wha-"
The black goo jumped into his mouth and he began to choke and gasp. The massive monster backed into a tree and knocked it over, shaking and fighting with the symbiote. The Hulk howled and pounded into the ground, where his spasms caused minor tectonic disturbances for a few more minutes before it became still.
Then the creature began to rise. The skin over the immense muscles was no longer green and coarse, but black and smooth.
"My last host was destroyed, but I think I like this one better," it hissed to itself. Its mouth broke into a grin. "Now time to have some fun."
Mu closed the door of his apartment behind him and put the lock in place. The keys clinked on the metal dish where he put them down before removing his coat and hanging it on the coat-stand. He did not bother with the light switch, however, on which an accumulation of dust was clearly perceptible, but rather placed his cane aside and felt his way to the kitchen.
He grabbed up an apple from a basket of fruit and a knife with which to peel it. As he did so, he began to speak.
"I may not be able to see you," he said casually, "but I can certainly smell you." He whirled around and threw the knife at the intruder lurking in the shadows.
The massive form grunted and removed the small knife lodged in the thick skin of its chest. A blast of air gusted in from the immense hole it had torn into the wall of Mu's apartment. "Doesn't matter. I'm going to tear you apart!"
Black tendrils shot out towards Mu, but he managed to dodge them with an acrobatic back-flip. "The thing about being blind," he said, "is that your other senses are heightened, including the ones people normally don't use. I can sense your murderous intent, your movements. And I'm fast enough to avoid them."
Venom leered. "You may be fast," it said. "But we've learned a thing or two." Using its newly attained strength, it lifted the entire floor of the apartment with Daredevil still atop it and heaved it off the side of the building. Then, ignoring the astonished stares of Mu's down-stairs neighbours, Venom leaped off the 13th floor as well.
Daredevil's body twitched atop the dent in the unfortunate automobile he had landed upon. The alarm blared with the beat of his heart, which was diminishing in strength.
The ground quaked and cracked where Venom-Hulk landed. It leered and approached Daredevil, readying to finish him off.
However, the immense black fist it raised into the air appeared to freeze. In fact, its entire body seemed to freeze as crystals formed through its skin.
"Did you know that all living things are made primarily of water?" The Invisible Woman asked as she materialised before Venom. "Even you, or more specifically, your host, which it appears you've completely bonded with."
A strangled sound escaped Venom's throat as it struggled to move, to no avail.
"I've manipulated the structure of the water inside you and frozen it on a molecular level," IW further expounded. "It'll only be a matter of time before -"
Before she could finish, however, the sound of a motorcycle roared up from behind him. The vehicle and its fiery rider crashed into the frozen villain, smashing it to bits before swerving to a stop in front of the Invisible Woman.
"Sorry Sue, couldn't wait," Ghost Rider said, shrugging. "Better this way anyhow."

IW nodded lightly and turned to her dying friend. She took Daredevil's hand in hers and smiled kindly. "I'm sorry it ended this way, but you were a great help and your efforts will be remembered."
"We did it?" Daredevil asked weakly. His voice trembled.
"Yes," Susan assured him. "We did it, the world is again a safe place."
Ghost Rider averted what could be considered his eyes as Daredevil took a last satisfied breath. After Susan gently closed his eyelids, he added under his breath, "-for now at least."
---

Congratulations to the heroes! Well played, all. Further game notes, conclusion, and MVP announcement will follow after the Celestials confer.
End of Game Roster
Edit
Jay Gold - Delta/Invisible Woman

Alexey - Lambda/Apocalypse

- Lynched D5

Vommack - Rho/Iron man

- Killed N5

Akaslickster - Gamma/Spiderman

- Lynched D2

Inawordyes - Omicron/Human Torch

- Killed N2

Benjer3 - Iota/Scarlet Spider

- Killed N3

ShadowAngel - Sigma/KingPin

- Killed N4 by

The Invinsible Woman

Prince_marth - Mu_/Dare Devil

- Killed N6

Marquessa - Alpha/Venom

- Killed N6 by

The Invinsible Woman

RedPhantom - Epsilon/Ghost Rider

GMaster479 - Beta/Dr Doom

- Lynched D4

Framm18 - Theta/Silver Surfer

- Killed N3 by

The Invinsible Woman

dd515087 - Kappa/Hulk

- Killed N6 by second

Venom

attack

Hachi - Omega/Punisher
List of actions
Night 1
Villains

ShadowAngel/Sigma – KingPin - block Epsilon
Marquessa/Alpha – Venom - attack Delta result: Delta is invulnerable
GMaster479/Beta – Dr Doom - nk Theta result: Theta appears saved by Spidey

Independent

Framm18/Theta – Silver Surfer - enslave Gamma result: Gamma is enslaved

Secret Alliance

dee/Alexey/Lambda – Apocalypse
dd515087/Kappa – Hulk

Heroes

Jay Gold/Delta – Invisible Woman
Vommack/Rho – Iron man - save Rho
Akaslickster/Gamma – Spiderman - save Sigma result: Spideys meet, gain btsc
Inawordyes/Omicron – Human Torch
Benjer/Iota – Scarlet Spider - save Sigma result: Spideys meet, gain btsc
Prince_Marth/Mu_ – Dare Devil - spy Alpha result: learns Alpha is Venom
RedPhantom/Epsilon – Ghost Rider - block Kappa result: was blocked by KingPin
Hachi/Omega – Punisher

Beta Targets Alpha
alpha targets Gamma
Lambda targets Omega
mu targets alpha
Day 1
Secret Alliance

dd515087/Kappa – Hulk - trap Mu_
---
Night 2
Villains

ShadowAngel/Sigma – KingPin - block Iota
Marquessa/Alpha – Venom - attack Delta
Gmaster/Beta – Dr Doom - nk Omicron - Success

Independent

Framm18/Theta – Silver Surfer - enslave Rho
Secret Alliance
Alexey/Lambda – Apocalypse
dd515087/Kappa – Hulk - save Kappa

Heroes

Jay Gold/Delta – Invisible Woman
Vommack/Rho – Iron man - spy Epsilon result: blocked
Akaslicter/Gamma – Spiderman - save Iota
Inawordyes/Omicron – Human Torch
Benjer/Iota – Scarlet Spider - save Gammaresult:blocked
Prince_Marth/Mu_ – Dare Devil trapped
RedPhantom/Epsilon – Ghost Rider - block Rho
Hachi/Omega – Punisher

ironman acts on Epsilon - correct
Spidey acts on Iota - which spidey? Would be correct is specified correct spidey
venom acts on Alpha - incorrect
torch acts on Epsilon - incorrect
---
Night 3
Villains

ShadowAngel/Sigma – KingPin - block Omega
Marquessa/Alpha – Venom - attack Omega
Gmaster/Beta – Dr Doom - kill Iota - Success

SA discovery vote:

Sigma - voting for Alpha
Alpha - voting for Sigma

Independent

Framm18/Theta – Silver Surfer - enslave Omega

Secret Alliance

Alexey/Lambda – Apocalypse – meditate
dd515087/Kappa – Hulk - meditate

Heroes

Jay Gold/Delta – Invisible Woman - kill Theta - Success
Vommack/Rho – Iron man - meditate
Benjer/Iota – Scarlet Spider - save Rho
Prince_Marth/Mu_ – Dare Devil - meditate
RedPhantom/Epsilon – Ghost Rider - meditate
Hachi/Omega – Punisher - meditate
---
Night 4
Villains

ShadowAngel/Sigma – KingPin - block Rho result: killed by IW's bodyguard
Marquessa/Alpha – Venom - attack Kappa result: blocked
GMaster/Beta – Dr Doom - nk Delta - Failed

Secret Alliance

Alexey/Lambda – Apocalypse – save Kappa
dd515087/Kappa – Hulk

Heroes

Jay Gol/Delta – Invisible Woman - bodyguard Rho
Vommack/Rho – Iron man - kill Alpha - blocked
Prince_mart/Mu_ – Dare Devil - spy Beta
RedPhantom/Epsilon – Ghost Rider - block Alpha
HachiOmega – Punisher

Venom targets Omega fail
Iron Man targets Alpha success
Invisible woman targets Omega invalid: too many guesses
Kingpin targets Delta invalid: too many guesses
---
Night 5
Villains

Marquessa/Alpha – Venom - nk Rho - Success, attack Kappa

Secret Alliance

Alexey/Lambda – Apocalypse – block Epsilon
dd515087/Kappa – Hulk - save Lambda

Heroes

Jay Gold/Delta – Invisible Woman - kill Lambda - Failed
Vommack/Rho – Iron man - kill Lambda
Prince_Marth/Mu_ – Dare Devil - spy Lambda
RedPhantom/Epsilon – Ghost Rider - block Lambda
Hachi/Omega – Punisher

Iron man targets Alpha - fail
Invisible woman targets Mu -fail
---
Night 6
Villains

Marquessa/Alpha – Venom - attack Kappa, nk Mu

Heroes

Jay Gold/Delta – Invisible Woman - bodyguard Mu
Prince_Marth/Mu_ – Dare Devil - spy Kappa
Ad blocker interference detected!
Wikia is a free-to-use site that makes money from advertising. We have a modified experience for viewers using ad blockers

Wikia is not accessible if you've made further modifications. Remove the custom ad blocker rule(s) and the page will load as expected.